Xplod social is one of the growth services for Instagram. In terms of growing your Instagram business account as a small or large business, have you ever thought of using an Instagram social growth engine?
Xplod social is a third-party app that says it helps you get more Instagram engagement and grow your account. But is it reliable or not?
There is no doubt that you should find and use the best Instagram growth services if you want to increase your online visibility and credibility on the platform.
In a market filled with many different Instagram growth services and apps, Xplod Social claims to help you reach your target audience. But how valid is this claim?
If you want to buy any services you should read its complete review and learn more about its pros and cons.
Note: If you don't have enough time to read this article sign up for the AiGrow growth service now!
In this article, we'll provide you with a complete Xplod social review and its best alternatives.
Why Instagram Growth Services Worth It
Generally speaking, over 1 billion people use Instagram. So, if you don't know the Instagram algorithm and the right way to create, publish and promote your content, the competition will be quite tough for you.
However, a reliable Instagram growth service helps you build up online credibility. Also, it knows the algorithm of Instagram, so, it can help you to attract your target audiences.
What Is Xplod Social
This platform claims to grow your Instagram account; reach more followers and its AI does the follow/unfollow for your account.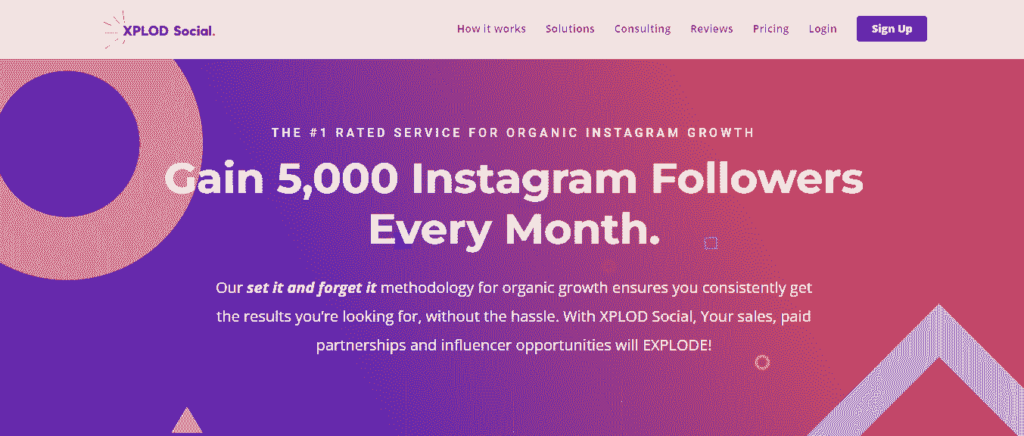 Also, it claims that the results of their growth service would be up to thousands of followers, however on their pricing package at most 250 accounts send you the traffic. So, we can't say which of them is right!!
How Does Xplod Social Work
Xplod social claims that you can work easily with its dashboard. Firstly, you should choose between pricing packages related to your need and pay for them. Then connect its dashboard to your account and now select any features that you want to use.
Xplod Features
Here you can see Xplod social features as mentioned on their website.
Target your audience: It claims that you can attract your target audience by using hashtags, usernames, and locations.
Xplod social on autopilot: They claim that once you've completed the signup and targeting process, their program will run on autopilot – liking, commenting, and performing other activities on your behalf.
Track and monitor: According to the website, when you like your targets' posts (hundreds per day), your Instagram account will receive massive exposure.
Answering the question of what is Instagram growth service, let's read Xplod social reviews.
Xplod Social Review
Many users believe that Xplod social doesn't have any AI system, it is just a dangerous Instagram bot!
Here is a list of pros and cons based on users' comments. There aren't exist many reviews, anyway, even those who use this app are not satisfied. Also, there aren't any reviews from Xplod social on Reddit.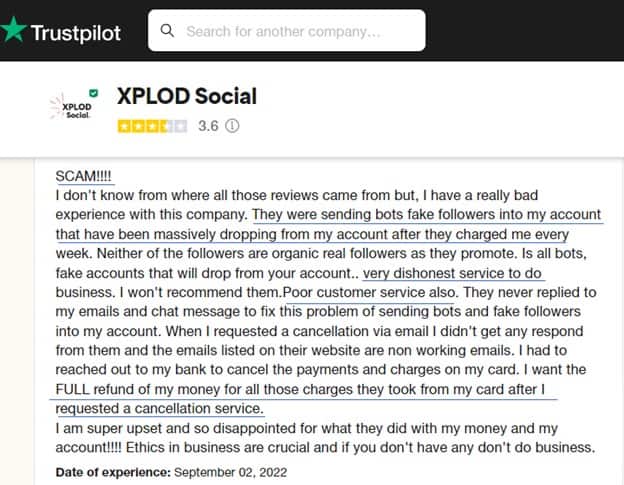 Xplod Social Review Pros and Cons
As mentioned earlier, we could not find many Xplod social reviews online but we have tried our best to collect the pros and cons of it for you here.
Xplod Social Review Pros
Xplod social has a safe website.
They have clear pricing plans.
It has good customer support "24/7".
Xplod Social Review Cons
They only have 3 reviews on Trustpilot.
Followers gained from Xplod social media are reported to be fake.
It doesn't have email support.
Xplod social is a scam.
The website is less than a year old with no WOT rating.
Xplod Social Pricing
Xplod social has 3 different pricing packages with different features:
Dynamite
It cost you $29 weekly with these features:
50 accounts sending you traffic
Detailed social analytics
24/7 support
Cancel anytime
Bomb
The price of this package is 49$ weekly:
100 Instagram accounts sending you traffic
Detailed social analytics
24/7 support
Content strategy consulting
Supernova
This package costs you 79$ weekly:
250 Instagram accounts sending you traffic
Detailed social analytics
24/7 support
Business strategy consulting
Content strategy consulting

AiGrow: Best Alternative for Xplod Social
All in all, you now know everything about Xplod social. It is time for the best Xplod alternative. According to the reviews, AiGrow is the best Instagram growth service!
AiGrow is a human-based Instagram management tool that fills the gap where Xplod falls short, but how?
AiGrow has a dedicated growth team to manage your account manually. Also, they know about the newest Instagram algorithm to come up with the right strategy and idea to reach your target audiences.
So what sets AiGrow apart is this platform doesn't use any bots that have recently caused an awful lot of trouble for businesses that use other growth services.

AiGrow is the fastest-growing Instagram growth agency with a proven track record of more than 92% client satisfaction.
AiGrow Features
Instagram growth service
Dedicated growth team
Analytical reports
Direct message marketing
Add multiple bio links to your Instagram bio
Instagram giveaway picker
Hashtag analytic tool
Influencer promotion
Instagram scheduler
Content creation
Cancel anytime
Social monitoring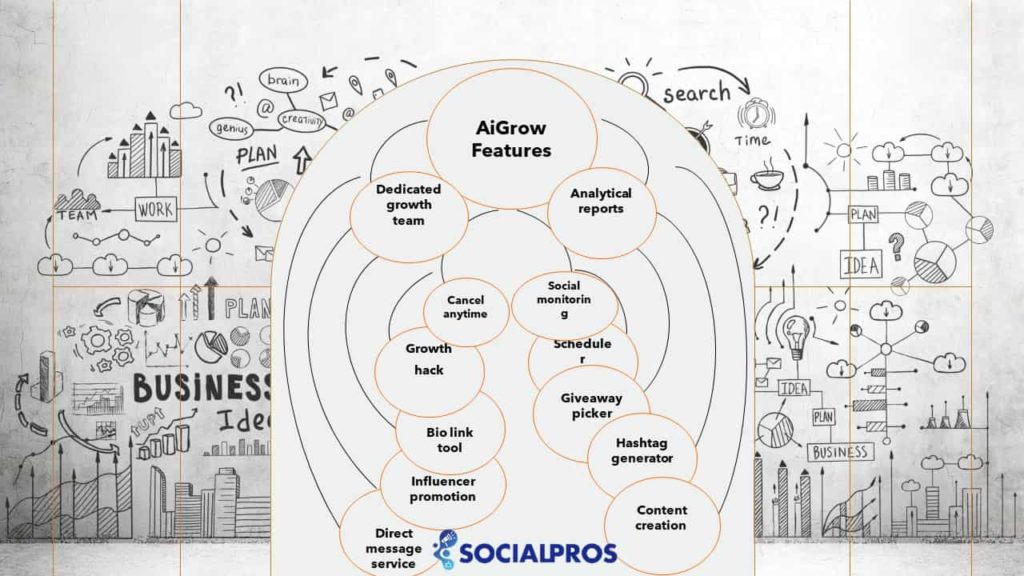 AiGrow Reviews
Users voted 4.5 stars for AiGrow on Trustpilot. AiGrow is an all-in-one management tool, it works like your personal assistant for you. Moreover, it has a special growth plan, that is personally planned for your account!
What's more, let's read its pros and cons.
AiGrow Pros
secure and safe (compliant with Instagram rules)
simple to contact the team via Whatsapp (24/7 customer support).
a diverse set of Instagram growth options
excellent guidance and growth strategies
providing real, targeted followers to its clients
many useful features
Sign up AiGrow to boost your engagement rate!
AiGrow Cons
AiGrow Pricing
AiGrow Provides 3 pricing packages with different features:
Managed Starter
This package is 45$ monthly.
14-day money-back guarantee
Cancel anytime
Dedicated growth time
Live strategy & onboarding meeting
Organic and real followers
Analytical reports
Safe and secure
Priority support 24/7
Managed Premium
This package costs you 129$ per month.
Money back 14 days guarantee
Dedicated growth team
Cancel anytime
Onboarding meeting and live strategy
Real followers and organic growth
Scorecard and Growth hack
Premium Instagram scheduler
Giveaway picker
Premium bio link
Safe and secure
Customer support 24/7
Managed Advanced
Guarantee to get your money back up to 14 days
Dedicated growth team
Live strategy and onboarding meeting
Real Followers, organic, hashtags, competitors, locations, gender Targeting
Analytical report
Premium DM generator
Premium scheduler
Giveaway picker
Add multiple bio link
Advanced Influencer/Brand Promotion
Advanced Content Creation
Safe and Secure
Priority 24/7 Support
Cancel anytime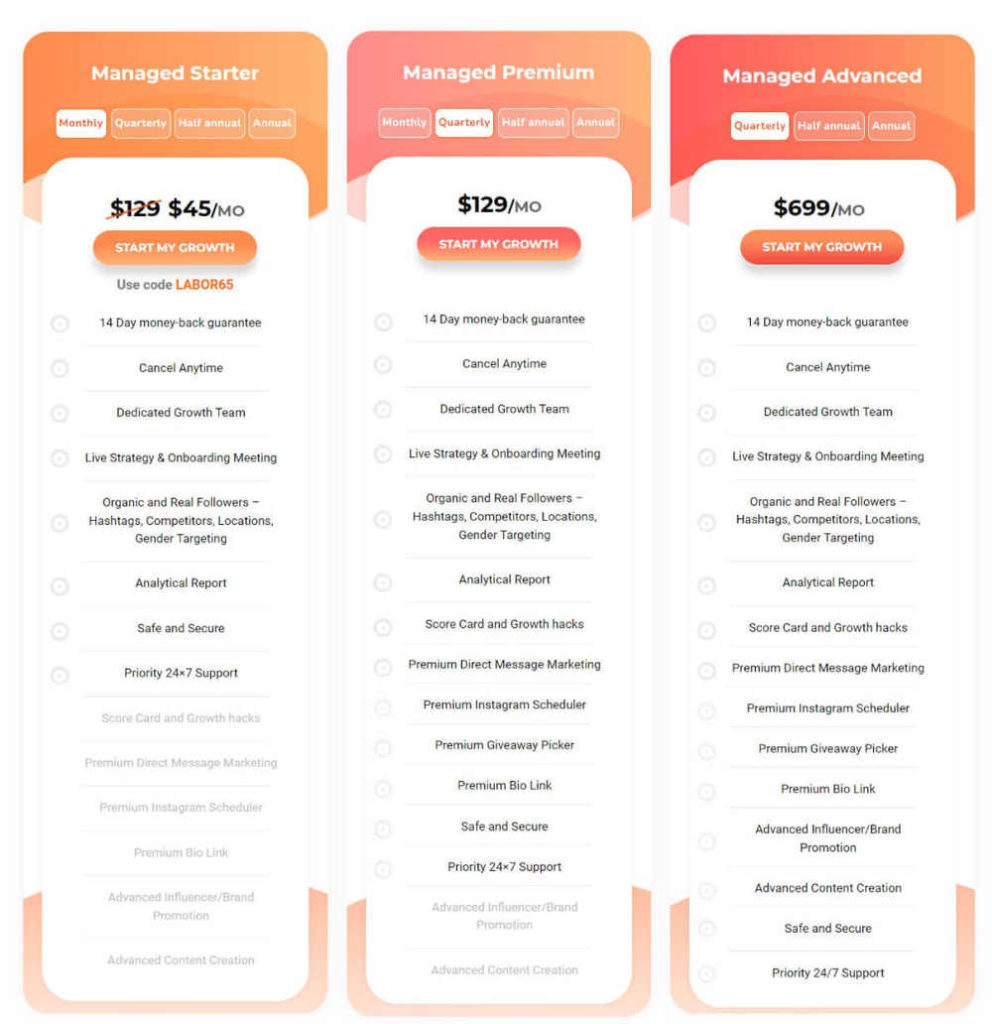 FAQ
People also ask this question about Xplod social, take a quick look.
Q1. Is Xplod Social Safe?
Users believe that Xplod social is not safe because it gives them fake followers, also when they want to cancel it, they fail to get a refund.
Conclusion
All in all, now you know everything about Xplod social, its features, and its reviews. So, should you be looking for an Xplod alternative, AiGrow – one of the best Instagram growth services – can offer amazing features and organic growth without using any bots. It should be an easy decision now!