Digital marketing is like gaming, especially when it comes to YouTube. You try every idea you think works for you to get more views and make money on YouTube. However, not everyone knows the most effective YouTube hacks that help them get more subscribers and views. According to a survey, 89% of parents with children aged 5 to 11 years in the U.S had ever watched a video on YouTube.
YouTube generated $19.7 billion in revenue in 2020. So if you desire to enhance your income and make money out of your videos, you need to cash in on YouTube video hacks. You may not have a lot of resources or be well equipped. But we see people being successful blowing our minds looking at their channels. What would be general advice? Or What are the YouTube tricks and tips?
We are getting through 14 tips to create quality content and study how to get YouTube views.
Let's dive in.
14 YouTube Hacks to Get More Subscribers
I know you may think about the best cameras and the best equipment. Many people believe that it is only making and posting videos on YouTube. But if you use tags, thumbnails, and more tips to your advantage, you'll boost the chance of getting more YouTube views and subscribers. 
YouTube Hack #1: Make a YouTube Content Calendar
Before you start creating a YouTube video, you need to plan what you desire to produce. Therefore, clarify your strategy, know your audience and build a social calendar to help you get a precise overview. 
Will your video be live-action, animated, or real-time? What tools do you need when making your video? Will your YouTube followers stay engaged during your whole video? Answer these questions to help you make your video look more professional.
The devil is in the details! So, make a storyboard describing each scene or section of the video. Also, think about the motto you want to portray to your audience. 
YouTube Hack #2: Select a Unique Channel Icon and Banner
Your channel icon is a custom thumbnail or your logo on YouTube. It appears everywhere you comment on YouTube and, most importantly, on your channel page. That's why it's vital to use the best one. Therefore, ensure it represents you and your brand and that it's easy to recognize even at a small size. Your channel icon must be 800 x 800 pixels and still look good when displayed smaller. Consequently, use a high-resolution headshot if you're a personal brand and your company logo if you're a business channel. 
On the other hand, your YouTube banner welcomes everyone who clicks into your channel and watches your video. It should be at least 2560 x 1440 pixels. You can use YouTube's Creator Academy template to help you design your banner art.
YouTube Hack #3: Use Relevant Hashtags as YouTube Hacks
It's time for one of the best YouTube Hacks to skyrocket your visibility!
Hashtags ("#" symbol) for YouTube act the same way as Instagram hashtags and other social media platforms. When users click on a hashtag, it will take them to other videos with the same hashtag. You can include tags in your video titles and also in the descriptions. 
So if you are a marketer with low video views, hashtags improve the SEO rating of your YouTube channel. So have research and know your target audience and add relevant hashtags to the description, and you'll see the shock to your views. Google Keyword Planner is an SEO tool that can help you identify the words people use to find your information.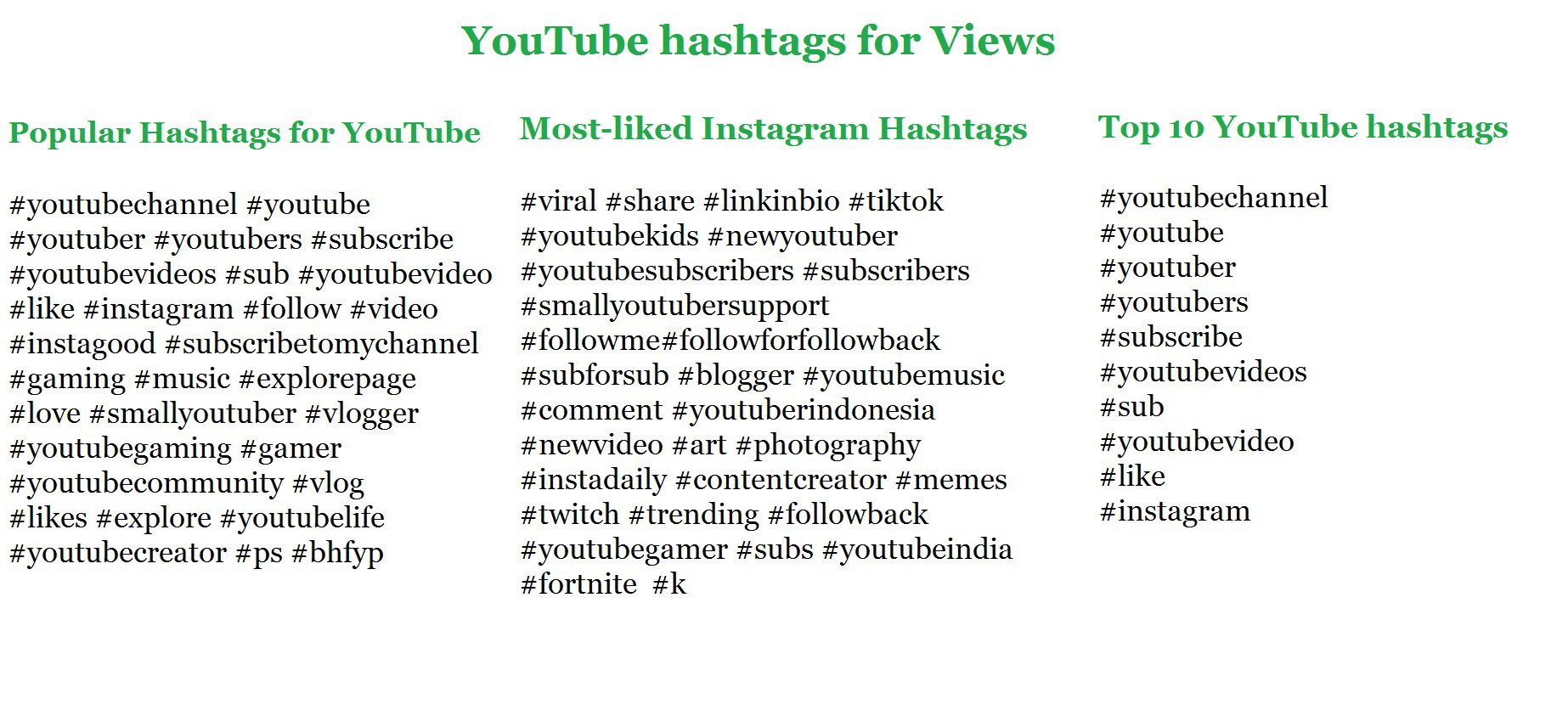 YouTube Hack #4: Publish High-Quality Videos
It won't matter how many YouTube hacks or tricks you use if your videos aren't of high quality. So generate compelling content that will get more views on YouTube. For instance, one of the best ideas is to build 'how to' videos. If you know your ideal audience, you can make videos according to their desire. So when they see your video, they'll say: 'Wow, this is what I've longed for.' If you couldn't read their mind and identify their demands, ask them. In this case, they'll like you more as you pay attention to their desires.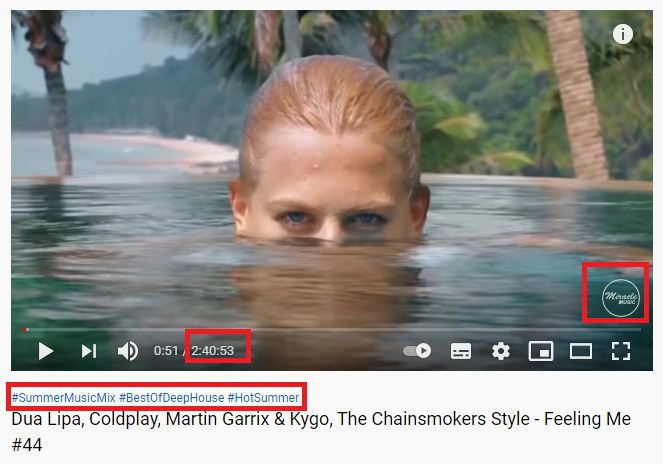 YouTube Hack #5: Post Long Videos and Beat YouTube Hacks
According to research, longer videos rank better in YouTube's search results. Therefore, take your time and focus on creating the best video possible. Also, don't worry if your video goes too long or more than 20 minutes. Indeed, people look for a perfect and valuable package, and if they find what they want in your video, they don't pass it and watch it till the end.
However, all YouTubers can publish up to 15 minutes long videos. Therefore, if you want to create content longer than that, you'll need to verify your account on your computer (not a mobile device).
After that, you can upload videos up to 256GB or 12 hours long.
YouTube Hack #6: Interact with your audience
The best thing you can do is create a community. So constantly interact with other YouTubers and people in your comments and build this community. This is something I did very early on, and first of all, it makes your journey a lot more fun, especially if you meet other creators in the same space. Then you'll have people collaborate with, talk about you, and learn YouTube things with you. Also, if you interact with people in your comments, it impacts the YouTube algorithm to suggest your video.
Consequently, it's better for your videos, and they get more views. So it's a youTube trick that all YouTubers should be doing for sure. Arguably, that's a significant fact that professionals are doing right. 
YouTube Hack #7: Promote videos on the end screen
Add another video in the last 5-20 seconds of a video. So you can remind people to subscribe before YouTube's algorithm leads them on to the following video. Also, you can use them to encourage viewers to watch another video or playlist or visit another channel or website.
 If the video is more than 25 seconds long, you can add an end screen to any video through the upload process.
Also, adding end screens to existing videos can be a great way to convert subscribers right away from your existing content. In this case, you need:
Select Content on the left menu of 'Creator Studio'

Next, pick the video you want to add to the 'End screen.'

Press the 'End screen' box on the right side of the screen and add a Subscribe magnet to your video.
YouTube Hack #8: Add brand watermark
A subscribe button or branding watermark is one of the smooth YouTube subscribers hacks. With the branding watermark or button that will hover in the bottom right corner of your video, desktop viewers can instantly subscribe to your channel. Also, you can decide when during your videos, the watermark appears.
So to add the brand watermark, you must:
Click 'Customization' in the left menu of YouTube Studio.

Then select Branding. 

Select Choose image. Upload the photo you'd like to use as your branding watermark.

Pick the display time for the branding watermark. You can choose the entire video, a custom time, of the last 15 seconds of the video.

Save changes.
Now, the watermark will appear on all your videos.
YouTube Hack #9: Link YouTube to Instagram
If you promote your brand on other social media channels like Instagram, it would be a great idea to link YouTube to Instagram. Luckily, using a third-party app like AiSchedul, you can share as many links as you want on your Instagram bio! Also, as your Youtube videos go more than 1 minute, it lets you upload to IGTV and schedule them to go live at the best time. Moreover, it enables you to create videos collage in your Instagram posts. Undoubtedly, it is one of the best YouYube hacks and tricks to get more views and grow faster.
To make the most of your YouTube channel and Instagram account simultaneously, benefit AiSchedul.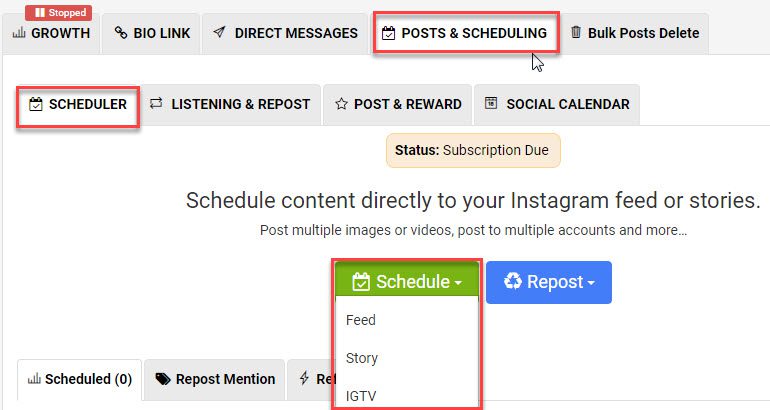 So, you only need to:
Signup for free on AiSchedul

and add your accounts.

Select 'Manage Accounts.'

Tap the 'POSTS & SCHEDULING' and 'SCHEDULER' tabs.

Click 'Schedule' and pick 'IGTV' or 'Feed.' If the video is too long, it automatically recommends you post it as an IGTV video.

Now, share the youTube video link in the box.

Add the title and description.

Then, add the clickable URL link.

Write the caption and add hashtags.

You can select 'Post Now' or schedule the dates and choose 'Post in future.'

Finally, press 'Submit.'
That's it!
It is an excellent way to feed two birds with one spoon and increase effectiveness and efficiency in your business.
YouTube Hack #10: Write a compelling channel description
Your channel description appears on the About page of your YouTube. You can describe your clip in 1,000 characters and encourage viewers to subscribe, giving the best reasons.
Here are the tips on how to write perfect YouTube descriptions:
Tell what your channel is all about

Give essential information on the video.

Includes a solid Call-To-Action like a link to motivate people to subscribe 

Add the top keywords you're targeting in the first sentence. So it signals relevance to search engines and increases clicks and visibility. Keep in mind that adding keywords that aren't relevant to your video will cause

YouTube to penalize you

. 
If you don't feel like writing or find it a pain in the neck to write an engaging text, you can download and use YouTube description templates.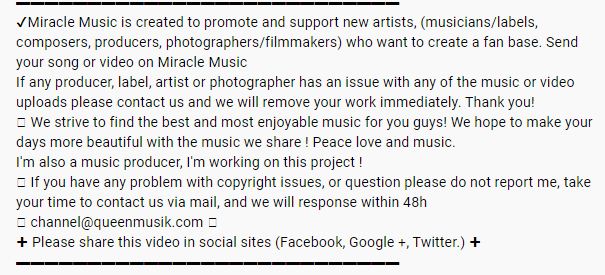 YouTube Hack #11: Run a contest
Many marketers try to host giveaways and contests on Instagram because it is an excellent way to nurture a community. Therefore, why not do the same on your YouTube channel?
If you want a shock in engagement, try running a YouTube contest as one of the most innovative YouTube hacks.
Choosing a reward that matters to your audience is the key to get more YouTube viewers. Then, you can ask viewers to subscribe and turn on notifications to take part. As mentioned in tip NO 9, you can share your giveaway in your Instagram account and apply must-use giveaway hashtags in your contest to draw views to your YouTube channel.
YouTube Hack #12: Add a CTA button in your videos
It is essential to add a Call-To-Action in your videos as you need people to take action after watching them. Also, it makes them not leave the page for nothing. Indeed, many people subscribe right after watching a video. 
According to YouTube statistics provided by Omnicore agency, channels with more than one million subscribers grew by more than 65%. You can mention in your plan wherein the video you will include the CTA button. For instance, you can tell the audience to click on the subscribe button underneath the video.

YouTube Hack #13: Use Facebook groups
Post your videos where people may love to watch them, and nobody else is posting like Reddit. Plus, Facebook has lots of different groups for certain people who share their videos there. You can also see other people's videos and comprehend their strategies to take to your advantage. Also, you can share your YouTube video on Instagram to expand your outreach and boost brand awareness. 
YouTube Hack #14: Join Viral Trends
Many marketers follow trends to get more sales and boost their brand outreach. Getting popular on YouTube without piggybacking on trends is almost impossible. So if you want to win other opponents, create video content that piggybacks off existing viral trends. Piggybacking is the habit of making videos according to popular trends of the website. Of course, it's not always easy or possible to tie your video content in with ongoing trends. But, searching through other social media and Google are great ways to find ideas. Try to discover the top posts about ideas, like slime videos or unboxings from eBay. YouTube suggests in the search bar the top ten things people are searching for at the moment. Also, you can find viral photos and trending content on Instagram to help you. 
Summarizing YouTube Hacks
YouTube is a potent business tool when used effectively. But to monetize your channel and boost your sales, you've got to get more free YouTube views. So, the above YouTube hacks will be your weapon in the competitive battleground of digital marketing.