You have launched your business on Instagram, but the results are not well, and it doesn't fit your expectations. Also, you have tried so hard to reach your objectives but not satisfied! Still, your followers' count is not noticeable, and your Instagram engagement is down! Then, Gram Multi Tool 2 comes to your mind as a savior.
Instagram is a very fast-moving social media platform that many freelance Instagram marketers do their best to climb up the pecking edge. For many famous brands like Prada, Nike, or Coca-cola that already have their place in the market, it is not a challenging issue, but how can you grow your Instagram followers to help small businesses and boost engagement? Gram Multi Tool 2 might be your answer.
This article will have a complete review of Gram Multi Tool 2 and grant you the precise information about it to help you make the best decision. Then, you will read about the best alternative for Mac/Linux users. 
So, stay tuned!
What is Gram MultiTool 2?
Gram Multitool 2 or GMT2 is an Instagram multitool that can perform several tasks, from planning your posts to interacting with the audience for you. However, it is an Instagram Automation integrated with Instagram bots which is risky to use. 
This Instagram growth tool will track your accounts and view live analytics to check your accounts' performance. Therefore, you can interact with your followers and manage your Instagram accounts.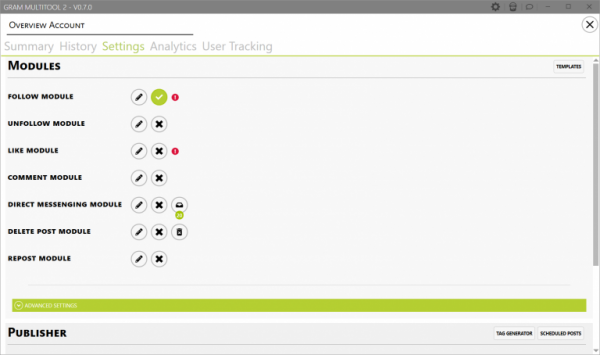 Gram MultiTool 2 Pros
Gram MultiTool 2 has a secure HTTP site that passed the test of operating an online business. This lets you store information on your website safely.

It is available to view the software online before you sign up and pay for anything.
Gram MultiTool 2 Cons
Gram Multi Tool 2 is only for Windows users. Mac users can still technically use Gram Multi Tool 2, but they must install the service on a virtual machine that can be a hassle.

This tool has a 'how does it work' part on its page. However, there's no place to click through the help page to answer the questions before signing up.

There are no reviews on the GMT2 website, and you have to look at other websites and forums for users' experience, which is frustrating for clients.

Unfortunately, they don't have 24/7 customer support, and this is quite a downside. Therefore, if the software gets out of work, you won't be able to use it or get in touch with them right away.

The last downside is that Gram Multitool 2 doesn't verify its payment gateways.
Hence, Mac/Linux users or users of any OS who want to benefit from using a safe and powerful growth tool consider using a more reliable tool.
 AiGrow: The Best Gram Multi Tool 2 Alternative for Mac/Linux users
AiGrow is an all-in-one Instagram growth service package, and this makes it The Only Instagram Growth Agency you will need in 2021.
Using AiGrow is as simple as signing up for a free account, connecting your Instagram account, customizing your settings depending on the kind of follower you're looking to target, and hitting "Smart Growth."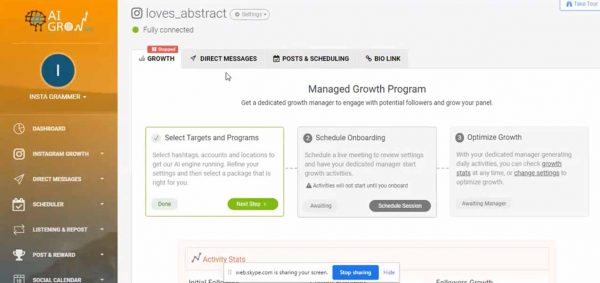 Actually, this app is an Instagram management tool for Instagrammers to grow their followers organically.
Also, this app will manually plan your content, send automated Instagram DM, and directly engage with followers. As a result, you will gain more followers in your niche, increase Instagram engagement rate, and build your brand.
Furthermore, with a week free trial, you can add up to 80 accounts on your exclusive dashboard getting likes, and comments for free from REAL people, not fake followers.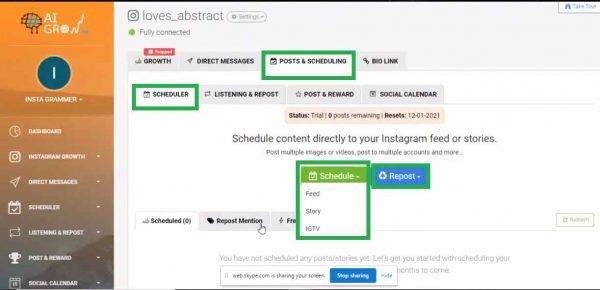 The good news is that AiGrow is not an Instagram bot and its dedicated account manager will interact with your followers directly! Therefore, it is completely according to the Instagram algorithm and you are safe and sound.
Gram MultiTool 2 Features vs AiGrow Features:
Below is a breakdown of all the features offered by Gram Multi Tool 2, which are also provided by AiGrow:

AiGrow
Gram Multi Tool 2

Follow/Unfollow (Manually by the account manager), and Organic likes and comments

Auto-Follow/ Unfollow, likes, comments

Direct Messaging tool containing

Mass DM

, auto DMs, etc

Direct Messaging

Delete Posts and

Mass delete all posts at once

Delete Posts

Repost Photos, videos, and stories

Repost

Post, story, and IGTV Scheduling

Post Scheduling

Stats

, account audit, and bio link click tracker

Stats

Templates

Templates

Hashtag Generation

Hashtag Generation

Monitoring app to track hashtags, accounts, and mentions

Track Users

Spintax & Emoji

Spintax & Emoji

Followers filters

Followers filters

While Gram Multi Tool 2 requires you to purchase a VPN for it to be able to run 24/7, AiGrow doesn't require any additional downloads – just set up your account, hit "Start Growth," and you're done. Walk away, turn your computer off, throw it out the window – AiGrow will continue running until you tell it to stop.
Most importantly, you can manage your AiGrow dashboard from your smartphone wherever you are and whenever you want!
Could you not take our word for it? Sign up for free now and test out AiGrow for yourself.
Final Words on Gram Multi Tool 2: An Alternative for Mac/Linux Users
It is essential to have a powerful presence on Instagram; otherwise, you and your brand won't be visible on the platform. Therefore, to have a strong presence, you must interact with Instagram viewers constantly. It can be a pain in the neck if you do it manually; however, a reliable Instagram growth service will facilitate your performance and make you fly off the chart.