I have a query for you all: What is the first thing you do after you wake up? I bet you are just similar to me. The first chore I do when I open my eyes is to get hold of my mobile and go through the notifications and definitely, scroll Instagram! It's tough to envision a world without Instagram. Today, Instagram is one of the most downloaded applications. It is a creative platform, with people from across the globe sharing pictures nearly every second of the day. But did you give it a thought, how this app happened in the first place? And how it became the best photo-sharing app all over the globe? Well, here let's get to the history of Instagram for your convenience!
The Creation Story of the Best Photo Sharing App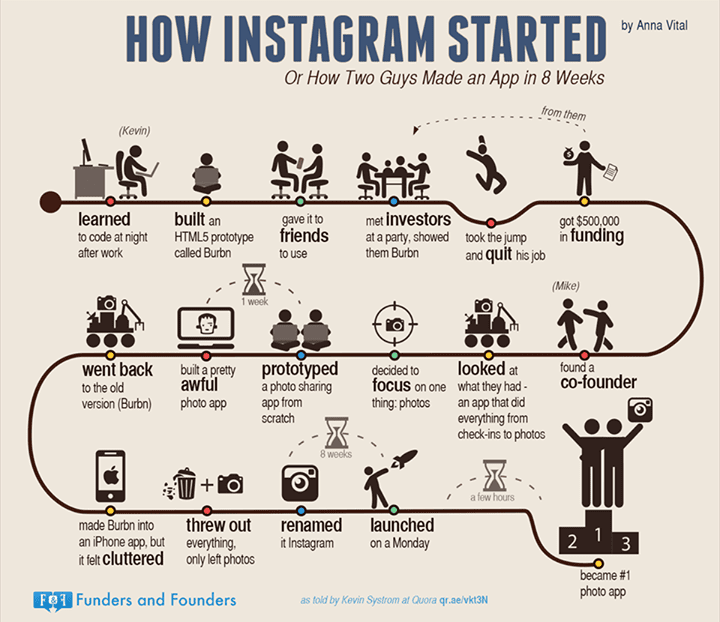 It was 2010 when Instagram was born. The application is the creation of Kevin Systrom, a computer programmer and American entrepreneur and Mike Krieger, a software engineer, and Brazilian entrepreneur. The developers desired to aim at an image sharing application after operating on an HTML5 program titled Burbn and called it Instagram, as a fusion of the words Instant Camera, and Telegram. They obtained funding from their partners on Burbn, too. The key plan is to assist users to post Polaroid-like images that they can fine-tune with filters, and share videos with a maximal duration of 15 seconds. Like that, people could take a sneak-peek into their world—with creativeness finely monitored.
The Climb
Instagram CEO and co-founder Kevin Systrom posted the first-ever picture to the app, on July 16, 2010, which was termed Codename back in the day. Instagram was set in motion on October 6, 2010, for the iPhone. Since then, it was just expanding itself. Instagram hit the jackpot and racked up one million users in just three months! And it was all organic up-swing without any ads.
The Funding (series A) & the Big $1Billion Deal
With Instagram's gigantic rise in users, investors became intrigued. Instagram collected around 7 million dollars from numerous investors in addition to the benchmark capital. Besides, institutional investors, the brand enticed the focus of the ruling companies in social media, procuring interest from Jack Dorsey at Twitter and Mark Zuckerberg at Facebook. In April 2012, Zuckerberg (the founder of Facebook) made a proposal to buy Instagram for $1 billion in cash and stock, provided that the company would continue to remain autonomously managed. 
Building a Community
Instagram was furthermore a savvy conglomeration of stunning fresh features and was lucky enough to be launched virtually, simultaneously as the iPhone4. Will this suffice to justify the enormous success of Instagram? Not exactly! You have possibly heard of "Instameets", Instagram meetings in the actual world: the first Worldwide 'Instameet' was staged in March 2011 in Los Angeles and it was hosted straight by the Instagram team. April 2012 turned out to be a crucial period for Instagram. Besides, dropping the application on Android, Instagram acquired 80 million followers, and within the course of the same year, more filters and features were included. Not only that, but the app also became available in over 25 languages—widening its reach, and acquiring more users and profit in return!
What Makes Instagram So Popular?
There are certainly valid reasons for this enormous success. Don't you think so?
Instagram permits you to click ordinary pictures and make them appear exceptional; this can be impelling.

People these days are more inclined to watch videos and photos which is the foundation of Instagram.  Also, the Instagram video length has changed from the start, and now, you are able to share longer videos.

It's simple and convenient to use and free!

Instagram aimed to work on one thing rather than attempting to do too much stuff.

It has plenty of fun features and upgrades by the regular needs of users.

Users can add a caption to each of their posts and use hashtags and location-based geotags to index these posts and make them searchable by other users. 

You can make an amazing business profile on it and earn a great deal of money from being an influencer!
By the way, do you want to get famous on Instagram? Then here's a shortcut for you! If you prioritize having a huge follower count, Instagram's bombing growth will definitely solve your problem. So, to get your hands on them, click on this link and do your job quickly. Also, we have an amazing offer for you!  If you are searching for an easy way to grow organically on Instagram, we suggest you use AiGrow. 
Using this amazing Instagram growth package, you can get more followers on Instagram and achieve your business goals in a short period of time. So, click here to know more about this intriguing Instagram marketing package and purchase the best package for your needs.
Final Words About The Best Photo Sharing App
The history of Instagram's bombing growth shows like a Silicon Valley picture book, with the company earning mind-boggling momentum within just a couple of months. While user rise has steadily ballooned since the Facebook acquisition, today, Instagram has over 150 million active monthly users. And it is certainly not the end. The reality is that Instagram's history is just beginning. It definitely is not just a craze; it's an application for the ages—and you could only be delighted that you have become witness to its success story!
[/fusion_text][/fusion_builder_column][/fusion_builder_row][/fusion_builder_container]