Instagram is a fun place where people share their daily life moments. Sometimes, they also share the posts of others. This can make some business folks happy but annoy those who want their posts to stay private. Whether it's annoying or a measure of success, you want to know how to see who shared your Instagram post.
Instagram can genuinely set the ground for your business success. Now, one of the deciding factors in your organic Instagram growth is the number of times your followers repost your Instagram content, save it, or share it with their friends.
Knowing how to see who shared your post on Instagram helps you track the performance of your content, know your target audience, and get more IG followers. But is there a way to see who shared your post on Instagram?
If you wonder how to see who shared and saved your Instagram post on their page or with their friends? Read this post!
Why You Need to Learn How to See Who Shared Your Instagram Post
One of the most popular social media is Instagram. Due to the Coronavirus pandemic, this platform saw an increase of 3.6% in daily active users in the US.
Instagram has become a place to make friends, build a brand, promote businesses, and make money online. People interact on this platform by likes, comments, saves, DMs, and sharing each other's content. Instagram algorithms use these interacting elements to offer content to a larger audience.
On the other hand, reposting, or as Instagrammers say it, 'regramming,' is an everyday activity among users. Many pages on Instagram only publish other accounts' selected content. Among users, these pages are known as the 'featured pages.'
One of the ways you can ensure your content appeals to your audience is whether they'll reshare it on their feeds, stories, or with friends by DMs. So, monitoring your activity and growth on Instagram and other platforms has become much more crucial.
So, to track your performance, you'll need to find out how to see who shared your Instagram posts! Keep reading to know the answer to this question.
How To See Who Shared Your Instagram Feed Post
To those of you who ask, 'can I see who shared my Instagram post?' we'll have to say that the answer is not as clear-cut as we'd hoped!
So, the question remains: Is there a way to see who shared your post on Instagram? The only way to see who shared your Instagram post or story is by using Instagram insights; this feature is only available on Instagram business or professional accounts.
So, to know how to see who sent your Instagram post, you need to have a business account. Unfortunately, even when using a business account, users can't see who shared their Instagram posts. In other words, Instagram won't reveal who shared posts. It only shows how many times your post has been shared.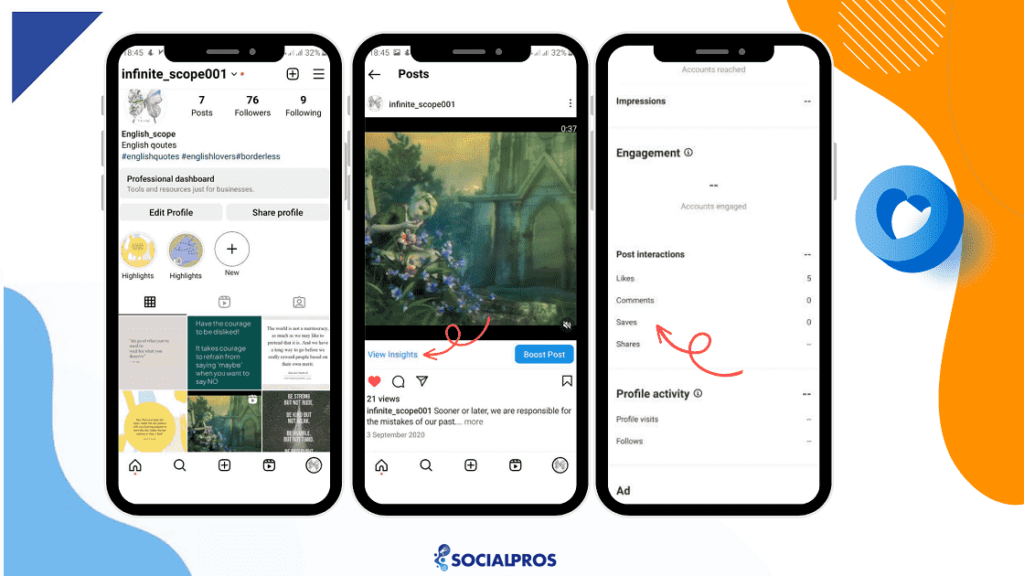 So, Instagram insight is the only answer to your question that you ask, 'Can I see who shared my Instagram post?!'
Pro Tip: Switching your Instagram personal account to a business one is not difficult. To change your type of account to business Instagram, follow the steps below:
First, go to your profile and tap 'Settings' in the upper right corner.
Then, choose 'Account and Privacy,'
And then go to 'Account type and tools.'
Finally, tap 'Switch to a professional account'.
To see the number of people who share, save, like, and comment, go to your business Instagram page, open one of the posts you like, and then tap 'View Insights.'
However, you can't possibly understand how to see who shares your posts on Instagram insights! You can check the number of people who shared your photos using view insights. Also, you can see the number of saves, profile visits, and reaches made by that specific post.
If you're curious about who shared your Instagram photos on their story, read the next part.
How to See Who Shared Your Post on Their Instagram Story
As already discussed, learning how to see who shared your Instagram post is indeed difficult. But on Instagram, finding out how to see who shared your post or story on their own Instagram story might be trackable.
First, you will receive a notification if someone re-shares your Instagram story and mentions you. So, you will understand the number of people and the usernames of those who have shared your story.
Secondly, if those who are on your 'following' list share your post on their story, you will be able to view their story as well. Hence, you will realize who has reposted it.
Additionally, you can see who reposts your post on their story under a specific circumstance. Follow the steps outlined below to learn how to discover who has shared your Instagram post on their story.
For a business or professional account:
Begin by opening a post, and then click on the three dots located in the upper-right corner of the post.
Then, repost that post to your own story.
If one or more users have shared your post within the last 24 hours (as stories expire after 24 hours), you will see the option 'View Story Reshares' in the menu that appears.
When you select this option, a page titled 'Current public reshares' will display the users who have shared your post on their story within the past 24 hours.
To find out who shared your content, tap on one of the reshared stories in the grid.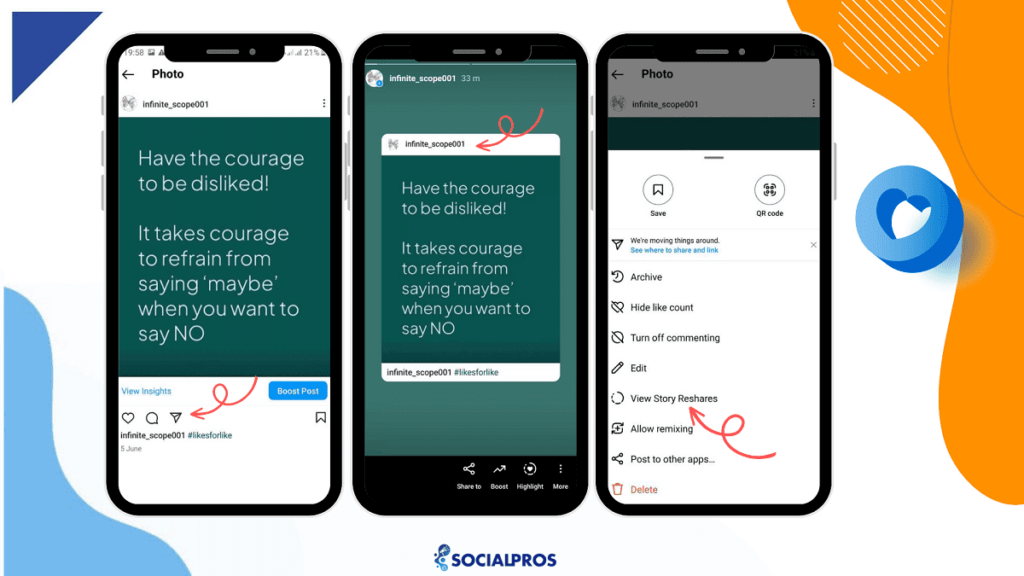 These steps will help you identify the individuals who have shared your Instagram story, provided that their profile is public or you are following them on their private account.
However, if someone you don't follow shares your IG feed post on his story, you'll have no way of knowing. In such a situation, you can only turn to a reliable platform. Now, let's understand how to see who shared your post on Instagram DMs.
How to See Who Shared Your Instagram Post in DMs
We regret to notify you that Instagram DMs are very private, and you won't have access to such information if you're curious about who shared your post on Instagram DMs.
All you'll be able to view are the number of views (for videos), comments, and likes on a personal account. However, there is a distinction between a personal account and a professional account. If you have a private account, users can only share your posts in DMs with your mutual followers and friends.
But on a professional account, users can share your content with everyone they want in DMs. On a business account, you'll at least have the opportunity to observe the total number of reshares and the accounts that have saved your post, while a personal account won't provide you with such data.
Certainly, for a professional account, the primary concern is overall traffic, which helps gauge their performance.
Keep in mind that a professional account is no longer private, and everything you post is visible to everyone. So, if you're uncomfortable with the idea of sharing your life with everyone, it might be best to refrain from seeking out information about how many times your posts have been reshared by your followers.
How to See Who Saved Your Posts on Instagram
Instagram provides valuable insights to account holders. Knowing who has saved your content can help you understand your audience and the impact of your posts. Follow these steps to discover who has saved your Instagram posts:
Open the Instagram App
Make sure you have the Instagram app installed on your mobile device and are logged into your account.
Access Your Profile
Tap on your profile picture or icon at the bottom-right corner of the screen to access your Instagram profile.
Choose the Post You're Interested In
Scroll through your profile to locate the post for which you want to view the saved information. Once you've found it, tap on the post to open it.
View Post Insights
In the upper-right corner of the post, you'll see three horizontal dots (also known as the "Options" button). Tap on these dots to open a menu of additional actions and settings.
Select "View Insights"
From the menu, select the "View Insights" option. This will display detailed statistics related to that specific post.
Explore Post Insights
Within the post insights, you'll find valuable information about your post's performance, including the number of likes, comments, shares, and saves. To see who has saved your post, focus on the "Saved" section.
Understanding who saves your posts on Instagram can offer valuable insights into your content's impact and help you build a more engaged and connected follower base.
How to Reshare Posts on Instagram
Instagram is a dynamic platform that allows users to interact with content in various ways, including resharing posts from others. Whether you want to amplify someone else's content or give a shout-out to your favorite creators, resharing posts on Instagram is a straightforward process.
Open the Instagram App: Ensure you have the Instagram app installed on your mobile device and are logged in to your account.
Locate the Post You Want to Reshare: Browse through your home feed or explore new content using the search function to find the post you wish to reshare. Once you've found it, tap on the post to view it in detail.
Access the Reshare Options: To reshare a post, you have two primary options:
a. Reshare Posts Using Instagram's "Share" Feature
Using this way, tap the Paper Airplane Icon. Below the post, you'll notice an icon that looks like a paper airplane. Tap on it to access the sharing options.
Choose "Add Post to Your Story.
From the available sharing options, select "Add Post to Your Story."
This will create a story post with the original post attached.
You can add your text, stickers, or drawings to the story post if you like.
Once you're satisfied with the edits, click on "Your Story" at the bottom of the screen to share it.
You can also choose a friend to share the post on their DMs.
b. Take a Screenshot or Use Instagram downloader Apps to Share It as a New Post
Resharing other users' posts on Instagram can be done through various methods, depending on the type of content you want to share. Here's how you can reshare photos and videos from other users:
Resharing Photos:
Screenshot: If you come across a photo you want to reshare, simply take a screenshot of it on your device. This captures the image, and you can then use it to create a new post on your Instagram page. However, be sure to give credit to the original creator by mentioning them in the caption or tagging their username in the post.
Instagram Downloader App: Some third-party apps like Picnob allow you to download Instagram photos to your device. Once you've downloaded the photo, you can share it on your IG page. Again, remember to credit the original creator as a courtesy.
Resharing Videos:
Instagram to MP4 Tools: To reshare videos, especially those you find interesting or informative, you can use online tools that convert Instagram videos to MP4 format. These tools allow you to download the video to your device. After downloading, you can then upload it to your own Instagram page as a new post.
It's crucial to mention that while resharing is common on Instagram, it's important to respect copyright and intellectual property rights. Always seek permission or give credit to the original creator when sharing their content.
You can do this by mentioning them in the caption, tagging them using the "Tag People" option, or adding a caption that acknowledges their work and creativity.
Additionally, be mindful of Instagram's terms of use and guidelines regarding content sharing and attribution.
Now that you know how to reshare posts on Instagram, you can start spreading the love for the content that inspires you! But as it is crucial to understand how to see who shared your Instagram post, we want to introduce you to a third-party app as an assistant for this! Keep reading.
Want to Know How to See Who Shared Your Post on Instagram? Then Use AiGrow
Several Instagrammers are now wondering how to know who shared my post on Instagram. So far, we've made it clear that only business accounts can see how many times their content has been reposted, and still, they won't even know who has done it.
So, how can I see who shared my Instagram post?! A reliable platform like AiGrow comes to your rescue here!
AiGrow is an Instagram management service that offers many tools, such as a smart scheduler, a social calendar, a Bio-Link tool, and many others. It also has a new feature called 'Repost Mention.'
With this tool, you can see all the posts you mentioned in them, all in one place. Isn't it great? Here's a step-by-step guide:
Step 1: Register to AiGrow
First, sign up for AiGrow for free. It only needs your name, email, password, and the process takes you a minute.
Step 2: Add your account(s)
Then go to your user-friendly dashboard and add all of your Instagram accounts.
Step 3: Use the repost mention feature to see if someone shared your photo
Now, to understand how to see who shared your Instagram post, follow the steps below:
Select your targeted account by clicking on 'Manage.'
After that, you will see your toolbar that includes 'Post Scheduling' and 'Bio-Link.'
Choose 'Post Scheduling' and under the tab 'Scheduler,' click on 'Repost mention.'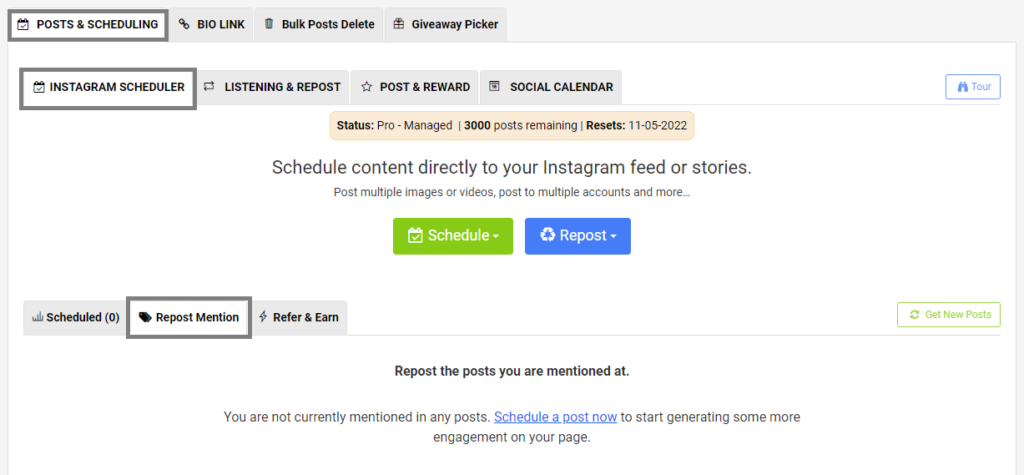 In this part, you may see your own original posts being shared or user-generated content or UGC. For example, if one of your customers bought and used your products, they might take a picture and publish it while mentioning you. Another great thing that you can do with this amazing tool is to repost this content only with a single click.
Saving time is the primary purpose of this tool; you can stop worrying about missing any mention among the list of Instagram notifications and check your AiGrow dashboard.
Sign up on AiGrow right now and get immediate access to this fantastic feature!
How to Create Sharable Content Using AiGrow?
Indeed, driving interaction from your followers is demanding and challenging, especially if you have no idea what appeals to them. No worries, though! An ideal Instagram growth service can aid you in moving all obstacles!
AiGrow, a perfectly reliable IG tool will help you get more organic followers safely, create landing pages to share multiple links in your IG bio, mass DM potential followers and customers, and much more!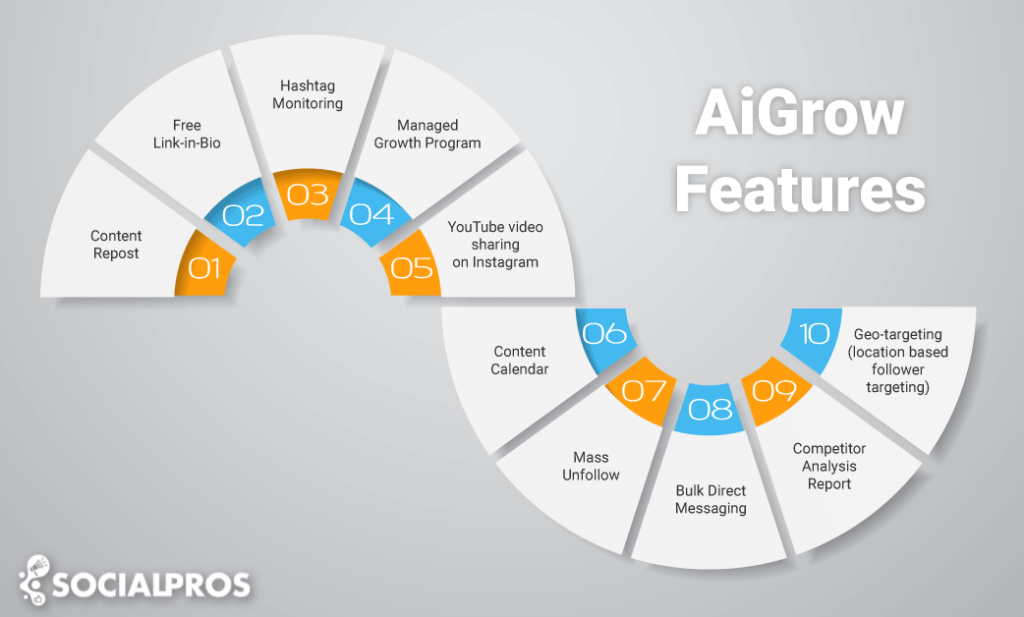 Yet, what sets this platform apart is that it performs all the tasks through human managers! That is, from the moment you sign up, they will dedicate a professional team of human Instagram managers with whom you can share your content strategy, concerns, and problems.
It's high time you guaranteed your success with AiGrow!
Final Words on How to See Who Shared Your Instagram Post
In this article, we've covered how to see who shared your instagram post, save them, and also how to reshare posts. Instagram is a powerful social media. By using all the capacities of this universal platform, you can experience better management.
In this case, by seeing who is interested in your content and sharing it, you can grab a better understanding of the level of your account's popularity and much more useful information.
FAQs on How to See Who Shared Your Instagram Post
Up to this point in our blog, we've covered how to see who shared your Instagram post, found solutions, and also introduced an excellent tool with which you can resolve all such issues! Now, let's move on to your other questions.
Q1. Why is the number of shared posts important anyway?
Firstly, it indicates the popularity and informativeness of your post, as people were willing to share it. Additionally, shared posts play a significant role in increasing Instagram engagement. Despite the evolving Instagram algorithm, shared posts are becoming increasingly crucial.
Understanding how to see who has shared your post on Instagram can be challenging, especially for those with a business account. In our blog, we explored the possibility of identifying post sharers and found that AiGrow is a platform that can effectively meet your needs.
Q2. Are third-party apps safe to use to find out who shared my posts?
Most reputable third-party apps are safe to use. Ensure you read user reviews and research the app's privacy policies before downloading.