Instagram is estimated to have 1.074 billion users worldwide in 2021 who spend a lot of time every day scrolling through their news feed, Instagram Live, IGTV, and stories. As a business owner or Instagram marketer, you must make the best video content possible to establish your brand image on Instagram. Instagram is easy to use for everyone, so filming and uploading your video on the platform is by no means difficult and frustrating but fun and interesting. The only thing you should follow is the appropriate Instagram video format, size, shape, length, aspect ratios, and dimensions. This article will teach you how to build the best Instagram video settings, formats, and other specifications. We will introduce the top tips on Instagram videos by which you can establish your online presence on Instagram.
What is the Best Instagram Video Format?
The best video format for Instagram is MP4. Here is other information about the best Instagram video settings:
H.264 codec

AAC audio

3500 kbps bitrate

The frame rate of 30 fps

Video can be a maximum of 60 seconds

The maximum video width and height is 1080 x 920 pixels
How to Upload MP4 to Instagram?
You can use the most advanced video editing software applications to upload MP4 on Instagram regarding the requirements mentioned above. You can also use a free online converter to convert video to Instagram's format if that is all you need.
The best tool that you can use to upload MP4 videos is AiSchedul. Sign up for free on AiSchedul and connect your Instagram account to its dashboard to upload MP4 videos on your Instagram account. 
What are the Best Instagram Video Dimensions and Aspect Ratio?
To know the Instagram video dimensions and aspect ratio, we should differentiate between Instagram feed videos, IGTV videos, Instagram Stories, and Instagram live videos. The best aspect ratio is 9:16, which is the standard size for almost all smartphones. Moreover, the best Instagram video dimensions are 1080 x 1920 px, so that you will upload a high-quality video on Instagram. These specifications are suitable for IGTV videos, Instagram Stories, and Instagram live videos.
But what about Instagram feed videos?
Instagram feed videos are more flexible regarding aspect ratio and dimension. In other words, you have more freedom in terms of Instagram video settings to upload videos on Instagram feed in comparison to Instagram IGTV, Instagram Stories, and Instagram Live.
You can upload a video on your Instagram feed with an aspect ratio of between 1.91:1 and 4:5 regarding whether you want to have a portrait or landscape video. For instance, if you want a landscape video, you should go more toward the 4:5 aspect ratio and more toward 1.91:1 if you prefer a portrait video. The best Instagram dimensions for these aspect ratios are 1080 x 608 px and 1080 x 1350 px.
To keep in mind, unlike most other apps, Instagram does not rotate when the lock is off. So, it would help if you remembered to post a vertical video as most users (87%) hold their smartphones vertically. Your followers will be better engaged if they see a video that covers their full screen so that they can see details better. 
Compare these two videos by @airbnb and @tripadvisor: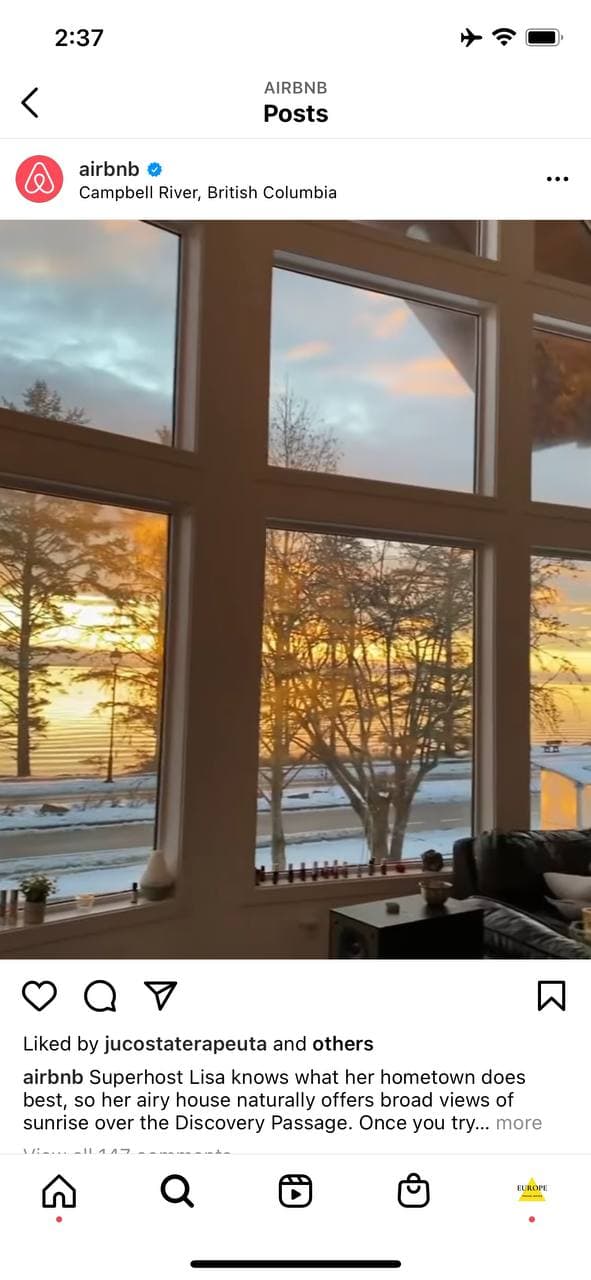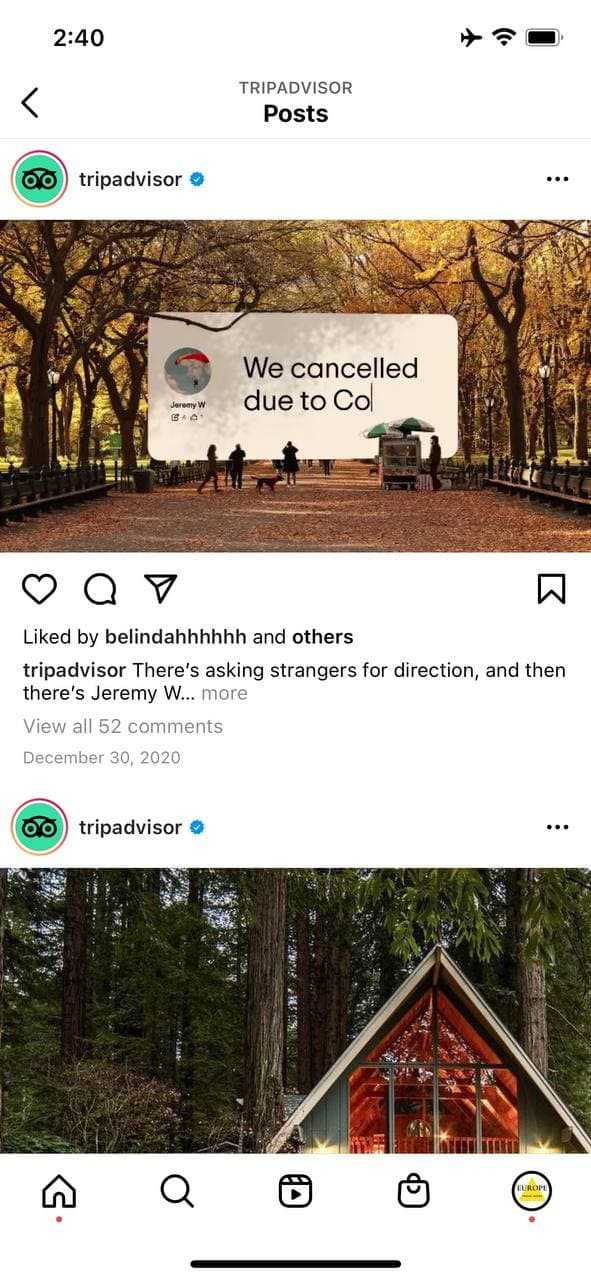 Now, you can see the difference between these two videos regarding the space they occupy on your screen. Which one would you be more engaged with? Surely the first one. 
Moreover, remember to choose an Instagram video thumbnail for your videos to make them even more attractive and engaging. 
How Long Can Instagram Videos Be?
There are different Instagram video lengths for Instagram feed videos, stories, Live video, and IGTV:
Instagram feed video length: Between 3 seconds and 1 minute long.

Instagram story video length: Up to 15 seconds per story.

IGTV video length: Between 15 seconds and 10 minutes long (but larger accounts and verified accounts can share IGTV videos up to 60 minutes).

Instagram live video length: Up to 60 minutes long.
How to Post Long Videos on Instagram?
If you want to know how to post long videos on Instagram, Instagram stories can be a good place to share your video. One good thing about Instagram stories is that if you share a longer video than 15 seconds (but up to 60 seconds) on Instagram stories, your video will be split into several 15-second videos. So, you do not have to cut your video on your mobile phone. 
Read More: How to cut video for an Instagram story on Android?
Instagram Video FAQs
Here we will briefly answer some most frequently asked questions:
1. How do you Size a Video for Instagram?
Press the "Resize" button in the video's top right corner. By simply holding and dragging the edges of the video, you can now scale and reposition it. If you've done, press the green "Apply" button to save your changes.
2. Why Can't I Upload 4K to Instagram?
Instagram does not allow 4K uploads. Instagram's maximum upload size is 1080p. Even though the video is 1080p, it appears fuzzy after being published since Instagram must measure and compress high-resolution videos to reduce data processing and storage.
3. How to Share YouTube Videos on Instagram?
Using AiSchedul, you can share your YouTube videos on Instagram. Follow these steps:

After that, you will be taken to a page to upload your content using one of two methods. You can add a YouTube URL or drag and drop up to 10 images and videos. In the box, paste the URL of your YouTube video and select 'Save Option.'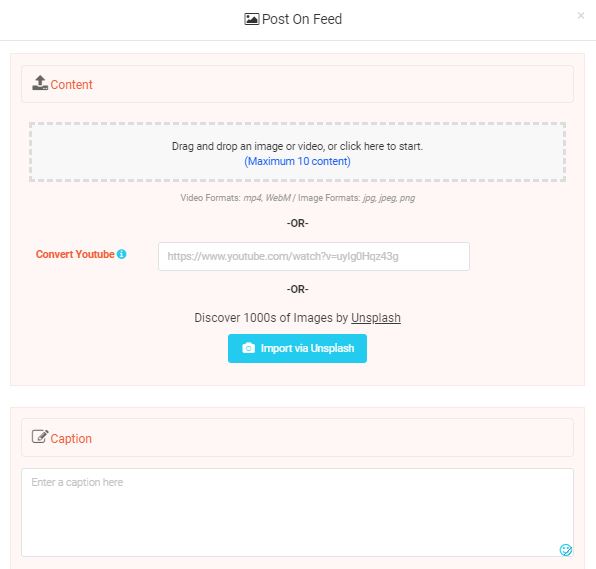 You can preview the video before publishing your article. You'll also need to write a caption and create common hashtags, and if you want to publish it later, you can set a date and time on your calendar for AiSchedul to post it for you. Keep in mind that if your video is longer than one minute, AiSchedul will convert it to a carousel post automatically.
Conclusion
Video marketing is an effective marketing strategy for Instagram. If you have a professional account on Instagram for your business, using videos can convert your followers and attract a new audience. The tips mentioned in this article give you the best Instagram video settings for uploading your videos on Instagram. I wish you the best of luck!