Are you tired of the same old ways of making money? Are you looking for something unique, fun, and perhaps a little unconventional? Well, have you ever considered selling your feet pics on websites like Feet Finder?
Yes, you heard it right. In today's digital age, there is a high demand for feet pictures, and many buyers are willing to pay top dollar for them.
It may seem like a strange way to make money, but trust us, there is a lucrative market for it. So, if you have cute feet and a camera, why not give it a try?
In this Feetfinder review, we explore what feetfinder.com is and how you can profit from the platform. So, without further ado, let's get started.
What Is Feetfinder
FeetFinder.com is a website where people can buy and sell feet pics and videos. It is a marketplace for foot fetish content. Users can create profiles, upload their feet pics and videos, and set prices for their content. Buyers can search for and purchase content from the site.
The website caters to a wide range of clients who purchase feet pictures for different purposes. Some buyers are just curious and want to explore, while others are foot fetishists with deeper interests. Additionally, people may require feet pictures for articles they are writing, or artists may use them as models for their own work. Overall, there are various reasons why people purchase feet pics on this platform, and it serves a diverse range of needs. Also, FeetFinder has a messaging system for communication between buyers and sellers.
FeetFinder is a free website that makes buying and selling custom foot content simple, safe, and easy. Buyers can either purchase pre-made content or send sellers custom offers.
It is highly secure and PCI compliant to protect all users' information. The founder of the website, Patrick Nielson, claims Feetfinder is the world's most secure, easy, and safest website for viewing and purchasing foot content.
The website already has tens of thousands of verified buyers and sellers, making it the easiest and safest place to buy or sell foot fetish content.
Additionally, this website provides complete anonymity to users, safeguarding the privacy of both buyers and sellers.
How to Make Money on FeetFinder
Here's a step-by-step process for how to make money on Feet finder:
Sign up for an account: Go to the website and click "Sign Up" in the top right corner. Fill out the registration form with your email, username, and password.
Create a profile: Once you have signed up, create a profile by filling out your bio and adding high-quality pictures of your feet. You can also set your rates for selling content or services.
Find buyers or sellers: If you're a seller, you can browse through the list of buyers on the website and see if there are any requests that match your services or content. If you're a buyer, you can browse through the list of sellers and see if there are any profiles that match your interests.
Initiate contact: Once you have found a buyer or seller that you're interested in, you can initiate contact by sending them a message through the website's messaging system. Be professional and polite in your communication.
Negotiate terms: If the buyer or seller is interested in working with you, you can negotiate the terms of the transaction, including the type of content or service, the price, and the delivery method. Make sure you both agree on the terms before moving forward.
Payment: FeetFinder facilitates payments between buyers and sellers through its platform. As a seller, you can receive payments through the website's payment processing system, which takes a percentage of the sale. As a buyer, you can pay through the platform using a credit card.
Delivery: Once the payment has been processed, the seller can deliver the content or service to the buyer through the website. The buyer can then rate the seller's performance and leave feedback on their profile. If the transaction was successful, the buyer and seller can continue working together through FeetFinder, building a relationship and completing more transactions in the future.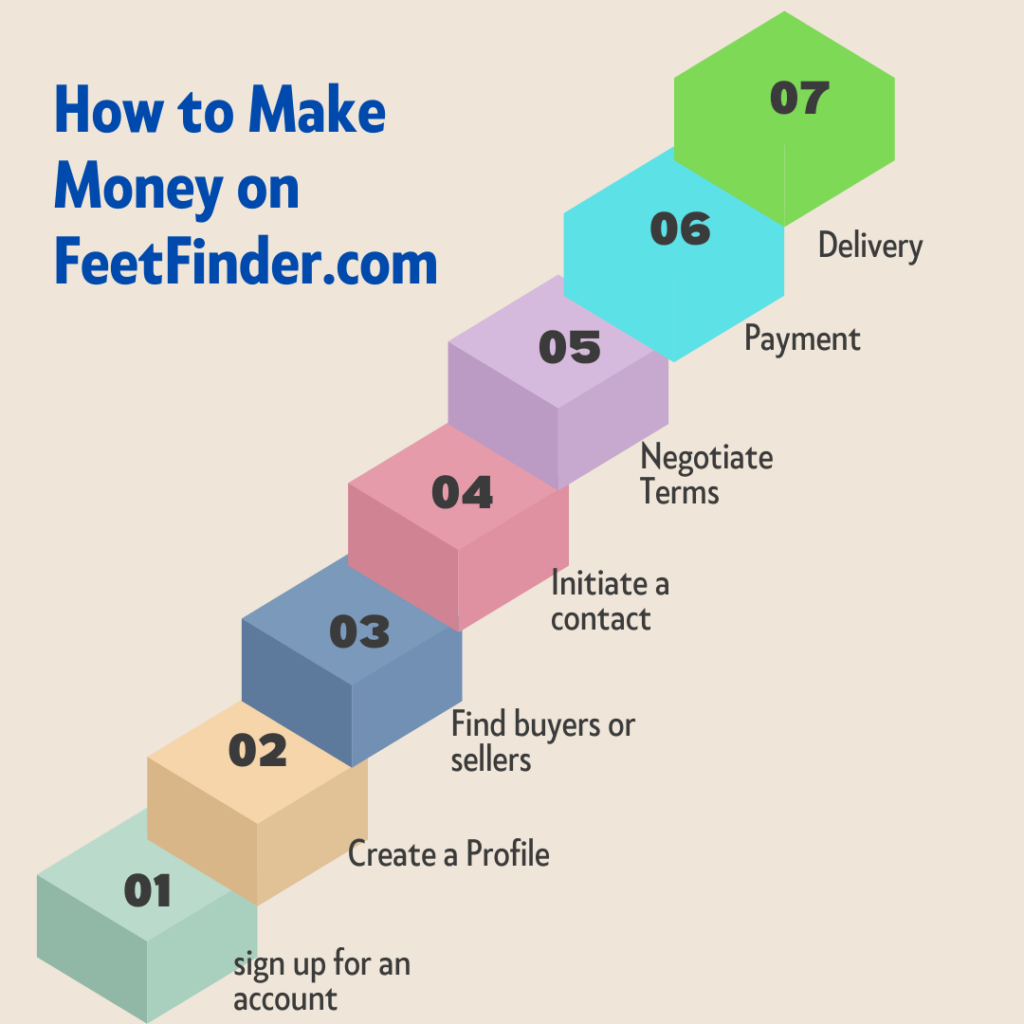 Once you have done all of the above, you can now earn money from every sale you make, selling pictures of your feet!
Feetfinder Pricing
To sell on FeetFinder, you need to subscribe to their platform, but buyers can browse some free content and view blurred paid images. There are two subscription plans available, a basic plan with a monthly fee of $4.99, a yearly fee of $14.99, and a lifetime subscription of $40. The premium subscription plan costs $14.99 per month, $29.99 per year, and $80 for a lifetime subscription.
Sellers receive 80% of their earnings, while FeetFinder takes a 20% fee per transaction to cover their expenses and make a profit. They use this money to improve their website's security, develop new features, and do marketing. However, some sellers are worried that they do not know how their profiles are being marketed to buyers, and their customer service has not addressed this issue.
How Does Premium Membership Work?
FeetFinder Premium membership is an upgraded account that comes with extra benefits. You can upload 15 photos per album instead of 5, which is a good benefit. You can also communicate with buyers and receive custom offers. Your content is auto-protected and blurred to prevent theft.
Uploading speeds are faster, and you get a more customized profile with links to social media accounts. The extra marketing benefit is vague and not well understood. You also get premium customer support. However, it is unclear what it means.
You can also see a premium badge on a seller's profile picture, like Lil2Dream, a seller with a good description and profile.
Feet Finder Reviews
Based on the feetfinder reviews on Trustpilot, most people praise FeetFinder for being a safe and secure platform for buying and selling foot-fetish content.
According to the Trustpilot website, the website currently has a TrustScore of 4.9 out of 5 stars, an excellent rating. The TrustScore is based on various factors such as the number, the age, and the frequency of reviews. Over 5,000 reviews have been written about FeetFinder on Trustpilot, with most of them being positive.
Furthermore, Feetfinder reviews on Reddit can be helpful for those interested in selling their sexy feet pics online. Positive experiences have been shared, with users finding success on the platform. You can join the forum to gain more experience in creating quality content and marketing it professionally.
Read More: Inflact Review: Is This Instagram Growth Service Worth Your Investment?
Feetfinder Pros and Cons
Before jumping into selling feet pictures online, it's important to consider both the advantages and disadvantages. Making an informed decision requires knowing both sides of the story. So, let's start with the pros first.
Feet finder Pros
The website has a user-friendly interface and an easy-to-use messaging system.
It has a large user base and provides ample opportunities for buyers and sellers to connect.
As a seller, you can keep 80% of the sales.
Feet finder Cons
Several feetfinder seller reviews have reported issues with delayed or missing payments with the website's payment processing system.
There have been reports of technical difficulties with the website, such as pages not loading and messages not being sent.
There have been complaints about slow response times and unhelpful customer service responses on the website.
Several feetfinder seller reviews have reported fraud or scams on the website.
High fees: Some users have reported that the website's fees are too high, negatively affecting their earning potential.
Limited payment options: FeetFinder only accepts payments through its own payment processing system, which some users have found to be inconvenient or unreliable.
Lack of moderation: A few users have reported instances of inappropriate behavior or harassment from other users.
Limited features: Some users have noted that feetfinder.com lacks certain features that other similar platforms have, such as the ability to search for buyers or sellers by location.
Some sellers have complained that they haven't made many sales on the platform.
The feetfinder app is not available. Both Google Play & Apple rejected offering their app on their online stores because it was a "fetish" app.
In order to register, your ID is required. However, this could be a problem without a reliable system in place.
FAQs
In this section, we answer all your burning questions, from getting started to how much money you can make. So, let's take a look at some of the most frequently asked questions for a deeper understanding of the platform.
Q1. Instafeet vs Feetfinder; How Do They Differ?
Instafeet and Feetfinder are popular websites for buying and selling feet photos. Instafeet is free to join, making it a better option for beginners. However, only subscribed users can access your feet content, and Instafeet charges a 10% commission on sales.
On the other hand, Feetfinder allows any potential buyer to view your content and keeps a 20% commission. Starting with Instafeet to gain experience and cross-promoting between both sites can help you make passive income selling feet content online.
Q2. Is Feetfinder Legit Website?
YES! That's the answer! It is not only legit but also a safe and trustworthy platform for selling feet pics.
If you're concerned about the legality of selling feet pics, rest assured it's completely legal as long as you're over 18 years old. Feet Finder verifies your age with a government-issued ID to ensure that you're who you say you are.
Q3. Are Transactions Safe And Anonymous?
Yes, FeetFinder ensures safe and anonymous transactions through partnerships with two payment processors, Paxum and Segpay. Paxum is used for international transactions while Segpay is used for transactions with sellers in the USA. These processors have been chosen to provide a secure and private payment process for users of the platform.
Q4. How Much You Make on Feetfinder?
Are you looking for a unique way to make some extra cash? Selling your feet pics might be the answer. And the best part? There is no fixed price for foot fetish content. You can earn anywhere from $5 to over $1,000 per picture or video, depending on the quality of your content.
The more you create and post, the more money you can make. You have multiple ways to earn money and build your feetfinder income.
Firstly, you can have monthly subscribers who get access to all the content on your account. This means a reliable and steady income for you every month.
Additionally, you can offer pay-to-view content, where people pay to purchase a single picture or an entire album. And the best part? You can sell the same album to multiple buyers, maximizing your earnings.
But wait, there's more! You can also earn money through the referral program. For every person you refer who joins the platform, 10% of their earnings will be yours. It's simple: once you sign up as a seller, you'll automatically receive a unique referral code. So why not take advantage of this easy way to make some extra income?
Share this code with your friends, family, and followers via your referral link. When someone clicks on your link and signs up using your code, you'll earn money!
Q5. Is Feetfinder Safe to Use?
Yes. FeetFinder takes safety and security seriously. They use encrypted servers, PCI-compliant security, and a third-party firewall to protect your data and payment information from potential threats.
When selling feet pictures on the website, buyers will only see your username, profile photos, bio, ethnicity, and foot size. Your personal information and location are kept private.
The safety of your personal information is of utmost importance. When taking pictures, avoid easily recognizable backgrounds such as landmarks or personal items like diplomas.
Q6. How to Cancel Feetfinder Subscription?
To cancel your account, go to your profile, click on Settings, and click the "delete account" link at the bottom. Confirm that you want to delete your account. Additionally, if you have a Segpay or Paxum payout account, be sure to delete that as well if you won't be using it.
Q7. Are There Any Tips or Tricks for Making Money on Feet Finder?
Are you ready to create top-notch content that will help you build a loyal following and earn money? Then follow these essential steps for success!
Take high-quality feet pics for sale.
Make sure your feetpics and videos are high-resolution to show off every detail.
Add detailed and flirty descriptions to your content to make it more appealing.
Upgrade to a premium account to upload more content.
Know the most popular feet categories.
Knowing what buyers are looking for will help you tailor your content to their preferences. Take note that the website has a wide range of categories for users to explore. These include arched feet, Asian feet, long toes, soles, ASMR, showing face, nylon, socks, sandals, dirty feet, sneakers, tattooed feet, high heels, nail polish, pedicures, and lotion. While there are other categories available on the site, these appear to be the most popular.
Stay active and consistent on the foot finder platform. Post regularly to keep your profile fresh and engaging.
Promote your FeetFinder profile on other social media platforms.
Share your link on Instagram and other social media channels to develop a following and attract more buyers.
Practice your posing and photography skills. Keep practicing until you're confident in your skills and can create content that stands out on FeetFinder.
Q8. How to Take Feet Pics for Sale?
To sell feet photos, it's important to take care of your feet, keep them clean, and maintain your nails. Glamorous shots tend to generate more interest from buyers.
When taking foot pics, use different angles, lighting, and backgrounds, and keep the photo resolution high for the best quality photos.
There are desired poses in the foot fetish community, like the one lying on your stomach with your feet up behind you, showing the soles of your feet. Other popular poses include the Invisible Tightrope, Bow Leg, and Soles. Experiment with these poses and find what works best for you to capture attention and attract buyers.
Q9. Is FeetFinder Free?
No. You'll have to pay at least $4.99 for a one-month subscription to sell pics on their platform.
Q10. Can You Sell Feet Pics on Feetfinder If You Live outside the US?
Yes, FF is available worldwide.
Conclusion
Overall, while there are some negative reviews, the majority of users seem to have had positive experiences with FeetFinder.
To summarize, FeetFinder offers a convenient and secure platform for selling feet photos and videos. However, there is competition and it may take time to earn your feetfinder salary.
With the knowledge and tips on how to take good foot photos, you can start monetizing your cute feet and potentially make money online. Don't hesitate to take the leap and start your FeetFinder journey!
Thanks for taking the time to read this article! We hope you found it helpful. If you're interested in learning more, make sure to browse through our other blog posts, like: