Instagram is a visual platform and it is super important to keep it neat, appealing, and beautiful. As you would probably know, you are allowed to add 30 hashtags to your Instagram posts. Yet 30 in-blue spammy-looking hashtags might not go in harmony with all your posts. Then you must be wondering how to hide hashtags on Instagram.
You might also like to read:
Does Instagram Hide Hashtags?
Instagram allows the selective number of users to hide hashtags on their captions.
Instagram is testing the ability to add hashtags to posts without including it in the post caption pic.twitter.com/OhQn0xcCuw

— Jane Manchun Wong (@wongmjane) September 20, 2018
How To Hide Hashtags On Instagram Posts?
There are four methods to hide hashtags on your Instagram posts that are mostly used by creative Instagram accounts.
Also, read; 50 Creative Instagram Accounts in 10 Categories
Use AiGrow To Hide Hashtags on Instagram Posts

AiGrow is a platform in which embeds an Instagram scheduler. The scheduler of AiGrow allows you to hide your hashtags on your Instagram posts.
To work with AiGrow, sign up for free, connect your Instagram to AiGrow and click manage the account on your dashboard.
On the scheduler tab, click schedule feed. Now upload 10 feed to your dashboard, write your caption, find your hashtags and schedule your post.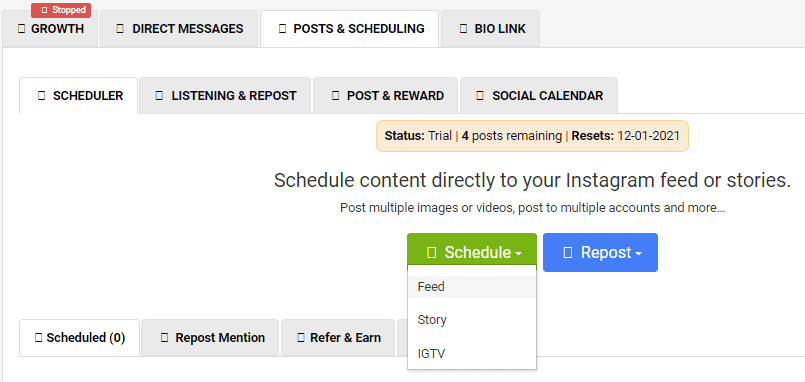 When it is published, you see all your hashtags in the comment.
Read AiGrow Review to learn about its other free features.
Know that there is no harm in adding hashtags in the first comment, and it functions the same as hashtags in the caption.
Type Hashtags Below The First Three Lines
Instagram shows the first three lines of Instagram captions and hides the rest. So followers need to tap on "more" to read the rest of the caption.
Normally Instagrammers divide the caption from the hashtag section with 3-5 dots. You can do the same.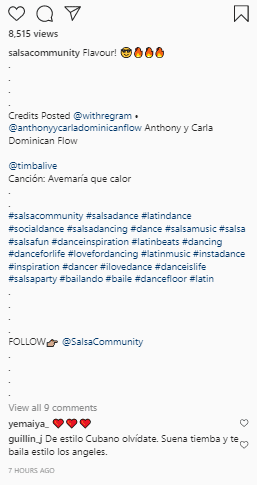 Also, read; How to write an engaging caption.
As you know, the maximum number of characters you can use on your caption is 2200. Although it gives your caption a better look, it still occupies your caption and those 30 hashtags are calculated in the caption limit.
Embed The Hashtags In The Caption
This is when you do not appropriate space to your hashtags, but you embed them in your caption.
The greatest disadvantage with this method is that you can not embed 30 hashtags in the caption. Even if you could, it looks doubly spammy.
Besides, it is hard to embed all the niche related hashtags in a caption. If you do, hashtag (keyword) stuffing happens.
How To Hide Hashtags On Instagram Stories?
Instagram allows you to add 10 hashtags to Instagram stories. Given the fact that everything is sizable on Instagram stories, you can make the hashtag so small and place an emoji on it to cover it.
The other hack is to type hashtags in the color of the background so it fades in the color.
How To Hide Hashtags On Instagram Bio?
Though it is vital to add hashtags to the Instagram bio, there is no way to hide them. That is why you should not add more than 2 hashtags on Instagram bio. Otherwise, it will look spammy. Remember Instagram bio must be inviting to increase your followers.
Also, read; How to Write a Catchy Instagram Bio for Business
How To See Hidden Hashtags On Instagram?
To see hidden hashtags on Instagram, you should go to caption and click more to see the hashtags. If you see any hashtags, it means that the user;
Does not hashtag at all

Hashtags in the first comment 

Hashtags when replying to comments in a fun way
How To See Banned Hashtags On Instagram?
Here you see the list of banned hashtags on Instagram;
| | |
| --- | --- |
| Alphabets | List of banned hashtags on Instagram |
| A.a | #abdl #addmysc #adulting #alone #always #armparty #asiangirl #ass #assday #assworship |
| B.b | #beautyblogger #besties #bikinibody #boho #brain |
| C.c | #costumes #curvygirls |
| D.d | #date #dating #desk #direct #dm |
| E.e | #edm #eggplant #elevator |
| F.f | #fuck |
| G.g | #girlsonly #gloves #graffitiigers |
| H.h | #hardworkpaysoff #hawks #hotweather #humpday #hustler |
| I.i | #ice #instasport #iphonegraphy #italiano #ilovemyinstagram  |
| K.k | #kansas #kickoff #killingit #kissing |
| L.l | #loseweight #lulu #leaves #like |
| M.m | #master #mileycyrus #milf #mirrorphoto #models #mustfollow |
| N.n | #nasty #newyearsday #nudity #nude #nudism |
| O.o | #overnight #orderweedonline |
| P.p | #parties #petite #pornfood #prettygirl #pushups |
| R.r | #rate #ravens |
| S.s | #saltwater #samelove #selfharm #single #singlelife #skateboarding #skype #snap #snapchat #snowstor #sopretty #stranger #streetphoto #sunbathing #swole #shower #shit |
| T.t | #tag4like #tagsforlikes #tanlines #todayimwearing #teens #teen #thought |
| U.u | #undies |
| V.v | #valentinesday |
| W.w | #workflow #wtf |
| X.x | xanas |
| Y.y | #Youngmodel |
It's been said your post won't be shown to your followers if you use these hashtags and continuous use of these hashtags lead to shadowban.
How To Save Hashtags On Instagram?
You know that hashtags are clickable on Instagram. That makes it a little hard to save them via cellphone. To save hashtags on Instagram, you need to sign in to your account via pc. You go to the comment section, select all the hashtags, copy, and then paste wherever you want.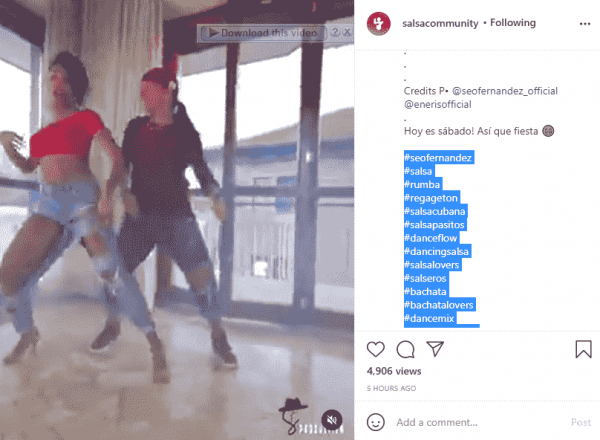 Bottom Line; How To Hashtag On Instagram Without It Showing?
Aesthetic is important in visual social media platforms and Instagram happens to be one of them. That is why to create the best Instagram caption yet, you'd better hide hashtags.
There are 3 methods to hide captions on Instagram, you can place hashtags in the first comment, use dots and space to separate the hashtag section, and embed the hashtags in the text itself. 
To hide hashtags on Instagram stories, you can resize your hashtags and use an emoji, photo, or something to cover it. You can also type them in the background color to make them invisible. And so dar, there is no way to hide captions on Instagram bio, that is why the number of hashtags in bio better not to exceed 2.