Due to the COVID-19 lockdown, making new friends and socializing has turned out to be an arduous task. But hopefully, you can find some new virtual friends on social media networks. Right now, two out of every three social media users between the ages of 18-29 are using Instagram. So, it can be a great place to make new friends. You share photos of what you love, find new followers, and follow people with the same interests. In this article, I'm going to walk you through some tips on how to make friends on Instagram. Keep on reading and meet with new people on Instagram. 
How to Make Friends on Instagram?
Here are 7 simple tips to keep in mind when trying to make friends on Instagram:
#1 Post about Your Favorite Topics and The Hobbies You Do in The COIVD-19 LockDown
To start a new friendship, you need to find a common interest and start a conversation about it. Unquestionably, there are some hobbies and topics that you are really enthusiastic about and like to talk about them with your friends. So, optimize your Instagram for this purpose and share photos of the foods, places, and activities you love. However, don't make it too personal. 
Also, it'd be great if you share some of your interests in your bio. Here's an example: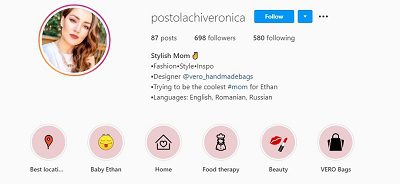 Read More: Creative Instagram Bios from Tumblr in 5 Categories+50 Quotes
#2 Make Local Friends on Instagram Using Locations
Instagram allows you to add locations to your posts and stories. If you are looking for a way to make local friends on Instagram, add locations to your posts, and search for nearby locations to find more people living around you. This way, you have a greater chance to meet these new people and get closer to them. 
#3 Search Your Favorite Hashtags
Hashtags are like keywords on Instagram. Using hashtags, you can find more posts about your interests. Moreover, by adding relevant hashtags to your own Instagram posts, you can attract more followers and turn them into Instagram friends. 
Also Read: The Best Way to Search Multiple Hashtags on Instagram
#4 Engage with Your Potential Friends on Instagram
Don't be shy, follow the ones that you are interested in and show them you exist! After following your potential friends on Instagram, go ahead, and show your enthusiasm. Like their posts, leave comments, engage with their stories, and start conversations without getting too spammy. 
#5 Send Direct Messages and Share Ideas About What to Do During COVID-19 to Have Fun
After engaging with your new friend on Instagram comments, you can get one step closer. At this stage, I recommend you to send direct messages. However, to avoid being spammy, I suggest you avoid sending DMs instantly. Instead, reply to their stories, or share an Instagram post or story related to the conversation you had in the comments. This definitely increases your chance of turning followers into close friends and not being known as a spammy follower. 
#6 Connect to Other Social Media Contacts
Instagram allows you to connect to your mobile contacts and Facebook friends. Actually, this helps you expand your friends' list on Instagram. 
To make friends on Instagram and find more people, follow these steps: 
Open your profile and tap on the three lines icon on the top right corner of the screen. 

Tap on the

"Discover People"

tab.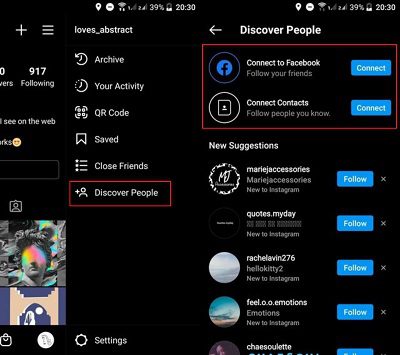 Here, you can find people to follow from your mobile contacts, connect to your Facebook friends, or follow people that Instagram suggests. These suggestions are made by the Instagram algorithm. Actually, the users on this suggested list are following the same accounts as you do, like posts from similar hashtags, and mostly live in nearby locations. So, they can be good choices to become friends with. 
#7 Add Your Potential Friends to The Close Friends List
Do you want to become friends with some of your followers? I think it'd be great to add them to your close friends' list and show them your passion to be friends with them. To do so, open your Instagram settings, and on the "Close Friends" tab, add the ones that you like.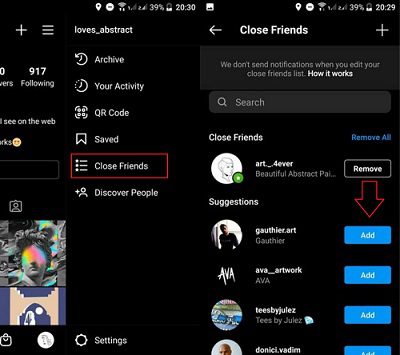 Now, when sharing Instagram stories, you can choose the story to be shown to people on your close friends' list. This way, people on your friends' list will notice that you know them as a friend and they'll probably reply to your stories and interact with you.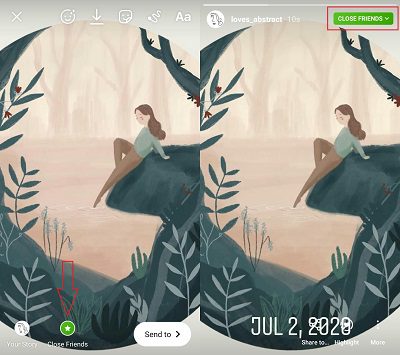 FAQs on How to Make Friends on Instagram
Here are some of the most frequently asked questions about how to make friends on Instagram:
Is It Creepy to Make Friends on Instagram?
Of course NOT! We are living in an era of technology and it is really natural to make international and virtual friends. So just go ahead, make new friends and socialize as much as you need!
Does Instagram Notify Adding or Removing from Close Friends List? 
The answer is no! People may not know that you have added them to your close friends' list unless you share a story with your close friends. Also, if you remove someone from your list, they won't get notified. 
You may also be interested in:
Wrap Up
Being one of the most popular social media platforms all over the globe, Instagram has turned out to be a place to share amazing moments of your life, purchase the stuff you need, and socialize with people. In this article, we talked about 7 tips on how to make friends on Instagram to help you connect with more people.