You're a fitness fanatic who has translated your passion for health and exercise into a thriving Instagram page. It's time to take that passion and turn it into a stream of income. Below is the quickest and most lucrative way how to make money on Instagram in fitness.
How Fitness Influencers Make Money on Instagram
Sponsors on Instagram are looking for two things: a large following (the kind of following that is likely to buy their products) and high engagement rates.
To make money on Instagram as a fitness influencer through sponsorship, that means you want to build a large audience interested in fitness. Simple, right?
How many followers do you need to start making money on Instagram
Here's a rough estimate of what you can expect: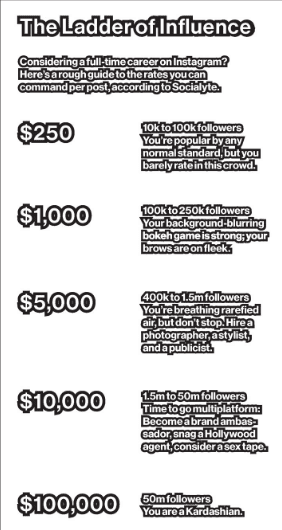 Alternatively, you can use this calculator from Influencer Marketing Hub to calculate how much you may be eligible to make according to the performance of your last 12 posts.
read more '29 Fool-Proof Ways to Get More Instagram Engagement'
Building a large audience consisting of the right kind of followers can be achieved through the steps described below.
What You Need to Make Money on Instagram as a Fitness Influencer
In order for you to start making money on Instagram, there are several considerations you should take into account:
Grow your followers base
Looking at the wealthiest Instagram influencers, you can see the more followers you have, the more money you can make from Instagram. The second metric is your engagement rate. Putting these two together, you will need real and engaged followers to be able to make money from you Instagram page. To grow your followers organically, you can get help from Managed Instagram services like AiGrow. They are offering a VIP program that guarantees your followers' growth. Fortunately, the service comes with a week of free trial. You can sign-up from here and see the results yourself.
Use Engagement Groups to Grow your Engagement rate
As mentioned, the higher your engagement rate, the higher your chance of being sponsored by brands. A quick and natural way of growing your engagement rate is to join Instagram engagement pods. AiGrow provides engagement pods with over 5000 members in each. This means thousands of likes and comments each time you post on Instagram. Engagement PODs come in ebery specific niche. You can see a full list of AiGrow PODs by signing up a free account on their platform.
Make Content that Your Fellow Fitness Freaks Want to See
The first thing is pretty self-explanatory – you need to create content that resonates with people interested in fitness. Some quick examples of this type of content are:
pre/post workout shakes with the recipe included in the caption
in-the-gym action shots (squats, deadlifts, etc.)
exercise tutorials
progress posts of clients you have helped train
before-and-after progress posts
motivational quotes from famous figures in the fitness industry
Put yourself in the shoes of your audience. As someone interested in fitness, what kind of content would an Instagram page have to have for you to be interested enough to follow that page?
If you need some ideas for content, here are some successful fitness influencers from different areas of the fitness world:
Make it Easy for Your Target Audience to Find You Through Hashtags
You could have the best content in the world, but if it's not reaching anyone it doesn't matter.
Attaching the right hashtags to your posts make sure that your content is reaching the kinds of people that you want as followers.
If you are creating fitness-related posts but aren't using any fitness-related hashtags, you're making it virtually impossible for people in the Instagram fitness community to find your content.
And while using high-volume general hashtags like #fitness is definitely a good start, if you don't also include smaller, more specialized hashtags more specific to your individual posts, you risk having your posts constantly be drowned out by the hundreds of thousands of other posts using #fitness.
For example, if you are posting a photo illustrating the correct way to perform a squat, in addition to using a hashtag like #fitness, you could also include a smaller hashtag like #squatforlife. This way, in addition to any general traffic you might get from #fitness, you're also making your posts your visible to a much more specific group of the fitness community who are more likely to appreciate your post about squat form.
As a general rule, try to include at least 11 hashtags in every one of your posts with a mix of popular but general and less-popular but specific hashtags.
Using the right hashtags and creating the right kind of content is so that when you do grow your page to an appreciable size and sponsors begin looking at you, they can see that the kind of people who follow you match up with what those sponsors are looking for in their own audience.
Read this article to learn how to find the perfect hashtags for your niche.
Here are some general fitness-related hashtags to help get you started:
#HealthyLife
#TrainHard
#Running
#HealthyEating
#HealthyRecipes
#GetHealthy
#WeightTraining
#Workout
#Fitness
#StayInShape
#Nutrition
#GoalSetting
Engage with People in the Fitness Community
Hashtags are one way that people can discover. Engaging with people in your community is another.
Neil Patel found that for every 100 likes, he received roughly 6 followers. Take the hashtags that you discovered through your research above and start engaging with people using those hashtags. This way, when you begin gaining followers from your engagement, you know you're likely getting followers who fit your demographic (people interested in fitness).
If you're strapped for time, you can use a tool like AiGrow to automate this process and begin automatically engaging with your target audience through Likes, comments, and DMs. See the quick video below to see how it works:
Get in Touch With Fitness Sponsors
If you're doing things correctly, 8/10 times sponsors will begin contacting you.
In same cases, however, it can pay to reach out to sponsors yourself.
This doesn't always have to begin with a direct DM asking if they can sponsor you. This can come across as desperate.
If after building a sizable audience relevant to your sponsor your dream sponsor still isn't sliding into your DMs, then you need to start getting creative.
If you're not doing it already, start commenting and/or answering people's questions under your dream sponsor's posts. If your dream sponsor sells products, buy their product, post about your experience, and tag the sponsor in your post.
After enough of these types of things, you can then upgrade to DMs.
Here's a sample DM you can send to your dream sponsor:
"Hey guys! I've been a huge advocate of your brand for years. You were actually an inspiration for creating my fitness Instagram page in the first place. Do you offer any sort of ambassador program? Over the past x years, I've managed to grow my audience to 0ver x fitness-obsessed followers who I think would fit with your target audience perfectly. Let me know! Keep up the awesome work."
You can certainly send out DMs to every potential sponsor one-by-one, but to save you the time and effort you can also use a tool like AiGrow to automatically send out hundreds of DMs a day. See the video below to see how it works:
When these sponsors check out your page and see that 1) you post content that is relevant to their brand, 2) that your followers fit with their target audience perfectly, and 3) that  you've already purchased and praised their products, it makes the decision to sponsor you that much easier.
How much do fitness influencers make from Instagram
How much money can Instagram fitness Influencers make from their Instagram community? Based on the number of followers one has, the engagement he receives and some other factors, the number can be different for each Influencer. Let's take a look at the wealthiest Instagram fitness influencers to get a sense of how much money they are making.
Wealthiest Instagram Fitness Influencers
Although some celebrities can be categorized as fitness influencers, here we are focusing on non-celebrity fitness influencers, after all, we want to see how much money can be made out of fitness, not fame.
Simeon Panda
View this post on Instagram
Insta Income: $549K
Earning per sponsored post: $13K
Number of Ad posts: 41
Ulisses Jr
View this post on Instagram
Insta Income: $476K
Earning per sponsored post: $16K
Number of Ad posts: 29
Anllela Sagra
View this post on Instagram
Insta Income: $428K
Earning per sponsored post: $29K
Number of Ad posts: 15
Anna Nystrom
View this post on Instagram
Insta Income: $261K
Earning per sponsored post: $20K
Number of Ad posts: 13
Ana Cheri
View this post on Instagram
Insta Income: $62K
Earning per sponsored post: $31K
Number of Ad posts: 2
Top 10 Instagram Fitness Influencers
Regarding the lifestyle we have, the number of followers of fitness models must not surprise us. Nowadays, people admire lean trim fitness models and follow their training to lose a few pounds because, at the end of the day, no one wants to die early suffering obesity.
Not a long time ago, exercising was done to be healthy and in shape, but thanks to Instagram, it's also a business and Instagram is a great tool to get fitness models known in the world.
Top 10 Instagram Fitness Models Ranked by #Followers
Let's see which Instagram fitness models have the most number of followers.
1. Sommer Ray
Followers:17.5m

Birthday: September 15, 1996

Nationality: American
Biography
She started her journey at the age of 15. Since her parents were bodybuilders, his father coached her on workouts routines. She started with weight lifting and one year of regular workout turned her into a bikini athlete. In 2015, she won two trophies at 'NPC Colorado State Championship,' and bagged the 16th spot at the 'NPC USA Championship.' The following year she started her career on social media and soon she became an internet sensation. In 2016, she shifted her focus in her lower body. Her diet mostly includes lean protein, green vegetables, and fruits. After several achievements, now she has her own personal site in which she merchandises her market.
View this post on Instagram
What @sommerray posts on her Instagram
She posts content related to fitness and diets and some hilarious and entertaining videos. She shares her secret workouts and challenges, and pranks.
2. Michelle Lewin
View this post on Instagram
Followers:12.5
Nationality: Venezuela
Birthday: February 25, 1986
Biography:
She was born in Maracay, Venezuela and grew up in poverty. She had to work since she was so young but her mother and she still needed charity help to survive. She was so skinny at the time that it required her to cover her appearance with long sleeves and pants. She started working out at 17 when her mother first took her to the gym. Focusing 7 years working on her legs led her to a disproportionate body until she met Jimmy Lewin in 2008. He was her trainer and taught to train her upper body as well. 
Gradually he turned into her friend, lover, and her husband. Finally, they got married in 2010. Jimmy pursued her to follow fitness and bodybuilding professionally and as a result, she won so many competitions, the NPC Fort Lauderdale Cup included right after they move to Miami. Now she runs her own business relating gym clothes and swimwear.
Michelle lewin's bodybuilding accomplishments:
2014 IFBB Nordic Pro (10th)

2014 IFBB Dallas Pro (12th)

2014 IFBB PBW Tampa Pro (4th)

2014 IFBB Greater Gulf States Pro (6th)

2014 IFBB Prestige Crystal Cup (4th)

2014 IFBB Europa Dallas (3rd)

2014 IFBB Europa Show of Champions Orlando (12th)

2014 IFBB Battle on the Beach Pro (9th)

2014 IFBB Legends Pro Bikini Classic (3rd)

2013 NPC Fort Lauderdale Cup (1st)

2013 NPC Fort Lauderdale Cup (1st)

2013 NPC Southern States (2nd)

2013 NPC Southern States (3rd)

2013 NPC Mid Florida Classic
What Michelle Lewin posts on her Instagram:
workout routine

daily diet

motivating contents
3. Jen Selter
Followers:11.7m
Nationality: American
Biography:
She started her fitness journey when she was in high school. According to what she said she used to be bullied as a kid for her look so in high school she started working out at the gym and took photos and shared them on social media to divert people's attention from the so-called "not-so-attractive" face. She launched her Instagram in 2010 and gradually fame from it. She researched about Instagram and its algorithms and how people get famous.  
Massive traffic to her Instagram account led to:
Start brand promotions, fitness brands included

Contract with fitness app "Fitplan"

Serve as the director of an athlete jewelry brand named 'ION Collection'

Launch her gym appeal

Become the global spokesperson of 'Peeks,' a video-sharing platform

Be sponsored by dozens of brands, "Nike" included

Get asked to be Rihanna's trainer
Contents of her Instagram account:
She runs several Instagram accounts and her sister, Stephenie helps her managing them. These accounts are related to her fitness career, love life, and her pet. But the key factor of her publicity is to keep all her accounts refreshed posting at least one picture a day.
4. Ana Cheri 
Followers:10.9
Birthday: May 16, 1986
Nationality: American
Biography
Ana Cheri started her career by posting her images and fitness tips on her Instagram accounts. After her reputation thanks to Instagram, she started getting modeling offers from local brands in California. Her popularity rose pointedly when she was featured in the Playboy magazine. 
K&N Filters, Moskova Underwear, Monster Energy, and the Ultimate Armwrestling League are some of the brands which Ana prompts their products in Instagram accounts. She runs the " be more athletic" gym in California and tries to expand into a fitness chain across the country via Instagram.
5.Anllela Sagra 
View this post on Instagram
Followers:9.6
Birthday: October 6, 1993
Nationality: Colombian
Biography:
Anllela Sagra is a Colombian fitness model, trainer, bodybuilder, and Instagram influencer. Inherited beauty is not the only matter which drives traffic into her Instagram account. Since in Colombia, muscles don't seem so attractive on women due to the novelty of bodybuilding for women, she tried to put muscle on her slim frame. At first, she was interested in fashion design and she aimed to become a model and even did a degree in a Colombian university, but after meeting a fitness enthusiast in the gym, she changed her perception of life and this turned into a fitness model. Even though her friends and family tried to stop her since they feared she would hurt her body, her ambitions overcame all the obstacles. 
Content of her Instagram accounts:
Videos or photos relating to fitness and personal life

Before-after photos of her clients
6. Kayla Itsines 
Followers: 8.2m
Birthday: May 21, 1991
Nationality: Australian
Biography:
Kayla Itsines is a personal trainer, entrepreneur, and author. But what made her world-famous is her fitness e-book series, 'Bikini Body Guides', and her workout app named 'Sweat with Kayla', which overshadowed all other fitness apps in 2016. Since 2008, she has been working as a personal trainer and has guided thousands of women to improve their health and fitness using her own exercises developed after much research. In 2016, Time magazine nominated her as one of the 30 most influential people on the Internet. 
Content of Instagram account:
Her own developed exercises developed after so much researches

motivating contents
7.Julia Gilas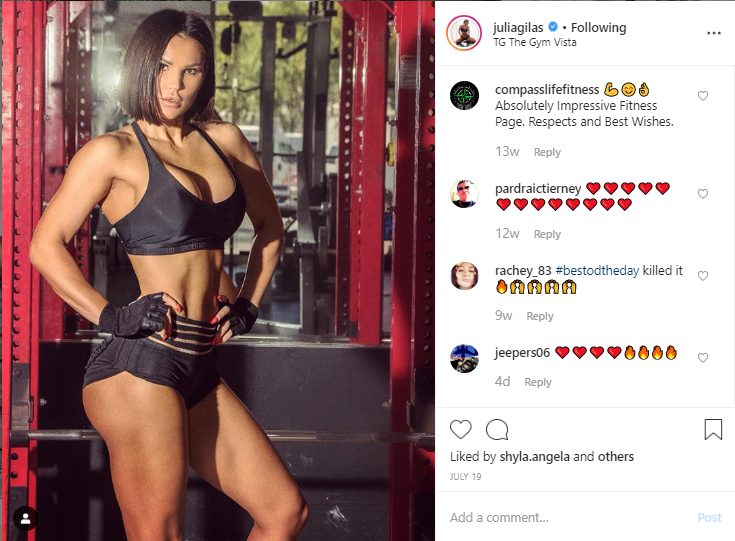 Followers: 5.1m
Birthday: December 15, 1984
Nationality: American, Ukrainian 
Biography:
As a child, she knew that one day she would become a model. She used to skip the classes in school until she enrolled at a modeling school at the age of 14 and not a lot of time passed until she turned into a remarkable student in school. Since her parents disapproved modeling, she rebelled against them and left home at the age of 16. After a point in her life, she noticed that she is not having a healthy lifestyle so she researched every content she could regarding healthy lifestyle. She changed her diet and went to the gym and her journey began. After focusing more on developing her muscles, she created an Instagram account and began posting content on fitness and modeling. 
Here's Julia talking about her 'big dreams': 
"Starting from a very early age, I knew there had to be more. As I began to dream more, the desire to leave my city in Ukraine burned inside of me. Growing up, I became fortunate enough to become a model and start traveling. My modeling work in Europe gave me the opportunity to travel and see much more of the world. I believe education comes in many forms beyond school and books, and my education came from my traveling the world and learning from others I met along the way."
Content of her Instagram account:
Workout Routine

macros

supplement snacks

contents on fitness and modeling
8. Ulisses Jr 
Followers:4.4m 
Birthday: March 8, 1980,
Nationality: American
His famous quote:
"I consider myself a natural-born leader, so I strive to be the best."
Biography:
Ulisses grew up in New York and was active in sports like soccer since his young age. Today, he is the leading body composition coach in the world and is also the Director of PT of a renowned fitness club but this position didn't come easy. He was too skinny yet highly active and energetic. He started lifting weights and maintaining a proper diet and bodybuilding passion got developed in him. 
Accomplishments
2000 Platinum Classic NYC Novice (1st, Middleweight & Overall Winner)

2001 MET Championships NYC Novice (1st, Middleweight & Open Middleweight)

2002 Musclemania Fitness Atlantic Championships Connecticut (1st, Welterweight)

2003 Musclemania Fitness Atlantic Championships Connecticut (1st, Middleweight)

2003 Musclemania Superbody Championships Miami (1st, Middleweight & Overall Winner – Pro Card)

2004 Musclemania Superbody Championships Miami Pro (1st, Pro Division)

2005 Musclemania World Championships Las Vegas Pro (3rd, Pro Division)

2010 Musclemania World Championships Las Vegas Pro (1st, Pro Division)

2011 Musclemania World Championships Las Vegas Pro (2st, Pro Division)

2013 Musclemania World Championships Las Vegas Pro (1st, Pro Division)
His advice to those who want to build their physique:
"Be patient, determined and dedicated"
9. Eva Andressa 
Followers:4.3
Birthday: December 19, 1984
Nationality: Brazilian
Biography:
In her early teenage years, she was too skinny. So she went to the gym to reach her desirable physique. Since she failed to reach her goal she took a break from training. After a while, she began looking for a personal trainer until she found her future husband, Jardel Barros who himself was an athlete. Jardel was a source of inspiration for Eva and helped her realize her true potential and win many competitions. At the age of 25, she started fitness modeling and soon her photos were in famous magazines and got invited to TV shows.
Content of her Instagram account:
videos and photos associating to fitness modeling
Fitness Brands Open to Sponsoring
The brands below have been know to regularly sponsor new and up-and-coming influencers in the fitness community:
Gym Shark
Alphalete
Alpha
MVMT
Ghost Lifestyle
Conclusion
There are many ways how to make money on Instagram in fitness, but becoming an influencer in your community and getting paid to do sponsored posts is by far the quickest and most lucrative. to do so, you will need a follower base a high engagement rate, and the quickest and most natural way of growing is to use a managed Instagram service, like the one offered by AiGrow.
Have any tips or suggestions not explored above? Have you successfully (or not successfully) grown an Instagram page in the fitness space? Know a way how to make money on Instagram in fitness through a way not related to influencer marketing? We'd love to hear from you.
Drop us a comment below about your experience! 😉