According to Instagram, about %84 of people find new products on this platform, and using the newly added features, they purchase whatever they need using the official Instagram app rather than opening brands' websites. After the latest Instagram updates, this platform has added some other features to ease the process of shopping on Instagram. For instance, right now marketers can share shoppable videos on their feed, stories, IGTV, and even live videos. By the way, the length of Instagram videos is still a big issue for some users and prevents them from trying to share videos. But wait! Here I am going to show you how to post long videos on Instagram and share catchier posts to grab your followers' attention. So, stick around!
You May Also Like:
How to Post Long Videos on Instagram Stories?
When sharing videos on Instagram stories, you can post at most 15 seconds long videos. Actually, Instagram has the feature to cut down longer videos into pieces to be posted on stories properly. But this feature works only for 1-minute long videos and when uploading a longer video, only the first 1 minute will be uploaded and cut to pieces. So, how to post long videos on Instagram stories? 
Well, this problem can be solved easily using a third-party app like AiSchedul. Being one of the best Instagram schedulers over the web, AiSchedul enables you to schedule Instagram posts, stories, IGTV videos, and also reels and allows you to check the dimensions and length of videos you upload and make them perfectly fit in the Instagram requirements. 
To post a long video on Instagram stories using AiSchedul, you just have to follow these steps: 
Sign up for free

and add your Instagram accounts. Note that it allows you to add up to 80 accounts to a single dashboard and manage them all through a single dashboard. 

On your dashboard, click on the scheduling tab and choose stories. 

Then, just upload your video. 
Now, you see that your long video has been cut into pieces and all that remains is to schedule them to be published at the right time!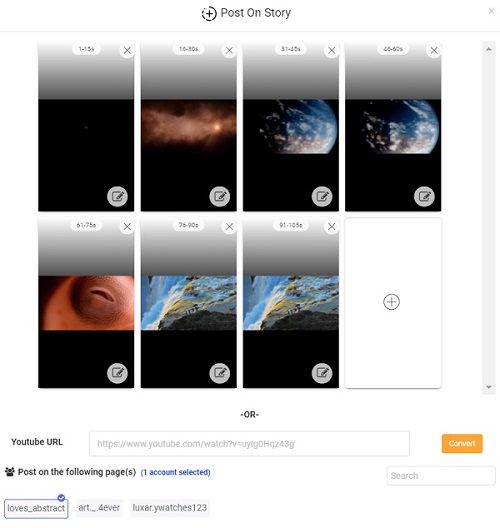 Additionally, if you want to share a YouTube video on your stories, you can simply paste the link on AiSchedul and post it on AiSchedul. 
How to Post Longer Videos on Instagram Feed?
Another great way to share videos on Instagram is to post them on your feed. Actually, this can be really beneficial because you can share longer videos, share them as carousel posts, and also let your followers access videos for more than 24 hours. But here, Instagram again limits the users to share videos no longer than 2 minutes. So, how to post longer videos on Instagram feeds? 
Luckily, AiSchedul helps you with this issue as well! Just like the previous section, here you just have to upload your long video or paste a link from YouTube. Then, your desired video will be trimmed automatically and by scheduling it, published on Instagram as a carousel post. 
Read More: How to Save a DM Video on Instagram in a Minute?
Share Long Videos on IGTV, From any Device, and in a Minute
Sharing tutorials, how-to videos, and also behind scenes videos can help you improve your brand authority on Instagram. IGTV is great for such videos. However, as you may already know, IGTV videos can be 15 minutes long and smaller than 650 MB. Actually, in comparison to stories and feed videos, this is great! But in some cases, you may want to share a 1-hour long video. So, what can you do? 
Fortunately, AiSchedul enables you to schedule IGTV videos, from any device, and with any length. All you have to do is to upload your video and let AiSchedul take the rest. It cuts your video, trims it properly, and publishes it on your account at the scheduled time. So, sign up for free and give it a try right now!
How to Post Long Videos on Instagram Reels?
One of the newly added features on Instagram is the reels which are similar to TikTok videos. On Instagram reels, users can share 15 seconds long videos. So, in terms of length, there's not much difference between reels and stories. However, reels videos get you more engagement because the chance of appearing in the reels tab randomly is very high and it's easier than appearing on the explore page. However, right now, there's no way to share longer videos on reels. Just that you can use AiSchedul to schedule, repost, or even download reels videos. 
Also Read: How to Convert TikTok Videos to Instagram Posts
Final Thoughts
In a nutshell, sharing videos on Instagram can help you get more followers organically, build trust, and turn your followers into customers. However, when sharing tutorials or Q & A session videos, you need to share long videos, something around 1-hour long. For this, you need to use a third-party to trim your videos properly. So, read the article to see how to post long videos on Instagram and improve your performance.