Learning the art of effective posting can change your game in the fast-paced world of Instagram, where every second matters and visual storytelling is vital. Among the many features available on the platform, Instagram Drafts—a frequently overlooked gem—stands out.
Instagram drafts can make your job much easier. Picture this: You're struck by a burst of creativity, but the clock is ticking, and the optimal posting time is slipping away. You can save drafts and post them at the best time on Instagram!
Yes, you can save your Instagram drafts and come back to them later when you have more time to edit them or write more engaging captions for them.
Therefore, it is a great feature that will provide you with more time to better manage and schedule your Instagram Stories, Reels, and Posts.
Some users find the process quite confusing. If you also don't know how to delete or save drafts on Instagram, don't panic! Here, we will teach you how to find, save, and delete Instagram drafts without a hitch.
So, let's delve into what drafts are and how they can be a game-changer for your Instagram experience.
What Are Instagram Drafts?
Drafts on Instagram are a feature that allows users to save their unfinished or edited posts, including photos or videos, and revisit them later for further editing or posting at a more opportune time.
These drafts are stored locally on the user's device and offer a convenient way to work on content without the pressure of immediate sharing.
There are some points about drafts on Instagram that you should consider:
Instagram drafts are stored only on the device where you saved them.
Even if you log in to your account, you won't be able to access a saved draft from another device.
Uninstalling the app means losing your drafts.
Saved drafts can be shared effortlessly, following the same process as sharing a new post on Instagram.
Enjoy the freedom to discard drafts you no longer wish to share, giving you complete control over your Instagram content.
Making a draft has some key points, so let's look at how to use Instagram's draft feature.
How to Save Drafts on Instagram (Personal and Business Accounts)
Whether you're managing a personal account or navigating the intricacies of a business profile, saving drafts on Instagram is the same.
Here, we've divided the detailed procedure into sections for posts, stories, and drafts so you can easily save your creative treasures for the ideal posting opportunity.
Instagram Post Drafts
Sometimes, you want to make a post, but you're unsure or realize it's not an ideal time to share. In such situations, you can make the desired changes, save your post, and share it later. This way, you have the time to think it over. All you need to do is follow these steps:
Tap the + button in the bottom center of your IG feed.
Choose the image or video you would like to post.
Now, you can edit it or choose the filter you would like to apply.
Next, write an engaging IG caption and use the top Instagram hashtags.
Then, tap the "<" (back arrowhead) on the top left corner of the page.
Press on the back arrowhead once more.
Here, Instagram will give you two options to choose from; discard or save as a draft.
Save the draft and you're done!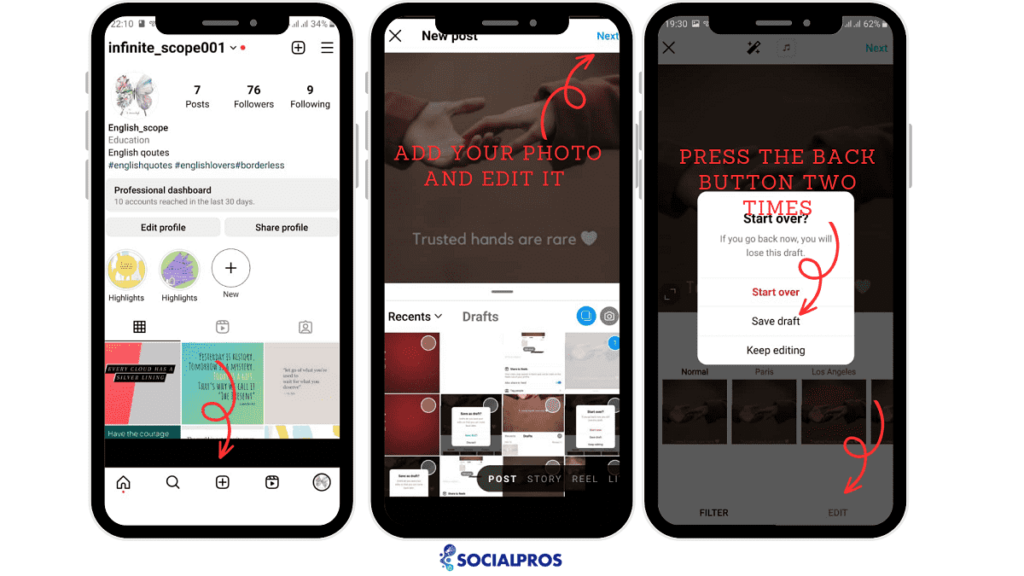 Instagram Story Drafts
When creating drafts for Instagram Stories, the process mirrors that of making drafts for regular Instagram posts. You can prepare your story content, make adjustments, and save it for later posting.
Open Instagram, and access stories,
Begin creating your story by taking a photo, recording a video, or selecting media from your gallery,
Enhance your story by adding text, stickers, drawings, or any other creative elements you desire,
If you're not ready to share your story immediately, tap the back arrow or navigate to the sticker icon at the top of the screen,
Look for the "Save as Draft" option and select it.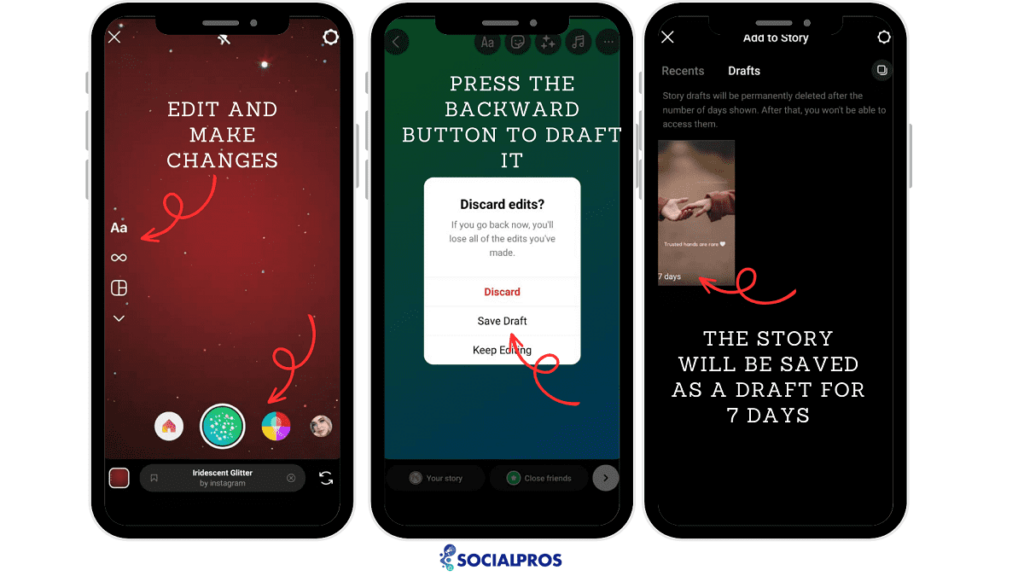 Instagram Reel Drafts
Instagram Reel Drafts enables users to save and store their partially created or edited Reels, including short videos with music, effects, and other creative elements.
Reel Drafts allow users to refine their content, experiment with various features, and schedule their posts strategically, offering flexibility and convenience in the creative process on Instagram.
Open Instagram,
Tap on the '+' icon at the bottom center of the screen, then select "Reel" from the options that appear.
Start creating your Reel by recording a video, adding multiple clips, or selecting media from your gallery.
Add creative elements like music, effects, and text to enhance your Reel.
If you're not ready to share your Reel immediately, tap the arrow at the bottom right of the screen to move to the editing screen. On the editing screen, you'll find the "Save Draft" option; select it.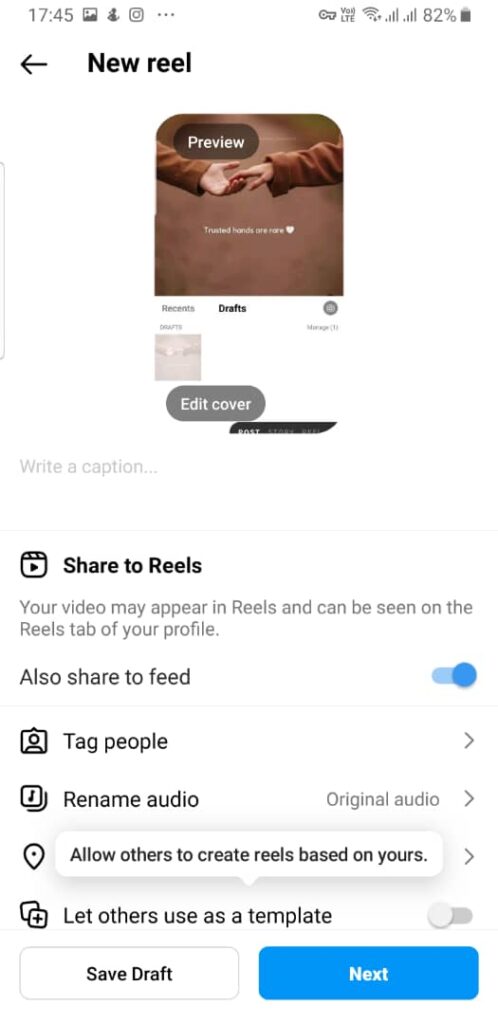 If you have any questions about where to find drafts on Instagram, we will answer them in the following sections.
How to Find Drafts on Instagram
If you've been wondering, "I've saved my drafts, but where are my Instagram drafts now?" don't worry; finding your drafted posts, reels, and stories is a simple process.
Whether you've crafted a captivating story, an engaging post, or an entertaining reel, locating your drafts involves navigating to their respective areas on the platform.
For drafted Reels, Posts, and Stories, the key is to head to the familiar territory of the Posts, Stories, or Reels camera.
Once there, swipe down on the screen (for Stories) or tap the camera icon at the top-left corner (for Reels). This action unveils the sought-after "Drafts" tab, neatly organizing your saved works for easy access and editing.
Where Are Saved Drafts on Instagram?
Whether you're using an IG business profile or a personal account, learning how to find your drafts on Instagram is the same.
To find your post drafts, go through these steps:
Press the '+' icon located in the bottom center of your feed.
Now, there are two sections available; one is 'Gallery' where you can choose a new image and the other is 'Drafts.'
Tap 'Drafts' and a list of all the images and videos you have drafted will appear.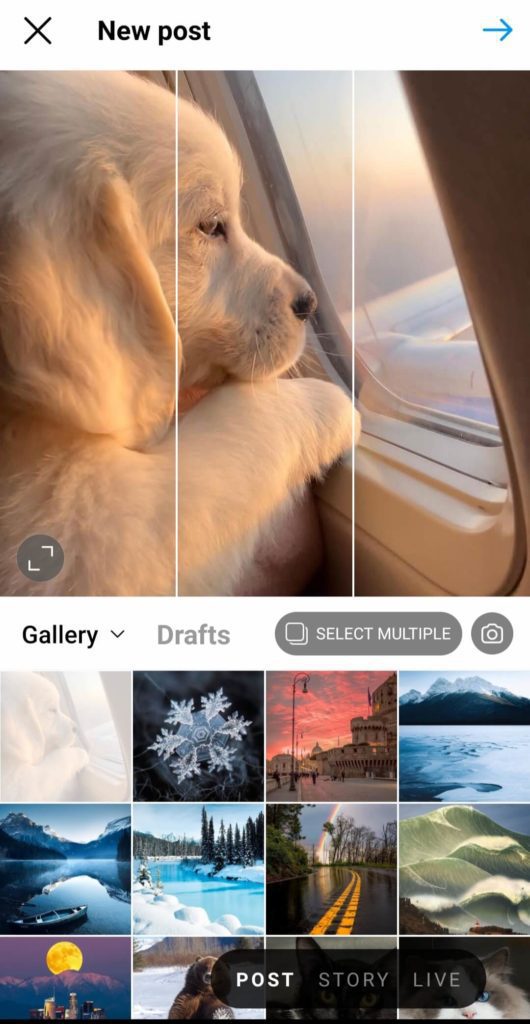 So if you are asking 'where are my drafts on Instagram?' You'll see them right above the photos in your gallery.
Here, if you press the arrow on the top right corner, you can see and edit your caption for one last time before you post.
Now that you know how to see drafts on Instagram and edit them, let's move on to the next common question.
How to Find Reel Drafts on Instagram?
You've saved the Reel draft and now want to know how to find it. If you wonder how to find and edit Reel drafts, proceed as follows:
Tap + at the bottom of your Instagram feed.
Select Reel.
At the top, you will see the 'drafts'.
Tap on it and you can find Reel drafts here.
Choose each one you want to edit and share.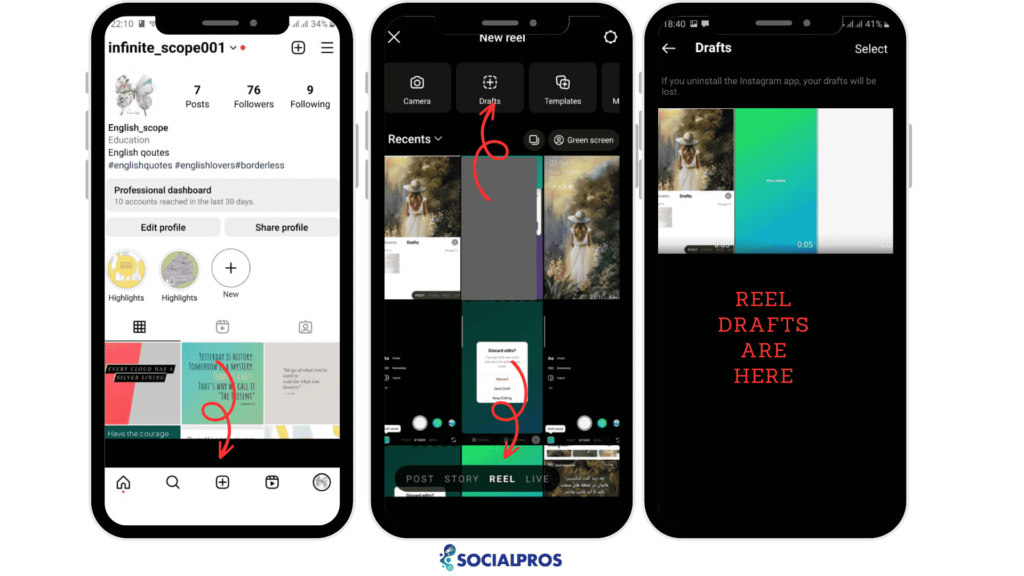 Tip: All drafts on Instagram, regardless of their type, are stored in the "Drafts" section. You can find Instagram drafts in the same place from where you upload posts, stories, or Reels. So, for posts or stories, it is next to the "Gallery" and the Reels drafts are beside your posted Reels.
How to Delete Drafts on Instagram?
After drafting a post, you may realize that a certain image or video won't make an engaging Instagram post.
Or you might suddenly notice that you have made a mistake or that the post won't attract your IG target audience.
So, what can you do now? Is it too late to go back? Of course not! If you know how to delete drafts on Instagram, you can avoid further problems.
To discard or delete your Instagram drafts with a business account or a personal page is pretty much the same. Yet, to be on the safe side, let's go through the process step by step:
First, tap on the '+' icon.
Then, choose 'Drafts.'
Above your list of drafted images and videos, you can see a 'Manage' button on the right.
Now, press 'Manage' and then the pen icon on the top right side of the screen.
At this point, you can choose any number of items you would like to discard.
Then choose the checkmark on the top right side of the page.
Once you confirm your request, you will see that all those Instagram drafts have disappeared.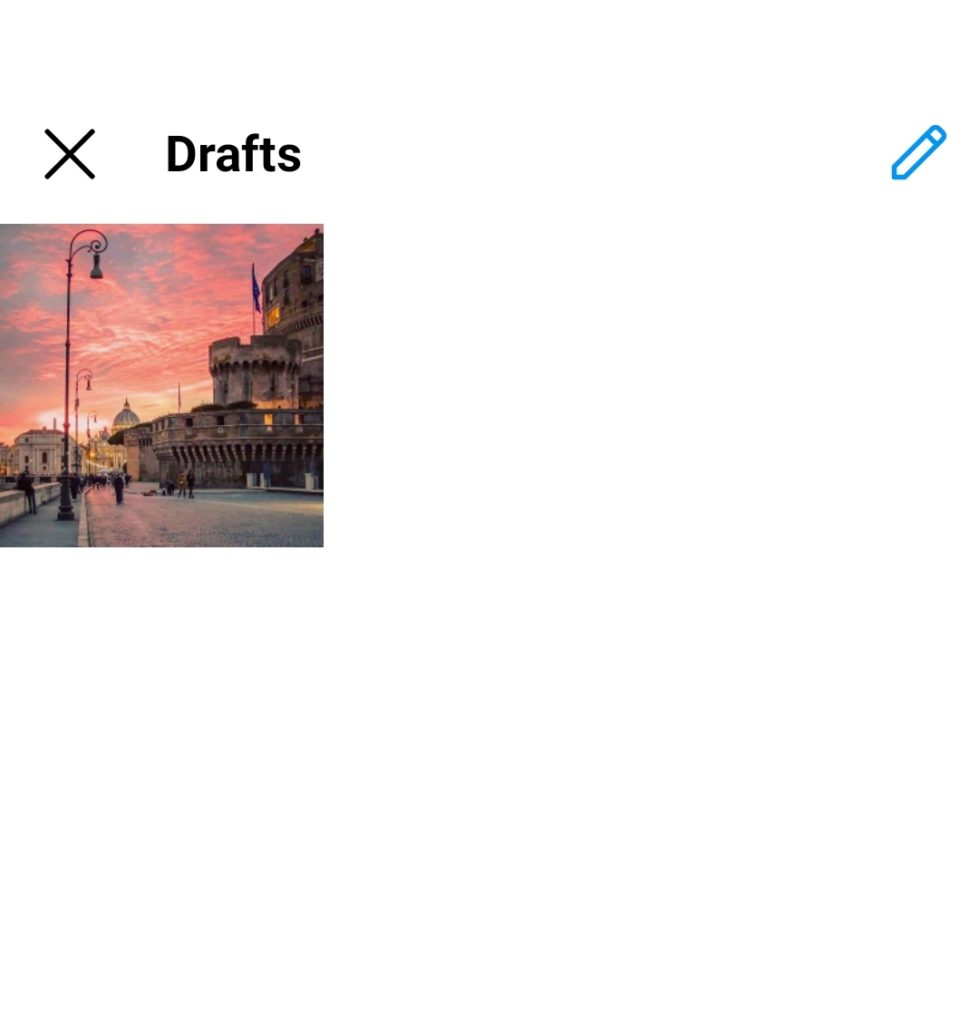 But, what can you do if you want to post attractive Reels and add Instagram filters on them? At this point, using a reliable third-party app comes in handy.
Revolutionize Your Reels: AiGrow's Ultimate Solution for Drafting and Strategic Sharing
Are you ready to take your Instagram Reels to the next level? Look no further than AiGrow – your ultimate Instagram manager. With AiGrow's innovative features, you can seamlessly create, save, and strategically share your Reels at the optimal times, ensuring maximum impact and engagement.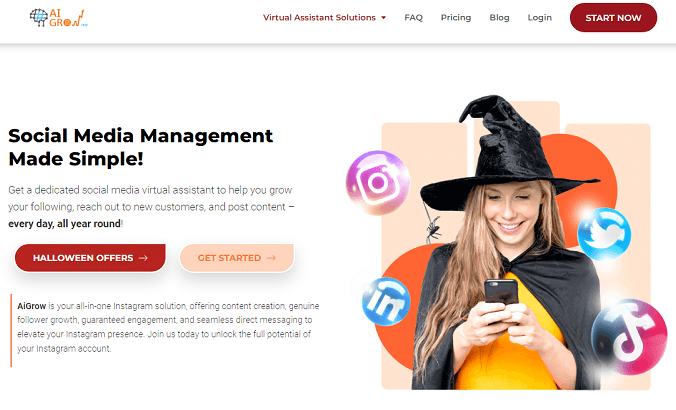 Unleash Your Creativity: Create and Save Reels with Ease
AiGrow empowers you to craft captivating Reels effortlessly. Whether you're showcasing your talents, sharing behind-the-scenes moments, or telling a visual story, the platform's user-friendly interface makes content creation a breeze. Plus, with the ability to save your Reels as drafts, you can perfect your masterpiece before unveiling it to your audience.
Ever wondered when the best time to share your Reels is? AiGrow's Instagram managers have you covered. Leverage the platform's insights to identify your audience's peak engagement times. With this valuable data, you can schedule your Reels for the moments when your followers are most active, maximizing visibility and interaction.
Using AiGrow you will:
Craft your Reel, adding filters, music, and perfecting every detail.
Save it as a draft within AiGrow, giving you the flexibility to refine your content over time.
Utilize AiGrow's Instagram managers to analyze your audience's behavior.
Schedule your Reel to be shared automatically at the optimal times, ensuring it reaches the widest audience.
Watch as your Reels captivate your audience during the peak hours, generating increased likes, comments, and shares.
Enjoy the convenience of AiGrow's all-in-one platform, where content creation, scheduling, and analytics seamlessly come together.
Conclusion on Instagram Drafts
To sum it up, you may need to save your Instagram posts as a draft to
Add more details later,
Post at the best time possible to maximize your engagement rate,
Or wait for your sponsor, partner, or colleague to approve the post before publishing.
In terms of content planning, Instagram drafts allow you to compare various versions of the same post side by side.
Instagram drafts can give you more time to research SEO keywords or find more viral hashtags for your Instagram posts.
Luckily, Instagram allows you to save Instagram drafts, provided you use IG filters or editing features. If you have no intention to use those, you need to use trustworthy platforms like AiGrow. This platform is compatible with all operating systems which makes it even more convenient.
Ready to elevate your Reel game? Embrace the power of AiGrow and transform your Instagram presence. Craft, save, and strategically share your Reels like never before – it's time to make an impact with every post. Join AiGrow today and revolutionize your Instagram experience!
FAQs
Q1. How Long Do Drafts Last on Instagram?
Instagram sorry drafts last for 7 days. But there is no lifespan for Instagram post drafts. However, if you notice that some of your Instagram drafts disappear suddenly, Instagram glitches are most likely to blame.
Q2. How to Recover Lost Drafts on Instagram?
It is impossible to recover Instagram drafts once they are gone. If you have the images saved to your gallery, you can create a new post or draft.
Q3. Can I Access My Drafts from Different Devices?
No, Instagram drafts are not synced across devices. You can only access IG drafts using the main device where you create one.