Are you promoting your Etsy shop products on Instagram? Are you looking for a way to link from Instagram directly to the product page on your Etsy shop? Well, you are in the right place.
Here we are going to introduce all possible ways of linking Instagram to Etsy shop. The same method could be used to link Instagram posts and stories to your blog posts and website pages.
What is Etsy Shop?
Etsy is an online buying/selling platform with strong visual design mediating between art crafters and their customers. There is no need to have a huge business to be able to sell on Etsy, and private individuals and micro-businesses can sell. This is why the system performs customer-to-customer (C2C) e-commerce, which is contrary to the B2B/B2C performance of other online marketplace platforms. However, sellers on Etsy have the opportunity to collaborate with producers and manufacturers for mass production. Anything related to art can be sold on Etsy from clothing and jewelry to ornaments. One fact about Etsy is that it dropped the sell-only-handmade rule in 2013. So, the policy has made Etsy a particularly worthwhile platform for art lovers and art crafters.
Etsy has two kinds of revenue from sellers; the fees that they pay for their activities on Etsy, and advertising fees or Etsy Shipping Labels which are both optional. Etsy became a certified B corporation in 2012 which implies that it is meeting the highest standards. The number of active sellers and the number of active buyers until 2019 implies that the platform is remarkably thriving. In addition, Etsy is not just an online marketplace; it is also a social network that allows individuals to create public profiles and socialize.
Why Do You Need to Link Instagram to Etsy Shop?
Instagram has become a huge monster in the digital marketing world today. Everyone is trying to use social media to boost his business growth, and so are eCommerce owners. You might be selling your own products on Etsy, or you might be doing affiliate marketing. By means of Instagram, you can have an exact targeting and reach out to your potential customers in different ways (posts, stories, DMs, etc). But what to do after you have found your target? How to let them order their wants?
Of course, selling directly on Instagram is possible through 'Shoppable Posts'. But if you already have an organized page for the collection of your products on Etsy, using shoppable posts on Instagram cannot be helpful. So, you need to find ways to link Instagram to your Etsy shop, where customers can make their purchase.
So, What Are the Ways of Connecting Instagram to Etsy Shop?
Let's say there are 4 main ways of linking to your shop from Instagram. Let's jump into it:
#1. Link Each Post to Product Shop Page
Have you ever thought of adding a direct link from your Instagram posts to your product page on your Etsy shop? This is an amazing feature, introduced recently to help eCommerce businesses increase their shop sales using Instagram. Take a look at the picture below in which each Instagram post is connected to an external URL.
Bio Link (offered by AiGrow)  is a great service to help you add external links to your Instagram Bio and Posts. Take a look at the Instagram accounts mentioned below to get an insight into what this tool really does: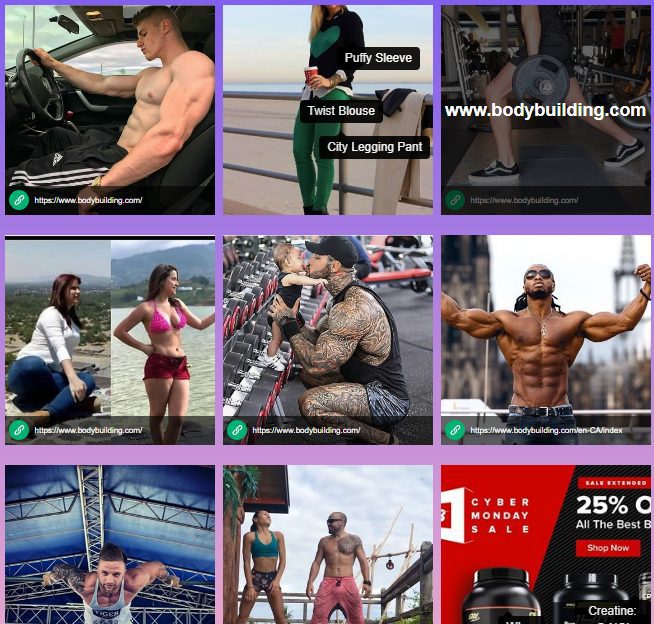 @bodybuilding.com.2020
@podcast.s_
@tirbnb.to
As you see, you can dedicate an external link to each of your posts. This external link can proceed to your Etsy shop or anywhere else you want it to.
Take a look at this video for further information:
The good news: the tool is completely free! Sign-up a free account here and start linking Instagram to your Etsy shop.
#2. Link To Etsy Shop from Bio
Instagram officially allows adding one external link in your Instagram Bio. You can use this link to guide the traffic to your Etsy shop as well. However, you have the limitation of only one link. If you are promoting only one product from your Etsy shop on your Instagram account, then you will not have any trouble. But what if you have many products and want to promote all of them using Instagram? Here is where you need a tool to add multiple links to your Instagram bio.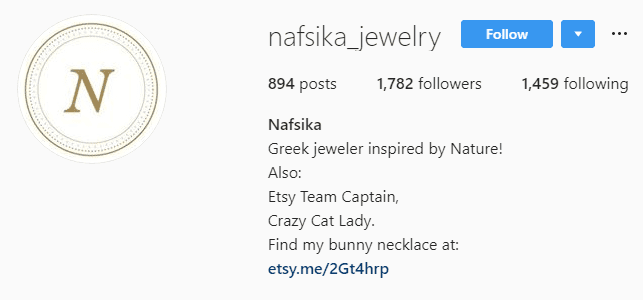 #3. Use Multiple Instagram Accounts to link to your Shop
Instagram allows for only one link in each Instagram bio. What if you have many products and want to add many Instagram links to your shop? You can easily use a tool like AiGrow to dedicate external links to Instagram posts. However, there is another tricky solution to this problem:
Create several Instagram pages for each of your products and dedicate an Instagram account for each of them. When promoting the product on your main account, mention the IG page associated with that product. When clicked on the mention tag, the user is pushed to the specific Instagram account of the product, where he can click on the bio link and visit your Etsy shop page for that product. Anyway, this method requires more effort and the conversion rate of the 2 steps traffic flow will be lower. Try using a free tool like AiGrow and link your Instagram to Etsy shop seamlessly.
#4. Add Shop Link in Instagram Stories (Swipe-Up Link)
The last way to add an external link from your Instagram to your Etsy shop is to place the link inside your Instagram stories(the swipe-up link). The opportunity is officially available for verified users with more than 10K followers. However, there is a hack to add swipe-up links in your Instagram stories even without 10000 followers.