Fancy videos? I enjoy watching videos! As you can watch, learn, and entertain while having junks. It is a win-win deal, agree? Maybe that's why many experts say the future of social media is in the loving hands of videos. Instagram and YouTube are the most popular social media platforms that grant you visual content. Have you ever tried sharing YouTube videos on an Instagram story, post, and bio? Or Do you know how to promote the YouTube channel on Instagram?
If you have a popular Instagram account, but your YouTube channel needs more attention, then stay with me to break down the most efficient tactics to skyrocket your YouTube. 
Let's dive in.
How to Promote the YouTube Channel on Instagram?
In the following, I have gathered some inventive methods to build a solid YouTube channel with the help of Instagram posts.
#1 Write Eye-Catching Titles
to Promote the YouTube Channel on Instagram
Your title is the thing that your audience will notice the first glance. Therefore, it can make or break your performance. Put yourself in the audience's shoes and evaluate your title and see if it grabs your eyes. Most users attract captivating, exciting, and entertaining headlines. It is a good idea to use question-based or metaphorical titles to score the views. Your headlines should worth their click and point up why they should spend their valuable time watching the video.

#2 Use Popular Hashtags to Boost Visibility
Hashtags have an essential role in increasing your visibility and making your posts viral. If you use relevant hashtags, you will come up to the search list when people search for them. In this case, they can quickly find you, your video, and your brand. Remember to avoid using banned hashtags on Instagram & stay safe. To ease your task, I have gathered some of the best YouTube-related hashtags in a picture that you can save and make most of them in your captions. 
#3 Add the Link of Your YouTube Channel in Bio
Instagram lets users put a link in the bio. However, this feature is only available for business accounts. Your profile is like your page's banner, and people decide to follow or not follow you by checking your profile. Therefore, try to enrich your bio and present yourself in the best manner. Moreover, you can cash in on the bio link feature and link your YouTube to Instagram and get instant results. 
#4 Promote Your Youtube and Instagram in Your Website
If you own a website presenting your business or brand, you have an extra chance to promote YouTube and Instagram together. Also, this is a great way to derive website traffic from Instagram and boost your website's hit. So you free two birds with one key. Such as SEO for your website, use keywords that make sense to optimize your video. In this case, you will lead YouTubers to Instagram and Instagram users to YouTube. 
#5 Post Regularly on Instagram and YouTube
Keep in touch with your audience and constantly post youtube to Instagram. Hence, you will show your audience that you have a community in other social media and keep your channel top of mind. Do not underestimate the value of adding the URL of your Youtube video to your post as a CTA button. Also, mention "YouTube link in bio" in each post. This might not be easy if you are a marketer busy as a bee. However, using a powerful app like AiSchedul, you can schedule your posts to be published at the right time. So you don't have to worry if you are in a meeting, but you need to publish your feed. 
#6 Add Your Youtube video to Your Story
Another method to promote the YouTube channel on Instagram is to share a part of your video to stories and encourage them to see the rest on YouTube. Also, you can add your YouTube website's URL as a link button on the Instagram story. As Instagram stories are more popular than regular feeds, you will win if you share a YouTube video on Instagram story. You may say there is a limitation on the Instagram story, but you can quickly post long videos on an Instagram story, feed, & IGTV. 
 Moreover, share your live YouTube videos on Instagram, such as webinars and Q&A sessions.
#7 Post YouTube Updates on Instagram
Engage your potential YouTubers by posting any updates or new video tease on Instagram. If your followers are waiting for any announcement of your brand, you can create a video on YouTube and post YouTube Videos to Instagram feed and story with ease. You can add a CTA button in your caption, including the words "Coming soon" or "Coming next," and tempt your feverish followers to watch your YouTube channel.
#8 Ask your Audience Opinion 
It would be great to share a YouTube video on Instagram and ask for your followers' opinions. You can create yes/no polls in your Instagram stories and invite them to decide on your next move. 
This shows your respect to the followers and will definitely engage them on your YouTube channel. Now, not only you gain views on Instagram and YouTube, but you will build credibility and brand trust. 
#9 Promote the YouTube Channel Using Instagram Shoutout
I strongly recommend you post YouTube videos by getting free shoutouts on Instagram. Therefore, without paying a penny to anyone advertising you while promoting your YouTube channel on Instagram. Influencer marketing is an Instagram Shoutout that helps you drive your followers' attention to your YouTube channel. Also, you can identify your top fans and run the best Instagram UGC campaign and give people more motivation to subscribe.
#10 Host Contests to Promote Your YouTube Channel
Many people love games and giveaways, so draw on this opportunity and host giveaways to grow followers organically on Instagram and YouTube. Advertise your giveaway on your YouTube channel only for the followers and link your Instagram to YouTube (Posts, Stories, and Bio). 
Keep in mind to reward your winners with a Nobel prize. Also, apply must-use Instagram giveaway hashtags in your contests to attract more people. 
Directly Monetize Your Content on IGTV
Last but not least, monetization on Instagram is vital to support all creators on Instagram. The good news is that Instagram has added badges that appear close to a user's name during an Instagram Live video, and supporters with badges in Instagram Live will stick out in the comments. Producers will see a list of all badge buyers, so they'll be able to give fans shout-outs through a live stream. On the other hand, IGTV ads(only for mobile and up to 15 seconds long) appear when the audience clicks to watch IGTV videos from previews in their Instagram feed. Therefore, you can post IGTV videos on Instagram from youtube and make most of this fantastic feature.
Then, you may ask: 
How to directly publish youtube videos on IGTV to make money?
AiSchedul is the best free Instagram scheduler app that grants you a feature to share youtube videos on Instagram IGTV directly. Indeed, this app is an all-in-one Instagram management tool that lets you monetize your YouTube videos.
If you want to promote the YouTube channel on Instagram effectively, post your YouTube videos on Instagram, search and add multiple hashtags, write your caption and schedule your feed.
To share youtube videos on Instagram IGTV, you only need to:
Add your accounts.
Select "Manage Accounts."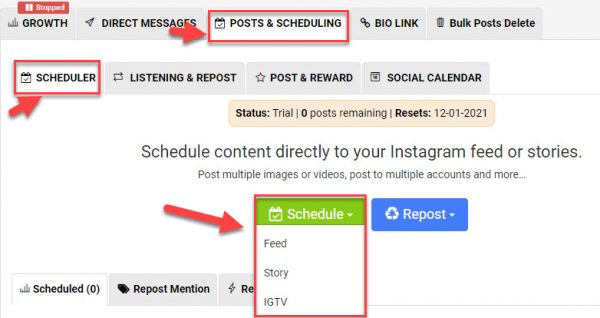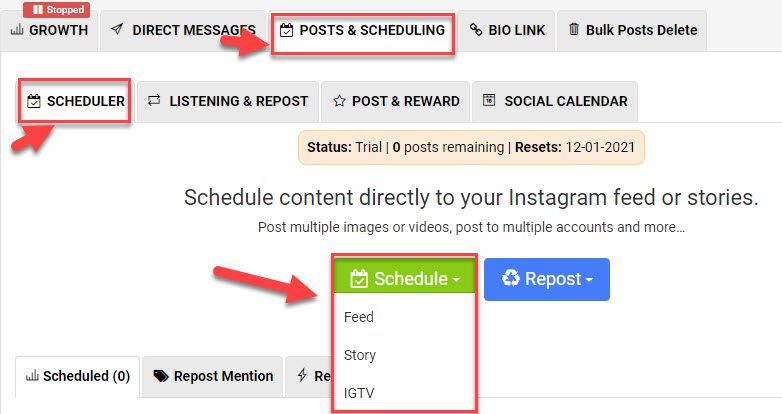 Click on the "POSTS & SCHEDULING" Tab.
Then, choose the "SCHEDULER" tab.
Click "Schedule" and pick "IGTV."
Share the YoTube video link in the box.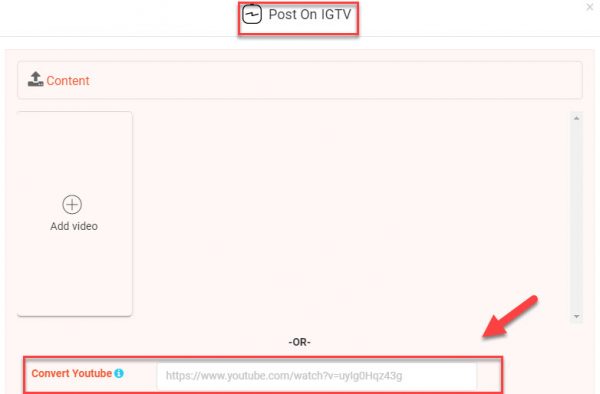 Now, add the title and description.
Then, add the clickable URL link.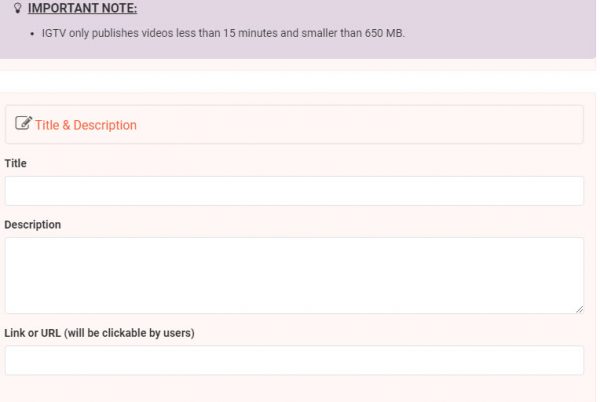 Write the caption and add hashtags. 
You can select "Post Now" or schedule the dates and choose "Post in future."
Then, press "Submit."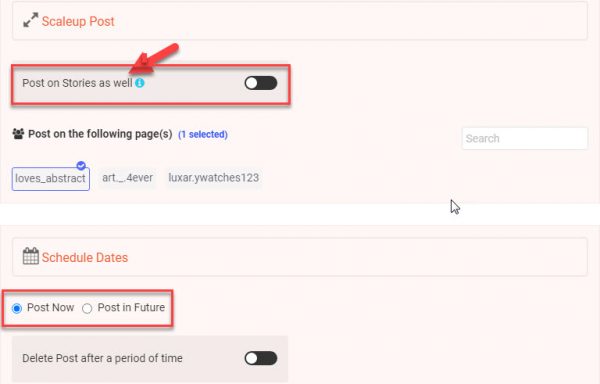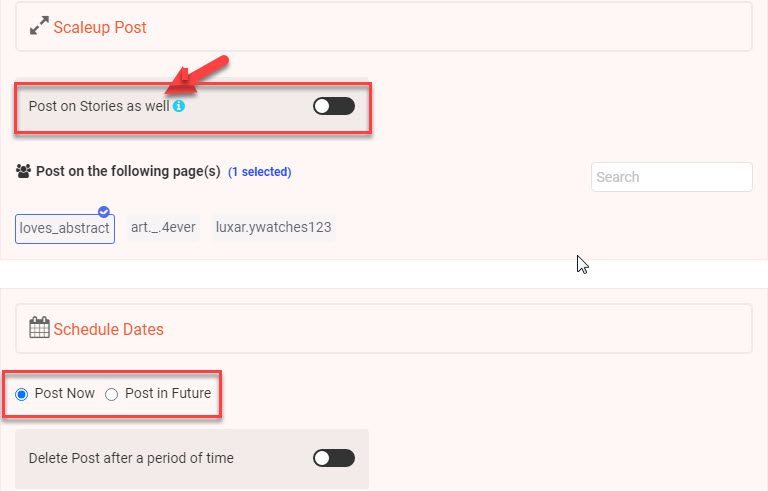 AiSchedul provides you with a unique feature to upload to IGTV from the computer & schedule it.
Instagram lets users only add one URL link in the bio. However, using AiSchedul, you can add multiple links to your profile, story, and posts. 
Final Thoughts
Combining two fast-moving social media platforms is exciting but needs effort and persistence. No pain, no gain! I hope the above techniques support you to promote the YouTube channel on Instagram. Please, leave us a comment if you have any idea to add.