In December 2013, Instagram launched the direct message feature that provides a private mode of messaging between IG users that is only visible to the sender and recipient(s).
But has it ever happened to you to delete important Instagram messages by mistake? If you make money on Instagram, then it is a matter of life and death. So, you may be wondering how to recover deleted Instagram messages.
Don't panic! You are exactly where you should be. Although there is no built-in mechanism for how to see deleted messages on Instagram, there are indirect methods that can be used.
In the following, we'll talk about 5 simple ways (including two effective Instagram DM apps) by which Instagram message recovery is absolutely doable. Scroll down to learn all you need to know on how to retrieve deleted text messages.
🔥Note: If you do not have time and are looking for the best tool to help you recover deleted Instagram messages immediately, start with DMPro right now. With DMPro, your Instagram message recovery will be as easy as ABC. But for more information, let's jump right into the topic.
5 Ways To Recover Deleted Instagram Messages
Do you need to restore Instagram direct messages? Act on one of these 5 methods:
1. Retrieve Deleted Instagram Messages From The Other Side
When you delete a direct message on Instagram, you delete it from your side. However, it is still available for the other user. So, the easiest way to recover deleted messages on Instagram is to ask the other person to send chats or messages in case they have not deleted theirs. If they are willing to assist you, you will recover your Instagram messages in no time.
But of course, this way has some disadvantages. For instance:
The recipient may have deleted Instagram messages, too, or they might not be available.
Maybe you don't know the other user, and they were just a potential customer, and you accidentally deleted their DMs.
But don't worry! That deleted DM can still be recovered. Keep reading to learn about other Instagram message recovery solutions.
2. Recover Deleted Instagram Messages Manually
You can recover deleted Instagram DMs manually (without the need for a data recovery service). The servers of Instagram keep a copy of every message and file you send and receive (albeit temporarily). In this way, you can download all the data you shared on Instagram, including direct messages. Wanna know how? Follow these steps:
On the Instagram website (Instagram.com), log in to your IG account.
2. Then go to your profile. Click on Edit profile and go to Privacy and Security.
3. From there, go to the Security section, and on the following page, tap on 'Download Your Data.'
4. After entering your email address, tap on Request Data. Here, you'll be asked to enter your password. After that, tap on Done.

In 48 hours, you will receive an email from Instagram entitled 'Your Instagram Data.' Click on it. A zip file of all the data you shared on Instagram will be downloaded to your computer.
This data is in JSON or HTML format. JSON is not human-friendly and you will need a JSON editor to open it. To read your messages, visit the Instagram Message Recovery website and follow the instructions.
Click on the button Register and enter your details.
Once logged in, Upload your downloaded Instagram Data
Go to the View Messages tab, and you'll find your Instagram Messages.
It would have been the best way to recover deleted Instagram messages if it didn't take you too long. The whole process of recovering Instagram deleted DM lasts 48 hours, and it is not the best way for those in a rush.
Also, you will need to click on the link in the email within four days of receiving it. If you click the link after four days of receiving the email, it won't work, so you'll have to repeat the process again.
So, let's take a look at the other fast and easy ways.
You May Also Want to Know: How to Recover Your Instagram Account
3. Recover Deleted Instagram Messages Using Intelligent DM Tools
If you can not recover deleted Instagram messages from Instagram servers, you can use an efficient third-party app to find them for you. We will introduce you to two great apps that can immensely help you recover deleted Instagram messages.
#1. AiGrow
AiGrow is one of the most widespread and granted Instagram marketing tools available on the market. It proposes several services such as a VIP growth service, an Instagram scheduler, and a professional DM tool. Although we are focusing on its DM feature, you can read the complete AiGrow review here and know about all the features by yourself.
Using the AiGrow direct messages tool, you will be provided with the chance to:
And more.

But how can you recover deleted Instagram messages using it? Well, after you sign up, click the "DM to Email" button and receive all the DMs in your inbox. It's easy, free, and safe.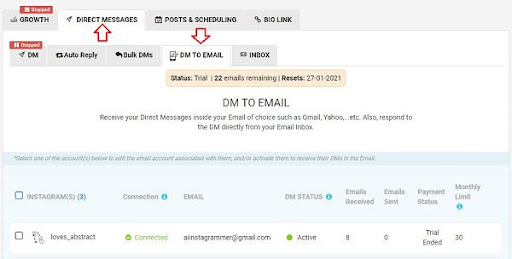 With AiGrow, you can send and receive Instagram direct messages on your desktop, Auto-send personalized direct messages to anyone on Instagram, receive your direct messages inside the email of your choice (Gmail, Yahoo, etc.), and reply directly from your email inbox, manage your DMs and respond to them the same as your emails.
So, you don't have to be worried about deleted direct messages on Instagram anymore. You can manage direct messages for multiple Instagram accounts simultaneously; all are available for you from your desktop.
#2. DMpro
DMpro is the other great Instagram message recovery tool that you can employ to recover deleted Instagram messages. Linking your IG account to the DMpro tool will allow you to see deleted messages on Instagram in no time.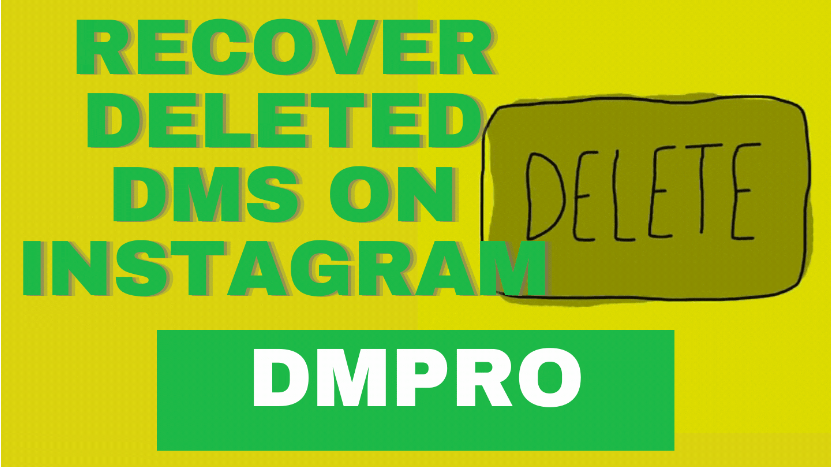 First, you need to sign up for free on DMPro.
Next, click on 'Add Instagram Account' to connect your IG profile to your dashboard. You can also add multiple Instagram accounts to DMpro's dashboard if you manage multiple Instagram accounts.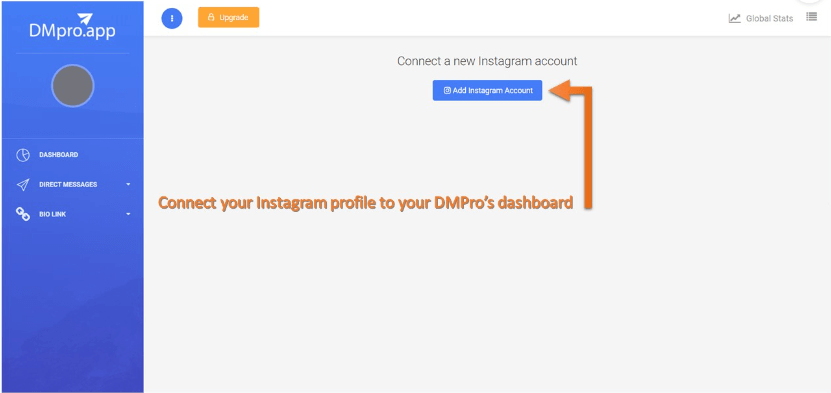 Select the Instagram account you want to work with and click on 'Manage.'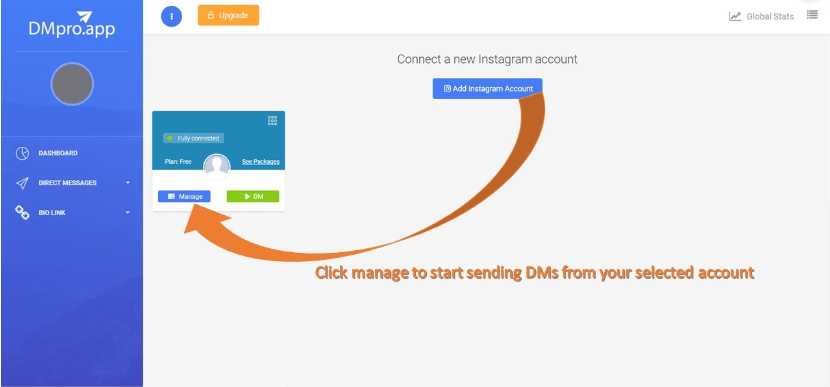 Now, under the 'Direct Messages' tab, choose 'DM to Email'.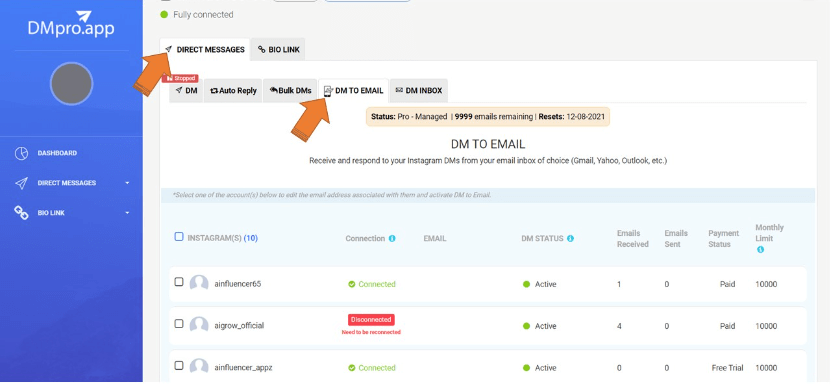 Again, you should choose your preferred Instagram account and enter your email address in the box on top of your Instagram lists. And finally, click on Save.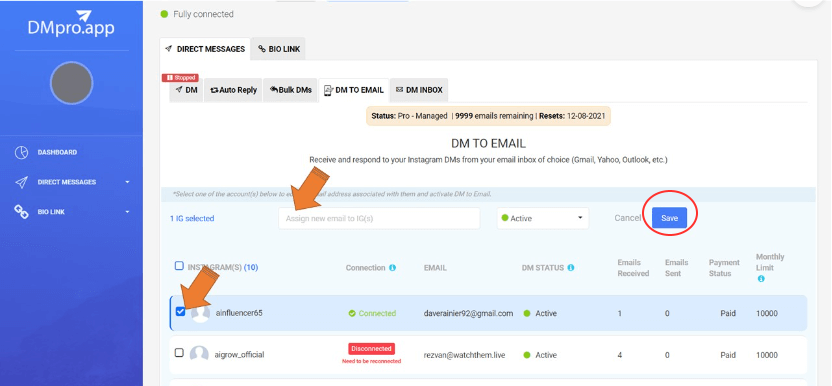 In this way, you will be able to recover deleted Instagram messages and also have complete control over IG DMs.
🎯 The good news is that DMpro has a free trial. So you can test it for free to see how effective it will be for your DM Marketing.
Give DMPro a try now to DM like a pro.
Read More: How to Manage Instagram Message Requests with Ease
4. Recover Deleted Instagram Direct Messages Through Facebook Account
If you connected your Instagram account and Facebook account, then recovering deleted DMs should not worry you. Because you can access it through your Facebook Inbox. There you can manage your Instagram messages regularly. This is how you should do it:
1. Go to Facebook and sign in with your Facebook account.
2. Check out your Inbox.
3. On the left menu bar, tap on the Instagram Direct icon, and you will find your Instagram Direct messages there.
By the way, it's not the best possible way to recover Instagram DMs. If you haven't connected your Instagram to Facebook already, it won't work for you.
5. Instagram Message Recovery Website
You may also recover the deleted DM through the Instagram Message Recovery site. To work with it, follow the steps below:
1. Go to the Instagram DM Recovery
2. Enter your Instagram username or Profile URL
3. After logging into your Instagram account, click on Recover Messages
4. Do the human verification test. It may include 40 tests or even more
5. Now, you can recover deleted Instagram direct messages.
It's been said that a previous Instagram employee developed this website. Although it is a helpful website to recover deleted messages on Instagram, some users reported a series of bugs.
For instance, some users failed to pass the human verification test. Since the whole recovery process is prolonged, it won't be useful for those in a rush. Besides, it has been reported that this website keeps popping up annoying ads.
Also Read: How to Save a DM Video on Instagram in a Minute?
FAQs: How to Retrieve Deleted Text Messages
We have collected and answered some of your frequently asked questions here. See if they answer your questions about how to see deleted messages on Instagram.
Q1. How to See Deleted Comments on Instagram?
Instagram doesn't currently offer the option to see or recover deleted comments. Therefore, deleting an Instagram comment accidentally and not clicking on the undo button within 5 seconds will permanently delete the comment and you can not recover it.
Q2. How Long Does Instagram Keep Deleted Messages?
They keep deleted data for 90 days.
Q3. Does Blocking Someone on Instagram Delete Messages?
Let me explain what happens to your direct messages when you block someone. When you block someone on Instagram, your personal DM conversation will be hidden from both sides (unless you unblock them again).
Conclusion; Recover Deleted Instagram messages
Nowadays, almost everything is marketed through Instagram, and direct messages play an important part in generating leads and sales. But deleting a message should not hinder you from moving forward.
In this post, we provided you with some practical solutions on how to see deleted messages on Instagram. If you want to recover the deleted Instagram direct messages free, fast, and safe, read the article carefully and choose the best way possible!