Last Saturday night, I was hammered and miles away and posted some scandalous scenes of a hang-out teasing my rival. I assumed they didn't know me, but the assumption is the mother of all mistakes. In the morning, Mr. Boss called and told me off! Another day I accidentally viewed someone's Instagram story then rapidly unsee it. After that embarrassing situation, I got to search how to make a secret Instagram account. I recently heard of "Finsta" or Instagram secret account but didn't know how to build one. 
It is a funny method to spy on your competitors and analyze them or post naughty feed without being recognized. So your Finsta could be your safe zone to keep your secrets from people you don't want them to know. 
Now, I'll share every detailed tactic to make a secret account and help you get out of reach.
So stay tuned!
How to Make A Secret Instagram Account
If you want to take action under the radar and track other Instagram accounts, you need to rebuild your current Instagram account from the foundation. However, I recommend you create a new one and set everything up. 
1- Create A Private Instagram Account
Firstly, to make a secret Instagram account set your account private and don't create a public account. In this case, you make your profile less visible. If people could guess this account belongs to you, they can't reach your feed. 
To set your account private:
Go to Settings 

Tap on Privacy

Turn on Private Account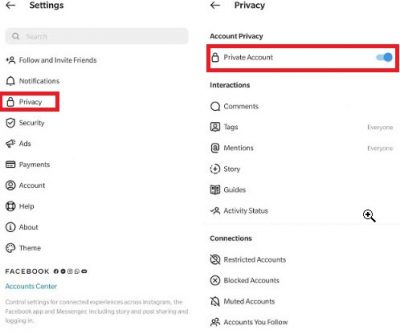 2- Change Your Personal Information
If you want to post on Instagram behind closed doors or view posts and stories, you need to hide your true color. Therefore, change every detail of your personal information to prevent any suspicion. Change your gender, age, and marital status in the Instagram profile. Remember not to add your website URL as a link in the bio. Also, don't forget about your profile picture, which is the first thing that people check when facing your account. So choose a profile picture that is beyond the expectation of your friends or people who know you. 
Keep reading: Best Free Instagram Profile Analysis Tool to Use in 2021
3- Don't Add Your Phone Number 
When you are setting your Instagram secret account, it is vital to remember not to add your phone number to the personal information. Otherwise, people who have your phone number can easily find you and your account on the platform. In this case, you can't activate the "two-factor authentication" feature.
4- Create A New Email to Make a Secret Instagram Account
Never use your personal email when you want to make a secret Instagram account. Otherwise, I warn you will be caught red-handed. In this case, if you accidentally like a photo on Instagram, you must repeal it.
Therefore, create an anonymous or dummy email and add it to your Finsta or secret account. To add your email:
Tap on your profile icon

Then, select "Edit Profile."

 Pick Personal Information Settings,

Type your email in the Email box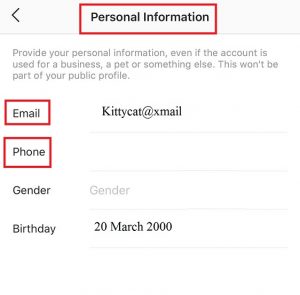 5- Don't Connect to Other Social Media Accounts
If you want to act off the record and analyze your followers, do not link your Instagram to other social media networks. Instagram provides you with a direct link to your Facebook account to facilitate posting on both platforms. Though, you should avoid it! Once you link your Instagram to your Facebook, people who have your Facebook account can find you on Instagram. Therefore, to save your bacon, don't link your Insta to your FaceBook.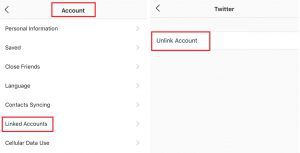 6- Don't Let Your Friends Find you
You are trying to cover your tracks from your friend, but they will find you from the back door, which I'll show you to close. Instagram provides its users a feature suggesting similar accounts to them. Actually, it is the back door that helps others find you easily. Therefore, to deactivate this feature and get rid of this stress, follow the instruction below:
Open your browser and go to

Instagram.com

.

Click on your profile icon.

Select "Edit Profile" 

At the bottom of your page, uncheck the box "Similar Accounts Suggestions."

Then, Submit. 
Now, you prevent your account from appearing in any similar account results. Keep in mind that you can only do this process from the desktop, and it is not available on the smartphone. 
7- Don't Share Your Posts and Stories with Friends
Whenever you share your story to a public account, your followers can share it with their friends in DM. So you will be easily identified.
To deactivate this feature:
On Mobile Phone:
Go to the menu

Tap "Settings" 

Then, pick "Privacy"

Select "Story" 

Now, disable "Allow Sharing as Message."
On a computer:
Go to your profile

Click on "Edit Profile"

Select "Privacy and Security" 

Finally, toggle off "Allow Sharing."
Here, you can hide any future Instagram story from specific people(Mom, Dad, Boss,…) or make a "Close Friends" list to share the story only with them. 
8- Utilize The Best Tracking Tool
You may have a naughty nature the same as mine, but not interested in following all the above methods. Still too worried about being recognized on the platform?
Don't worry! I'll show you the best and safest way to snoop your competitors. 
 AiSchedul is the best tracking app that lets you view posts and stories without following users to keep the account as secret as possible.
This is a free tool that you can run on your mobile and PC and download from App Store and Google Play.
Moreover, it lets you manage your multiple accounts (up to 80 accounts) on a single dashboard. 
Most importantly, this app allows you to view private Instagram accounts.
Now to track someone on Instagram:
Add your Instagram accounts.

Select "Manage Account"

Now, select the "POSTS & SCHEDULING" and "LISTENING & REPOST" tab and upload your photos.

Now, choose the "Account Monitoring" tab.

Press the "Add more accounts" button.

Add the accounts you want to observe.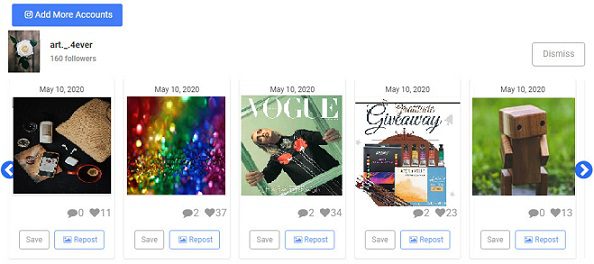 Now, you can select, save or repost each post you desire. 
Final Thoughts
By following the whole above instruction, even if someone has your email or phone number, they won't be able to find you on Instagram. However, the fastest and most secure way is to get AiSchedul and track anyone you want anonymously.