As social media is becoming an inseparable part of our lives, keeping our privacy online is becoming a new obligation. Especially on Instagram, this is so important. For instance, there are always occasions when we want to see other people's messages and keep them for a while before replying. But Instagram usually shows the read receipts. Now, the question is how to turn off read receipts on Instagram?
Imagine you've received an important Instagram message from your crush or ex. Naturally, you'd like to wait a few hours before seeing the message or replying to it. But Instagram doesn't allow you to read Instagram messages without being seen! Now, you're left wondering how to turn read receipts off on Instagram because otherwise, you'd have to wait a long while before you can fully read those DMs.
Of course, there are ways to do so. This article will demonstrate different ways to turn off read receipts on Instagram. Firstly, we introduce a common way to hide read receipts, and then we will show you how you can do this using one of the best Instagram tools.
DMpro is an efficient IG tool that has put an end to this problem! Using DMpro, you can prevent the other person from ever receiving seen receipts for your messages. This tool also offers many other services as well that we're going to discuss in this article briefly.
What Do Instagram Read Receipts Mean
If you are an Instagrammer who uses direct messages to reach out to your friends and family and are the kind of person who would constantly check to see whether your messages have been delivered to your chat buddy, then you've probably come across the 'seen' sign on your DMs.
These signs are basically Instagram read receipts indicating that the person you're chatting with has received and read your DM. Through these receipts, you will also be informed of the time your pal has seen your message on Instagram.
Now the real question is, can you turn off read receipts on Instagram? Is it an optional feature? Or there is no way for you to get rid of them? Well, if you have such questions in mind, don't worry. We've got you all covered!
Now let's walk you through the next sections to help you find out everything about this Instagram feature.
How to Turn Off Read Receipts on Instagram
In an age when Instagram and social media have permeated every bit of our life, some of us would like to keep any portion of our privacy we can! For instance, you may want to hide your likes on Instagram to avoid anxiety, put your following list out of sight, or learn how to turn off read receipts on IG.
Yet unfortunately, Instagram's privacy policy does not let users turn off their Instagram read receipts. It means that the other side of the conversation always gets that 'seen' sign whenever you open their message. But if you really need to sneak into someone's direct message without their notice, don't worry.
Hiding the read receipt is still possible using only Instagram's application. This section will show you how you can perform this from your IG app or browser.
#1 Restrict an Account
Many of you asked, 'Can you turn read receipts off on Instagram web or application?' Well, that's what we're here to answer! Even though Instagram does not offer any quick way to turn off read receipts, it has another feature that can come in handy. This feature is none other than restriction.
You may have already noticed, but whenever you restrict someone's account on Instagram, they will need permission to send you direct messages. And this way, you can simply read what the text is before permitting them.
To restrict a user on Instagram:
Log in to

Instagram

.

On your

explore page

, search their username in your search box.

Now, go to their

profile

.

On the top right of your screen, click on the three dots

.

Next, choose the

'Restrict'

option.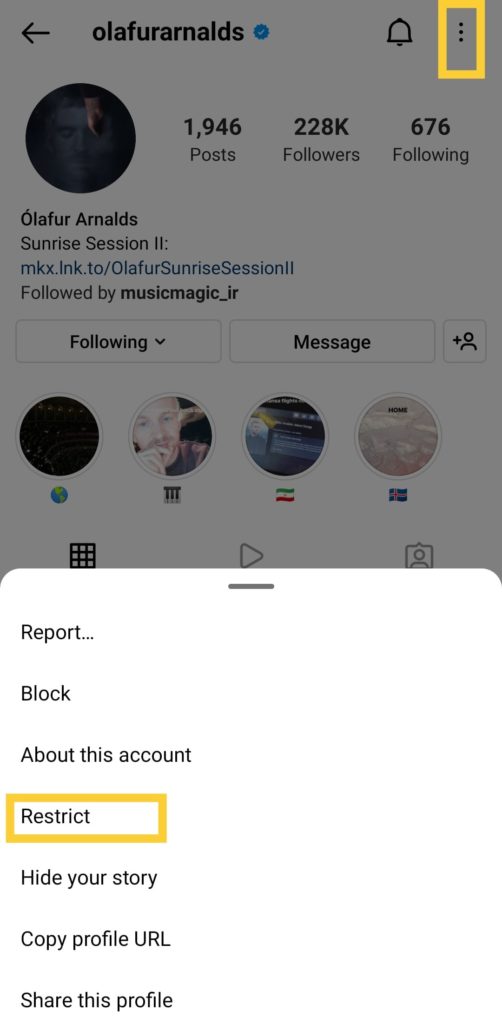 If you are using your browser, you will need to confirm the restriction. Else, if you are on your phone, you've no way to interact with it. In both cases, Instagram will provide you with information on the action. You will get a warning, as is demonstrated below.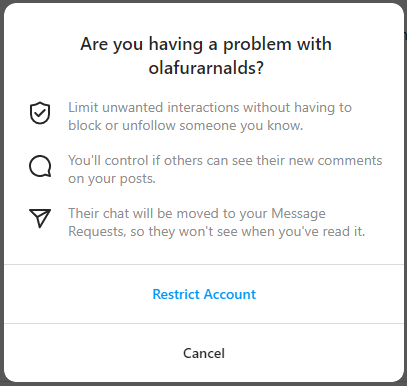 As you can see, once you restrict an account, their DMs will be moved to the requested section in your inbox.
So whenever they try to send you a text message, you can view the message without them knowing.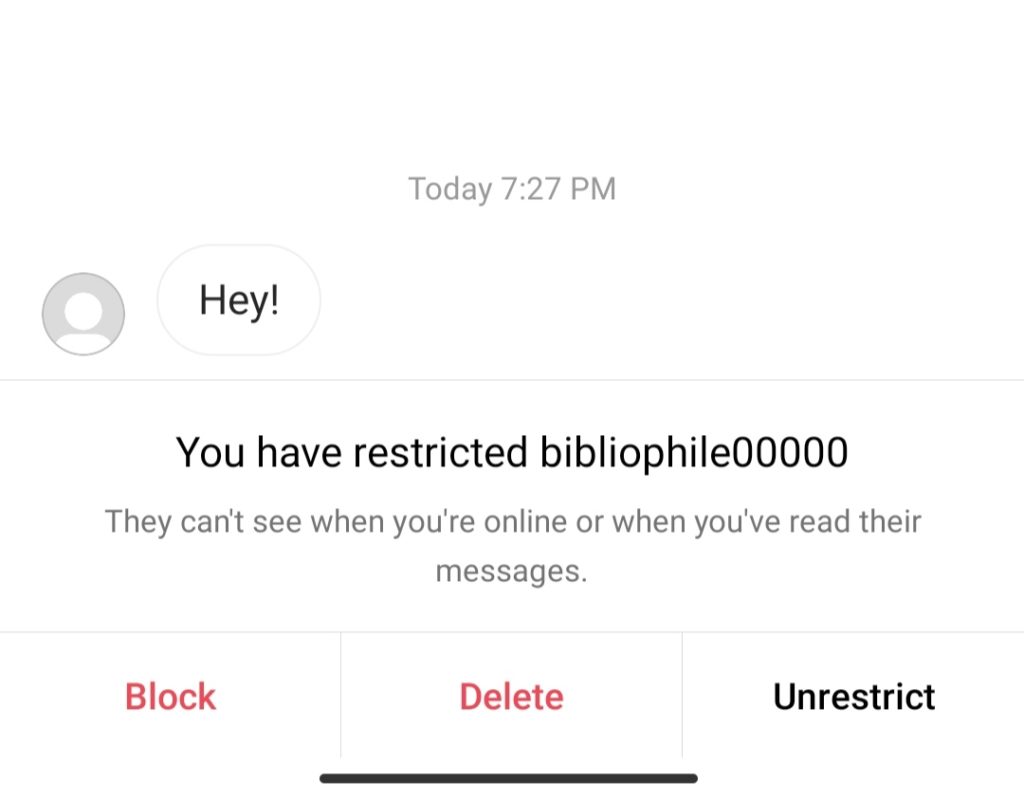 Then, If you want to respond to them, you can go to their profile again and unrestrict them. Click on the profile as in the picture above. You can unrestrict them directly from your INBOX if you are using the phone application.

In effect, there's no way to learn how to turn off your read receipts on Instagram, but you can make do with restricting accounts. Of course, it's not the ideal method for unreading IG DMs because we don't want to go through the trouble of restricting accounts every time we'd like to see a message without others knowing.
#2 Go Offline
As mentioned already, restricting is an option, but it's not ideal as you might have to restrict/unrestrict many users and go beyond IG daily limits just to remove the 'seen' receipt. But can you turn off read receipts on Instagram without having to restrict the account?! Well, you can, but it won't be any easier!
For this purpose, you should turn off your internet connection while reading the message. For detailed instructions, follow the steps below:
First, remember not to open the notification to the message, or else the 'seen' receipt will immediately appear.

Now, open your Instagram DM inbox by tapping on the airplane icon in the top right corner of the page.

Once your inbox refreshes and messages load, disconnect your Internet connection.

Then, open the conversation and read the messages you're so impatiently looking forward to.
Pro Tip: Another solution to how to turn read receipts off on Instagram that is similar to going offline is turning on your airplane mode. By doing so, you will prevent the other person from knowing that you've checked out their messages, but haven't replied to them.
To turn on airplane mode on your phone for this purpose refresh the messages on Instagram so that you receive the DMs, but don't open the chats. Then, turn on airplane mode on your phone through your settings, and sneak into the DMs with ease of mind!
Now you know how to turn your read receipts off on Instagram. However, you should keep in mind that the 'seen' receipt will appear on that message as soon as you go back online. So, you can only escape it for a short while!
That is, if you don't mind being offline for a couple of hours for a few messages, you can understand how to turn seen off on Instagram with this method. But, if you can't stand it, there's no way but to use a reliable application!
#3 Turn Off DM Notifications
Have you ever been eagerly waiting for a text message from your crush or ex on Instagram, and got so excited when you actually received one that you accidentally tapped on the notification? We've all been there!
At this moment, we can't get over the fact that we may look so desperate because we've read their DM so fast! Therefore, you should probably turn on your DM notifications on Instagram to avoid such situations.
Indeed it's not exactly a straightforward solution if you're wondering how to turn off read receipts on Instagram, but it can still save you from the embarrassment. So, if you wish to know how to turn off notifications on Instagram, here's how:
Go to your profile and tap on the three lines on the right upper side of your screen.
Then, tap on 'Settings'.
Next, Hit on 'Notifications'.
Finally, tap on 'Messages and Calls'. Now, you can turn off your DM notifications on Instagram!
And that's it for this part.
However, if you're looking for an easy and straightforward solution to the question 'how to turn off seen on Instagram DM?', read the next section in which you'll be introduced to DMpro; a safe, user-friendly app that gives you the opportunity to read messages on Instagram without the other person knowing, and so much more!
How to Turn Off Read Receipts On Instagram Using DMpro
Instagram has made reading messages undetected quite challenging for everyone! But if you need to know how to turn off read receipts on Instagram iPhone or Android without restricting people or disconnecting your internet, bear with me for a few seconds as I introduce the most efficient way!
To act more professionally in situations like these, we highly recommend you get assistance from a third-party DM manager. This section will show you how to use DMPro to turn off your read receipts, be more accurate when messaging, and hide your activities while using Instagram's messenger.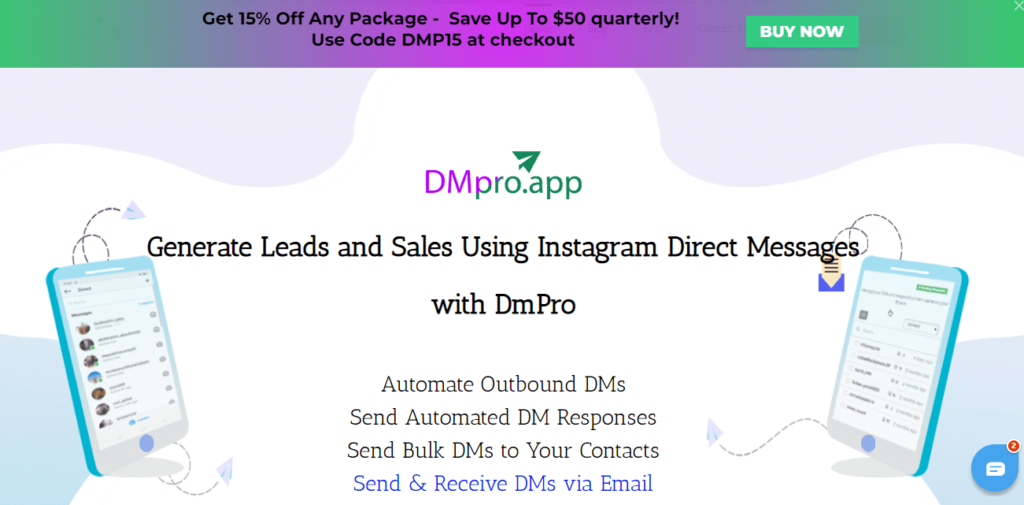 DMPro is a highly professional assistant, which helps you keep track of your direct messages on Instagram. Using this superb tool, you can send and receive DMs more easily. For instance, you can mass direct simultaneously to an arbitrary number of users. Besides, you can filter the recipients.
Using this tool, you'll know how to turn seen off in Instagram direct section without taking unnecessarily complicated steps!
#Use Inbox To Email Feature To Turn Off Read Receipts
One of the best ways to turn off read receipts and read DMs undetected is to connect your DM inbox to your Email address. This gives you many advantages. For example, you can hide your activity on Instagram while your active status is officially on. Let alone being able to manage your Instagram DM neatly and professionally.
To learn how to turn off read receipts on Instagram in 2022, take the following steps:
Sign up to DMpro for free.
Log in

to your

Instagram

account.

On your '

Dashboard

,' find your account and click on the '

Manage Account'

button.

In the '

Direct Messages'

tab, open the tab '

DM TO EMAIL

.'

At the bottom of the page, find your account and your email address.

Check the box to the

Connect

status.
And you will be done! Notice that using this method, you can not only read messages without informing the other side. But also, you will be able to read their message anyway if they ever unsend their message.
So, try DMpro right now to get immediate access to all its features and learn how to turn 'seen' off on Instagram!
FAQ on How to Turn Read Receipt Off (Instagram)
So far, we've given you two in-app solutions and one guaranteed third-party-app remedy for how to not show 'seen' on Instagram! Now, it's time to see what other questions you have!
1- Can You Change Read Receipts on Instagram? (NEW INFO)
Interestingly enough, yes! As discussed in the article, the answer to the question 'can you turn off receipts on Instagram is a no. However, you should know that read receipts on Instagram get updated! How? Via Instagram for desktop!
If you see a message on Instagram for desktop that you've already opened on the IG app, the read receipt will change. Imagine your friend has sent a DM to you, and you've seen it at 2 o'clock. Then, you log into your IG account via desktop and open the chat again at 4 o'clock. When your friend opens your chat, she/he will see that the Instagram seen receipt has changed to 4 o'clock!
We tested this ourselves to see whether it works, and it did! Notice that only a few people know about this feature because it is relatively new information about Instagram read receipts. So, it's up to you and how you wish to put this knowledge into practice!
2- How to Turn Off Active Status on Instagram?!
Usually, your friends and followers can see when you were last active on the platform. But now that you know how to turn off read receipts on Instagram, it would be a bummer if your activity status on Instagram betrayed you and informed your friends that you have indeed noticed their message! So, how to turn active status off on Instagram? Follow the steps below:
First, log into your Instagram and your profile feed.

Now, tap on the three horizontal lines in the top right corner and select 'settings.'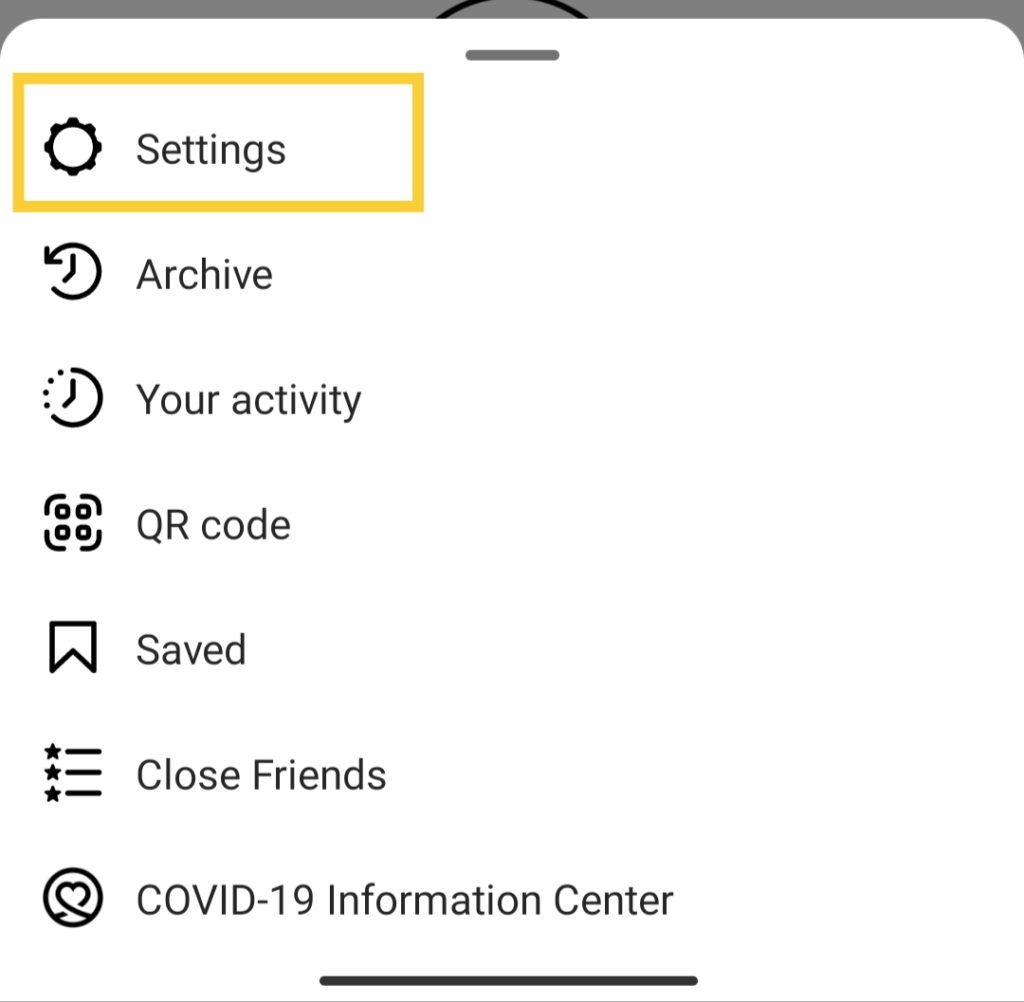 Next, choose 'privacy' then 'Activity Status.'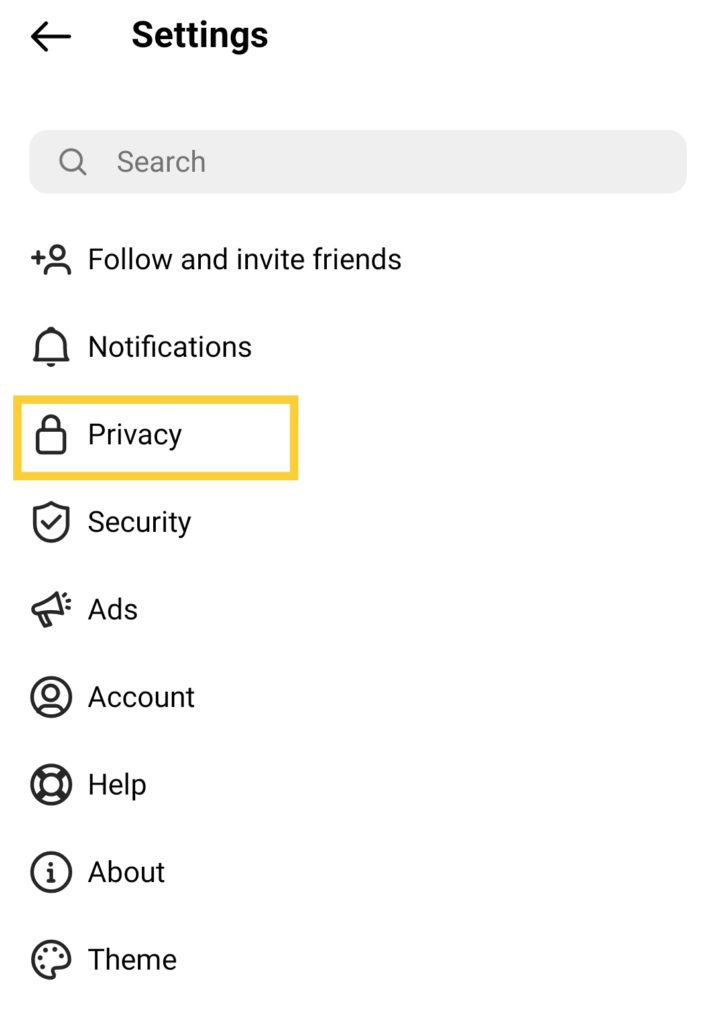 You get to choose whether you'd like others to see your online status or not!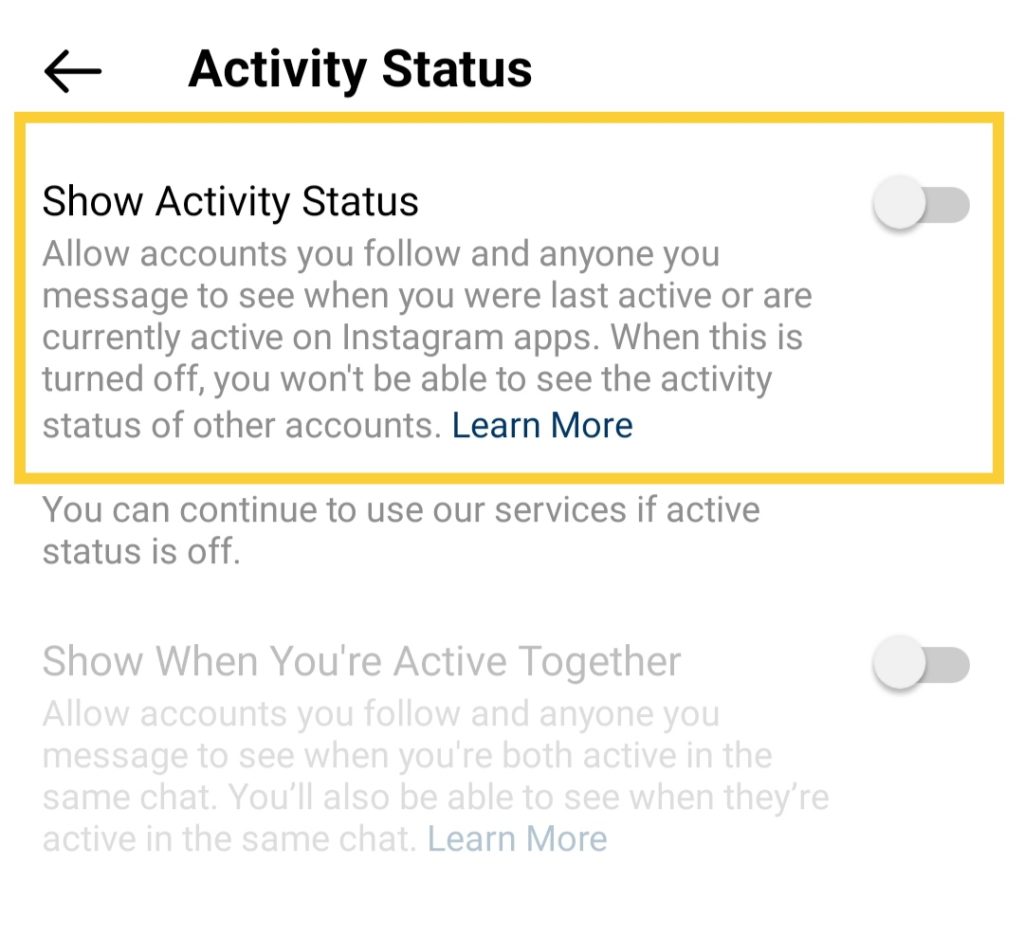 Easy, right?
3- How to Turn Off My Read Receipts on Instagram With an All-in-One Tool?
DMpro, a DM tool, allows you to answer your Instagram messages from your Email and mass DM potentially interested followers and customers. But if you want an all-in-one Instagram management tool that will also enable you to turn off Instagram read receipts, you can rely on AiGrow!
AiGrow, a reliable growth tool, offers several features to help you grow Instagram followers organically and fast! With this tool, you get to:
Get more IG followers,

Schedule IG posts, stories, reels,

Mass DM followers and interested users,

Create landing pages and CTAs,
And much more!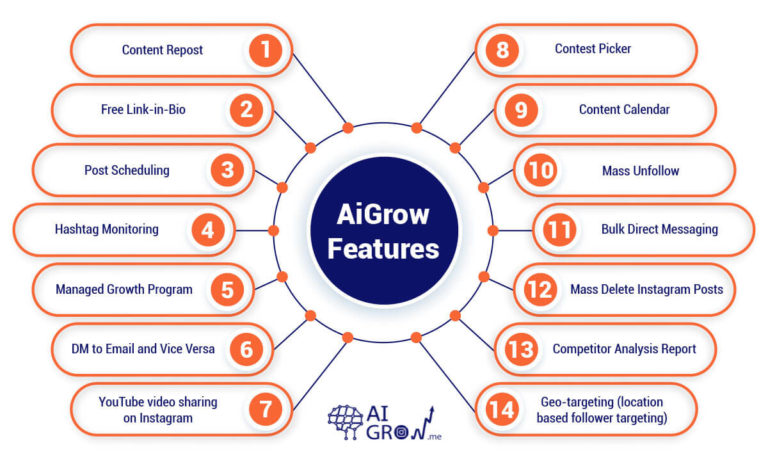 But AiGrow, functioning like DMpro, lets you read messages without showing the 'seen' receipt!
Guarantee your overall Instagram success with AiGrow now!
4- Why Are Instagram Read Receipts Gone?
There is no definite answer to this question. Most Probably, it's due to Instagram glitches and will be fixed in no time.
5- Can You Turn Read Receipts off on Instagram If You Unread the Message?
In short, no. The 'seen' receipt WILL remain there even if you mark an Instagram message unread. Some websites have claimed that by unreading a message, you can turn off 'seen' as well, but that's simply not true.
So, be careful not to fall for that false information. It might get you in trouble!
6- How to Turn off Read Receipts on Facebook Messenger?
As you may know, Instagram and Facebook are twin social media platforms these days. To turn off read receipts on FB messenger, go to the 'Settings' and then, tap on 'Messages'. Here, you'll see an option called 'Send Read Receipts. Toggle it off, and you're good to go!
Wrap-Up
There is more than one way to turn off your read receipts on Instagram. However, our recommendation is to sign up on DMPro, so you can benefit from their incredible features, such as connecting your DM to your Email. Turning off read receipts on Instagram is only one great thing about using this IG messaging tool. If you had any issues, please feel free to contact the support team. They are more than willing to help you with any inconvenience.