Have you ever deleted a highly engaged Instagram post unintentionally? What have you done to recover it? Yes! Before a few weeks ago it was impossible to view deleted Instagram posts and restore them with all the impressions and engagement they received! Hopefully, from now on and after the latest Instagram updates, users can easily recover recently deleted Instagram posts. But how to restore older ones and also mass recover posts? Keep reading to find it out!
How to See Deleted Instagram Posts?
As mentioned in the previous paragraph, before the recent updates, Instagrammers didn't have any chance to view deleted Instagram posts and restore them without republishing. But luckily, now you can easily view deleted posts right through the official app. To do so, just follow these steps: 
Go to your Instagram profile and tap on the three lines icon on the top right corner of the screen. 

Now, go to your account's settings. 

Here, tap on

"Account"

.

Now, tap on the

"Recently Deleted"

item.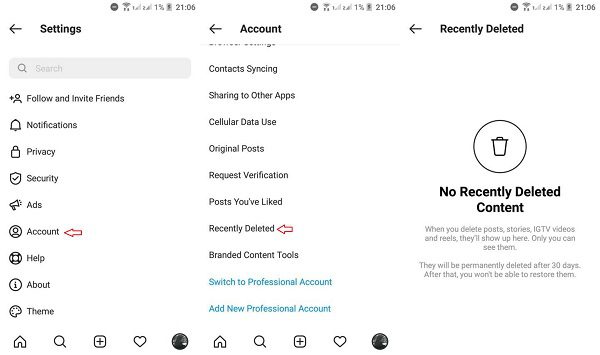 That's it! If you have recently deleted any posts, stories, IGTV videos, or reels, you can view them here. But note that this is doable just on the official Instagram mobile app. So, to view deleted Instagram posts and restore them even on a pc, keep reading!
Also Read: How to Read Unsend Message on Instagram?
How to Recover Deleted Instagram Posts?
Now you know how to view recently deleted Instagram posts. But how to recover them? Well, the easiest way that comes to mind is to republish the post. But wait! This way you lose all the engagement you have previously gained. Plus, your post appears as the first post on your account and you'll need to rearrange your Instagram feed again. So, there must be a way to restore Instagram posts without losing all the previously received likes and comments. Stay tuned to find it out! 
#1 Restore Deleted Instagram Posts: in-app Solution
If you have recently deleted one or some of your Instagram posts, stories, IGTV videos, or even reels, Instagram allows you to recover them 30 days after the deletion. For this, you just have to follow the steps taken in the previous section in order to view your deleted Instagram posts. Then, tap on the intended post. After that, just hit the three dots icon on the top right corner of the post. Here, you will have two options: permanently deleting the post, after which you will never access the post, or restoring it. 
By hitting the "Restore" button, Instagram asks you to approve the action. Then, you will receive an email containing a 6-digit code to confirm that it was you who wanted to recover a deleted post.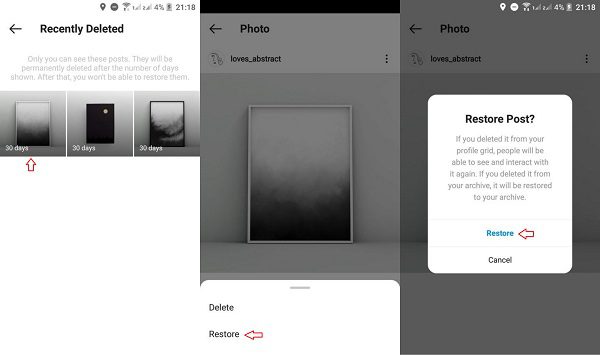 By the way, this feature only works for 30 days. Also, there's no way to recover deleted posts on a PC. So, jump into the next section to find a complete solution for this issue!
#2 Mass Recover Deleted Posts of All Times via AiSchedul
If you have mass deleted all your Instagram posts for a reason and now, looking for a way to mass recover all deleted Instagram posts with one click, I suggest you use AiSchedul. AiSchedul is an Instagram scheduling tool that enables:
Scheduling posts, stories, IGTV videos, and reels, 

Reposting content, 

Searching for multiple hashtags

and adding them to posts, 

Tracking and monitoring users, hashtags, mentions,
And much more than this. 
Using this amazing tool, you have the ability to select multiple Instagram posts and delete them all with one click. Additionally, when scheduling a post, you are allowed to schedule the post deletion to get rid of posts automatically. After that, whenever you needed, you have the chance to view deleted Instagram posts, select as many as you want, or even select them all and recover them all at once. No matter if you have deleted the post 30 days ago, or a year ago! Plus, it works on all types of devices, just by opening your web browser! So, sign up for free right now and give it a ride!
Bottom Line
To wrap it up, sometimes you may need to restore a deleted Instagram post, story, or IGTV video. In the past few months, this was possible just by republishing the content. But this is not the best solution because: 
You have to re-edit the content, 

The caption must be copied from the previous post before deletion or you have to re-write it, 

You will lose all the engagement you received previously. 
Fortunately, Instagram added a new feature that solves this problem in some cases. But like most Instagram features it has some limitations and you can use it under specific conditions. So, read the article carefully to find a lifelong solution with no limits!