Having millions of daily active users and being one of the best social media platforms to run user-generated content campaigns, Instagram sometimes disappoints users with its frequent updates, bugs, and errors. Right now, some users are asking "Why can't I tag someone on Instagram" and this turned out to be a common issue after recent Instagram updates. But what is exactly behind this error message?
In the following paragraphs, I'm going to help you figure out the cause of can't tag on Instagram and troubleshoot the issue in a few minutes. So, let's start. 
Why Can't I Tag Someone On Instagram and How to Fix it? 
Every single day, Instagram users report a new bug or issue out there. For instance, there have been reports on: 
And etc. Hopefully, we have covered reasons and solutions to all these issues previously. But before going to see why you cant tag someone on Instagram, we suggest you hire a professional Instagram account manager to prevent all these issues. In the following, I'll explain more about this lifetime solution for all your Instagram problems. So, stay tuned!
1- You Have Reached Instagram Tagging Limits 
One of the most frequent reasons for not being able to tag someone on Instagram is that you have exceeded Instagram's daily limits. Like all other Instagram actions, if you tag too many users per day, Instagram blocks you from tagging users for about 24 hours. 
Actually, this usually happens when you try to tag people to grab their attention and get more followers. In this case, hiring the Instagram account manager that I mentioned above is an essential step to take. Using a professional Instagram management service like AiGrow, you'll be provided with the chance to grow your business more naturally. Also, with the help of a dedicated account manager, whenever you face an error, your account manager goes through the issues and resolves them. Additionally, they track your Instagram activities and notify you before you exceed the tagging limits. So, check out their services right now and guarantee your success and safety on Instagram.
---
Note: Using AiGrow, you can also find all your Instagram mentions and tags. Just check the following video:
---
2- The Person You Are Trying to Tag Allows Tags from Followers or No One
Another reason for not being able to tag someone on Instagram is that they have restricted their taggings. Actually, this is one of the new features that help business accounts and users prevent being tagged on inappropriate and spammy posts.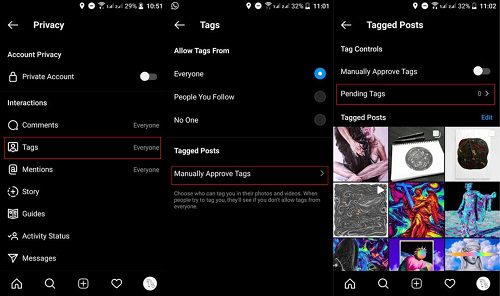 Unfortunately, if this is why you cannot tag some users, there's not much you can do. In this case, you may just DM the intended person and ask for permission to tag them on your posts. 
Read More: How To Stop Instagram Spam: The Ultimate Guide
3- Can't Tag on Instagram since You are Blocked or Restricted
Unfortunately, if you tag people on Instagram frequently, they may block you after a while. When this happens, you won't be able to view the person's account, DM them, and tag or mention them on your posts. In this case, you have no chance to solve the problem at all. So, stop being spammy and prevent being blocked!
Also Read: How To Know If Someone Blocked You On Instagram
4- You Are Trying to Tag a Deleted or Deactivated Account
Another reason that you can't tag someone on Instagram is that they have deactivated or deleted their Instagram account. In such cases, if no one else has taken their username, you won't be able to tag the intended username at all. But if the ID has been taken by a new user, you will end up tagging someone else which you have to untag before they block or report you.
5- Can't Tag on Instagram Because of Misspelling Issues
This is by far the most frequent reason for not being able to tag other users on Instagram, especially when you have a poor internet connection. Actually, when you try to tag someone on Instagram, you have to type at least the first 3 characters of their username and then, all the IDs with those characters will be shown and you have to choose among them. However, when you have a poor internet connection, you have to enter the complete username manually which sometimes results in misspelling the ID. 
If this is the reason, do the followings to solve it: 
Check the intended account's ID and make sure you entered it correctly, 

Make sure to enter @ before the username, 

Disconnect and reconnect your Internet connection, 

And use another device to tag users. 
In most cases, you'll solve the problem after checking these 4 simple things. But if not, report the problem to Instagram and get some help.
Frequently Asked Questions About Instagram Tags
Here are 3 of the most related and frequently asked questions about Instagram tags.
1- How Many People Can You Tag on Instagram?
Roughly speaking, Instagram allows you to tag 20 people on each Instagram post. On stories, this number is even smaller and you just have the chance to mention 10 people. So, to avoid getting shadowbanned, make sure to tag and mention fewer people on your posts and stories.
Keep Reading: Know Your Instagram Follow Limit Or Instagram Will Limit You Followingly!
2- If You Tag Someone on Instagram Will Their Followers See It?
According to Instagram, yes. When you tag someone on your posts, all their followers can view your post if your account is public. And if you have a private account, your mutual followers will be able to view the tagged posts. By the way, if you are tagged in a post and don't want your followers to see it, you have the opportunity to hide it from your profile. Just go to your privacy settings and hide the posts.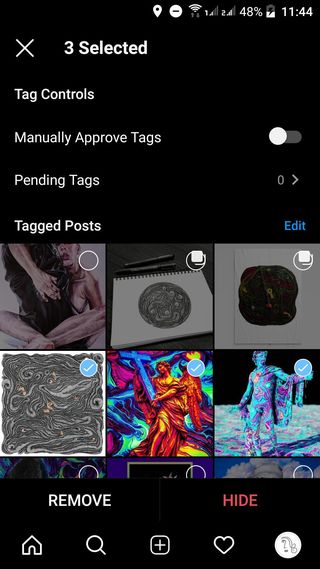 3- How Do You Get Product Tags on Instagram?
To get product tags on Instagram, you need to have a verified account and create a shoppable Instagram feed. However, AiGrow's all-in-one bio link tool enables you to sell on Instagram even without a business account and add clickable product tags to your Instagram posts.
Final Thoughts
To sum it up, you may not be allowed to tag someone on Instagram because you have reached the limits, the other person chose to avoid getting unwanted tags on Instagram, or you are entering incorrect usernames. Whatever the reason is, here you find the solution. So, read the article carefully and leave us a comment if you have any questions.