You are surfing the internet and suddenly face an interesting picture or text and desire to share it with your friends or keep it for yourself. So you easily copy and then paste it from your Clipboard history to share it with others. But how about Instagram Clipboard? Where is it?
People search for a clipboard on Instagram, wishing to copy Instagram comments, captions, and DMs to expand their posts and generate followers. It seems that there is no such option on Instagram.
So, many ask where is Clipboard on Instagram. Others mistake it for Instagram-saved posts & collections. Here, We will tell you how to get to Clipboard and find your copied image or text on Instagram Clipboard and then reveal a hack.
We also present you with the most excellent Scheduling tool, AiGrow, the best organic growth service, to assist you with organizing your sharing posts.
So, stay tuned!
What Is Clipboard on Instagram?
Instagram is a wonderful platform! It lets you share content and grow Instagram followers organically in the borderless world without considering their nationality or culture.
Although Instagram is concerned about copyright, copyright-free pictures can be copied and pasted from clipboard history and shared. This has made it one of the top favorite social media and an excellent place to make money from your photos.
An Instagram clipboard may be helpful when you want to copy and paste an image or a caption that catches your eye. But what is a Clipboard at all?
If you know where your phone's clipboard is, you can utilize it on Instagram as well. Continue reading.
Where Is the Clipboard on My Phone?
A clipboard or pasteboard is a virtual place or temporary memory that keeps your copied texts and images to paste somewhere else. You can use it to make captions for your Instagram posts and stories by copying text from another source.
Using a clipboard, you can share a photo or text without downloading and uploading it. Therefore, regardless of the type of app or website, you only need to select the content and R-click or hold it to 'Copy,' then tap somewhere else and paste it.
Clipboard on Android
On an Android device, the clipboard serves as a temporary storage space for items you've copied or cut, allowing you to paste them into other apps or locations. It can hold various types of content, such as text, images, Instagram hashtags, and links.
To access and use the clipboard on an Android device, you can follow these steps:
1. Copy Text or Content:
Open the app or screen where the text or content you want to copy is located.
Highlight the text or content by tapping and holding on it.
Tap the "Copy" option in the context menu that appears. If you want to move the content instead of copying it, you can use the "Cut" option.
2. Access the Clipboard:
Open the app or location where you want to paste the copied content.
3. Paste from the Clipboard:
Tap and hold in the text field or area where you want to paste the content.
A menu should appear, offering you the option to "Paste." Select this option to insert the content you copied.
Note: To access your Clipboard, touch three dots and then 'Clipboard' anywhere the keyword of your phone displays.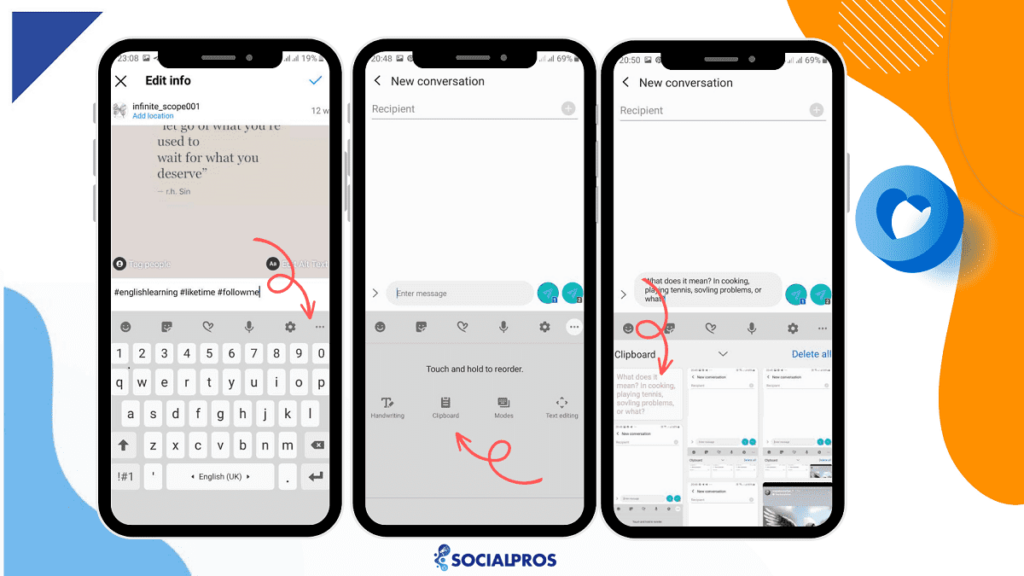 Android's clipboard primarily supports text and some basic data types like URLs and addresses. It may not natively support the direct copying and pasting of visual media like images and videos.
Clipboard on iPhone
On an iPhone, the clipboard is a temporary storage area where text, images, or other content you've copied or cut can be held before you paste it elsewhere. You can use the clipboard for copying and pasting text and other data between apps.
Please note that the clipboard on an iPhone is temporary. Once you copy something else or restart your device, the previous content on the clipboard will be replaced.
Many people think there is no clipboard on Instagram, but there is. However, Instagram limits many actions of the users, but we know how to take a shortcut. Keep reading.
Read more: Influencers Gone Wild: Shocking Tales of Misconduct & Scandal in Influencer Marketing
Where Is Your Clipboard on Instagram?
Instagram clipboard is a temporary holding area for text, IG hashtags, and other content that users may want to copy and paste within the Instagram app. Think of it as a digital notepad that allows you to save content for later use without the need to switch between different apps.
You may ask where's my clipboard on Instagram. If you are wondering how to get to the clipboard on Instagram, we must tell you that there are two spots where you can find it:
The post sharing page
The Story sharing page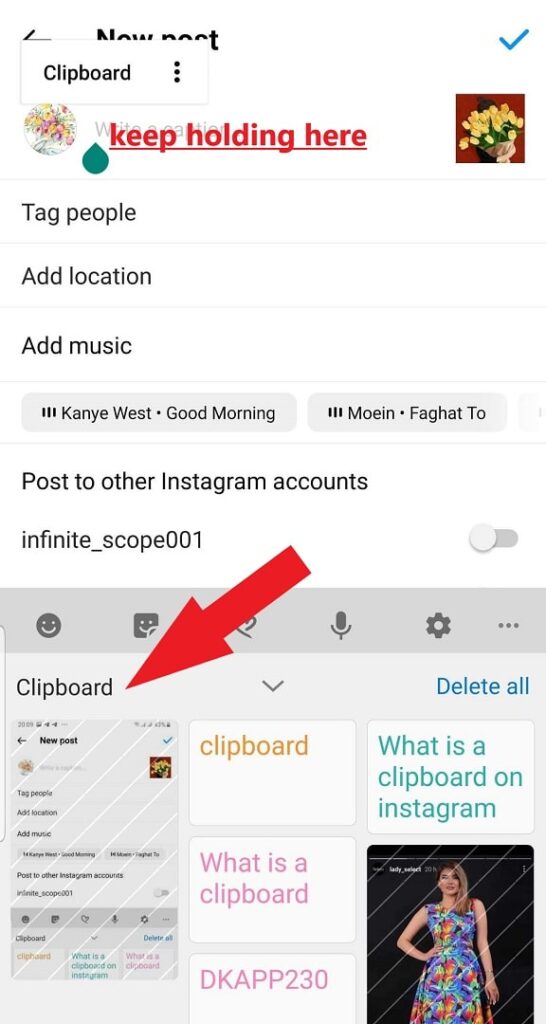 If you are considering how to copy-paste on Instagram on iPhone or Android from the clipboard history, look at both methods we have prepared. Remember that the Instagram clipboard on Android and iPhone is the same.
Now, to check and see your clipboard on Instagram and copy-paste the content to your feed, let's try both ways.
1. Clipboard on Instagram Post Sharing Page
When you copy or cut content, such as a comment or a caption, it is stored in the clipboard. You can then paste this content elsewhere within the app. For example, you may copy a set of hashtags from one post and paste them into the caption of another post.
The clipboard history eliminates the need to manually retype or remember the content, saving time and effort.
You may ask where is the clipboard on Instagram Android and iPhone. Let's check what we can do to find the Instagram clipboard and paste the text into your posts.
Copy content from the website you want and go back to your Instagram.
Tap the '+' icon on the Instagram page and see your gallery.
Then, select a photo from your gallery and tap 'Next.'
Pick a filter or edit your photo and tap 'Next.'
In the 'New Post' page, tap and hold on to the 'Write a caption…' part.
Now, you see the Clipboard on Instagram.
Tap on 'Clipboard' to see and select the content from your clipboard.
This is how to get to the clipboard on Instagram. This is not possible on Instagram to copy a photo or video, but you can download and post it.
2. Where Is Clipboard on Instagram Story
Now, to reach your clipboard on the Instagram story-sharing page, go through the following instruction:
Like the previous way, copy content from the website you want and return it to your Instagram.
On your Instagram page, swipe right to reach your camera.
Then, select the gallery button on the bottom left of the camera page.
Now, choose an image from your gallery.
Tap the 'Aa' button on the page's upper right side when the photo or video comes up.
Tap and hold on to the text entry box to see the 'Clipboard' button and choose your copied content.
The above is how you can see your clipboard on Instagram story. To share a photo on your story you should download it and then share it though this takes too much time, and for an Instagram marketer, time is money!
We will show you how to quickly drag and drop photos on Instagram. So, stay with us to reveal a free hack for you.
How to Copy Content From a Website and Post it to Instagram?
Previously, copying content from a website and directly pasting it onto Instagram was impossible. However, Instagram has made updates and allows users to paste content from external sources directly into this platform.
This makes it easier for users to share content and information from websites directly on their Instagram profiles. To do it, you need to log in to your Instagram account on your Desktop.
Ensure you are logged in to your Instagram account.
After that, Visit the website or source from where you want to copy the content. This can be text, images, or videos.
Select the content you want to copy and use the copy function on your device (usually by right-clicking and selecting 'Copy' or using the keyboard shortcut Ctrl+C).
Create a New Post by tapping the 'create' bottom plus (+) icon at the left of your screen to create a new post.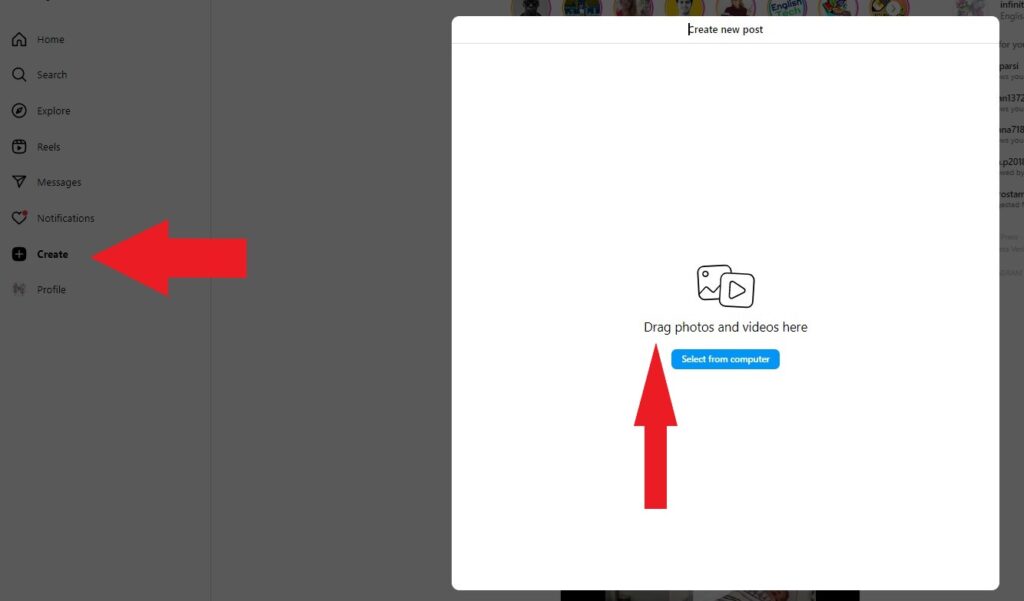 You can also use the new drag-and-drop feature to drag the photo and drop it til the photo is loaded on your feed. Then you can edit, add Instagram filters, add a caption and share it.
Instead of typing anything in the Instagram caption field, simply tap and hold on to the 'Write a caption…' field and enter your desired text from your clipboard on Instagram.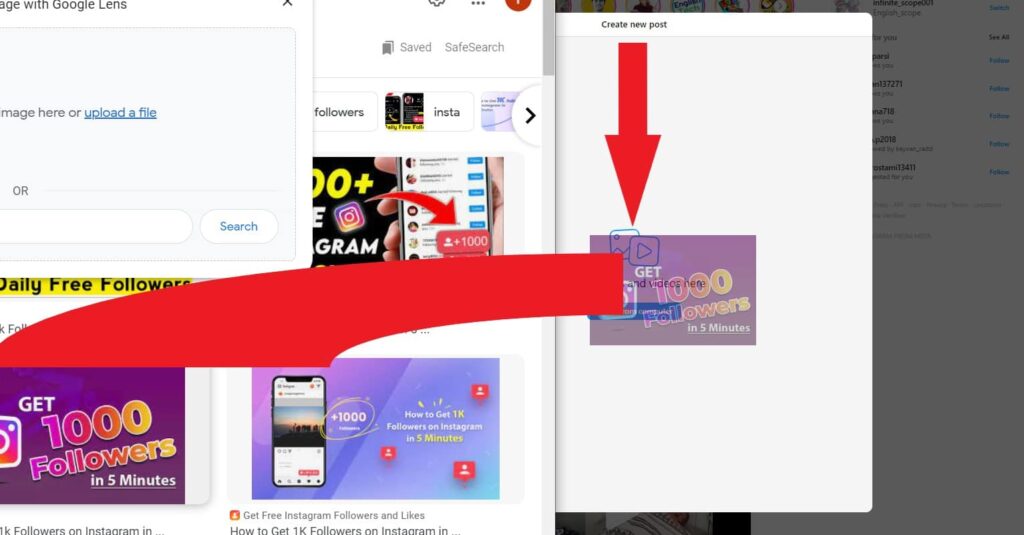 That's it! You have successfully pasted content from an external source onto Instagram. Remember that the Instagram algorithm is so sensitive about copy matters, and if you share copied content frequently, you may action blocked.
Now let's discover a platform called AiGrow that simplifies reposting content to your Instagram feed. AiGrow enables you to effortlessly schedule your posts and effectively manage your entire Instagram account.
How to Copy And Repost Content on Instagram Using AiGrow
Many people look for a clipboard on Instagram to copy-paste content. They are not aware that by using the best repost app ever, you can directly repost any content you like.
AiGrow is an all-in-one Instagram management service that lets you schedule, repost, and download Instagram reels.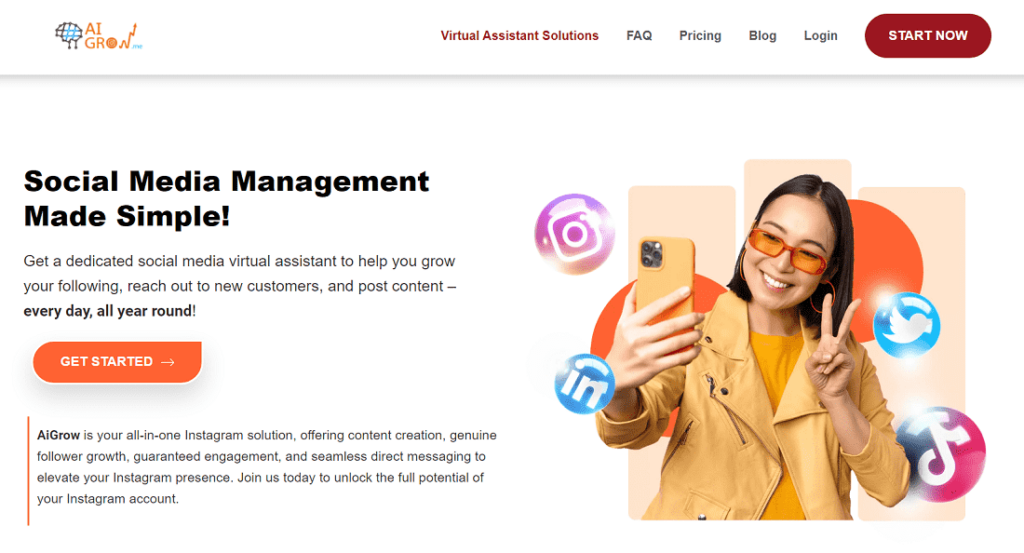 Luckily, you can use this app on your mobile and desktop, so you ditch your smartphone's tiny screen and run your account from your PC.
To copy and repost content on Instagram using the AiGrow DM managed package, you can follow these steps:
Click or tap on 'Manage Account.'
Select 'POSTS & SCHEDULING.'
Then, click on the 'Repost' button.
You can choose if you want to repost a 'Feed' or 'Story.'
For sharing stories, you can insert the account's username.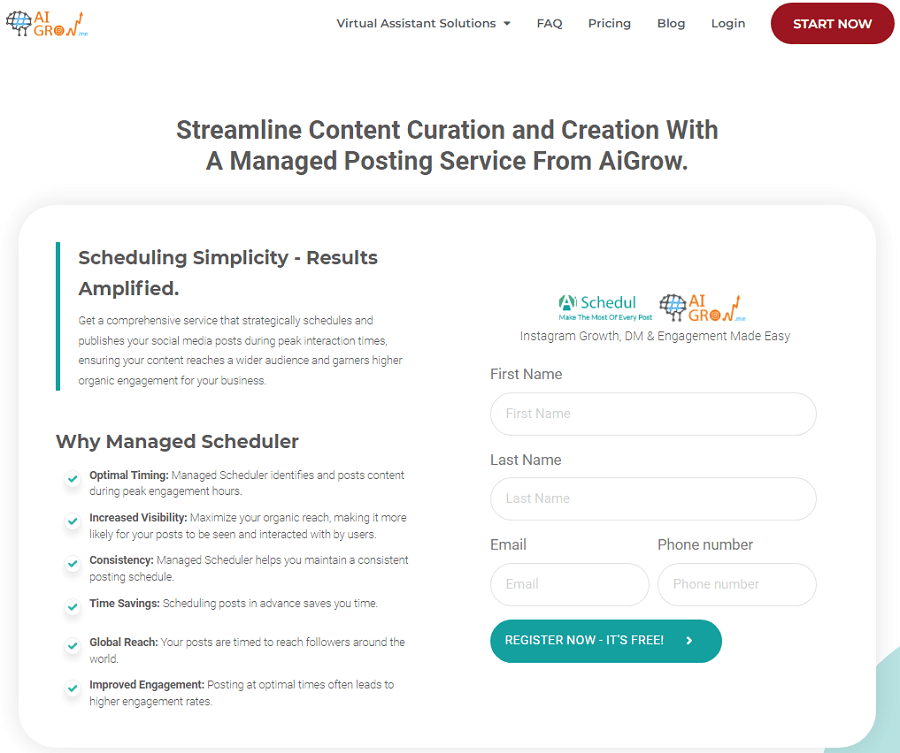 If you want to repost a feed, insert the hashtag, location, or username of the account you desire to share its content. You will see all the stories or feeds prioritized by date. So pick the one you want to share. It'll transfer all the details of the original post. You can edit them as you wish.
Then you can select the 'Post Now' or 'Post in future' and schedule the time.
Actually, this is the best way you can repost a video on Instagram story. By the way, you can add up to 80 Instagram accounts to your dashboard!
Protecting Your Digital Content: How AiGrow's Content Creation Plan Eases Copyright Concerns
AiGrow's content creation plan can help address copyright concerns by offering tools and features that allow you to create original and engaging content for your Instagram account.
This approach ensures that you are not infringing on copyright or intellectual property rights held by others. Here's an explanation of how AiGrow's content creation plan can help you in this regard:
Original Content Creation:
AiGrow professional Instagram managers and graphic designers play a crucial role in assisting users in creating unique and engaging content for their Instagram feeds, stories, and Reels.
Customized Design:
Graphic designers, or "graphists," collaborate with users to create custom graphics, images, and visual assets that are unique to their brand. These visuals can include logos, banners, and promotional materials.
Hashtag and Caption Strategy:
AiGrow managers and graphic designers provide guidance on effective hashtag usage and assist in crafting engaging captions that resonate with the audience.
Monitoring and Engagement:
Managers help users monitor the performance of their posts, engagement with their audience, and feedback. They adjust the content strategy based on data and user insights.
In summary, AiGrow's managers and graphic designers collaborate with users to create original, visually appealing, and engaging content that is well-aligned with their brand identity and objectives. This approach ensures that users can effectively reach their target audience and maintain a strong online presence while avoiding copyright concerns.
Final Words
The Instagram clipboard feature is helpful for users who frequently copy and paste content within the app. Whether you're reusing hashtags, duplicating captions, or referencing usernames, the clipboard simplifies the process.
It is great to be able to copy-paste and use Clipboard on Instagram. However, marketers do not have much time to waste. That is, I suggest you use a reliable Instagram management tool like AiGrow that lets you repost all types of content you crave to share.
FAQs
1. Can I paste content from the clipboard on Instagram or other apps?
Yes, you can paste the content to your Instagram caption and other applications on your device. Remember you can't insert photos or videos using your Clipboard history.
2. Where is my Clipboard on Instagram?
There is no direct menu option to get access to the clipboard on Instagram. You can access clipboards on Instagram when you want to add a caption to your photo.
3. How many items can the clipboard store?
It depends on your device and how many items it stores. However, copying or cutting new content will automatically replace the previous content, but you can find the previously copied contents on your clipboard history.
4. How to delete clipboard on Instagram?
If you wish to clear the clipboard, you usually have to go into the device's settings. To do so, go to your Clipboard's history, select the item you wish to erase, and then delete it. To find out how to get to clipboard, reread this article.