You start to build your brand on Instagram and decide to revamp your business or services according to your customer's demand. Therefore, you are not providing the previous services and products to your customers. Still, you are receiving orders from them, and there are many posts that you need to delete. On the other hand, you may have temporary services or products or want to publish some posts for special vacations or holidays. You want to host a contest or have a special offer for Mother's day. Indeed, there are so many posts that you want to publish in an arranged time and then delete them. Here, it would be awesome if you know how to delete an Instagram post automatically!
It is hard to delete a massive amount of Instagram posts one by one. Unfortunately, Instagram doesn't provide a feature to delete an Instagram post automatically.
That is, I have an excellent solution for you to delete an Instagram post quickly.
So, let's dive in.
You May Like:
How to Delete An Instagram Post Automatically After Publishing
As I mentioned above, Instagram doesn't have a feature to delete an Instagram post automatically. You can only delete Instagram posts one by one on the Instagram mobile app. However, it takes much time for an Instagram marketer to delete every single post.
On the other hand, many 3rd party apps delete multiple Instagram posts automatically in a wink of an eye. Then Instagram will catch you red-handed, and the result would be irreparable. If you use an app that is not performing the tasks respecting Instagram policies, the platform will ban and action block you immediately. 
Actually, you need an app to work precisely according to the Instagram algorithm, safe, secure, and reliable like AiGrow!
Delete An Instagram Post Automatically After Publishing Via AiGrow
AiGrow is a complete package of Instagram marketing tools that has a solution for every answer. Here, I will elaborate on the scheduling post deletion feature. So, keep in touch.
This app is the best social media scheduler in 2021 that you can rely on!
Using this wonderful Instagram management tool, you schedule publishing and deleting Instagram posts in advance. 
Schedule the Post Deletion via AiGrow
You can easily schedule the time in your AiGrow dashboard then the platform will delete your Instagram post automatically.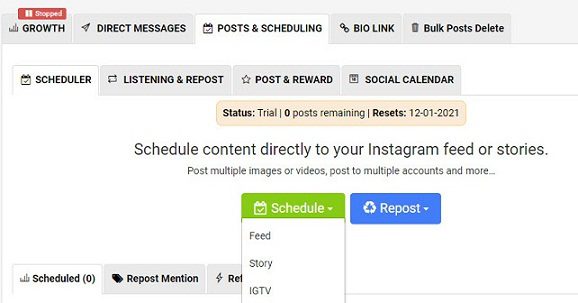 So, sign up for free and add your Instagram account on your smartphone or desktop. You can schedule to delete Instagram posts automatically after publishing at a selected time.
In this case, when you want to publish the post:
1. Select the photos or directly upload them from Unsplash.
2. Add a caption, link, and location to your posts.
3. Add hashtags to your captions or as your first comment.
4. Choose the date and determine the time you want the post to be published. 
5. By clicking on the "Delete Post After a Period of Time", choose the time when you want the post to be deleted automatically.
6. And finally, tap or click on the Schedule button. 
After the selected time, the app will delete the Instagram post automatically.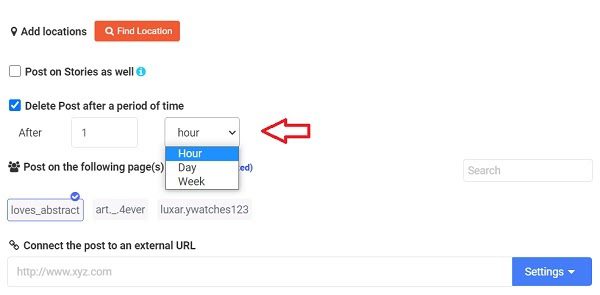 Moreover, in your AiGrow dashboard, you can easily delete one picture out of multiple on Instagram.
Have you deleted Instagram posts accidentally? 
No worries, AiGrow lets you view deleted Instagram posts and recover them for free! This is absolutely fantastic.
Above all, if you have plenty of posts and need to remove them all, this app will rescue you! AiGrow provides you a convenient feature to mass delete Instagram posts all at once! 
Then:
1. Select "Bulk Posts Delete" and pick all the posts you want to delete
2. Click "Delete Selected Posts" and done. 
3. You delete Instagram posts at a glance.
Now, you can comfortably use AiGrow and schedule your posts.
FAQs about Deleting Instagram Post 
Now, you have precise information about how to delete an Instagram post. But, here are some common question that people mostly ask:
1. Why are my Instagram posts not deleting?
If an error happens when you try to delete an Instagram post, check your internet connection. Then whether you have an internet connection and your problem stands still, reinstall or update the app.
2. When I Post on Instagram, Why Is It that My Photo Is Automatically Deleted After Seconds?
If you consider why Instagram deleted my photo, you can fix it here. That is, maybe your posts do not follow Instagram guidelines. Also, you have not verified your email address to your Instagram account. The Instagram algorithm gives a flag to accounts if there is a dramatic change in posting frequency.
3. Why Does My Instagram Keep Getting Deleted?
Instagram has deleted accounts either because you've violated one or more of Instagram's terms of use or because of a mistake. 
Final Words
You may desire to plan your content in arranged time. On the other hand, if you are promoting new projects or starting fresh after a breakup, you must delete many Instagram posts. AiGrow provides you with various features like deleting Instagram posts automatically and mass deleting Instagram posts.