Have you ever thought about Email Leads Generation? Most business marketers don't think of Instagram as a lead generating platform. But one of the best ways to grow your business by Instagram is to generate email leads.
Getting more followers on Instagram seems like a challenging puzzle for most social media marketers, but the platform is great to grow other aspects of your business, too.
Instagram a Great platform for Email Lead Generation
Building Instagram following is a high preference for many businesses today, and if they do it right, it would be very efficient. Otherwise, they're missing out.
Users also spend more time on Instagram than other social media platforms. Therefore, this gives you more chances to connect and build relationships with them and generate email leads.
How to Generate Email Leads on Instagram
Social media leads are potential consumers who show interest in your products or service. Also, they provide information that marketers can follow. In this case, email gives you a direct connection with these potential customers.
On the other hand, even if you have numerous Instagram followers, some of them might miss your feed. However, if you get their emails, you can send beneficial information such as the latest posts, new products, services, and launches directly to their inbox.
1. Promote Profile to Generate Email Leads
If you use Instagram for business, it's essential to create an Instagram business profile and add your email address as a contact option to let followers send you requests directly to generate email leads.
Your link should guide customers to every goal you wish to achieve. That could be a bulletin subscription, product sales, or a survey. Fortunately, you can change your link whenever you want.
Here are a few recommendations to improve Instagram bio links:
Add a CTA above the bio link.

Make the link tiny, and try to mention your brand name in it.

To make your link trackable, add UTM parameters in the URL.
Remember that on Instagram, you can put a URL within your post descriptions, but it won't be clickable. Consequently, if you want someone to visit your email link, it's a good idea to put the link in your bio.
Above all, utilizing relevant hashtags will make it easier for your profile to be found by people searching for Instagram.
2. Run Contests and Giveaways
Bring out your followers' competitive nature! Because everyone loves a competition, and Instagram is the perfect platform for you to host one. You can reach more people with competition and use that leverage to promote your email list. 
You can request people to sign up for your email list instead of asking them to follow your account to let you boost your subscriber numbers.
The enhanced engagement on your contest posts will make them more visible to new clients, who you can then lead towards your email list in other actions.
Though giveaways and contests are a great way to build your audience, they're not the most precise way of building an audience.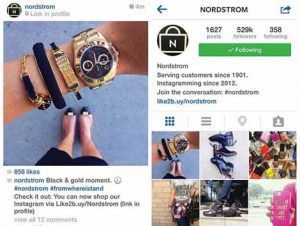 3. Engage Your Followers
User-generated content (UGC) is all the craze now. Sharing the photos, videos, stories, and reviews of your customers is a foolproof way to drive engagement as it functions as a digital version of WOM marketing.
This will boost conversion rates (more subscribers on your list) and give you access to a lot more valuable content. In this case, the easiest way is to create a hashtag and encourage followers to add their photos and stories. 
Then, you can use any UGC you've gathered in Instagram ads to build your email list. 
4. Incorporate CTA
Make it obvious to your Instagram followers that you want them to sign up for your email list.
Frequently asking the audience to take the next step and using calls-to-action to encourage them to click, register, buy, or sign-up might seem like an elementary tactic, but it's also incredibly effective.
You can add CTA buttons to your profile if you have an Instagram business account. Moreover, your profile can include a link to your email and business contacts so followers can get in touch with your company.
Indeed, using words like "sign-up," "register," and "download" significantly boost conversion rates, so why not cash in on these powerful phrases?
It is best to use CTA in your Instagram bio to lead followers toward your freebie or consolidate them in your post descriptions to gain new followers that find your posts via hashtags or other features.
5. Make the Most of Stories
Millions of daily active Instagram Stories users make it the ideal way to connect with your audience authentically and instantly.
In Stories, you can add text to your images, create "swipe up" links to take followers to designated landing pages, and create CTA that literally dances on the screen. As a result, Stories' interactive nature has much more scope for conversion than regular Instagram posts. You can incorporate lead gen forms on your landing pages using online form creation tools so when visitors land on the page, they can seamlessly provide their contact information to you.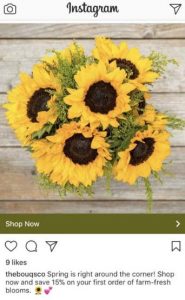 6. Promote your post to generate email leads
To generate email leads by promoting your Instagram Post, go through the instruction below:
Open your profile.

Select the post you want to promote.

Press on Promote below the post's image.
Set things like Audience (who you want to reach), Destination (where to send people), Duration (The time you want your promotion to run), and Budget (how much you want to spend daily). Press Next after completing details.
Tap on Create Promotion under Review to complete your promotion.
Once you press Create Promotion, the Instagram algorithm will review your promotion to ensure it meets Instagram ad policies. The review process may take 60 minutes or a bit longer. After review and approval, your promotion will run.
You'll receive a notification in your Activity Feed after submitting a promotion for review, or when it's getting reviewed, or if it's approved or disapproved, and when the campaign ends. Remember to avoid promoting posts featuring images greater than 8 MB.
Once the ad runs, you will notice your promotion's effect on your Instagram profile if you tap on the View Insights option.
Keep in mind that when you set up your Instagram business account, you will promote it to connect to a Facebook Page.
This is how you can build your audience on Instagram and generate email leads.
Final Thoughts 
Obviously, Instagram is a hot asset now. Moreover, it is an amazing platform to promote your brand and reach new clients. It's also the perfect place to generate email leads.
After all, as social media and email marketing are effective individually, an integrated strategy can drive big bucks and build your following notably better than each channel alone.
It's easy to leverage the engaging nature of Instagram to encourage followers to sign-up to your email list. Hence, you can do this through competition, UGC, incorporating choice CTA, or the new power of Instagram Stories. AiGrow, the most powerful Instagram management tool, will assist you in managing all these tasks and generating email leads.