Worrying about your privacy and want to know how to hide your Instagram activity from followers? In this case, read this article in which I'll explain how to hide from your followers!
In recent years, Instagram has introduced several updates to preserve the users' personal privacy and reduce the probable treads on the app. For example, Instagram removed the followers' activity section in which you could see the posts that your followers liked or commented on. You can also hide comments on your Instagram Live or turn off the comments on feed posts and Stories. 
Last year, Instagram released another update in which it announced that you could hide or display your Instagram activity status from your followers. With this option on, a green circle appears next to your Instagram handle, letting your followers know that you are active on the app.
Why Should You Hide Your Activity Status on Instagram?
Well, many Instagrammers found this new feature disturbing; why? Let's see:
1- Scrolling in Peace
One sound reason why people want to hide their activity status from their followers is to check their feed in peace. If your BFF or other people see that you're online, they might send you many DMs or share content and expect you to respond right away. 
This is especially true for those who run a business on Instagram and have many customers. Although responding to followers is a good idea, sometimes all you need is to scroll Instagram feed in peace! 
2- Avoid Misunderstanding
Instagram has some minor bugs, and they can be very annoying, such as showing your followers that you're online while, in reality, you're not! This can give rise to a serious misunderstanding between you and your online friends!
No matter what is your reason for staying under the radar, you can always switch off this feature to avoid any problem.

How to Hide Instagram Activity From Followers?
So, want to know how to hide Instagram activity from your followers? It's easy! Just follow these simple steps:
On your Android or iPhone:
Open your Instagram app and tap on your profile picture in the bottom right to go to your profile.

Tap on the three lines in the top right and then choose "Settings."

Tap Privacy, then tap Activity Status.

Here you can turn "Show Activity Status" off or on.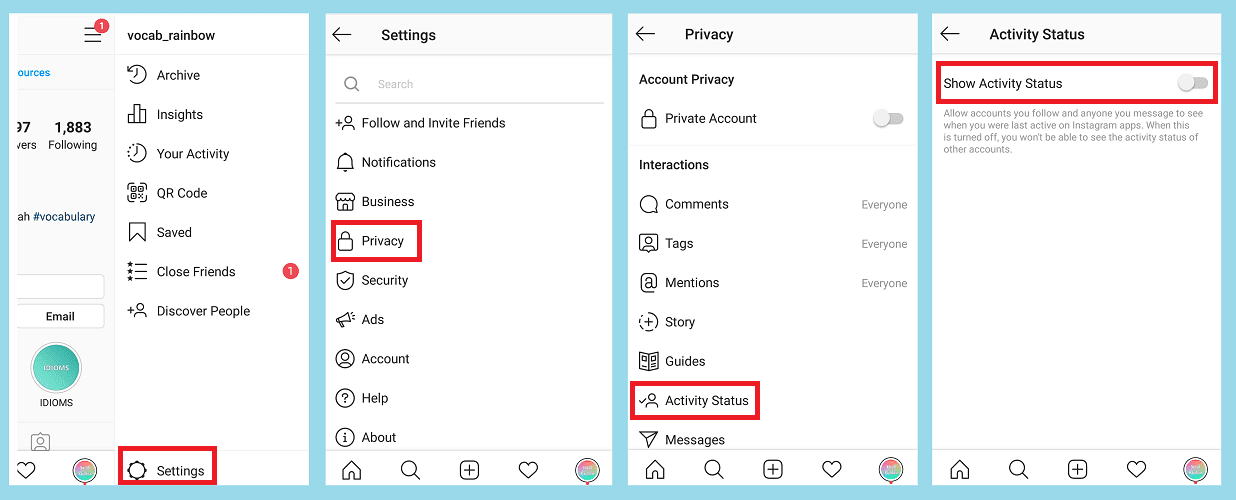 If you use Instagram on your PC:
Click your profile picture in the top right corner, then click on "Settings."

Click Privacy and Security, then click to uncheck the box next to Show Activity Status.
A very important thing to know is that by hiding your activity status from your followers, you will also no longer be able to see the activity status of other Instagram accounts. 
This does not mean you or them won't get any of your DMs; the only difference is, your followers cannot see if you're online and vice versa. 
If you want to make sure that you notice when a special friend sends a DM, you can turn on your notification for that account.
Related Article: An Easier Way to Manage Instagram DM Notifications
Here are some of the other questions you might have in your mind:
Can You Hide Your Activity on Instagram from One Person?
Currently, Instagram does not allow you to hide your activity only from one person. If you switch off your activity status, all of your followers won't be able to see if you're online. In this case, the only thing you can do is to block that account. 
If you want that account to don't see your Stories only, you go to your settings>Privacy>Story and add it to the "Hide Story From" section.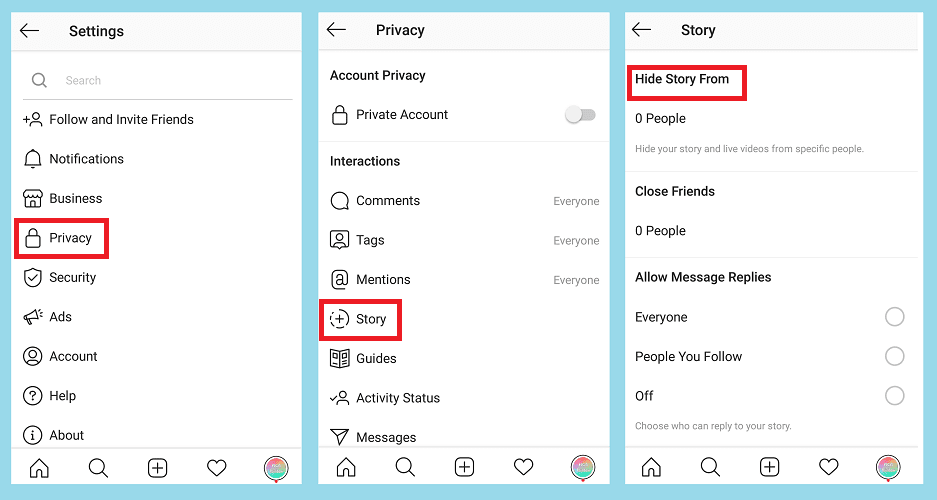 How to Hide a Post on Instagram from a Follower?
Like hiding Instagram activity from only one person, you cannot hide your post on Instagram from any followers. Unfortunately, the only way to hide your post is to delete it. 

How to Hide Your Likes on Instagram?
This one is impossible too! Although Instagram removed the "Followers' Activity" from the app, your followers might still see that you liked a photo if that photo belongs to a common account that you're both following. This might not be the case in the countries that Instagram started to hide likes from the users. 
Also, some of the posts that Instagrammers see on the explore page is based on the followers' likes and other activities. For example, if you like a photo, your followers might see that post on their explore page, and when they open it, they'll see that you liked it.
Anyway, if you accidentally liked a photo, simply unlike it. 
Related article: How to View Liked Photos on Instagram? 
Final Words on How to Hide Your Instagram Activity from Your Followers
If you want to keep checking your Instagram feed and Stories without any disturbance or you want to avoid any misunderstanding, better to switch your Instagram activity status off. This way, you can preserve your privacy more and avoid using old weird ways to hide on the app, such as checking your feed in the middle of the night!