Recently, I got several Instagram messages almost every day. Also, random accounts are watching my stories. At first, I was surprised! Wow! How many fans do I have? And it took me to a dreamland of a popular celebrity! Then, I saw that all are Instagram spam messages and fell off from the climax of pride! I report all of them, but they continue. I wish I could mass delete my Instagram messages!
Instagram is a fast-moving social media, and you may face more Instagram message request spam as much as your account is growing. Therefore, it would be awesome if you manage your Instagram message requests. 
If you are pissed off by repeated Instagram spam messages, calm down and study this article to know how to recognize and stop them.
How to Spot Instagram Spam Messages?
With the growth of Instagram DM bots, there are many fake accounts that send Instagram spam messages. If you want to identify the sender of Instagram spam messages, knowing some signs will help you with this. 
1. No Posts or Profile Pictures
Most Instagram fake accounts have weird usernames. These Instagram bot accounts usually have few or even no posts. Also, some of them have no profile picture and write only a few details in their bio or leave it blank. In many cases, they have not many followers. Therefore, if you get a massive amount of Instagram message requests from these accounts, they are spam. 
2. Spammy and Irrelevant Comments 
As Instagram bots are not that clever to understand a post's context, they leave irrelevant comments. For instance, you may have noticed that someone commented, "It's amazing," below a funeral post! Or we all have seen many ads below an upsetting post. These fake Instagram comment bots may send you Instagram spam messages. Therefore, if you face many spam comments from an account, it's highly possible that they are fake.
3. Low Engagement Rate
All Instagrammers do their best to increase their engagement rate because this is the criteria that Instagram measures you to bring up your post. However, many Instagram fake accounts have low engagement rates as they buy numerous followers. So when you check their posts, you don't see adequate interactions. You can identify this from a few likes and comments below each post. Consequently, if you see, for example, 10-20 likes for an account with 20k followers, that must be a bot.
4. Low Followers to Following Ratio
Many Instagram bots increase followers by using the follow-to-follow strategy. Therefore, a low follower-to-following ratio indicates that the account is probably fake and not actual. Also, when you monitor their followers, most of them are inactive accounts or fake.
That is, I recommend you use the best Instagram analytics tool to evaluate their accounts. 
You only need to go to the website and enter the username and get all the information you need about the account. 
How to Stop Receiving Instagram Spam Messages?
It isn't enjoyable to frequently receive Instagram spam messages and identify them among the various DMs we get daily. Here, I gathered the solutions to stop receiving Instagram spam messages constantly.
#1 Turn into a Private Account
When your account is private, not anyone can send you Instagram messages. Remember to set your DM to "private" on your privacy settings on your Instagram account. So if you set your DM to "public," anyone can send you an Instagram spam message. In this case, you only get DMs from the users who send private messages on Instagram, and you will never get spam messages anymore. However, this will prevent you from receiving other valuable messages from the public and non-followers accounts.
#2 Block & Report
If you desire to stop someone from sending you messages or message requests, you can block that person or report their profile. Indeed, Instagram has provided you a feature to report accounts for some reasons as below:
Not liking the content,

Suicide,

Self-injury or eating disorder,

Sale of illegal or regulated goods, 

Nudity or sexual activity, 

Hate speech or symbols, 

Violence or dangerous organization,

 Bullying or harassment,

 Intellectual property violation, 

Scam or fraud 

False information
Therefore, you can easily block and then report the account.
Block the Account
To block someone's Instagram, go through the following steps :
Go to their Instagram page.

Press the three dots on the top-right of the screen.

Select "Block"

A question will appear on your screen "Block …?"

Again, tap on "Block."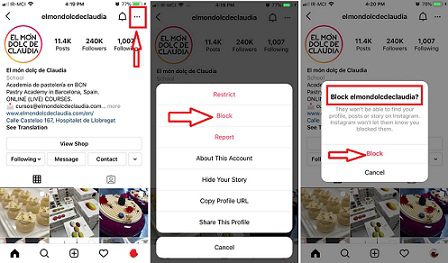 Report the Account
To report someone's Instagram, go through the following steps:
Same as the Go to their Instagram page.

Select the three dots on the top-right of the screen.

Tap on"Report"

Select why you want to report the account.

Then, tap on "Report."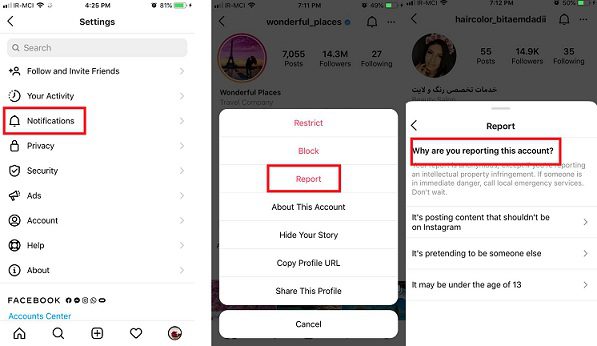 This is an excellent opportunity to get rid of Instagram spam messages. Remember that your report is anonymous, except if you're reporting an intellectual property infringement. The account you reported won't see who reported them. However, it's time-consuming to block and report every single message you get daily.
#3 Turn Off New Message Requests to Stop Spam Messages
This is a feature available for business accounts. So, to stop receiving notifications for Instagram direct message requests, track the steps below.
Open the Instagram app.

Head over to the Settings.

Select "Notifications."

Pick "Direct Messages."

Select the "Off" option under "Message Requests." You can also stop notifications for group requests.
Though, turning off this feature, business marketers may lose many beneficial ads and messages that can help them to grow their business.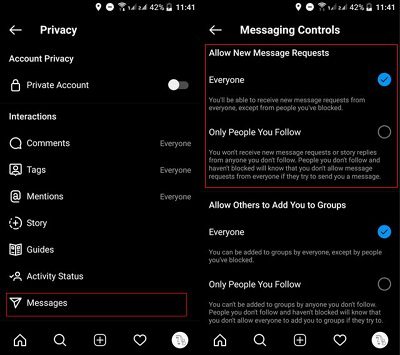 #4 Only Allow People You Follow to Add You to DM Groups
To stop Instagram spam messages, you can only allow people you follow to add you to DM groups. However, this is available just for business accounts.
Therefore, go to your Instagram on your phone, then:
Click on the "Settings."

Then, select "Direct Messages."

Here, you can change the default setting to 'Allow others to add you to groups, to 'Only People you Follow' rather than 'Everyone on Instagram.'
#5 Manage Your Instagram Messages via DMpro
DMpro is an Instagram direct message app that lets you:
Send automated DMs

to your target followers.

Send bulk PMs to the Instagrammers that you have conversations with.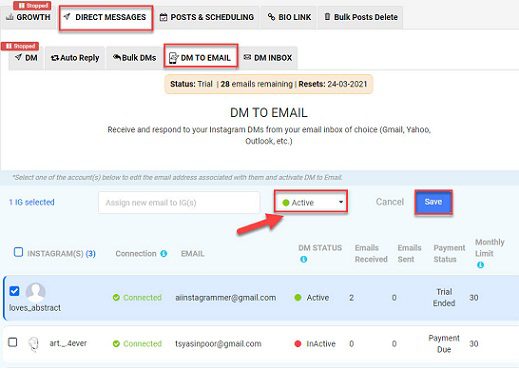 Using DMpro, you can easily sort and filter your Instagram DMs and customize your private messages.
To manage your Instagram DMs and stop Instagram spam messages, you only need to:
Add your Instagram accounts(up to 30 accounts).

Click on "DM to Email" to manage your Instagram messages.

Select the accounts you want to receive their Instagram message request notifications in your email.

Pick "Active" and click on "save."
Final Thoughts
Instagram spam messages are a pain in the neck. However, using an Instagram DM manager, you can easily monitor and manage your Instagram messages. This is the best way you can stop Instagram spam messages.