Have you ever run out of eye-catching photos to share on your social media channels? Well, as you know, the key to succeed on these platforms is to keep consistent and always share something new in order to increase your engagement rate. Especially on a visual platform like Instagram that brands post at least once per day, you should always have something to share in order to keep pace with your rivals. But yes! It is impossible to consistently take photos, create marvelous videos, and curate high-quality content. So, why don't you try publishing free Instagram stock photos? 
Free stock photos, also known as royalty-free images, are photos that you can use everywhere you want without paying a penny for them. Usually, these images are of high quality, and you are allowed to include them in your content without having the official permission of the photographer. But where to find them and how to directly publish them on Instagram? Stick around to find the answers! 
Top 3 Websites to Download Stock Photos for Instagram
An easy way to share free stock images on Instagram is to download them from websites that have thousands of such images, edit them as you wish, and upload them on your Instagram posts and stories. In the following, you can find the top 3 websites to download stock photos. 
#1 Unsplash
The most popular website to download and share freely-usable images is Unsplash. On this website, you can either download images for your needs or upload your own photographs to share them with the world and make them be seen. 
All images you find on Unsplash are of high resolution But if you care about image sizes, you can simply choose to download the images with lower dimensions. Additionally, if you want to share these photos on social channels like Facebook, Pinterest, or Twitter, you have the option to directly share them through the Unsplash website.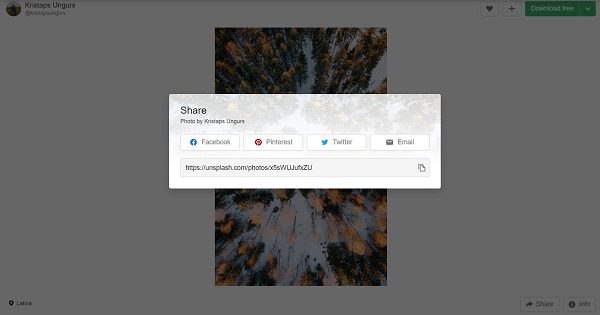 #2 Pixabay
Another website to find free stock images is Pixabay. This is just like Unsplash and you can find thousands of images for keywords you search. But luckily, it's not limited to photos. Here, you also find illustrations, vector graphics, and even videos. So, you can even find and share free stock videos for Instagram and other social channels.
#3 Pexels
Just like the previous options, Pexels is a website full of free stock photos and videos, allowing you to find high-quality and eye-catching images captured by professional photographers. Moreover, it has Android and iOS apps, Chrome extensions, and WordPress integrations that will help you use your intended photos much easier.
How to Directly Publish Instagram Stock Photos on Posts and Stories? 
Now, you know the top 3 websites to download free stock photos from. Working with these websites is really easy. You just have to download your desired photo and use it on your social channels. But, this may use a huge portion of your device memory and it'll take time to download and upload photos to Instagram. So, there should be a way to directly publish stock photos on Instagram. 
Hopefully, AiSchedul enables you to do that. Using this professional Instagram scheduler, you don't need to download stock images anymore. Instead, you'll be connected to Unsplash within the platform, and without switching between websites, you can share Instagram stock photos on your posts and stories. But how? Easy! Just follow these steps: 
Sign up for free on AiSchedul

and after verifying your account, add your Instagram accounts. 

On your dashboard, go to the scheduler and choose feed or story. 

Now, click on "Import via Unsplash". 

Here, you just have to enter a keyword related to the photo you want to share. 

Simply click or tap on the photo you like the most and done!
Your intended photo will be uploaded automatically. All that remains is to edit your caption, choose hashtags, and schedule your posts to be published at the best time possible. Also, you can watch the following video to learn how to directly publish stock photos on Instagram step-by-step in 30 seconds:
How to Use Instagram Stock Photos Innovatively?
Yes! Stock images are great, high-quality, and beautiful images to share on Instagram. But, you are not the only person who wants to use stock photos. So, I suggest you use them innovatively and make them more unique for your content. In this regard, here are some tips to keep in mind while using these photos: 
Use them as a background for your Instagram stories, 

Mix them with your own content on carousels, 

Add small elements, illustrations, and cute

customized stickers

to them, 

Share quotes on your account and set stock photos as the background, 

Mix multiple stock photos and videos to create promo videos, 
And etc. This way, you'll never run out of ideas and besides that, you still remain one of the creative Instagram accounts that share unique and innovative posts. 
Final Thoughts
To wrap it up, Instagram stock photos should be used in order to: 
Share higher-quality content, 

Never run out of ideas, 

Keep consistent, 
And attract your audiences' attention through the visuals. Here, I introduced the top 3 websites you can use to get free stock images from. Also, using AiScheul, you'll be connected to the Unsplash database and you have the chance to publish stock photos on Instagram without downloading them. By the way, try to use the mentioned tips about stock images to better use them for your Instagram content.