Are you dreaming about making money on YouTube but feeling too shy? That's okay; a lot of people make tons of money on YouTube without even making videos! Amazing, isn't it? 
People watch over 5 million videos on YouTube per day! That's insane! Also, YouTube is the second search engine right behind Google. It can be a great source of income not only for creators but for others too.
In this article, we're going to show you how you can do the exact same thing. So, stay with Social Pros till the end to find out. 
Can YouTube Pay You for Making Videos?
Yes! Actually, people are gaining money from their YouTube channel every day. Take a look at these Youtubers:
But it's not that easy. YouTube won't pay you with zero subscribers or views. YouTube says: 
"To get into the YouTube Partner Program, your channel needs 4,000 public watch hours in the last 12 months, and 1,000 subscribers. Your channel will also get reviewed to make sure it follows YouTube monetization policies."
It might look a little bit challenging? Why don't you start your own channel and monetize it? In the following, we show you how to make this process faster!
How Do You Make Money on YouTube without Making Videos?
To make money on YouTube without going through the expensive and time-consuming process of making videos and editing them, follow these steps. 
1- Find Your Niche
It's always better to focus on a specific subject rather than a broad one. This way, you attract subscribers that are more loyal and engaged. Pranks, top 10 videos, DIY videos, and reviews are the best type of videos that you can choose.   
Remember that the best format for YouTube is long-form videos. Based on Ted talks, 8-10 minutes is the best.  
Related Article: 10 Most Popular YouTube DIY Channels
Start searching and adding the best videos in your niche and then gradually add them to your own YouTube channel. This way, without making any videos, you are officially a YouTuber! 
But of course, it's not enough! Take the following steps for better results.  
2- Promote Your Channel on Other Social Media
Here comes the part that can really help you. If you already have an audience on other social media, you can persuade them to subscribe to your YouTube channel. For example, if you have an Instagram account and already have some fans, you can promote your YouTube channel by publishing posts and inviting them to join you.
Also, Instagram lets you add only one clickable link to your Instagram bio. This link can be your YouTube channel or your latest YouTube video. 
The only drawback to this promotional method is that you can't add any other link. But don't worry, there's a way to share multiple links on Instagram bio or any other social media! Continue reading to find out!
Related Article: How to Link YouTube to Instagram: Complete Guide
AiGrow: All in One Bio Link 


AiGrow is primarily an Instagram growth management, but it has one great feature that anyone can use: an All-in-one bio link.
This feature works like a landing page for your Instagram or any other social media that you have. With this page, you can have all of your social media widgets and any buttons that you like in one place.
Also, if you do affiliate marketing with YouTube, you can add each video as a button and then write a catchy call to action so that people start clicking on it!
Another great feature that AiGrow has is the ability to add links to your Instagram posts and stories (without being verified!)!
To use this cool feature, you should add your Instagram account to AiGrow. Then use the Bio-Link tab to add links to your posts: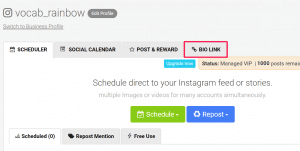 Another way to add links to posts and also stories is to use AiGrow Scheduler. After adding your content and writing a great caption, you can simply add the link that you want in this part: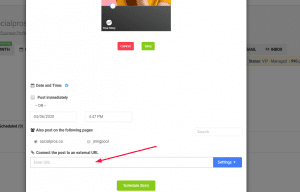 Related Article: How to Share YouTube Video on Instagram Story, Post, and Bio
3- Start Making Money!
Now that you drive your audiences from other channels to your YouTube, you can make money! As soon as your channel gets more than 1,000 subscribers and 4,000 hours of public watch, you get paid by YouTube.
Wondering how much money YouTube will pay you? Well, the average pay rate for an ad view is  $0.01 and $0.03. So, a YouTuber can make around $18 per 1,000 ad views, which comes out to $3 to $5 per 1,000 video views.
 Final Words
Although it's better to be a creator on YouTube, many people make real money on this popular platform without even making videos. You can be one of them!