Before the rise of social media, YouTube was simply an online platform for sharing videos. People used to record their experiences and share them with their channel subscribers. Fast forward to 2021, and the platform has turned into a multipurpose machine. People across the globe use it for learning, educating, and entertaining themselves. Due to the platform's immense growth, YouTube monetization has been made possible.
YouTube grants entrepreneurs and social media marketers a fantastic opportunity to make huge bucks from the content or videos they upload there. Therefore, if you learn how to make money from YouTube, you'll boost your brand awareness and drive revenue.
There are various methods that merchants and marketers can use to get paid on YouTube. Also, some creatives take it to their advantage and make money on YouTube even without making videos. You can also utilize social media management tools to avoid taking much time. 
If you're a marketer, you must consider YouTube monetization in your marketing strategies. Here, you'll read a complete guide to promoting your YouTube channel if you want to dive in deep. 
YouTube Monetization Done Right with 14 Pro Tips
YouTube monetization is an excellent idea to give a real shock to your revenue and income. However, with 500 hours of video uploading to the site every minute, you must jump through hoops to make big bucks there. There are several tips for getting money from YouTube, but an effective strategy will lend you a hand to jump for joy. 
Therefore, if you wonder how to make money on YouTube, follow the below instructions step by step. 
YouTube Monetization Tip #1: Create Your YouTube Channel
When do you start making money on youtube? Indeed, the very first step to making money from youtube is creating an account on the website. In this case, you need to have a Google account. But if you're starting from scratch, sign up for a new Google account. Then, you're automatically set up with a personal YouTube account. However, you'll need to set up a Brand Account to use YouTube for your business. So go to your YouTube account page, click 'Create a Channel,' and enter a name for your 'Brand Account.'
You can now give admin access to your coworkers, customize the name and features to match your brand, and begin YouTube monetization.
Furthermore, you can reach YouTube Analytics in your Brand Accounts. In this case, you can view people watching your videos and identify what content is popular. 
YouTube Monetization Tip #2:  Get People Discover Your YouTube Channel 
You have done your best to make awesome content and launch it on YouTube. After a while, you keep asking the question, 'why nobody watches my masterpiece?' So, what's the point? 
Indeed, you must optimize your channel and videos for discovery to get views and subscribers. Besides, you can make the most of beneficial YouTube hacks to get more subscribers.
Now, let's see how to optimize your account for earning money from YouTube. 
YouTube Monetization Tip #3: Optimize Your Channel to Make Money on YouTube
It's time to build a unique social media profile that represents your brand. In your channel dashboard, click 'Customize channel.' Go through the three tabs to optimize your channel for audience discovery and enter information:
Layout
Branding

: Here, you can upload your channel art and icons to build a unique look. Indeed, you can choose one that fits your brand and matches this YouTube account with your other social media platforms and web presence.

Basic Info:

Generally, while filling out this information, use exact keywords to help your account appear in searches. Keywords can include your channel's titles, your industry, questions your content can answer, or products featured.
After all, it's time to upload your first video on YouTube, hit the 'Create' button in the top-right corner, and follow the instructions.
Optimize Video Titles
When you enter a YouTube page, what catches your eyes at first glance? Of course, titles. 
Also, titles help the Google search engine recognize what your videos are about. Therefore, while you include keywords in your title, ensure that they are enthusiastic and engaging. It is a vital step to how to get paid on YouTube.
Optimize Your YouTube Account Description
It's essential to keep your description clear, concise, and vivid. Make a "table of contents" with timestamps to include your keywords and help spectators find what they want. Besides, here you can add links to other playlists for earning money from YouTube.
Cash in on Tags 
Wanna know how to make money from YouTube fast? Desire to boost your outreach via simple tricks? Apply relevant tags to your content to help YouTube's algorithm understand what it is about precisely. You may be tempted to add several tags hoping to increase your visibility. But be realistic, and categorize your tags to reach the right audience interested in your content. Remember, pick quality over quantity to make money from YouTube in a wink of an eye.
Cross-promote
Expand your visibility over the globe. Therefore, add a link to your YouTube channel on your other social accounts. For instance, you can link YouTube to Instagram, website, and email signature to let your followers know you're launching a video empire. Furthermore, you can share YouTube videos on Instagram to skyrocket your views.
Understand the Algorithm
When you start making money on youtube is the time to get to know its algorithm. This AI determines search results and support for the all-important "what's up next" sidebar, too.
YouTube Monetization Tip #4: Be a Partner to Make Money on YouTube
Being a YouTube partner will facilitate making money on YouTube. However, it is not a have-to! YouTubers can gain multiple income streams on the platform using a YouTube Partner Program. Therefore, you can access ads, YouTube Premium subscription fees, Super Chat, the merchandise shelf, and channel memberships. 
Now, you may wonder how to make money off youtube as a partner? So keep up with us to grasp the tactics.
To join the partner program, you need at least 1,000 subscribers and 4,000 watch hours in the past 12 months. Then, set up an AdSense account by following YouTube's official guide.
As a YouTube Partner, the platform will hold your channel to a higher standard. Also, you have to follow the YouTube Partner Program policies and the Community Guidelines.
YouTube Monetization Tip #5: Sell Your Product or Merchandise
Numerous individuals consider how to make money on YouTube. Indeed, if you are a merchant or business, you can leverage YouTube videos to sell your goods or services. On the other hand, if you do not offer things, you can create your brand on various items such as mugs, notebooks, or T-shirts and sell them to your admirers.
YouTube Monetization Tip #6: Partner with a Merchant
Another unique way to sell something and make money on YouTube is to partner with an actual merchandising company and sell their product. Nevertheless, you must compete with other YouTubers and have more limited control over adding products, giving discounts, and all the benefits that come with owning your eCommerce site. 
YouTube Monetization Tip #7: Manufacture Your Products
It's a perfect idea to produce your own product and sell them on your social channels. In this case, you will build your brand trust by regularly serving your audience. Therefore, if you fear springing, you can begin by dipping your toes in the water with a few items. The good news is that YouTube Partners can benefit from the shelf feature to sell their channel's merchandise. To sell products from YouTube's merchandise shelf, you must be at least 18 years old and have a minimum of 10,000 subscribers.
Also, by linking Instagram to YouTube, you will sell your goods simultaneously on both platforms while you do YouTube monetization.
YouTube Monetization Tip #8: Create Engaging, Value-rich Videos
After picking the items that you want to sell and make money from YouTube, it's time to promote them in your videos. Therefore, use your products while you are presenting on the video and advertise them. Also, don't underestimate the impact of a CTA button in your descriptions.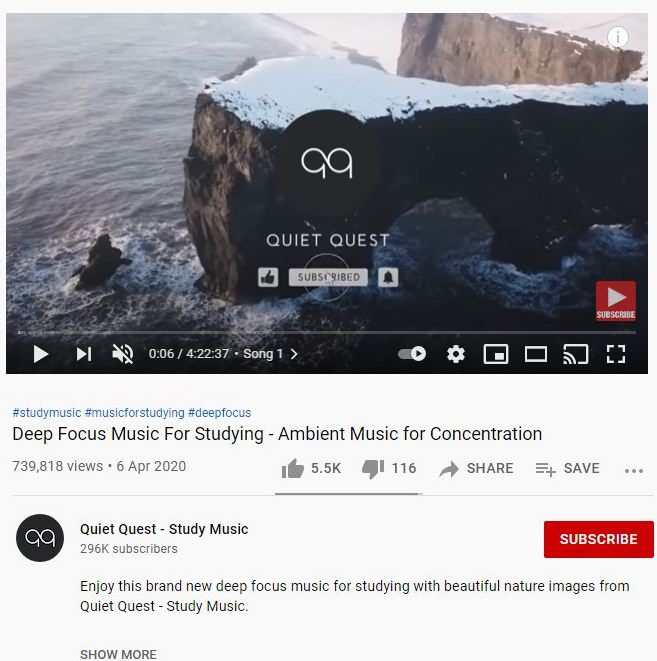 YouTube Monetization Tip #9: Crowdfund Your Unique Projects
If you are a creator with a spectacular idea, crowdfunding is an excellent technique to make money on YouTube. Whether you need aid buying facilities or looking to fund a project, you can bank upon crowdfunding.  
YouTube has a record of approved crowdfunding sites to pick, such as Kickstarter, which is excellent for funding fantastic products and creative projects. Be sure to set an achievable funding goal because you'll only guarantee it if you meet your set goal. Then, declare your goals to clarify what people can expect when you've succeeded.
YouTube Monetization Tip #10: Make Money on YouTube via Fan Support
For a marketer who is searching for various income streams, fan funding will pave the road. However, like crowdfunding, you need to convince and tempt your audience to foot the bill. Here are the ways you can make money on YouTube through your fans.
Super Chat payments: 
Super Chat is a feature free to YouTube Partners while they live stream. So you can host chats and pin the audience who pays more in the live chat. Nevertheless, if you want your fans to pay and have their messages highlighted in your live chats during your live streams, you must be at least 18 and live in a country where the feature is offered.
Channel Membership
YouTube lets your fans pay you by being your channel members and get custom emojis, badges, and access Live Chats with you. So they can support you and your channel by monthly payments. However, you must be at least 18 and have more than 30,000 subscribers.
Furthermore, you can encourage YouTube Premium members to watch your channel to get a share of their subscription fee and make money on YouTube. 
YouTube Monetization Tip #11: YouTube Partner Program Ads
If you consider how to get paid on youtube, you can take the ads to your advantage. Indeed, videos monetize by utilizing the following types of advertisements in the programs partnered with YouTube, abbreviated as 'YPP.' However, you must be a minimum of 18 years old to earn ad revenue and create advertiser-friendly content. 
Advertising income is essential to retaining good content flow. But, without any motivation and funding to support video creation costs, passionate broadcasters could not produce the volume and variety of valuable video content they currently provide. Also, the less provocative your videos, the more YouTube advertisers will be eager to run ads on them. If the platform identifies your video content as unsuitable for advertisers, you'll face a yellow dollar sign beside the video. Moreover, you will receive an email to the email address associated with your YouTube account.
Now, let's see various types of YouTube ads in the following:
TrueView Ads
TrueView ads are YouTube's standard video advertisements that help you make money off YouTube. Advertisers spend money for a TrueView ad when viewers watch or engage with their video advertisement. TrueView ads that are Skippable scale within 12 seconds to 6 minutes. Non-skippable TrueView ads are within 15 to 20 seconds. There are two primary kinds of TrueView advertisements that you'll face. Let's jump in it.
TrueView Video Discovery Ads:

Video Discovery ads are the commercials you notice on YouTube's search results pages, similar to watch videos and the homepage of YouTube. You'll quickly recognize them by the 'Ad' text arising directly underneath the first video names appearing on any search results page. The title of the promoter is shown close to the 'Ad' text that is highlighted. Display ads are shown as related videos on the right of the screen on the video sidebar. You can also identify them by the following 'Ad .' They appear just beneath 'Up next.' An accompanying banner ad display will appear on the top right when a user clicks on the sidebar ad.

TrueView In-Stream Ads:

Before watching specific videos on YouTube, TrueView In-Stream Ads are the video ads you see. The platform gives the option to skip after watching these ads for five seconds. These advertisements are very adaptable and provide video producers with a wide range of customization. Videos monetized with TrueView in-stream advertising can potentially have ads displayed in the Google Display Network.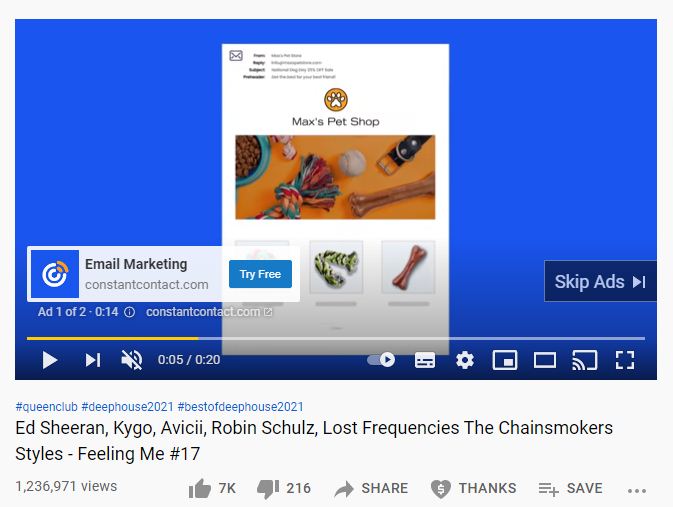 Pre-Roll Ads
These ads could help you make money from youtube by being played before, mid-roll, or after the video. All are called Pre-Roll Ads, and they scale in 15 to 20 seconds each. Non-skippable mid-roll video ads run through videos with 10 minutes duration or more.
Bumpers
Bumper video ads are only six seconds each and play directly before a viewer's video. They're typically part of more extensive video campaigns. Brands launches, product launches, and events usually run these ads to get money from YouTube. You recognize the video is monetized as soon as you see one.
YouTube Monetization Tip #12: License Your Video to the Media
Have you ever noticed some viral videos that got branded on social media? For instance, 'Charlie bit my finger,' the 2007 film, got popular and auctioned off as a nonfungible token (NFT). Therefore, if you are so creative to make viral content, some companies like TV news outlets and morning shows might reach out about rights to use your videos. Consequently, set up your information in your channel to let them access you easily. Additionally, you can list your videos in a marketplace, such as Jukin Media, to perform YouTube monetization.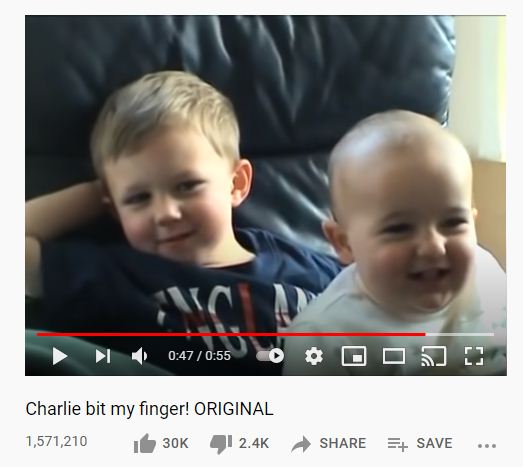 YouTube Monetization Tip #13: Cash in on Influencer Marketing
You may ask, 'how can you make money on youtube ASAP?'
It's good to know that earning money from youtube will get easier if you sign up with an influencer marketing platform. Also, YouTube influencers make more money than other platforms like Instagram. 
Now, you have two choices to make money off YouTube. You can work for brands as influencers or partner with an influencer to promote your brand on YouTube. 
YouTube Monetization Tip #14: Do Affiliate Marketing
Affiliate marketing is the act of getting a commission by promoting products or services of other brands. So it is an excellent opportunity for you to become an affiliate marketer of brands and include product advertisements or different types of content in your plan. Though, you must expose the partnerships to your audiences by reviewing products in your videos. You can reach out to your niche brands, driving their affiliate programs. Since, in most cases, they only pay when they make sales, you can usually make a low income.
Popular affiliate programs include ClickBank, which is about 1% to 75% commission depending on the merchant sets. 
Here's a glance at how affiliate marketers make money on YouTube: 
YouTube Videos as Traffic for CPA
CPA is a marketing acronym that represents the Cost Per Action. The type of affiliate marketing that the advertiser or affiliate earns leads a user to complete a particular action or chain of action.
Typical examples are dating site subscriptions, email subscription services, forum signups, game downloads, file downloads, and Android & iOS apps. YouTube provides marketers a vast audience to control their traffic.
Whenever you encounter a video that illustrates no ads but instead entices you to leave YouTube by a link, you have probably faced something that is a CPA offer platform.
Content Locking
The method used by affiliate marketers to gain signups, subscriptions, or downloads for their products or services is Content locking. It relies on filling in your email, downloading an app, and completing a double-opt-in subscription, but it can demand your email address. Content locked videos lure you into constructing one of their offers, mainly offering a digital product or service.
Best examples of regularly used content locking are trainers for games, illegal hacks, and file downloads such as music, movies, other premium software, and books. Illicit users often offer money-making methods, security circumvention, and other subjects that fall into a grey area. 
You are getting the video creator an affiliate fee when you unlock or open a digital offering utilizing a content-locked video. It may vary from a few cents to $20 or more. Advertisers usually earn almost a dollar for each email subscription and file download.
Final Words on YouTube Monetization
You'll fly off the chart if you find out your YouTube is making big bucks for you. Therefore, make the most of all the above tactics toward getting money from YouTube. Have any questions about YouTube monetization? Ask away in the comments below.