Instagram growth shouldn't be so challenging. But, You need a good plan if you want to succeed with your Instagram presence.
People might be trying to get fast popularity and growth on Instagram, which is why there is a rising trend that everybody else is also using tools to do so.
But remember, going for a quick interaction could result in the loss of your account and have a negative impact on your credibility, therefore it is not always a good idea.
However, some Instagram growth services are more reliable and effective than others, as is typically the case with everything.
Our goal is to research Instagram marketing tools and decide which ones are worthwhile for your time.
For this reason, we chose to review Poprey this time, a service that allows you to buy Instagram followers, likes, comments, or even views.
After reading today's review, hopefully, you will have a better idea of what to watch out for and how to decide which firm will be ideal for your needs.
What Is Poprey
Poprey is one of the Instagram growth services that claim to offer its customers real accounts as followers. It guarantees to deliver its customers targeted and authentic Instagram followers and likes.
It is simple to click and buy a full package of Instagram Growth, However, gaining genuine, organic followers is far more difficult.
Clearly, Poprey provides what appears to be a bot and interestingly, it can be used for other social media sites like Twitter, Facebook, YouTube, TikTok, and Spotify.
But what if this service all of a sudden destroys all you have planned for, and more importantly your account's reputation?
Let's face it, purchasing fake followers and likes won't do you any good. You won't gain any real interaction with real people. So it's not trustworthy.
Poprey Features
Let's discuss Poprey's Instagram features.
But before that, what they offer is your account won't get spammed because of their instant delivery. This is weird since we know how sensitive Instagram is about gaining lots of engagement in a short time.
Still, you get to choose your delivery time.
I have tried some of their services, so I can have a better understanding of what they do.
Stay tuned.
Poprey Likes
The number of these likes ranges from 25 to 20,000 and the price varies from 2.60 to 139 USD.
Meanwhile, they always offer a discount. Other than that, they promise that the accounts like your posts look real and the likes are permanent.
A good thing is that you have a free trial. I used it for my own account, but it was very terrible quality. Not to mention, none of these claims were true.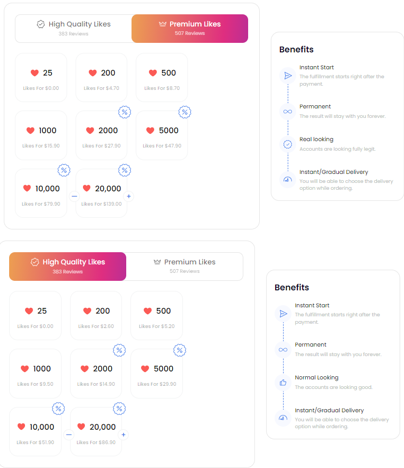 Poprey Followers
As Poprey claims, you can gain between 10 and 10,000 Instagram IG followers. These are supposed to be organic accounts from real people. But they wouldn't be your target audience. So, what does that mean? Who on earth, wants to get followers that are not interested in their niche?
What was the outcome?
See for yourself, try the trial version of their package, and see if their claim is right or not.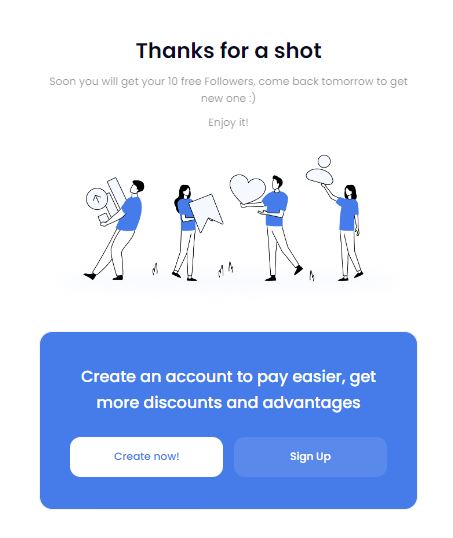 I went on this road, the issue is that the accounts that followed me weren't all fake accounts, but they were low-quality IGs and not related to my niche.
So, what's the advantage? At the end of the day, I had to unfollow them manually, and even if I kept them they would have disappeared after 48 hours.
This is a major warning sign. When a company promises to give you actual Instagram followers but is unable to identify or attract the right audience to your profile, not only it is not good, but also, your engagement would decrease.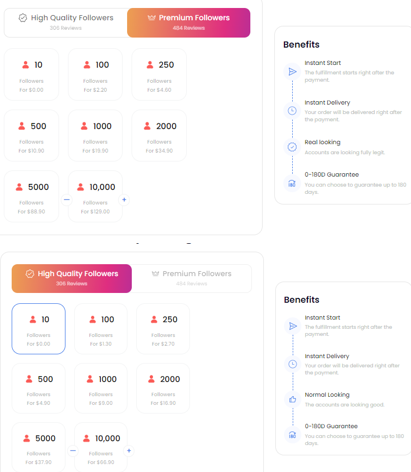 Yet, this is you who decides for your account. Whether you want to buy Poprey IG Likes, followers, or even other (as they say) incredible features such as views and comments.

How Poprey works
First and foremost, for each plan, you need to take different steps. However, since we already talked about Poprey's likes and followers, let's take a look at the details of the process of these two features.
If you are willing to buy Poprey Instagram likes, just follow the steps below:
Go to Poprey.com
Select one of the packages
Put your IG detail
Decide on the number of likes you want and the prices
Pay for it
Poprey
But, if you are willing to buy Poprey Instagram followers, do these: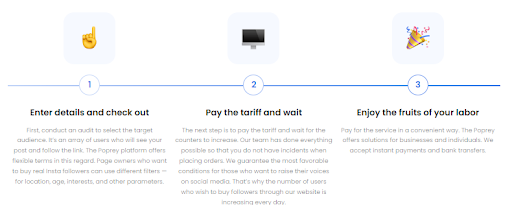 Same! Ha?!
Poprey Pros And Cons
Understanding the advantages and disadvantages of an Instagram growth service is crucial because it can affect your account's growth, engagement, and credibility. It's important to carefully evaluate the pros and cons to make an informed decision that aligns with your goals and values. First, let's look at the advantages.
Pros
Straightforward to use
Live chat with the customer support team
Pricing and package transparency
Not very pricey
Cons
Poprey Reviews
Unfortunately, I wasn't able to find any valid, first-hand reviews for Poprey. You might be willing to use it but, your Instagram account will get fake likes and followers that will eventually vanish. Most of them will be robots rather than actual people.
Additionally, fake followers are against Instagram Terms and Conditions, which means it might lead to a temporary ban or action blocks.
When possible, avoid this kind of automation. Therefore, using this service for Instagram interaction is not advised.
The Ideal Poprey Alternative: AiGrow
The AiGrow Managed service is for "manual" growth service. You will be assigned a dedicated account manager that will create the crucial activities to bring in the results. There is no automation involved in the activities. From the information provided by you, their expert team will implement a strategy to help you grow your account fast!
If you're looking to grow your following with artificial intelligence, AiGrow offers that. AiGrow likes potential followers' posts for you, and it will follow and unfollow accounts, too. You can target the types of users you want to follow, based on hashtags, locations, and accounts they follow.
AiGrow offers a 14 days money-back guarantee(Cancel anytime). With Managed Growth + DM Plan AiGrow offers Direct Message Marketing too. You can target new followers, and existing followers and also based on hashtags, locations, and accounts.
AiGrow Features
One of the most outstanding features of AiGrow compared to its competitor is that you will gain organic followers based on the information you share with them. This means all the users you get throughout the day will be definitely interested in your niche. Why am I so sure? Because even your information will be double-checked by your dedicated account manager, let alone the accounts.
On the other hand, you can book meetings with them during your service and they will provide you with some tips and strategies for creating more engaging posts.
AiGrow Pricing
With managed services from AiGrow, you can grow your company and establish your brand on Instagram without spending a lot of money.
You can earn new followers naturally, use the manual DM service, delete posts in bulk, and more thanks to them.
Unlike Poprey, Everything in AiGrow is according to Instagram's algorithms, so you don't have to be concerned about losing your account or getting banned.
The list of plans that you can join based on your objective is as follows: You might even want to schedule a brief conversation with one of their social media specialists so they can explain the platform to you and address all of your queries.

How Does AiGrow Work
The idea behind Aigrow is to provide you with a dedicated growth team which means the following:
Since your account will be verified and the activities will begin, you will have a dedicated account manager.
AiGrow will follow and unfollow accounts as well as like the posts of potential followers for you. Based on hashtags, locations, and accounts they follow, you can target the persons you wish to follow.
Due to the fact that everything is done manually, engaging in manual interactions is one of the greatest and safest ways to increase your Instagram account's organic growth.
If you are in doubt as to whether this service would work for you or not, or even if you want to how the service works, simply book a meeting with them.
Their support team will walk you through all the steps and help you decide better.
How To Start With AiGrow
Choose a strategy.
Set up a meeting with AiGrow representatives for onboarding
You will be taken to a new page where you can finish your payment process and arrange a meeting with the AiGrow team to begin your plan. Through WhatsApp, you can get in touch with agents. The customer service staff at AiGrow will check in with you via email and make sure you schedule your onboarding call.
After getting onboarded by the CS team, you will get in touch with your account manager on the Whatsapp group made by them.
Finally, AiGrow's growth activities will start

6. Also, you will receive the daily report via email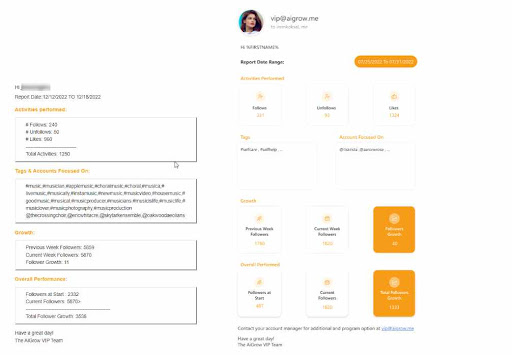 FAQs on Poprey
If you're considering using Poprey, a social media growth service, it's likely you have questions about its effectiveness. Here is a brief overview of some frequently asked questions about Poprey that can help you make a more informed decision.
1. Is Poprey a Legit Company?
As their business actually sells what they advertise, Poprey is a legitimate service. However, the issue is that they have poor features. Meanwhile, they are not popular enough.
2. Is It Safe If I Buy Followers from Poprey?
When you buy fake followers, you're opening your account up to spam. Most of the accounts that follow you will be bots or inactive accounts, which means they'll likely bring spam with them, which can hurt both you and your followers by compromising personal information.
3. Will Instagram Ban My Account if I Buy Followers and Likes from Poprey?
Yes, it is possible that Instagram could ban your account if you buy followers and likes from Poprey or any other similar service.
Suppose Instagram detects that you are using fake engagement to boost your account. In that case, they may take action against your account, including issuing a warning, limiting your account's reach, or even permanently disabling your account.
Conclusion in Poprey reviews
In conclusion, Poprey reviews show what we realized, including low-quality and fake Instagram followers that bring you no good. AiGrow, on the other hand, uses AI technology and a team of knowledgeable account managers to support the growth of your Instagram account.
Why, therefore, would you want to risk the safety of your Instagram account by adding untrustworthy followers when there are so many better options?
We also advise you to interact with your followers as much as you can. Your reputation, presence, and ability to establish genuine connections with your audience online will be supported by these real-world interactions.
You'd better really just steer clear of the services that use bots because social media growth needs to be genuine and organic in order to have an impact on your account.
Want to Grow Your Instagram Account Organically and Safely?