Today, Instagram is the most popular visual platform all over the globe. Regarding its amazing features for marketers and brands, it's also turning to be a great option to start a business and boost your sales. But the key to success on this platform is to grab your viewers' attention within 3 seconds by sharing spectacular posts and stories. In this respect, having the opportunity to preview Instagram posts, stories, bio, and the grid layout can help you publish more flawless content. But how to do that? 
In the following, I'm going to share the best Instagram planner you can use for free on your mobile, desktop, and other devices. Also, I'm going to have a brief review of the 3 most popular preview apps you can find over the web. So, keep reading. 
You May Also Like: 
AiSchedul: Preview Instagram For Free and Curate Perfect Content
As you know, on the official Instagram app you cannot preview your content before publishing. So, you have to use a third-party app like AiSchedul. Being a complete package of Instagram tools, AiSchedul enables you to schedule posts, stories, and IGTV videos, repost content, track and monitor hashtags, accounts, and mentions, and much more than that. 
But apart from all these great features, it also allows you to preview your content before publishing. To know how it works, let's jump into the next sections.
How to Preview Instagram Posts Before Publishing? 
Instagram posts that appear on the feed are of the utmost importance. Appearing on your followers' feeds whenever you publish something, you have the chance to make them fall for your content and purchase your products and services. In this respect, previewing your posts can help you prevent even the smallest errors that may happen in the caption, hashtags, and post orders. 
Hopefully, AiSchedul allows you to preview Instagram posts when scheduling them. To do so, after signing up for free and adding your accounts, go to the scheduler tab and choose feed. Here, you can either upload up to 10 photos from your device or import free stock images from Unsplash. Then, by clicking on the "Mobile Preview" button, you'll see how your post looks like on Instagram and by viewing how your caption changes on the Instagram app, you can manage to have more aesthetic captions.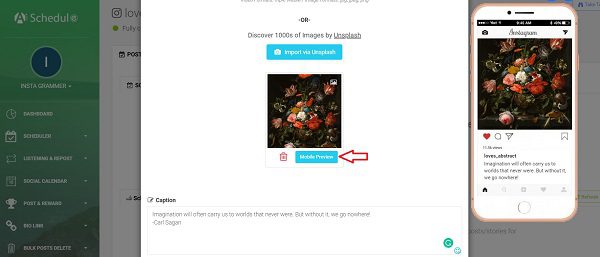 Read More: How to Rearrange Existing Instagram Photos
Grid Preview of Your Instagram Posts
One of the elements of a perfect Instagram profile that makes people follow you at the first sight is the grid layout. Having an eye-catching and unique layout, you can better attract people who visit your profile. But unfortunately, the official Instagram app doesn't have any features to let you see how a post looks like in combination with the other posts. But there's no need to worry. AiSchedul allows you to preview your grid layout for scheduled posts and reschedule them to make an amazing layout. To do so, just follow the steps mentioned in the following video: 
Instagram Story Preview for Free
Wondering how to preview an Instagram story? Well, for this one, you can use the official Instagram app and see how your story looks like before publishing it. But if you are sharing multiple stories and want to preview your stories in the sequence, I suggest you use AiSchedul. Using it, you can schedule multiple Instagram stories all at once. Also, it enables you to save your stories as a draft and rearrange them when needed. So, sign up for free right now and give it a ride!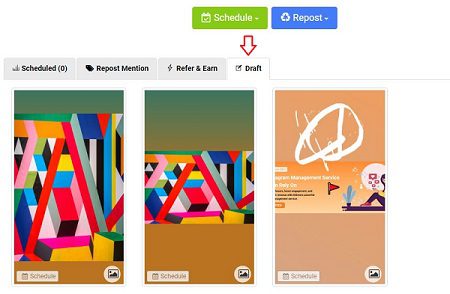 Preview Your Instagram Bio Link 
Another feature offered by AiSchedul that cannot be found on other Instagram preview apps is the ability to preview your all-in-one bio link before publishing it. As you know, on Instagram, you can publish just one link in the bio and when adding CTAs to your bio, you cannot preview how they look like beforehand. Using AiSchedul, you'll be able to add multiple CTAs, add links to posts and stories, track link clicks, and preview all these buttons and links before publishing them.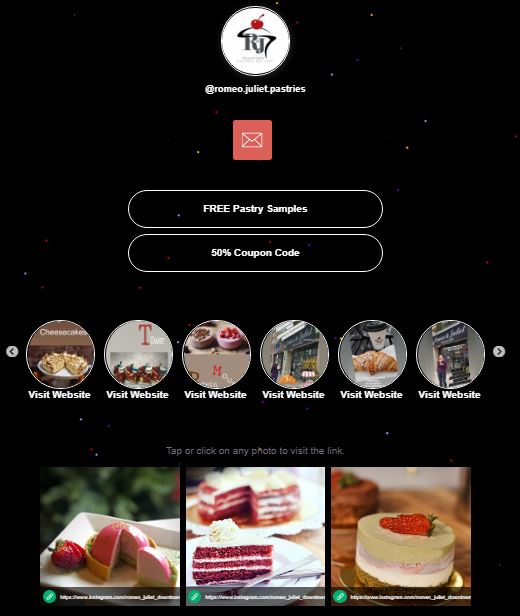 A Brief Review on the Most Popular Instagram Feed Planner Apps for Desktop
As you saw, using AiSchedul you have the opportunity to preview almost everything you want to share on Instagram before publishing. But of course, this is not the only preview app you can find out there. In this regard, here, I am going to briefly review 3 of the most popular preview apps you can find and maybe you are using. So let's start!
#1 Planoly
Planoly is one of the social media schedulers you can use in order to preview your content on Instagram, Pinterest, and also Twitter. So, if you want to manage all your social accounts on a single platform and curate content from one place, this app can help you save a great deal of time. By the way, to use the complete package of preview features you have to purchase one of their plans.
#2 Plann
Another social media scheduler that helps you preview your Instagram posts and stories is Plann. This is also a great app to use, but you need to download their application on your iOS or Android app. So, you cannot schedule and preview your posts on a desktop.
Also Read: How To Hide Hashtags On Instagram?
#3 Preview
Preview for Instagram is one of the best planner apps you can use to better manage and edit your Instagram visuals. However, this app is mostly used to preview the Instagram grid. Meaning that using it you cannot preview posts, captions, and hashtags or rearrange your posts before publishing.
Wrap Up
To sum it up, making sure to share something catchy, engaging, and amazing is an essential factor in being successful in your Instagram business. For this reason, you have to always use a planner and a preview app to check everything before making it public to your followers. This way, you can prevent issues and errors from happening and curate great content. So, read the article and use the best free Instagram planner app right now.