The importance of interacting with your audience in this digital age cannot be overlooked. Businesses and influencers now use social media sites like Instagram as a playground to engage with their audience. And you should pay close attention to Instagram comments if you want to enhance your engagement on the platform!
Searching Instagram comments is a good way to understand your audience, gather feedback, and grow your Instagram organically. There are other reasons to search Instagram comments, though. You might wish to search for someone else's comments on Instagram or look through your previous comments on posts you forgot about. Or perhaps you're looking for a specific keyword in Instagram comments.
Tracking Instagram comments is not easy using the official mobile app! Especially if you are receiving loads of Instagram comments every day! Also, you cannot search for comments in the app and this is one of the worst things you may face as an Instagram business account holder!
You can find your own Instagram comments easily, but what can you do to search Instagram comments by User? Well, that's what we explain here! So, keep on reading and find a way to track comments by users!
Why Do You Need to Search Instagram Comments?
Instagram comments are vital and can have a huge impact on your online visibility. As an Instagram business account manager, you have a lot on your plate! Sending requests to potential customers, filtering follow requests, responding to IG comments, calculating your Instagram engagement rate to track your success rate, and so on!
So, in the midst of all of this, it's inevitable to miss some Instagram comments and miss out on the opportunity to respond to them! You should search Instagram comments for a variety of reasons, including:
Find your past comments on the platform.
Find Someone's Instagram Comments.
Find your customers' comments and discover what they think about your brand.
Continue reading to find out the answers to these questions.
Read more on our site: 1000 Free Instagram Followers Trial [Are They Real Followers or Fake?]
How to Find Your Comments on Instagram?
Previously, if you had inquired, 'How to view past Instagram comments?' The answer was: No, you cannot access your previous Instagram comments unless you open all of the accounts you have commented on and view all of their posts.
But due to the constant Instagram updates, this platform has changed over time, and you may now simply view all of your previous Instagram comments.
Find Your Comments on the Instagram Comment History
If you want to view IG comments of your own the process is simple. Follow these procedures to find all of your past comments on Instagram:
Launch the Instagram app.
Navigate to your profile page.
Tap on Three horizontal lines at the top right of your screen.
Then select the 'Your Activity' item.
On the new tab, tap Comments to see all the comments you've made on posts.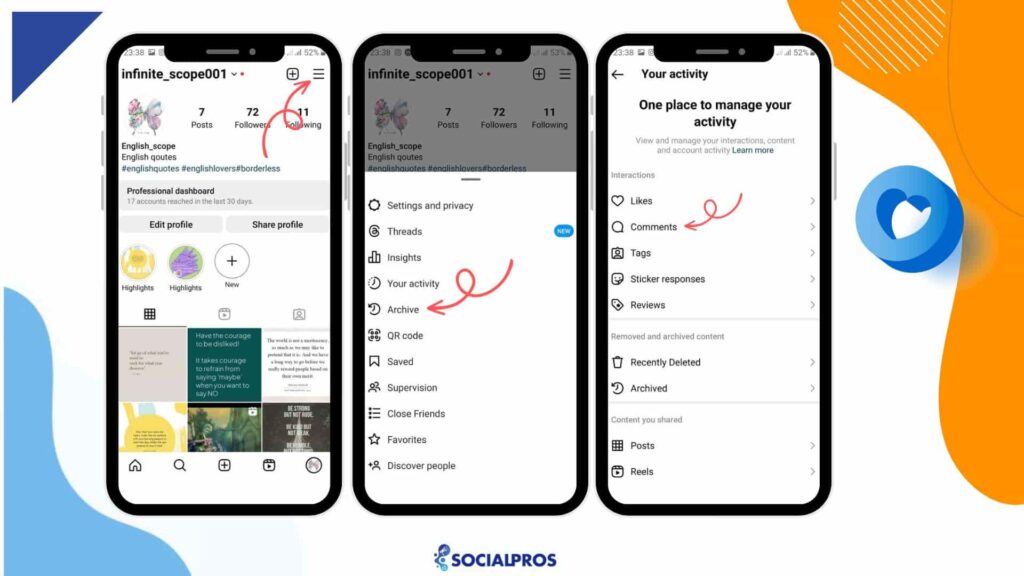 This is how to see your comments on Instagram. This way you can't search Instagram comments by date or a keyword. Keep reading to know how to search instagram comments.
How to Search Instagram Comments by Downloading the Data
When you download your Instagram data, you can search Instagram comments by date and keywords. But how exactly? Follow these methods to find and search your Instagram comments:
Open your profile on the Instagram app and tap on the three lines icon on the top right side of the screen.
Then, tap on 'Your Activity'.
Now, scroll down, tap on the 'Download Your Information' item.
Now you can tap on 'Request a download'.
In the new tab, you can choose between a 'Complete copy' or 'select types of information.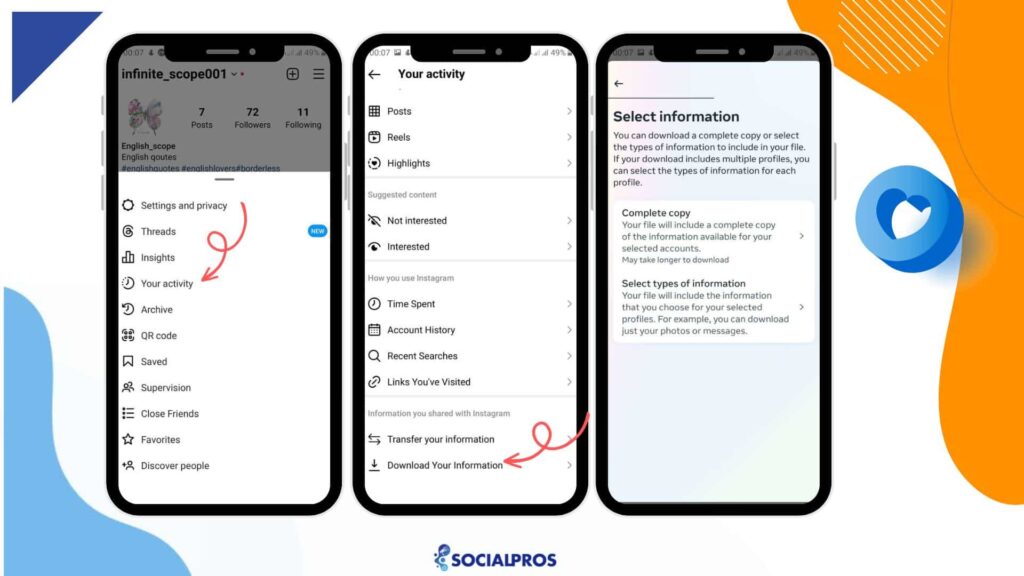 You can just select comments to download it specifically
Finally, you will be asked for your email. Check if the email is the one you want to receive data from and then, tap on 'Request Download'.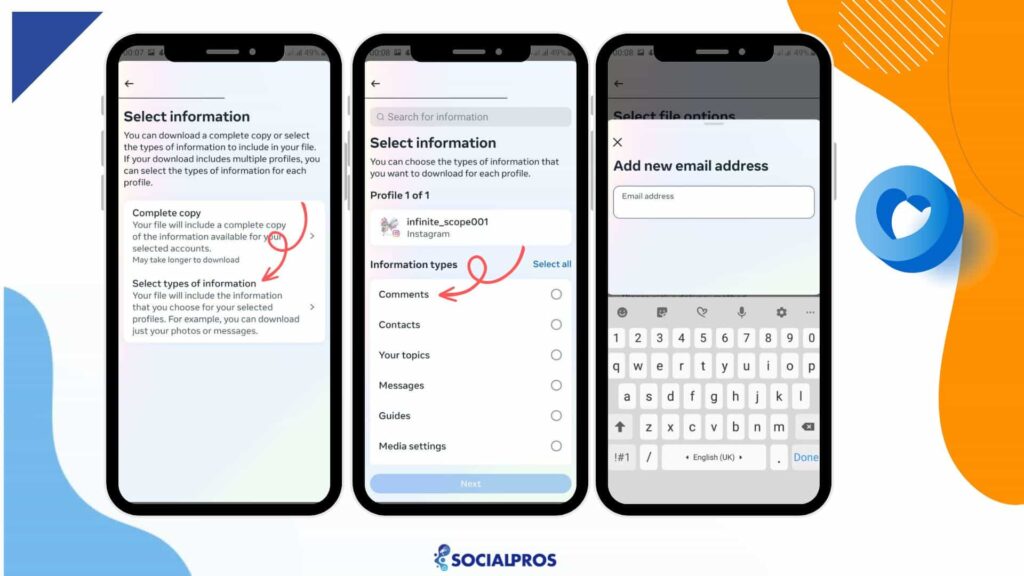 Now, you have to open your email inbox and open the file sent from Instagram. This file contains all your activities on this app. Download the file and open it. Actually, it contains numerous folders. To see your past comments, you have to open the 'Comments' folder and then, you will be able to see all the comments you have written on Instagram.
Also, you can see for whom you have commented and when the post has been shared. So, go ahead and see how to search Instagram comments by user of yours in this way.
Read more on our site: The Best Instagram Followers App In 2023
How to See Someone's Comments on Instagram
There is no way to search Instagram comments by user. So, in order to avoid missing comments and do your best to grow on Instagram, you must know how to filter and search Instagram comments by user, as well as track activities to learn how to operate more efficiently!
Additionally, there are not any apps to help you filter all the comments and find all the ones shared by a person. However, you can find comments below one specific post using the tricks we mention here! So, stay tuned.
How to Search Instagram Comments by User
In the following sections, you can see some simple ways that can help you search for comments by a user and track Instagram user actions to perform better!
Instagram Web
Definitely, the best free tool to search for Instagram comments is the official Instagram web version! Actually, when you open Instagram on a desktop, you can easily search for comments using the Windows/mac finder! You can easily do it by tapping on "ctrl" + "F" and then typing the username or even the keyword you want!
Note: you have to load all the emails first and then search for the @username
Also, it lets you reply to the comments faster and better, because you can use your professional keyboard for it! But how can you do it to find the comments of a user?
Well, open the Instagram website on your pc or mobile phone. Then open the post you want to check for the comment, no matter if it's your own post or others! And then, load all the comments!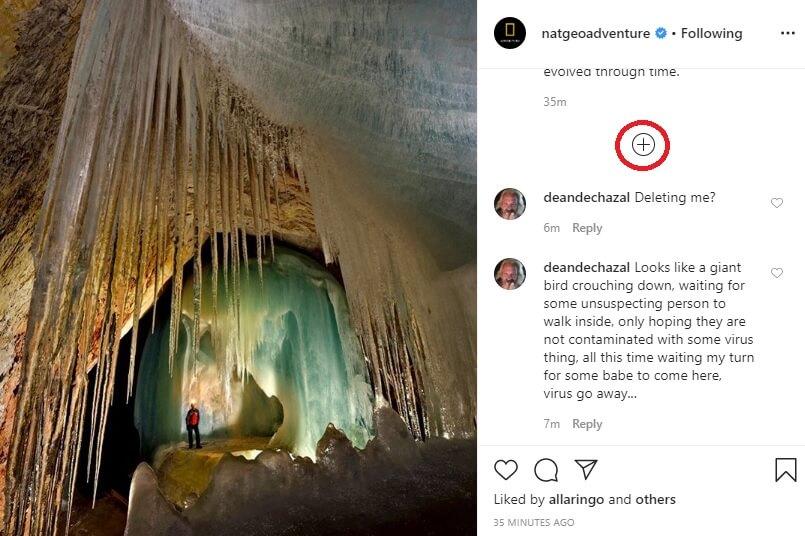 Note that you have to load all the comments because the pc finder can only show you the words that appear on the page! And also, remember that Instagram only shows the 120 latest comments!
After loading all the comments, tap "ctrl+F" on Windows, and "cmnd+F" on Mac to access the finder.
Then, enter the username or the word you want in the finder and press "Enter".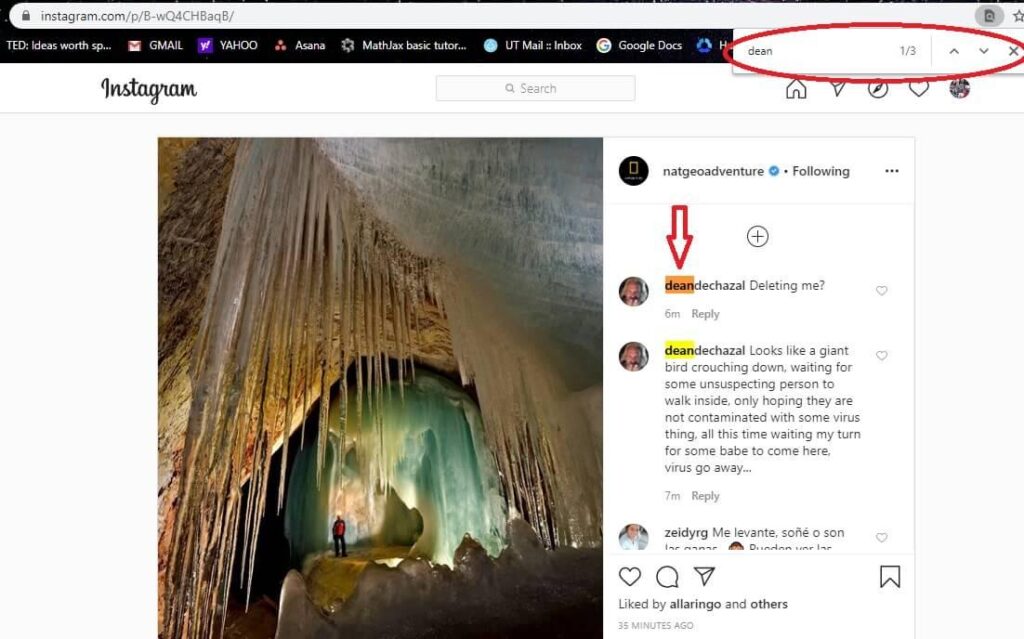 That's it! Your search results will be highlighted and you can find what you want among them!
Search Instagram Comments by User via Google
Another way to search for comments by username is to use Google. Actually, every time you want to search for something on a public platform, you can do it with Google. You just need to type the search term and the platform you want to search in the search box ("search term" site:Instagram.com").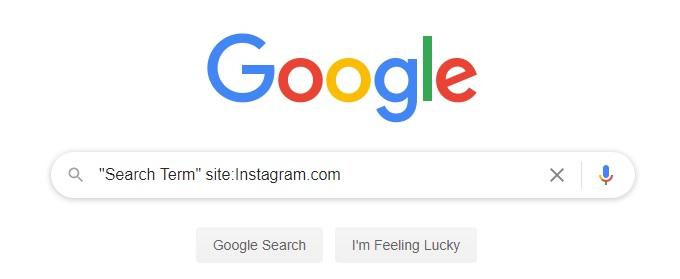 However, note that Google won't index all posts available on Instagram. It finds profiles from time to time if they might be important for their search results. So, this way, you cannot find all the comments.
Read more on our site: The Best Ghost Followers Apps In 2023 To Remove Ghost Followers' Instagram
So, if you want to see someone's Instagram comments, you can search their following and go through the pages you believe they comment on. If you open the comments and the person is one of your followers, their comments will appear on top of the others.
Now let's see how to delete Instagram comments.
How to Delete Instagram Comments
To delete Instagram comments, follow these simple steps:
Open Instagram App: Launch the Instagram app on your mobile device and log in to your account if you haven't already.
Navigate to the Post: Go to the post on which the comment you want to delete is located. You can do this by scrolling through your feed or visiting your profile and selecting the post.
Find the Comment: Locate the comment you wish to delete. It will be displayed beneath the post.
Tap and hold the comment: Hold on the comment you want to delete. This action will reveal a trash can icon or a "Delete" option. Tap on it to delete the comment.

Remember that you can only delete your own comments on other users' posts. If you want to delete comments on your own posts, the process is the same. Simply locate the comment, swipe left, and delete it.

How to Hide and Filter Instagram Comments?
One of the other frequently asked questions about Instagram comments is about hiding comments. Well, we have two ways to hide Instagram comments; 1) on all posts by limiting some users, words, etc, and 2) hiding all comments for a post. In the following, we discuss each one in detail.
How to Hide and Filter Instagram Comments by User or Specific Words?
Sometimes, you just don't want to see any offensive comments, comments from a special user, or comments containing some specific words. In this case, you have to open the settings and then tap on the "Settings and Privacy" item.
Then, tap on "Comments".
Now, block some users from commenting
You can add special words to get filtered by tapping on 'Hidden Words' and adding as words as you want to be hidden.
Done! You can also filter your comments in a way to just receive comments from some specific users. In this case, it will be way easier to search Instagram comments by the user.
How to Hide Instagram Comments for a Post?
Well, this is really easy to do. If you want to share a new post on Instagram and don't want to receive any comments on it, after uploading the content you want, tap on "Advanced Settings".
Now, just turn off the commenting.
But what if you have already shared your post? Can you still turn off and hide the comments? Yes! Just go to the wanted post and tap on the three dots icon on the top right side of the screen.
Now, simply turn off the comments!
Final Thoughts
Finding someone's Instagram comments can be difficult. They are not only dispersed over the platform, but they might also be difficult to locate. Fortunately, we've collected a list of pointers to help you find out how to search Instagram comments like an expert! You'll be able to find anyone's comments with relative ease if you follow these simple instructions.
In a nutshell, if you want to track, filter, and search Instagram comments by user, you don't have any direct and easy ways. You can just search for comments below each post and collect information using the mentioned tricks.
FAQs
Q1. Is it possible to sort Instagram comments based on certain criteria?
No, Instagram doesn't allow you to sort comments by factors like Top Comments, Newest First, and more.
Q2. How can third-party tools help me find comments?
Third-party tools can streamline your search by allowing you to find specific comments across multiple posts.
Q3. Are there any shortcuts for finding comments on desktop?
Indeed, you can use the Ctrl+F (Find) shortcut on desktop to quickly locate comments using keywords.