Super Likes for Instagram is an Instagram app to get likes that through like for like method, gets you free likes on Instagram.
You would probably agree with me when I say it no longer is a piece of cake to get users to like your feed! 
Your followers might scroll down, come up with your feed, swipe left because they enjoy your content, yet they are reluctant to like your post! That's why many Instagrammers like yourself, use an Instagram likes app.
Super Likes is one of the candidates. But does it work at all?
In this article, we wanna see what the features, pros, and cons of Super Likes are and why users no longer enjoy it the way they used to! In the following, I suggest some free alternatives for it as well. So stay with me.
You may also like to read:
Super Likes For Instagram
Super Likes for Instagram is an app to get likes in which you get likes through the gamified process and "like for like" method. 
You should follow and like the content of users to collect some coins. Then you spend those earned coins to get likes. And the cycle repeats. That is how users of Super Likes get likes and new followers.
Features
Via Super Likes, you can get free likes, followers, and views

By searching hashtags, you can engage with users of your own niche

It provides you with

hot captions

It provides you with common tags
Pros & Cons
Super Likes:
Is compatible with Android and iOS

Gamified the process of getting and giving likes and followers so working with it is pleasant

Is safe

Is not a good option for users who manage their Instagram account on PC because it is not compatible with Windows.

Apparently, no one can log in anymore! I couldn't, neither could many users!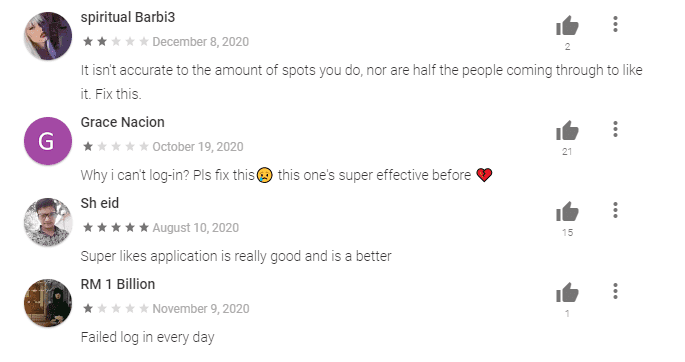 Rating
Given the reviews, Super Likes could not please its users!

Reading the reviews and personal experience proved to me that unfortunately, it does not work anymore! So you should be looking for some alternatives for that!
Good and Free Alternatives Of Super Likes For Instagram
Can't log in to super likes anymore? Easy! Its alternatives are as good as it, even better!
AiGrow

AiGrow is an Instagram all-in-one tool that gets you real likes and followers, and views. It has anything you need to manage and grow your Instagram. To learn more, read the AiGrow review here to discover more about its features and services.
Merits Of AiGrow Over Super Likes For Instagram
With Super Likes for Instagram, you could copy the hot captions and tags. While AiGrow enables you to repost viral content on your Instagram post and story as your own feed.

There are daily limits for the number of posts you can like per day. This one does not violate

Instagram's daily limits

.

Other than Android and iOS, it is compatible with Windows for those who manage their account on PC.

With this management service, you'll have an

Instagram manager

who spends 60hrs on your account and guarantees to

get 4000-5000 new and target followers

.

You don't have to give up your Instagram password to use AiGrow.

Unlike Super Likes, you can log in and work with it with ease!

AiGrow has 24/7 support.

Unlike Super Likes,

Reviews of AiGrow

shows that it has many happy users.

Also, watch the following video to know how to get more Likes on Instagram:
Turbo Likes for Instagram
Turbo Likes is the other good alternative. The process of Turbo Likes is just like Super likes. You follow and like other users to get coins and spend those coins to get likes.
Merits Of Turbo Likes To Super Likes For Instagram
You don't have to give up your Instagram password to use it

It has 24/7 support

Turbo Likes is compatible with Windows as well as Android and iOS

Comparing to Super Likes, it has a better rating 
To know more about this likes tool, click here and read the Turbo Likes and followers review.
Magic Liker
Magic Liker is another Instagram tool to get likes. You like the content of other users, you get stars. You spend stars to get likes.
Merits Of Magic Liker To Super Likes For Instagram
Magic Liker is just like Super Likes only with so much better reviews

Read More: 4 Instagram Likes Apps to Get Real Likes: Free & Guaranteed
Before You Go
Don't think of Instagram likes app as a secret way to appear on Instagram explore page, but consider it as a supplementary way alongside organic ways to get more Instagram engagement.
Summary
If your followers are reluctant to engage with your content for any reason, you need to get help from an Instagram app for likes. 
Super Likes is a good free app that used to attract many Instagrammers due to its gamified process, but bad UX led its users to search for an alternative.
In this table, you can see some good alternatives of Super Like. Pick one and grow on Instagram.
Features

Super Likes For Instagram

AiGrow

Turbo Likes

Magic Liker

Get likes

✅

✅

✅

✅

Get followers

✅

✅

✅

❌

Get views

✅

✅

✅

✅

Compatible with

Android, iOS

iOS, Android, Windows, macOS

Android, iOS, Windows

Android only

UX

❌ 

users can't log in

Pretty Good UX

Good UX

Good UX

UI

✅

✅

✅

✅

Reviews

2.1 out of 5

4.5 out of 5

3.9 out of 5

4.2 out of 5

Safe

✅

✅

✅

✅

Instagram manager

❌

✅

❌

❌

Repost

❌

✅

❌

❌

Support

❌

24/7

24/7

❌

Price

Free

1-2 weeks Free Trial and Paid($99 per month)

Free

free

Other

Offer hot captions and tags

Content creation(2-3 posts per week)

Gamified process

Gamified process