Are you a concerned parent worried about your child's safety online? With the increasing prevalence of cyberbullying, online predators, and adult content, it's more important than ever to keep an eye on your child's digital activities. And that's where uMobix comes in.
uMobix is a powerful parental control app that enables you to monitor your child's calls, texts, apps, and internet activity. But does it really work? Is it worth the investment? That's what this comprehensive uMobix review is all about.
So, if you want to make an informed decision about your child's digital safety, keep reading to learn everything you need to know about this phone tracker app.
What Is UMobix?
It is a parental control app that enables parents to monitor their children's online activities on their electronic devices. This spy app covers call monitoring, social media surveillance, GPS location tracking, and a keylogger for all-out monitoring.
The uMobix app is affordable, accurate, and reliable. Its dashboard provides users with quick and relevant information and allows them to navigate to any functionality they want. It is a top spy app that provides parents with everything they need to ensure their children's safety online.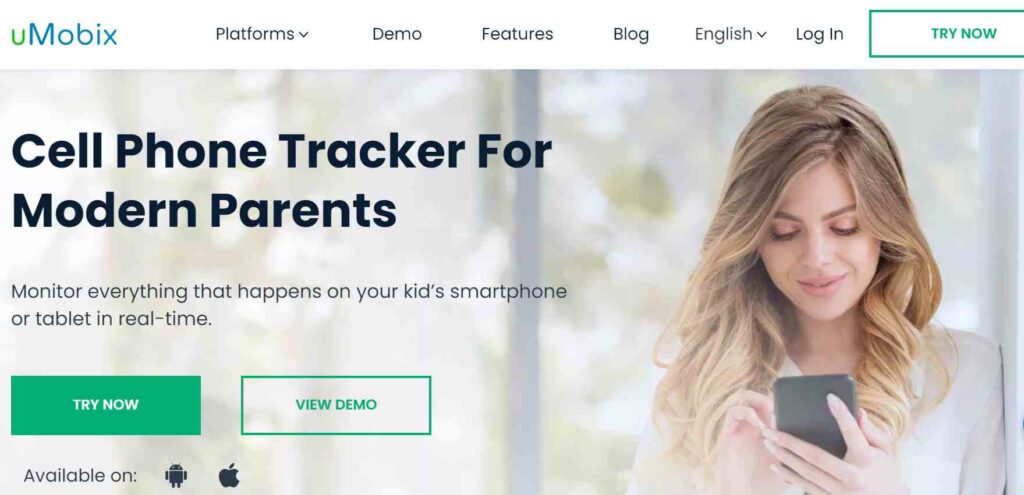 Ersten Group Limited, a private UK-based company, owns uMobix, a phone monitoring app launched in 2019. Despite being a newcomer to the spy app market, the app has quickly gained a reputation for its impressive features and user-friendly interface. With a focus on parental control and online safety, it offers a variety of tools to help parents monitor their child's digital activities.
uMobix Features
If you're a parent concerned about your child's online safety, you know the importance of keeping an eye on their digital activities. With so many parental control apps out there, it can be challenging to find one that suits your needs.
It is a powerful spy app that offers an array of features to monitor your child's calls, texts, social media, and browsing history. But what sets it apart from other parental control apps? In this section, we'll explore the app's features to help you decide whether it's the right tool for your needs. So, keep reading to learn more about this mobile tracker app.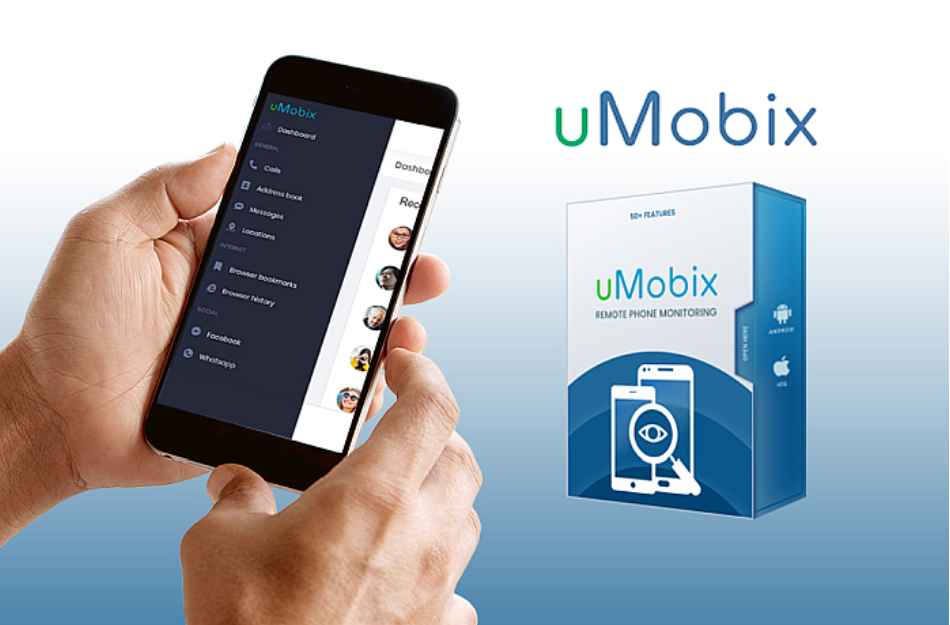 #1. Call History Monitoring
Keeping tabs on your child's phone activity is crucial in ensuring their safety, especially in this day and age. With this spy app, you can easily track the people your child talks to most on their phone.
The call monitoring feature is conveniently located in the Call History section on the dashboard. It allows you to view all call details, including incoming, outgoing, missed, and deleted calls. You can see the contact's name and phone number, the duration of the call, and the date and time the call was made.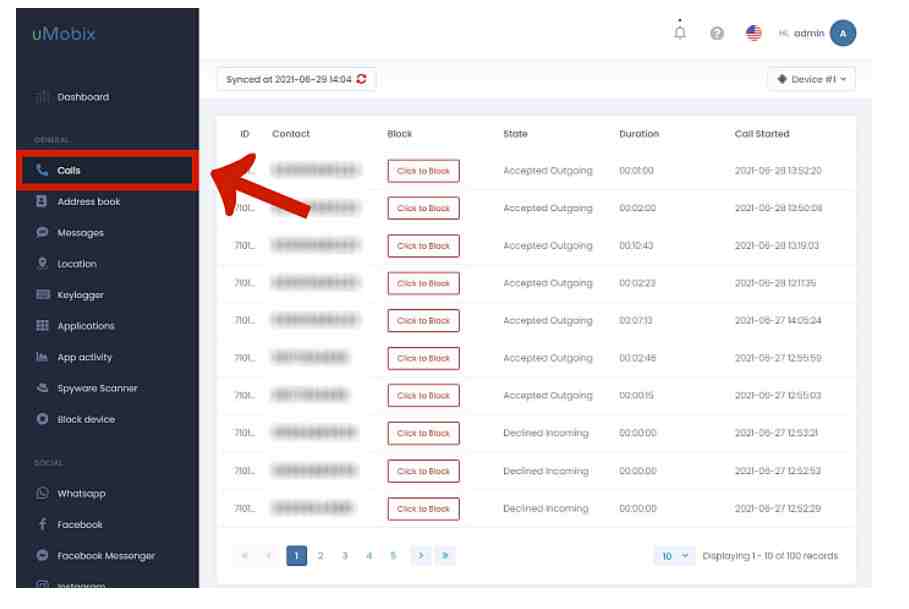 Thanks to uMobix's phone tracker, you'll be updated on all call logs in close to real-time as the app syncs with the device every 5 minutes. This feature gives you peace of mind knowing that you're always aware of your child's phone activity.
By utilizing this spy app, you can take an active role in your child's safety. Whether you're concerned about bullying or enforcing bedtime rules, uMobix has got you covered. Don't wait any longer to ensure your child's safety, start monitoring their phone activity today with this great spy app.
#2. SMS Monitoring
SMS messaging is still a popular way to communicate, even with the rise of instant messaging and social media apps. With this mobile tracker, you can easily monitor your child's SMS messages and know who they are communicating with and what they are saying.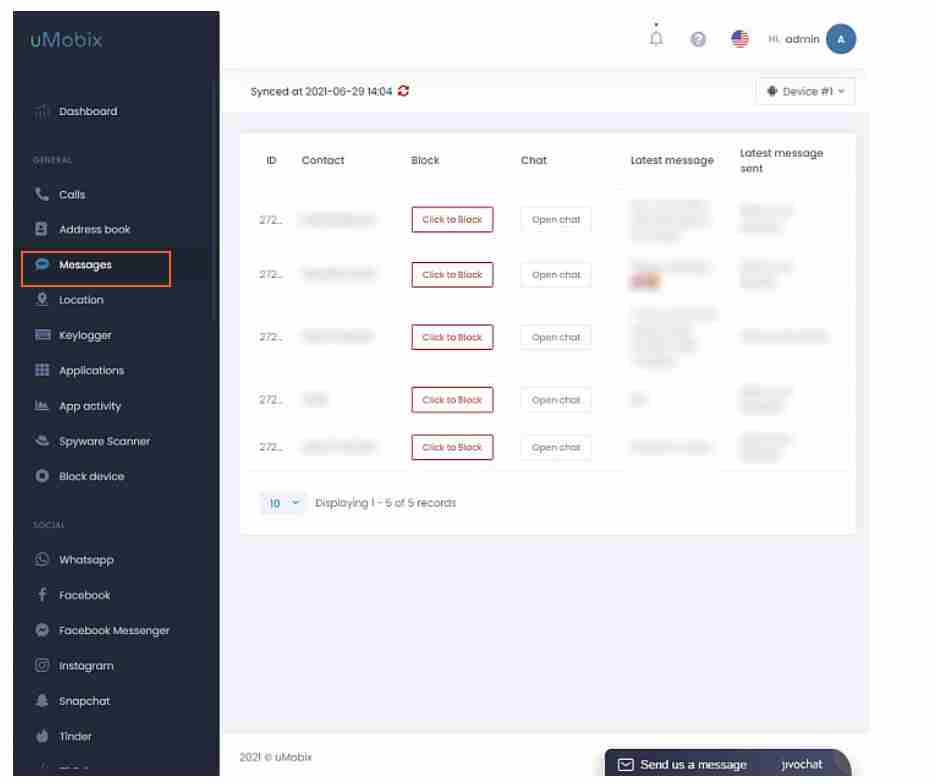 The Messages tab in the cell tracker allows you to access all text messages stored on the target device, including deleted messages. You can view the text ID, contact number, latest message, and the last message sent.
Additionally, the Open Chat feature allows you to view the entire conversation, including the date and time of each message. It also allows you to see whether it was incoming or outgoing. This feature gives you complete insight into your child's SMS conversations.
If you find a contact you don't want your child to communicate with, you can use the Block feature. This will prevent them from sending messages to your child's device again. Simply click on the red Click to Block button located between the Contact and Chat tabs.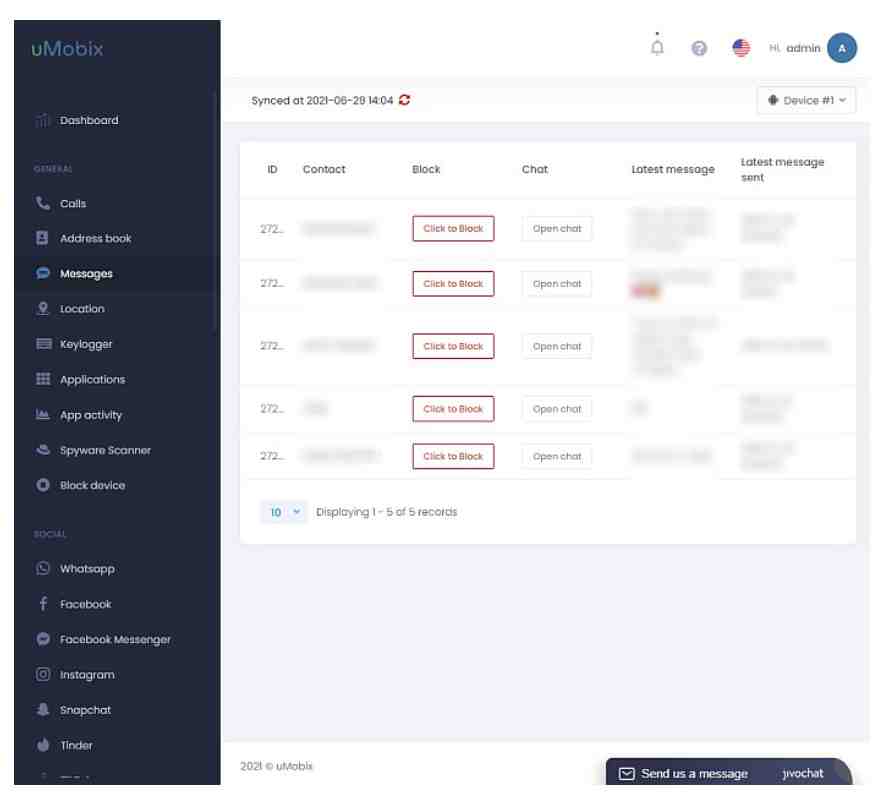 Thus, the cell tracker provides a comprehensive solution to monitor your child's SMS conversations and ensure their safety.
?Note: uMobix can detect and display deleted messages, even if they were deleted instantly. This is a crucial feature as it helps you to keep a tab on your loved ones and catch any suspicious activity. In this way, you can easily monitor all incoming and outgoing SMS messages, along with conversations that date back months.
In addition to SMS, its email monitoring service allows you to read all emails sent and received.
#3. Social Media Monitoring Service
This parental control app monitors various social media apps to help parents navigate their children's online activities. It tracks around 19 different social media and instant messaging apps, providing parents with an insight into their children's social lives.
If your phone is rooted, you can see key details of conversations such as chat ID, chat name, profile picture, name of the conversation partner, latest message, and type of conversation. But if your device is unrooted, you can only see screenshot previews of instances when the app was used.
Unlike other monitoring apps, u Mobix doesn't pull conversations from the social media app but shows them in screenshots. This makes it difficult to find specific messages. However, it can be used as an anonymous Instagram viewer or a private Instagram viewer to peek at your child's conversation threads.
#4. Location Tracking
In addition to social media monitoring tools, the tool offers a phone tracker feature that can help parents monitor their children's physical safety. With this feature, you can track the target device's location and access a historical record of all the places it has visited.
The phone tracker feature can be found under the Location tab, in the General section of its dashboard. Here, you can view the address, coordinates, accuracy, and date of the log, along with a map view.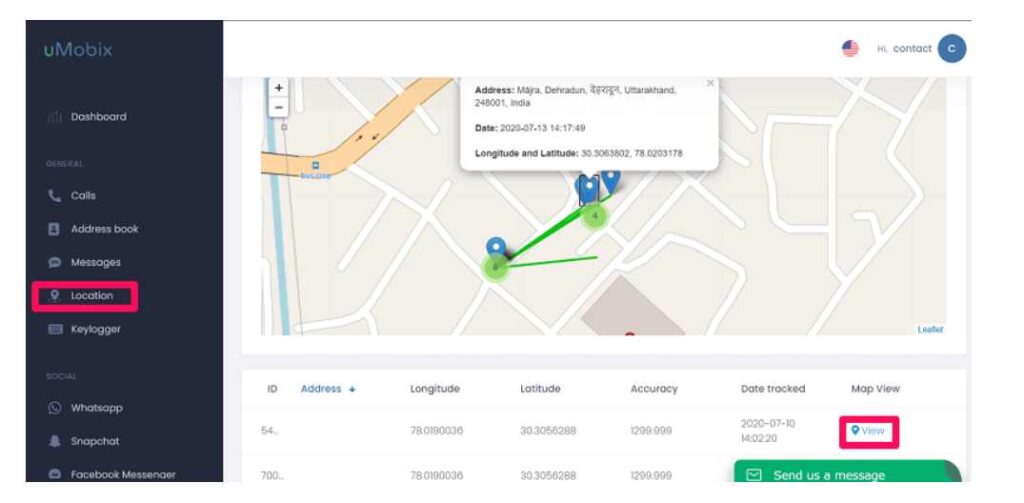 With the phone tracker feature, parents can rest assured they know where their children are at all times. They can use this information to steer them away from potentially dangerous places. It's imperative to note that while this feature can help keep children safe, it is not intended for use as a spy app. It should only be used with the target device owner's consent and knowledge.
#5. Keylogger
One of the key features is its keylogger function, which allows you to keep track of all the keystrokes made on the target device. This feature is only available for Android devices.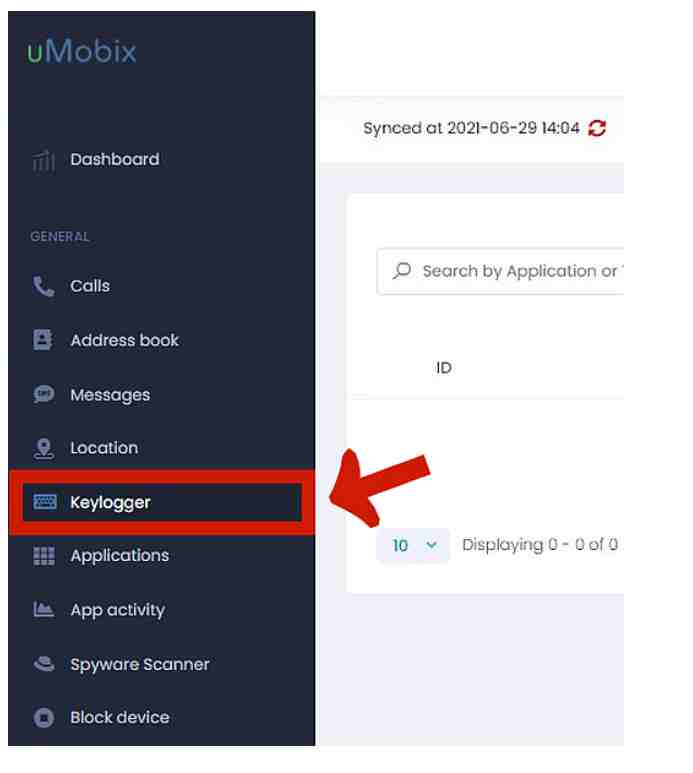 The keylogger function is located under the General tab and is situated under the Location button. With this feature, you can view various details such as which application the keystrokes were made on, what the keystrokes were, and when the text was created.
By using uMobix's keylogger function, you can have a complete idea of what your child does on their device. With this information, you can intervene before it's too late. Overall, uMobix is an excellent cell tracker for parents who want to monitor their child's online activities and keep them safe.
#6. Phone Gallery Access
The photos and videos stored on your child's phone can reveal valuable insights into their daily life, social circle, and interests. uMobix offers access to the target device's photo and video gallery, providing you with complete information about your child's media files.
It's important to note that this feature is available only on Android devices. You can access the Photos and Videos buttons under the Media tab, located just below the "Dating" button on the uMobix platform.
Clicking on Photos or Videos will display information about the gallery, such as ID, filename, and date created. You can also sort the media files by date created, from the oldest to the most recent, by pressing the up or down button next to the Created category.
One noteworthy aspect of the uMobix media tracker is that it tracks all the media files that pass through the target device, even if they've been deleted. This includes photos and videos shared through apps like WhatsApp and Bluetooth.
With uMobix, you can track your child's media activity, and even hiding the Last Seen feature won't help them hide it from you. You can also enter full screen, download media files, or use the "picture in picture" feature to view two media files simultaneously.
Read More: Top 5 Instagram View Tracker Apps to Use
#7. App Usage Tracker & Controller
The app usage tracker and controller from uMobix allow parents to keep an eye on their children's phone usage. By clicking on the Applications and App Activity tabs under the General tab, parents can view the apps installed on the phone, as well as the frequency and duration of use.
If the target phone is rooted, the Applications button will display all the installed apps, along with information such as the app name, state, and whether it is currently installed or deleted. Parents can even block or delete an app if they feel it's necessary.
The App activity tracker displays the package, state, date, and time the app was opened and closed, along with the usage duration in seconds.
With uMobix's app tracking and control function, parents can manage their children's apps and usage, ensuring they stay safe online.
UMobix Reviews: What Real Customers Think about This Spy App?
uMobix has received positive reviews on Trustpilot, with an overall rating of 3.4 out of 5 stars. Many uMobix reviews on Trustpilot praised the app's features and functionality, such as the ability to track calls, messages, and location, as well as the user-friendly interface. Some reviewers also mentioned the helpfulness of the customer support team.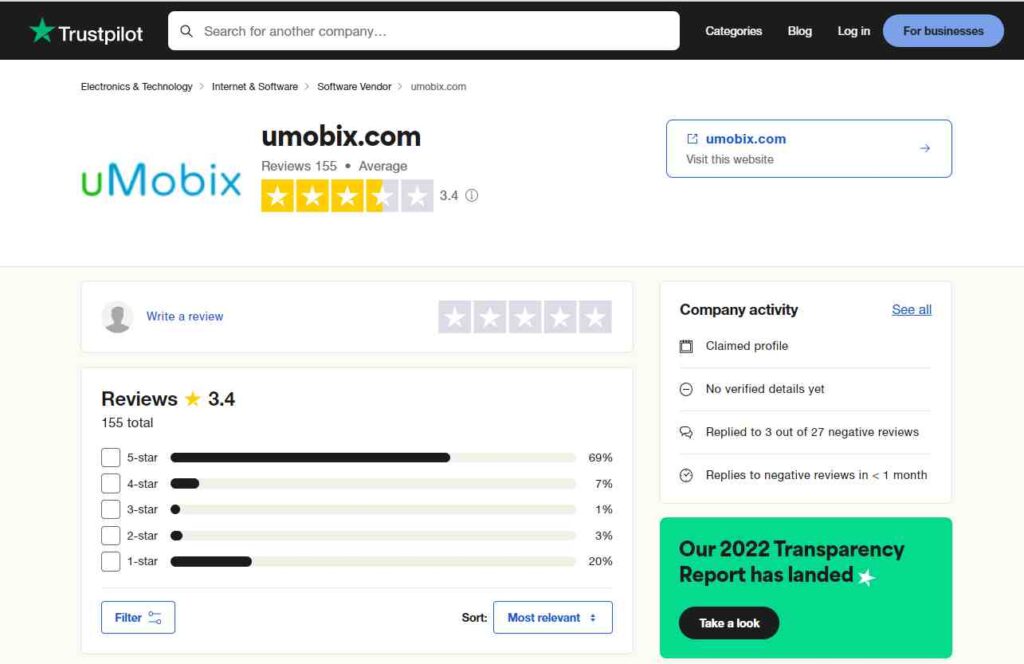 However, there were a few negative reviews as well, with some reviewers experiencing technical issues or difficulties with installation. Additionally, some reviewers felt that the pricing was too high.
Overall, uMobix has a generally positive reputation on Trustpilot, with many satisfied customers. However, it is important to keep in mind that individual experiences may vary and it's always a good idea to thoroughly research and evaluate any product or service before making a purchase.
uMobix Review Reddit
The single comment on this Reddit thread suggests that Umobix is a scam and the user has not received their money back. However, it's important to note that this comment is from a year ago and there are no further comments or discussions about Umobix on this thread. It's difficult to draw a conclusion about Umobix's overall reputation based on this single umobix review on Reddit.
How to Install UMobix on Android
To use uMobix, you need to first select your subscription plan and complete the purchase process to receive further instructions.
After the purchase, install uMobix on your child's device by following the instructions provided in your user account.
Once you have installed the uMobix app on the device, go to your account and wait until data starts being sent to your dashboard. This will allow you to monitor your child's activity and keep them safe online.
To get started, simply follow these easy steps:
Buy a subscription plan that suits your needs.
Disable Play Protect on the target phone.
Download and install the uMobix APK file from the link provided on the uMobix portal.
Open the app and agree to the terms and conditions.
Enable the keylogger feature for even more powerful monitoring capabilities.
Set up automatic optimization for the app to ensure it's working at its best.
Enter the registration code provided by uMobix on the target device.
Hide or show the app icon, and you're all set to start monitoring!
Read More: How to View Private Instagram Accounts [Top Methods Revealed]
How to Install uMobix on iPhone
To do so, follow the steps below:
Get uMobix: First, purchase a uMobix subscription and create an account on the uMobix portal.
iCloud Backup: Before installing uMobix, turn on iCloud backups for all the apps you want to track. Simply navigate to Settings > iCloud > iCloud Backup, and enable backups for all the relevant apps.
Two-Factor Authentication: After paying for your subscription, log in to the uMobix portal and choose the iOS device setup wizard. Enter the target device's iCloud credentials and wait for the 2-factor authentication code to be sent to the device. Once you have the code, enter it into the uMobix portal and wait for the software to install on the device.
Remote Installation: In theory, uMobix can be installed remotely using only the iCloud ID and password of the target user. However, this only works if there's an existing iCloud backup and 2FA is disabled. If you're not sure, it's much easier to have physical access to the iPhone.
UMobix Dashboard
As a cell tracker, uMobix's dashboard serves as a one-stop shop for all the information you need to monitor your child's phone activity. Upon installation, users are greeted with the dashboard, which presents a range of information about the target device in an easily digestible format. From basic phone data to call and SMS records, the dashboard offers a convenient way to keep track of your child's phone usage.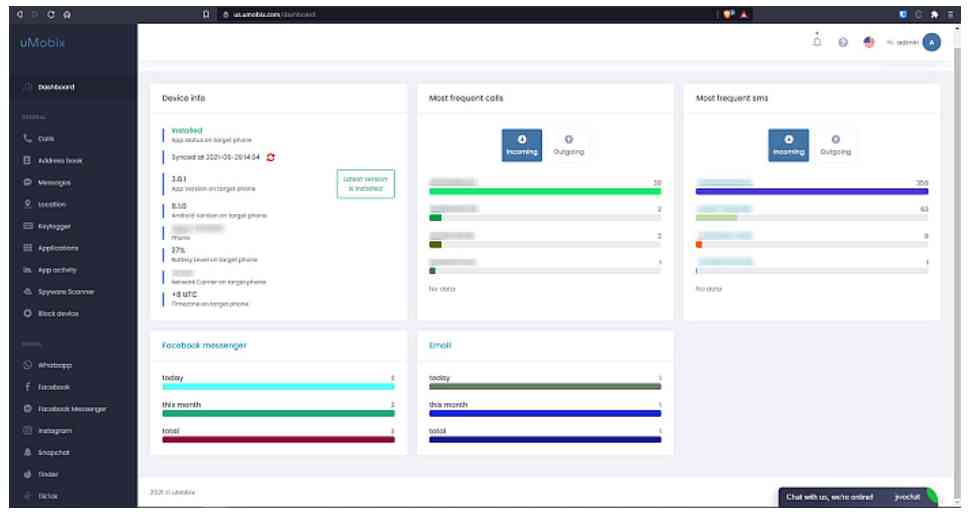 For rooted devices, users can also access information on the target device's location and social media app activity. This eliminates the need to rely on external apps to determine your child's whereabouts. The dashboard also displays statistics on other apps, including Messenger and Email, and allows users to view internet activity, such as browser bookmarks and frequently visited sites.
The left-hand sidebar provides easy navigation to more specific functionality, making it a useful feature for parents who may not be tech-savvy. In some cases, the sidebar may be hidden on mobile devices due to smaller screens, but a simple tap or press on the irregular bars will reveal it.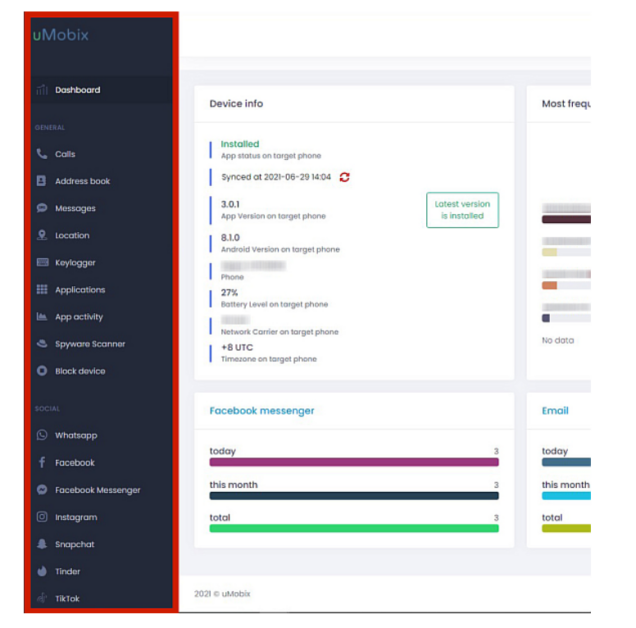 Overall, the uMobix dashboard is neat, comprehensive, and user-friendly. As a cell tracker, it provides all the information you need to monitor your child's phone activity in one place, making it a useful tool for parents concerned about their child's safety. With its range of features and easy navigation, uMobix is a powerful spy app that offers peace of mind for parents.
| | |
| --- | --- |
| Information | Visible on the Dashboard? |
| The current location on the map | Yes |
| Last visited addresses | Yes |
| Most frequent calls | Yes |
| Most frequent SMS | Yes |
| Last added contacts | Yes |
| Most frequent socials | Yes |
| Sites | Yes |
| Browser bookmarks | Yes |
Pricing
Need a reliable parental control app that won't break the bank? uMobix offers two pricing tiers for both iOS and Android, providing plenty of options to choose from.
For iOS, you can subscribe to the Basic package for $29.99 per month. You can also subscribe to the Full package, which is packed with even more features, for only $49.99 per month.
If you're an Android user, the Basic plan costs the same, but the Full package comes at a slightly higher price of $59.99 per month. But don't worry, you can still save money by subscribing to a 3-month plan for just $99.99 or a 12-month plan for $12.49 per month.
With uMobix, you'll get the same performance quality as other top spy apps in the industry, at a much cheaper price.
UMobix Pros & Cons
| | |
| --- | --- |
| Pros | Cons |
| Affordable price | Challenging iOS installation |
| Robust Android functionality | Limited features on iOS |
| Customizable sync frequency | No option for remote installation |
| Easy Android installation | It has a noticeable impact on the phone's battery life (Noticeable battery consumption) |
| Real-time updates | It has no free trial |
| The website offers a free demo | Call recording not available |
Conclusion
uMobix stands out among spy apps as a reliable tool for parents who want to keep their children safe online. It offers a variety of monitoring features, including call logs and SMS tracking, social media and instant messaging app monitoring, and GPS tracking. In this way, parents can stay informed and in control.
This spy app also includes a keylogger feature, allowing comprehensive monitoring of all device activity. The user-friendly online dashboard provides easy access to all the information gathered by the app, making it simple to keep track of everything in one place.
Overall, uMobix is a powerful tool for parents who want to ensure their children are safe and protected while using their devices. With its commitment to legal and ethical use, parents can feel confident about using uMobix to safeguard their children from internet dangers.
Here are some related articles you may like:
FAQs
1- What is the frequency of UMobix updates from the target device?
The UMobix app updates data from the target device every 5 minutes by default. However, this interval can be adjusted according to the cell phone settings and internet connection. For iOS devices, the app synchronizes data solely based on the backup performance, which can take up to 24 hours in some cases.
2- Is it possible to install uMobix remotely?
To install the cell phone tracking app on an Android device, you need to physically access it for less than one minute. For iOS devices like iPhones or iPads, you only need to provide iCloud credentials and be prepared to approve a 2FA code.
3- Why is it important to use spy apps like uMobix?
Are you concerned about your child's safety online? With the rise of internet addiction, cyberbullying, and exposure to adult content, it's crucial to keep an eye on their digital activities. That's where spy apps like uMobix come in handy.
By monitoring your child's cell phone usage, you can detect any concerning behavior and take action before it's too late. With up to 74.5 hours spent on screens per week, it's easy for kids to become agitated and aggressive due to excessive screen time. But with a cell phone tracker, you can track their activities and limit their screen time.
Cyberbullying is another significant issue that affects many children, with 36.5% reporting experiencing it. But with uMobix, you can detect any hateful comments, racist jokes, or physical threats and take steps to prevent further incidents. It's a powerful tool that empowers parents to protect their children from online dangers.
Adult content is another significant concern, with 53% of kids aged 10-15 having seen it either by accident or intentionally searching for it. But with uMobix, you can monitor their website history and detect any inappropriate sites that they may visit. It's a proactive approach that helps parents keep their kids safe and healthy.
If you're a concerned parent looking to protect your child's safety online, consider using uMobix. It's a valuable tool that provides peace of mind and ensures your child's well-being in the digital world.
4- Is uMobix Legit?
When it comes to protecting your children online, there's nothing more important than having a trustworthy and effective parental control app. That's why uMobix is the perfect choice for parents who want to ensure their children's safety on the internet.
With uMobix, you can be confident that you're getting a legitimate and reliable product that provides the comprehensive monitoring features you need to keep your children safe from any potential harm. So, don't hesitate – choose uMobix today and give yourself peace of mind knowing that your kids are protected.
5- Is there any ethical or legal implication to using spy apps like uMobix?
It is imperative to remember that using a spy app such as uMobix comes with legal implications that must not be overlooked.
Without consent, unauthorized surveillance can infringe upon privacy rights and even lead to criminal charges. Therefore, it is crucial to obtain the target's permission before monitoring them or ensure that you have the legal authority to monitor a minor under your care.
To avoid potentially severe consequences, it's advisable to check local laws and seek legal advice before utilizing such apps.
Don't let a lack of awareness put you in a legal bind. Take the necessary precautions and be informed about the ethical boundaries of using spy apps.
6- Is uMobix Detectable?
The stealthiness of the uMobix spy app is unmatched. It operates invisibly, leaving no traces on the device. The app doesn't show up in the system files or running processes, making it virtually undetectable. This level of stealth ensures that the user won't suspect any monitoring activity on their device, providing you with complete confidentiality and peace of mind.
?Note: It is possible to hide uMobix on the target device during installation by choosing to hide the app icon.
7- Can uMobix track Snapchat conversations?
Do you want to have full coverage of a long list of apps including popular ones like WhatsApp, Facebook Messenger, Snapchat, Tik Tok, and Instagram to see every message, photo, and video shared? With uMobix, you can track conversations and everything the user does on Snapchat, as well as other apps. You'll have access to a comprehensive range of features, allowing you to monitor various activities on the target device, including messaging and social media use.