Hashtags are the primary way for people on Instagram to show what they're interested in. For instance, people who are interested in skateboarding are likely going to use skateboarding-themed hashtags, people who are interested in the paleo diet are likely to use paleo diet-themed hashtags, and so on. Also, it is a way to let other people discover photos and grow followers organically. But what are the best hashtags for followers on Instagram? 
You May Also Like: 
How to Find the Best Hashtags for Followers on Instagram?
As you know, when you are sharing a new post, by using the hashtag sign and typing the first characters of your desired hashtag you can add them to your posts. However, this way, you don't have the chance to review all the hashtags and the posts using them in order to avoid using spammy hashtags. So, how to find the best hashtags for followers on Instagram?
Well, to save a great deal of time searching for hashtags, I recommend you to use a hashtag research tool like AiGrow and search for multiple hashtags. 
Being one of the best Instagram management services, AiGrow helps you with most of your marketing goals on Instagram. One of the best features of this amazing tool is its hashtag research tool by which you can: 
Search and add multiple hashtags,

Track and monitor hashtags without following them,

Save the most frequently used hashtags and add them to your posts, 

And add hashtags to the first comment automatically. 
So, using it you can easily find and track the best hashtags for followers on Instagram and use them to attract your target audience. To know how it works, watch the following video:
Top 10 Instagram Hashtags for Followers
Now, you exactly know how to search for the best hashtags for followers on Instagram. But, there are some hashtags that must always appear in the list of hashtags you use on your posts. Despite what most people think, the best hashtags for followers are not those containing the word "follower". So, to give you a hint, I listed the top 10 hashtags you must use for most revenue here:
#photooftheday – 871M posts

#beautiful – 709M posts

#happy – 709M posts

#style – 522M posts

#instadaily – 490M posts

#selfie – 440M posts

#life – 362M posts

#OOTD – 342M posts

#follow4follow – 298M posts

#follow – 155M posts
I suggest you save these hashtags on Instagram and add them to your photos each time you share something. But how to save hashtags on Instagram? Let's find it out in the FAQs part! 
Read More: Top Instagram Hashtags for Artists in 2020
FAQs About Hashtags for Followers on Instagram
Here are some of the most frequently asked questions about hashtags for followers on Instagram that may help you use hashtags more intellectually and find new hashtag hacks!
1- How to Save Hashtags on Instagram?
Unfortunately, using the official Instagram app you cannot save a group of hashtags in order to add them easily to your posts. However, using AiGrow, you have the opportunity to do so. All you have to do is to add your hashtags in the hashtag monitoring section:

Then, each time you want to schedule a post on Instagram using this tool, right next to the hashtags section, you can click on the "Add my hashtags" button and add all your saved hashtags in a second.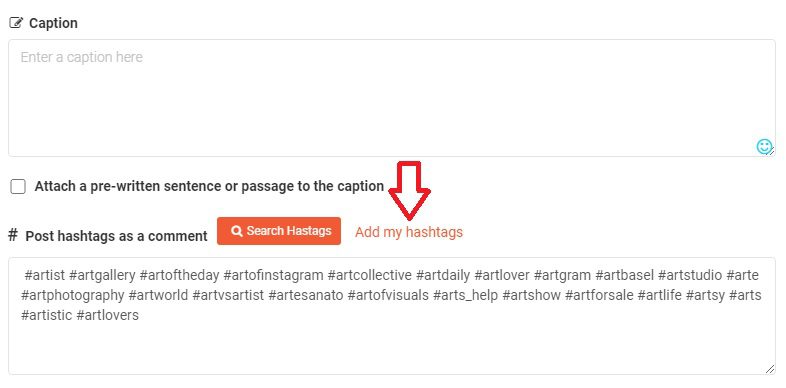 2- Why Aren't My Instagram Hashtags Working?
Actually, this may have many reasons:
The hashtags you are trying to use are the wrong ones, 

You have misused the hashtags previously, 

You have exceeded the

Instagram daily limits

to use hashtags, 

Or there's a temporary Instagram hashtag glitch. 
In the last three cases, you just have to wait until the error resolves automatically. But for the first one, I suggest you always use a hashtag research tool to make sure you're using the right hashtags for followers.
3- How to Hide Instagram Hashtags?
Unluckily, there aren't any direct ways to hide Instagram hashtags. By the way, the best way to hide Instagram hashtags from the views is to post them in the first comment instead of the caption. This way, your followers or viewers won't get much distracted.
4- How to Block Hashtags on Instagram?
If you are managing a huge brand account on Instagram and you have lots of followers, you have definitely got random followers who leave spammy comments and hashtags below your posts. In this case, to prevent being known as a spammy account, you'd better block those hashtags. However, using the official Instagram app, you cannot block any hashtags, but you still can mute and filter comments containing specific words as shown in the following image: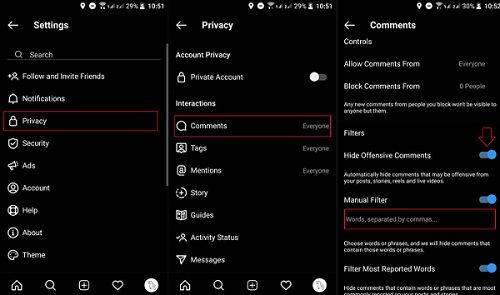 Also Read: How To Stop Instagram Spam: The Ultimate Guide
5- How to Delete Hashtags on Instagram?
By this question, one may mean how to clear the Instagram hashtag search history, or how to remove hashtags below the posts. 
For the first one, you just have to follow these steps: 
Go to Instagram settings. 

Open the security section. 

Scroll down until you see the

search history

item and tap on it. 
Here, you can simply clear all your search history that contains hashtags you looked for. 
But about the second question, there's no way to delete all hashtags simultaneously. So, you must open each post manually and delete hashtags by editing the caption or deleting the comments containing hashtags.
Final Thoughts 
To wrap it up, Instagram hashtags are an essential part of a perfect Instagram marketing strategy. They help you grow organically, increase your profile's visibility, and get more likes and followers. In this regard, here, I taught you how to search for the best hashtags for followers. Also, using the top 10 hashtags I mentioned, you have more chances to be seen. So, use the tips and tricks mentioned here to boost your followers. Also, feel free to leave us a comment if you have any questions.