Managers and Instagram marketers set their goal to increase their brand reach and grow followers. On the flip side, if you crave promoting your business on Instagram and boost engagement rate, you need to share posts frequently. However, one day you wake up and notice Instagram blocked you just because of publishing a single copy of someone else's content. Indeed, many users have at least once this experience in their digital lives. In this case, they may lose all their efforts overnight. Therefore, it is essential to know how to avoid copyright on Instagram.
The Instagram algorithm is too sensitive about copy content. So apart from any other social media, Instagram copyright policy is rigorous. A witness to this robust monitoring is that you rarely see copy content or face Instagram copyright issues. 
Now, let's read a complete guide on how to get around Instagram copyright.
What Is Instagram Copyright Infringement?
According to Instagram terms of use, you can't publish any content that violates someone else's Intellectual Property(IP) rights. Besides, people can report posts that they think infringe their copyright to Instagram.
To clarify, I must tell you that you will violate other users' copyright when sharing their content on Instagram. So you will face Instagram copyright issues even if you gave credit to the creator, altered the content, or found it on the internet. For instance, you download an image from google and directly share it on Instagram. It is called an Instagram copyright infringement, and the photographer or author can report your account to be blocked.
Consequently, before posting content on Instagram, you should take care to avoid Instagram copyright infringement. 
How to Avoid Copyright on Instagram?
Instagram helps you grow your account while taking care of your feed and your Intellectual Property(IP). As a marketer, I am fond of this strategy of the platform. However, we must be aware of not crossing the borderlines of Instagram copyright policy and consider how to avoid copyright infringement. 
In the following, I'll share with you some tips to get around Instagram copyright. 
#1 Avoid Publishing Content of Other People
It would be best to avoid copyright infringement by posting content that you have created yourself. However, expect when you are sure that you have all the necessary rights from the content owner. For example, suppose multiple parties are involved in creating the work. In that case, it is good to have a written contract or confirmation that clearly states who owns the copyright in that work.
#2 Take Written Permission of the Author
If you want to publish another user's post, make sure to take the creator's written permission in advance. If the author agrees that you post or share their content, they might ask you to sign a license agreement and pay a permission fee. On the other hand, as long as you give credit to them in the post, they may let you share the content. 
#3 Consider the Fair Dealing Exception to avoid Copyright on Instagram
 There are two types of exceptions to copyright infringement, depending on the area you work. 
Fair dealing exception
It allows people to use copyrighted material for research or study, criticism or review, parody or satire, or reporting news. This type of exception is considered in Australia and some other countries.
Fair use exception
It provides the legal, unlicensed citation or incorporation of copyrighted content in another author's work under a four-factor test. In the US, copyright law includes commentary, criticism, parody, search engines, news reporting, research, and scholarship. If you use all of the original film or a good part of it, that is a copyright violation. So, using an extract of 20 seconds from a one-minute movie will be hard to defend as 'fair use.' 
Additionally, you must prove that the use of the copyrighted content is 'fair,' concluded based on the situation and not personal judgment. 
How to Get around Instagram Photo copyright?
Many people ask, 'Can I post copyrighted photos on Instagram?' Actually, there are a few exceptions to copyright laws. Yet, the only answer is no. You only have one way to avoid copyright infringement when using images on Instagram. That is using stock photos and downloading them from websites like Unsplash. Otherwise, create one yourself or get the owner's permission.
How to Avoid Instagram Music Copyright?
Indeed, there is no Instagram music copyright bypass. Instagram's Community Guidelines state that you can only post content to Instagram that doesn't violate someone else's intellectual property rights. The unofficial rule of 'fair use' is 10 % or less. So, for instance, if the music is at least 5 minutes long, you can securely use 30 seconds of it.
If you want to post a video to your Instagram Stories, you can use Instagram's in-app music library. However, if you post a video to your feed, you must check the origin of its music. You should also always credit the artist when using their work. Also, you can share Spotify songs on the Instagram story to avoid copyright on Instagram.
How to Bypass YouTube Copyright Filter?
If YouTube has taken down your videos, it's likely because you've been flagged for infringement by their copyright strike system and content ID. Indeed, it happens if you've uploaded content you don't own or used someone else's music in the background of your video. That's why YouTube has created a process to submit a copyright takedown notice.
If you have content in your video that you don't own, you'll need to either replace or get permission from the content owners. 
If your interest is in making spoofs, you will likely run into copyright claims from people whose material you are spoofing. In this case, you will need to defend your use of that material. Fair Use defenses may be available to you in the US, and those can include commentary, humor, and parody. 
If you created the video with someone else and you both own everything, you'll need to prove that to YouTube somehow. Furthermore, to bypass the YouTube copyright filter, you can narrow the material you use to minimize or eliminate infringement. For example, changing a video clip, cropping or blurring, and not showing a logo or trademark is often acceptable. Also, remember to give credit to the owner.
However, there is a lot of copyright-free content available for free use that can be monetized. So use that, bypass the YouTube copyright filter, and stay clear. For example, YouTube audio library provides a range of tracks for free usage to avoid copyright on Instagram. On the other hand, there are copyright pictures and videos available under the creative commons license.
Apart from all the above tips to consider in your content to avoid Instagram copyright issues, there is a unique excellent method. Using a potent Instagram repost app, you can instantly repost YouTube videos on Instagram.
Use The Best Repost App to Avoid Copyright on Instagram
AiSchedul is a multi-purpose Instagram repost app that lets you download and repost YouTube videos instantly on Instagram feed, IGTV, and story. Also, you can repost any content on Instagram quickly and easily.
Therefore, you will save time and avoid any additional editing to adjust the video for Instagram settings. AiSchedul makes Reposting on Instagram a complete breeze.
To repost any content or YouTube videos on Instagram using AiSchedul, you only need to:
Add your accounts(up to 80).

Select 'Manage Accounts.'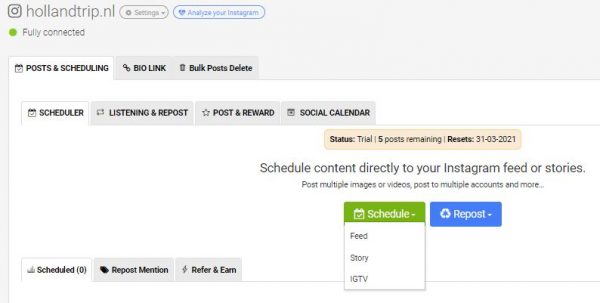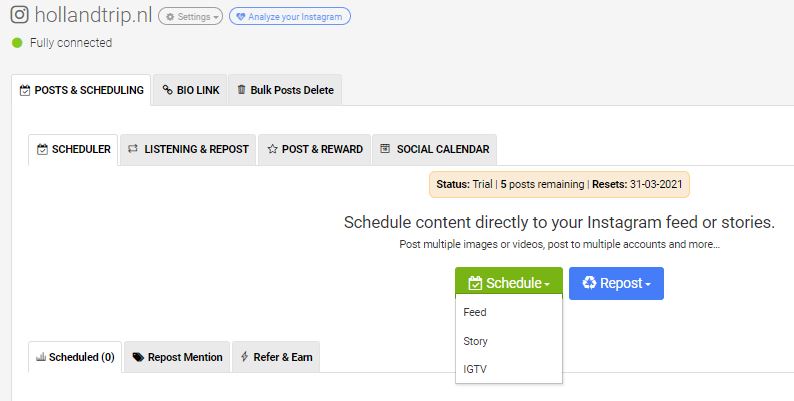 Click or tap on the 'POSTS & SCHEDULING' and 'SCHEDULER' tabs.

Hold the 'Schedule' button.

Pick 'IGTV,' 'Story,' or 'Feed.' Whether the video is more than 1 minute, it automatically recommends you repost the YouTube video as an IGTV. If you repost a YouTube video to a story, you see that it splits the video into proper pieces.

Then, you can insert the YouTube URL into the 'Connect the post to an external URL' box to easily link your story to the video!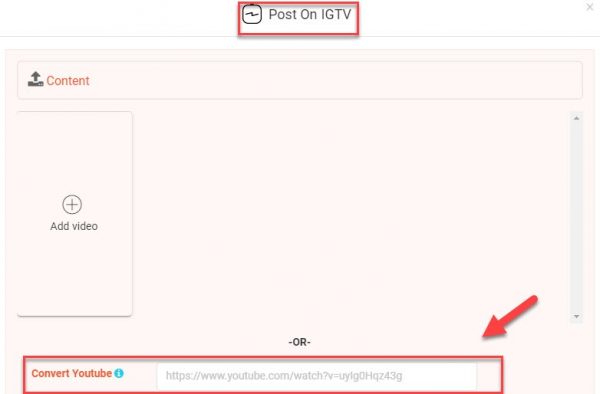 Now, add the title and description.

Next, you can add the clickable YouTube URL link.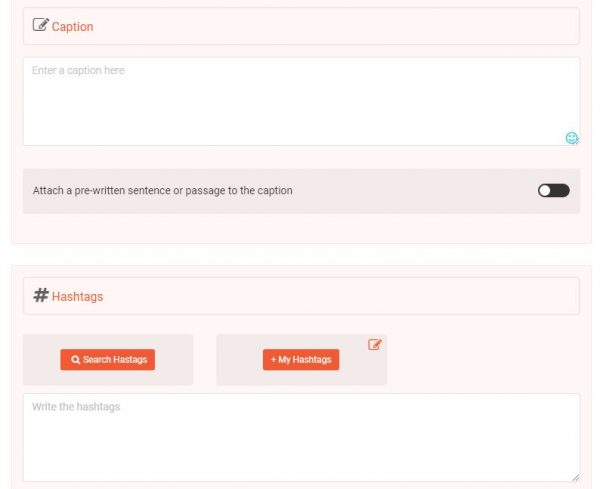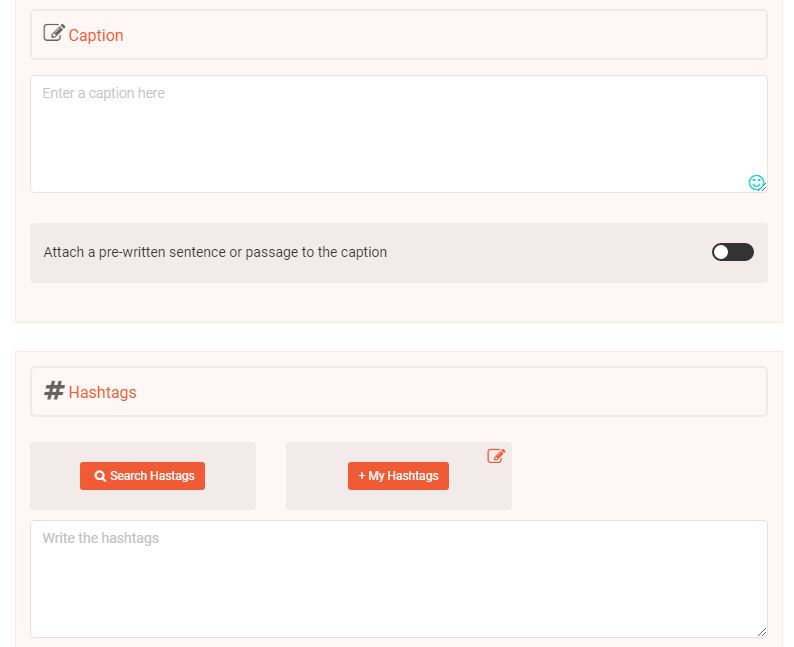 Write a caption and add hashtags.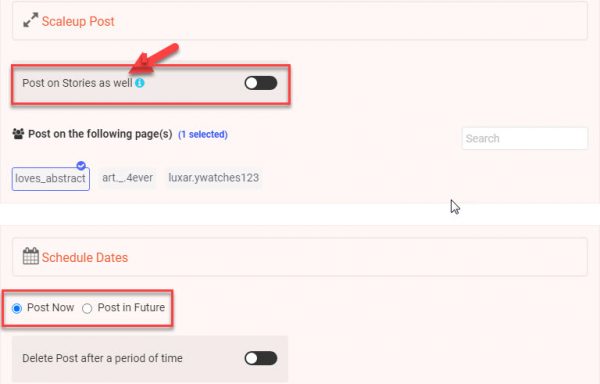 Then, you can schedule the date and choose 'Post in future' or select 'Post Now.'

Ultimately, press 'Submit.'
That's it!
The good news is that you can perform all these tasks on AiSchedul PC or mobile dashboard.
Recap
Instagram has taken steps to protect its users regarding content copyrights. Therefore, before using any content on Instagram, or picking up an image from them, be sure to read through their specific policy. The best way to bypass copyright infringement is to repost the content you like.