Hashtags have an essential role in Instagram marketing strategies. Many Instagram marketers make most of the hashtags in their posts to be more discoverable and get famous on Instagram using popular hashtags. However, banned hashtags on Instagram would be a bummer for all users.
Instagram has provided hashtags for likes to engage with Followers, go viral and be more visible on the platform. However, there are some banned hashtags that you must avoid applying in your feed.
This article will guide you on how to check banned hashtags on Instagram and how to fix being shadowbanned.
Let's dive in.
You May Like:
What are banned hashtags? 
Instagram has several banned hashtags and doesn't want people to use them on the platform. Therefore, if a user applies those hashtags in a post caption, Instagram will limit that post, and no one can see it in hashtags search, and your followers won't notice them. 
For instance, #besties is one of the banned Instagram hashtags, and the Instagram algorithm will penalize you if you use it in any post.
Also, some common words such as #date, #brain, #gloves are some of Instagram's banned hashtags. That is, many of them are not obvious, and you may not be able to guess them!
The frustrating part of using the banned Instagram hashtags is that according to Instagram's Community Guidelines, Instagram will 'Shadowban' your account or even ban you from the platform entirely.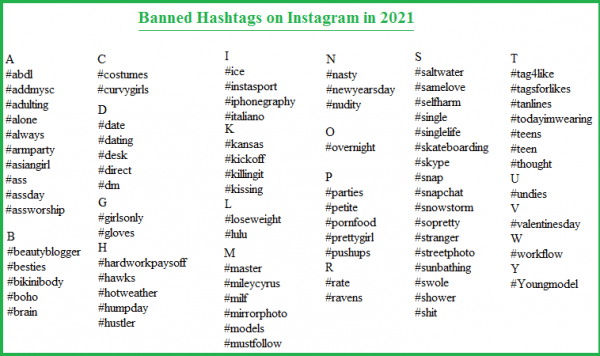 How to recognize Banned Hashtags on Instagram?
Some hashtags, such as nudity ones, are banned on Instagram permanently. However, Instagram will suddenly ban some hashtags without giving any warning in advance! 
Therefore, the accounts that used them before are safe and sound, but the posts including these banned hashtags after that specific time will get shadowbanned!
To recognize if Instagram has banned a hashtag you want to use in your new captions, type that hashtag in the Instagram searching console. Then, you will face this message on top of the posts: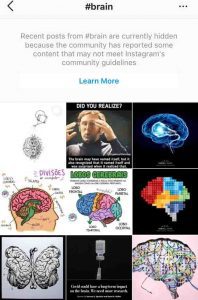 If Instagram has banned a hashtag permanently, when you search that hashtag, nothing will show up.
This is an effective method to recognize if Instagram has banned a hashtag because you perform the analysis right on the platform without paying bucks. However, you can not check mass hashtags, and you must manually do it one by one, resulting in a waste of time.
As you can add up to 30 hashtags in each caption, you have no choice to check them all to find out if they are banned Instagram hashtags. Imagine in the life-time of your Instagram marketing how many hashtags you have to search?!
Just keep in mind that the Instagram algorithm is not satisfied with Instagram bots because they violate Instagram terms of use. So, don't think about using them ever!
Consequently, I strongly recommend you using a dedicated Instagram tool that performs this task exactly according to Instagram policies and prevents you from wasting too much time searching hashtags, too. 
AiGrow: Check Banned Hashtags on Instagram and Fix Being Shadowbanned Easily
AiGrow is the best dedicated Instagram management tool that beats Instagram's daily limits for Instagrammers.
It is an IG-friendly platform that can help you raise followers, gain comments and likes for each post, and boost your engagement rate.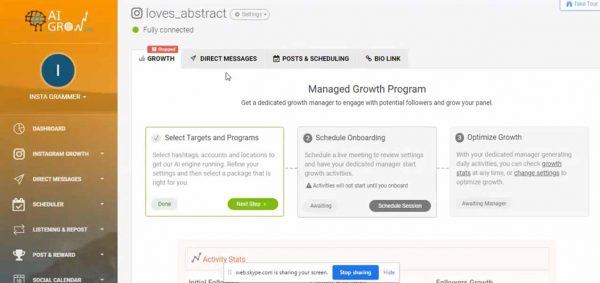 AiGrow, executed with a faithful Instagram account manager, centers on getting 1000 Instagram followers organically. Moreover, your professional account manager will check if you are applying banned hashtags in your post before publishing them. 
Most importantly, if you are shadowbanned now, the AiGrow Instagram hashtag checker will help you fix it quickly.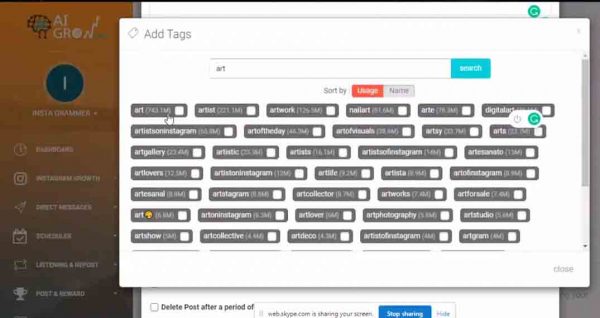 By the way! All the tasks are performing manually!
Utilizing this remarkable Instagram growth service, you'll receive 7-day free trial assistance and get 8000 likes instantly and from REAL humans, raise your credibility and increase your engagement rate. 
This app will manually plan your content, Hide Hashtags On Instagram, send mass DMs to your target followers, and engage with followers in your niche, resulting in building credibility and increasing your sales conversion. 
Sign up for free quick as a wink and draw on your free trial!
Besides, get five days of unlimited growth just for $5 to explore all its features limitlessly.
FAQs about Banned Hashtags on Instagram 
Now you know how to recognize Instagram banned hashtags and how to fix them if you are shadowbanned. However, you may also have some questions about them, and here are the most common ones.
1. How To Check If You're Shadowbanned On Instagram In 2021
Whether you want to know if the Instagram shadowban has hit your latest post, you can make your latest post on IG using your intended hashtags. Then, have a few people search those hashtags and try to find your post in recent posts. If they can see your recent post, including that hashtag when searching for that tag's recent posts, you aren't shadowbanned.
Though, if people cannot discover your latest post for the recent posts for that hashtag, Instagram's shadowban has affected you.
Remember that you cannot go on your profile to search hashtags in the searching console to see if you show up. That is because the Instagram algorithm will still show your posts for these hashtags despite if you're shadowbanned or not. However, using AiGrow, you can check it more quickly and easily.
2. How do you get unbanned from hashtags on Instagram?
As mentioned above AiGrow account manager will fix it if you are shadowbanned quickly and manually. Therefore, you will effectively manage your account and make most of your time.
3. Can you get blocked from using hashtags on Instagram?
Hardly, a popular hashtag will become invaded with offensive content. When this happens, Instagram will eliminate the hashtag or limit its use. If you use a banned hashtag, it will prevent your other hashtags from ranking and result in a block!
Final Words 
Using hashtags is one of the best ways to reach a high engagement rate. However, banned hashtags on Instagram are critical and tricky! Significantly, they might change any time, and even you can not guess one! Sometimes, you may think there is no logic behind banning them. Still, using a potent tool like AiGrow, you can hold on to your engagement and growth to stand in the competitive crowd of Instagram marketing.