As businesses are going more towards online platforms, social media managing software like Followinglike is getting more popular. This is because, in 2020, an estimated 3.6 billion people are using social media worldwide. So, businesses want to grow their brand or grow their e-commerce through social media. Followinglike and its counterparts help accounts grow their engagement on Instagram or other social media.
You will get to know Followinglike and read about Followinglike reviews in this article and explore its other alternatives. We have also provided a Followinglike cracked version for you. When the article is finished, you are fully prepared to make up your mind about using Followinglike or choosing an alternative.
What is Followinglike?
Followinglike is software for promoting all of your social media. It automates your account activities on Facebook, Instagram, Pinterest, Reddit, Tumblr, Quora, and Linkedin. Its main aim is to save your time as you can control all your social media through one place on Followinglike. Depending on the number of your accounts, you can choose the version that suits you most. Here are the different versions that Followinglike offers:

Followinglike is a tool that organically grows your engagement on social media. It does what your accounts need to grow on your behalf.
Here is an introductory video about Followinglike features:
How Does Followinglike Work?
After creating an account and logging in to your social media, you can set a schedule for Followinglike to apply your pre-given plans. Followinglike will then like, follow, unfollow others, comment, pin, unpin, etc., for you while you are focusing on the more important subjects of your internet marketing strategies. 
As Followinglike functions with proxies instead of API-based connections, there is no need to worry about the securities of your accounts. However, it might cause bad performance, and that your connection might not be encrypted.  
One practical and time-saving feature of Followinglike is that it modifies your content for different online platforms. So, you do not have to spend a lot of time creating different content for different social media. 
Followinglike Pricing
Followinglike pricing varies regarding the version that you choose. Initial prices for one and five accounts are $88 and $119, respectively. Each additional account affects the price and increases it consequently. For instance, if you buy the 'one account' version for Instagram, you should pay  $88. If you decide to add two accounts (e.g., Facebook and Instagram) instead of one, you should pay $176. These prices are one-time fees and are the same for any social media.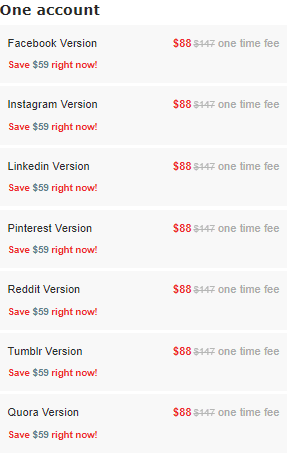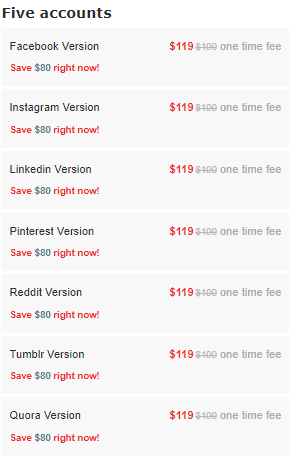 If you want to add more than 5 accounts, you should choose the 'unlimited' version. The unlimited version has different prices.
If you choose option one, you should pay $178 as a one-time fee.

In the case of choosing option two, you should pay $98 per year.

Option three allows you to pay $7 to try for three days and then $106 per year.

Paying $72 per month is the amount that option four allows you to pay.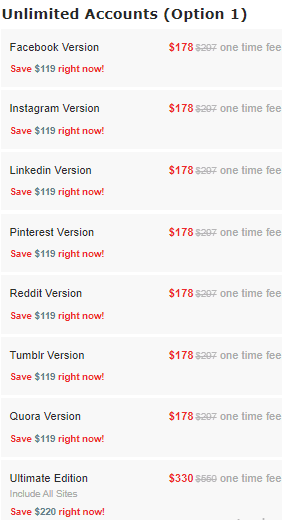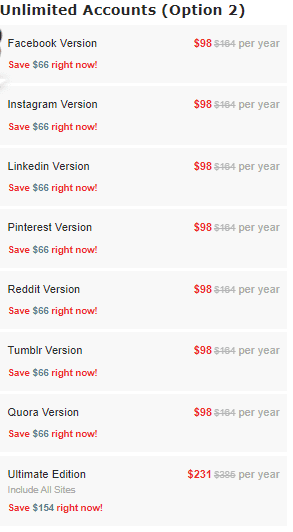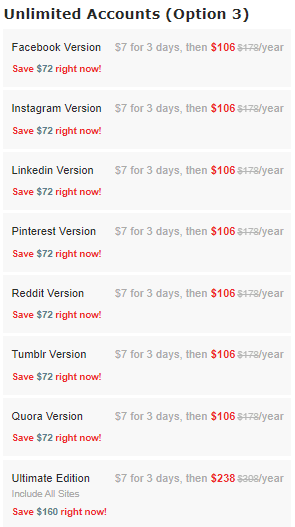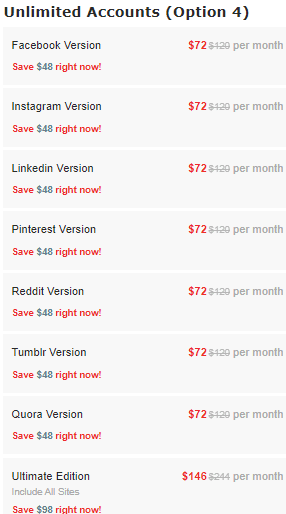 Is There Any Cracked Version for Followinglike?
Followinglike is also available for free for those who do not want to buy the licensed version. You can easily download it here.
Followinglike Pros and Cons
Here we will discuss the advantages and disadvantages of Followinglike based on some reviews:
Pros
Followinglike automates your account activities on 7 social media simultaneously.

It automates social media activities that are less popular among marketing software.

You can optimize the content for all social media.

It is time-saving.

Followinglike is regularly being updated and is moving toward fewer bugs.

It has an annual fee that makes it more economical in comparison to monthly or weekly fees. 
Cons
Followinglike is a robot, and it is a great danger to your account as the new

Instagram algorithm

can detect bot activity. 

Though it is said to be an alternative to MassPlanner, which is down now,  it has a long way to go.

If you use it right, it can be advantageous, but you invested a lot of money in vain. 

It is costly for one to five accounts. 

Reviews show that it has slow support.
What Are Followinglike Alternatives?
It is up to you to decide whether Followinglike advantages outweigh its disadvantages. Here are some alternatives for Followinglike that you may like to know:
#1: AiGrow
When it comes to real followers, real views, and real engagement on Instagram, AiGrow is probably the best app available. Though it does not automate all social media, it meets all your needs for your Instagram account.

Pros
Unlike Followoinglike, every task is done manually on AiGrow. 

A safe and verified payment gateway assures your purchase.

AiGrow provides real engagement.

You can get

organic likes, followers, and views

through AiGrow.

Pricing is fabulously economical. 

It has a free trial.

It has quick and effective support.

No download is needed.

You can prepare your post or story, set your time and date, and

schedule your post

or story for the desired time or post it immediately.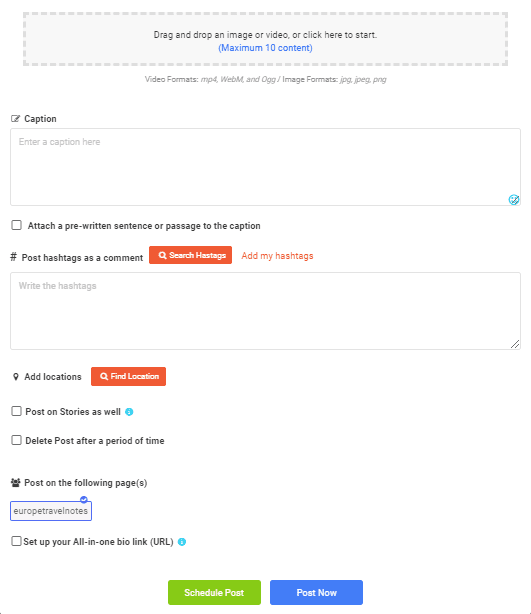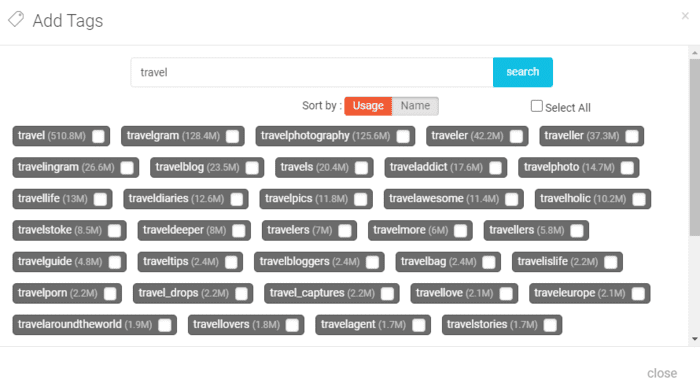 It gives you

reposting

options from related viral posts without a watermark. There would only be a credit to the post owner in the caption.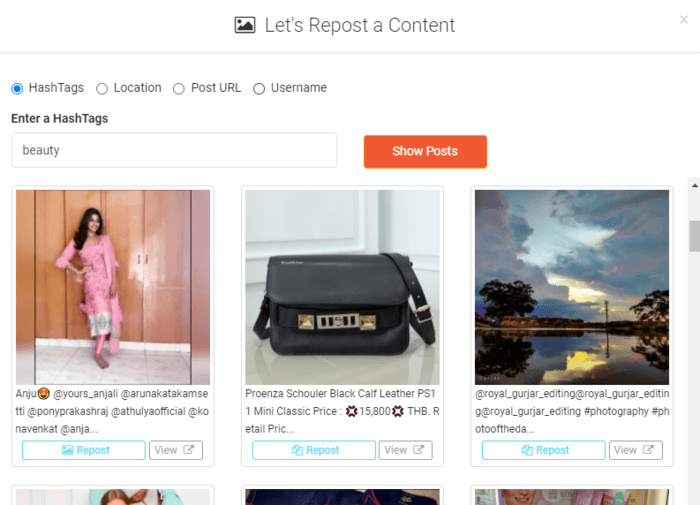 You can easily

track the mentions of your account

. 

You can save and download posts and stories.

The 'Social Calendar' section shows the international events of the month. You can see the posts of the event and find inspirations for your own post. Also, you can repost the posts that talk about that event.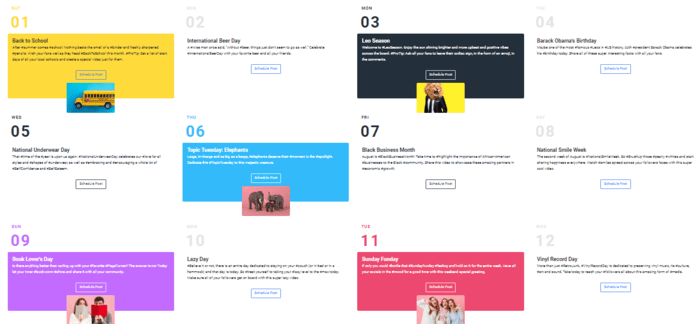 It automates Instagram only and not other social media. So, Instagram marketing experts are working on this app 24/7 to make it as advanced as possible.

AiGrow uses an HTTPS secure site.

There is an FAQ page and a Help page.
Cons
It has a rather poor UI design.

It does not automate other social media activities.
Pricing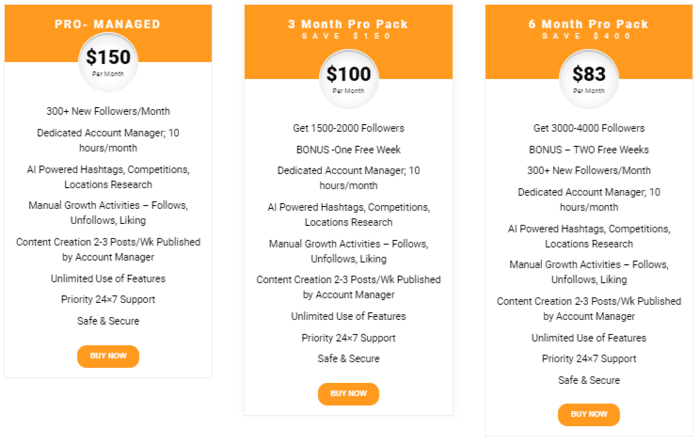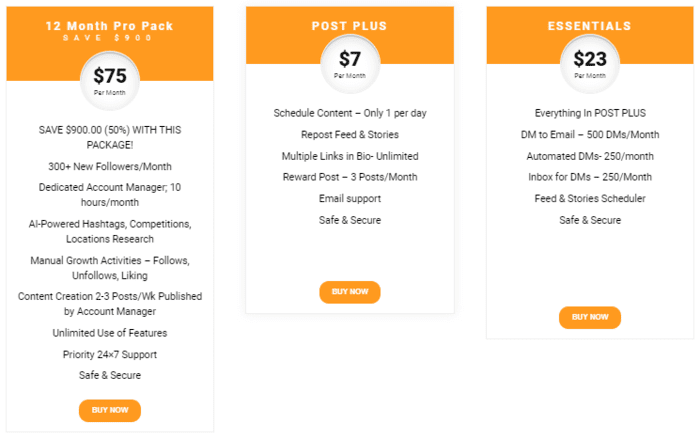 AiGrow also offers a free plan: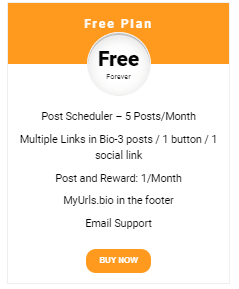 #2: Agora Pulse
Agora Pulse is a social media management software that manages your social media accounts. It automates Facebook, Twitter, Instagram, Linkedin, and Youtube. What Agora Pulse does not do is that it does not like or follow automatically. 

Pros
It is not a bot, and a team of professionals manages the tool.

Scheduling your posts is possible.

It analyzes your accounts with strategic marketing tools.
Cons
It does not like posts or follows people automatically.

Agora Pulse offers a free trial but not a free plan.

It can be costly regarding the plan you choose (up to $499 per month).
Pricing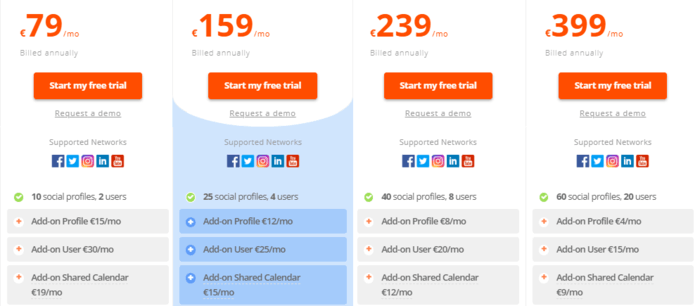 #3: Sproutsocial
Sprout Social is another social media software and, just like Agora Pulse, is managed by a team and is not a bot. It helps you to get rid of the routine tasks of your social media by scheduling them in advance. So, you will save your time for doing more creative things. It measures an exact analysis of your page and automates it regarding the lacks.

Pros
It provides friendly support. 

It has a Customer Relationship Management (CRM) system.

The analytics and reports guide you for your future marketing strategies. 

It has mobile apps for iPhone, iPad, and Android devices.
Cons
It is expensive, especially for teams.

The scheduling feature is not available for any time during the week.

You can add only one picture per post. 

It only supports Twitter, Facebook, Google+ pages, Instagram, and Linkedin.

Its UI design is poor and not user-friendly.
Pricing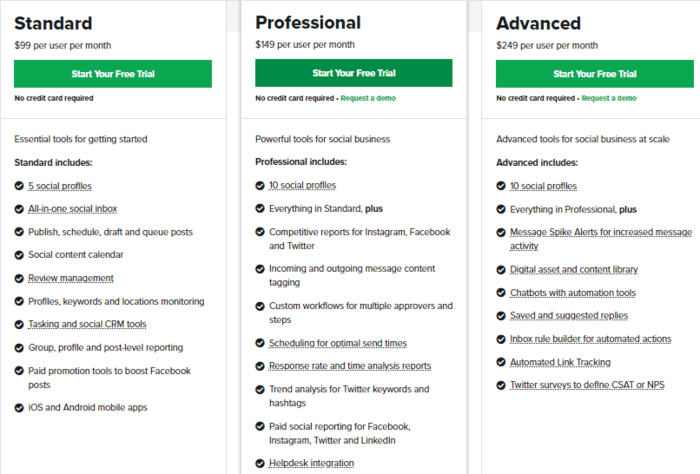 #4: Hootsuite
The next alternative is a social media management software called Hootsuite, which is not a bot like the previous alternatives. It not only automates your social media accounts and saves your time enormously but also protects them from hackers and threats. 

Pros
Hootsuite automates Twitter, Facebook, LinkedIn, Instagram, YouTube, and Pinterest.

It has a free plan.

You can use Hootsuite as a team. 

It has mobile apps for iOS and Android.
Cons
Hootsuite is expensive, especially for teams.

It has weak Facebook automation.

It has not updated its UI design for a very long time.

Unlike other similar tools, it does not offer a monthly view. It only offers a weekly view. 

You could not get a preview of your post before posting, but you can in the recent update. However, it has a lot of bugs.

Editing the preview of your posts on Hootsuite is impossible. 

You cannot post an already scheduled post right now. You can only change its date and time.
Pricing

Conclusion
Followinglike may be a good app to automate all your social media. Regarding the reviews and explanations, there are still better alternatives out there to use. If you are looking for an app to schedule your Instagram posting and manage all your Instagram-related tasks, AiGrow is definitely the best choice as it has a few disadvantages and cheaper prices. If you are looking for a tool with which you can manage all your social media accounts, you can choose the most profitable among the choices above.