Hashtags are an essential part of a perfect Instagram marketing package to promote your brand effectively. Indeed, they help Instagram marketers increase their engagement rate and brand reach. Then, if you have launched your business on Instagram and now wonder how to get famous on the platform, hashtags are your best answer. The art of using hashtags needs creativity and knowledge. That's why many marketers invest in a powerful Instagram management or hashtag tool. Among all Instagram hashtag tools, you may ask if Hashtagify is the best hashtag research tool or not.
This article will give you a detailed insight into Hashtagify and grant you an alternative to help you get your marketing history's best decision.
What is Hashtagify?
Hashtagify is a Twitter and Instagram Hashtags tracking tool. This app lets you discover hashtags to reach your audience better and identify Instagram influencers and your competitors.
Why Marketers Use Hashtagify?
Hashtagify can help marketers discover top influencers on Instagram and Twitter. Indeed, this app provides its clients analytical data about each hashtag. Therefore, you can generate hashtags that may be helpful in the future.
Using this tool, you can construct a database of analytics around relevant hashtags. Also, Hashtagify can track hashtags based on influence and reach for two months. Hashtagify gives users data on hashtags related to their niche and brand. However, this tool is not all you need for your Instagram account!

Hashtagify Pros And Cons
As I have had meticulous research about Hashtagify here, I will elaborate on its pros and cons vividly:
Hashtagify is a handy tool to help you in your hashtag strategies and analyze them. However, this is not the only thing a business marketer needs to

grow their business on Instagram

. Of course, this is great that it helps you find the influencers in your niche. Still, it doesn't provide you the feature to communicate with influencers, competitors, and their followers, which is an efficient part of Instagram marketing to grow real followers in your niche. 

On the other hand, Hashtagify grants you your future needs. Yet, every manager needs information about the past to have better business and

competitor analysis

and decide for the future. 

Moreover, as mentioned above, Hashtagify will only search for hashtags on Twitter and Instagram. Though, this is not enough to gain precise information and use them on your Instagram. There are always some missing hashtags that can help you grow on Instagram.

Hashtagify is only a hashtag tool! It means that you are helpless if you want to plan your content and manage your account. Then why not using an

all-in-one Instagram management service

that will provide you all the features.  
AiGrow: The Best Alternative for Hashtagify?
AiGrow is the best Instagram hashtag app to boost followers and likes, making an absolute rage on your Instagram engagement. 
This app is a multi-tasking Instagram management tool with many features that help you grow Instagram followers organically. Here, I will focus on its hashtag tools. So if you want to get to know the world of its numerous features, have a glimpse at the AiGrow review. 
Let's go to review its hashtags features!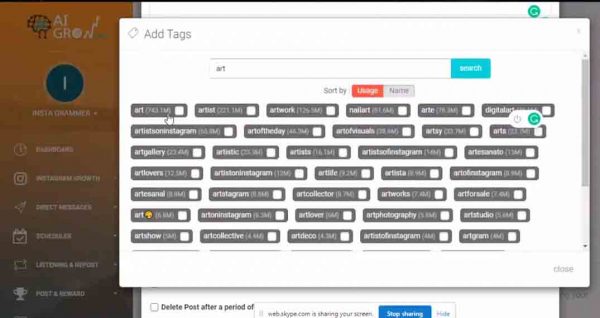 AiGrow provides you the best way to search multiple hashtags on Instagram simultaneously. It'll then find your competitors and niche influencers and implement a feature to send mass DMs to your influencers' followers automatically. 
Moreover, your specialist Instagram account manager checks if you are using Instagram banned hashtags in your post before publishing them to keep you safe and avoid getting shadowbanned. 
Indeed, this app combines hashtag tools and potent Instagram marketing tools to assist marketers. 
This is absolutely fantastic!
Above all, it grants you a lifelong solution if your Instagram hashtags do not Work.
Whether you don't like your hashtags to be visible and make a mess in your captions or stories, Aigrow will hide your hashtags on Instagram. 
The great news is that you can sign up for free and make most of your hashtag features quick as a wink.
AiGrow Vs. Hashtagify in A Glance
To give you a better insight into both tools, I have made a table about their features.
| | | |
| --- | --- | --- |
| Feature | AiGrow  | Hashtagify  |
| Management tool | + | – |
| DM Feature | + | – |
| Search for Multiple Hashtags | + | – |
| Analysis Tool | + | + |
| Find the Right Hashtags  | + | + |
| Get Insights to Plan Ahead | + | + |
| Track Hashtags | + | + |
| Track Influencers | + | + |
FAQs about Hashtags and Hashtagify
Now, you have detailed information on Hashtagify. Here are some common questions that many users ask.
1. Do Hashtags Actually Work?
Instagram hashtags are an efficient way to get more engagement on your posts in 2021. An Instagram post with at least one hashtag makes 12.6% more engagement than a post without a hashtag. Hence, it's worth investing in hashtag strategies to grow your brand.
2. What Are the Best hashtags for Research?
AiGrow is the best way to find relevant hashtags in your niche by following influencers with the same target followers as yours. 
3. How Can You Tell If a Hashtag Is Popular?
Check tools like AiGrow to grant you the most precise analysis and help you recognize which content hashtags are the most popular.
Final Thoughts 
Hashtagify may seem an excellent hashtag tool, though it is just a hashtag tool and an incomplete Instagram app. If you are a marketer who wants to stand out in the competitive digital marketing world, you need a more high-tech tool like AiGrow.