Recently I had a big argument with a pen pal on Instagram and got so mad. I didn't want to restart the debate but needed to check my account. Also, I made a goof and accidentally viewed someone's Instagram story and tried to unsee it. Therefore, I looked for how to appear offline on Instagram to avoid broadcasting my presence on the platform. Indeed, your followers can't see your recent view on Instagram. However, people you follow and who you have direct conversations with on Instagram can view when you were last active.
Your Instagram activity status is turned on by default. However, you can be invisible on Instagram if you don't want to announce when you're online instantly. So, whether you wish to run away from people's eyes and check your Instagram in peace, I'll show you how to appear offline on Instagram.
How to Appear Offline on Instagram?
It's exhilarating to monitor and take action on Instagram while no one is able to see you. Indeed, Instagram's official app lets you turn off your visibility. But what if you want to view other users' stories and post without them knowing? So be patient, and I'll help you find how to appear offline on Instagram and view posts, stories, and DMs on the quiet.
1- How to Be Invisible on Instagram
To turn off active status on Instagram, you need to follow some steps as below:
On Mobile: 
First, open your Instagram app.

Then, tap your Profile (three horizontal lines).

Go to Settings. 

Pick "

Privacy

". 

Select "

Activity Status

" and toggle it "

Off

."
On PC or Browser: 
Go to instagram.com on your PC or mobile browser.

Click the menu icon. 

Then, select "

Settings

".

Click "

Privacy and Security

".

Next, choose to uncheck the box next to Show Activity Status.
That's it! And now you appear offline on Instagram.
However, if you drive multiple Instagram accounts, you must disable the functionality on all your accounts one by one. Indeed, it is a time-consuming process if you are waiting to hear about how you can check posts, stories, and DMs anonymously. 
2- View Posts and Stories without Turning off the Active Status 
If you want to know how to appear offline on Instagram while viewing your posts and stories, I will show you the best way.
AiGrow is the best Instagram monitoring tool that allows you to choose various accounts and inform your actions. 
Have you ever accidentally liked a photo on Instagram and repealing it? The AiGrow monitoring tool is a novel way to track and view someone's posts and stories without turning off the active status.
AiGrow story downloader lets you view an Instagram story without notifying them. 
Only enter the username you want to see its stories in the box, and then tap the search button. Now, you can watch, download and even repost the story.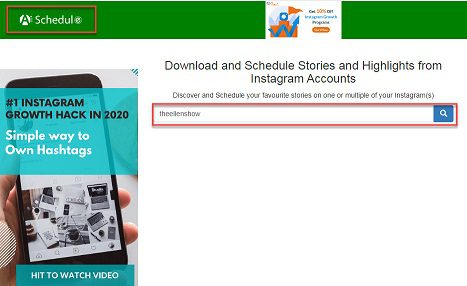 3- Send and Receive DMs Appear Offline on Instagram
Fancy to check DMs without them knowing?
Some tips hint to you to read a DM without being seen, such as disconnecting your internet and checking your message. But this is not the best way, because you can´t stay offline for good. 
However, AiGrow provides you a feature to read the messages without being seen. You may ask how?
You can link your DMs to email on the AiGrow dashboard and send and receive Instagram DMs from within your email. 
Log in to your Instagram account(s).

Then, click on the "Manage Account" button. 

Find and select the "DM to Email" tab and add your email.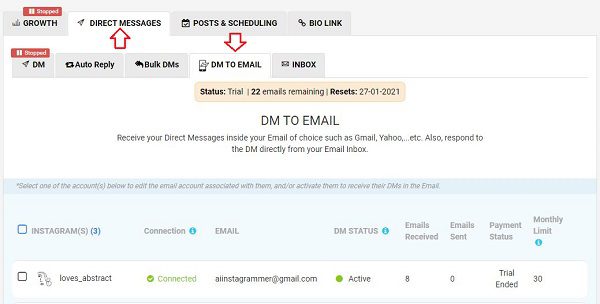 Confirm your Email address from your email inbox.

Instantly, your Instagram messages are connected to your Email address.

Find the "Inbox" tab and click on it.

Finally, you can see all your messages in your email inbox. Here, you can filter your DMs to see the unread, read, or even the sent ones.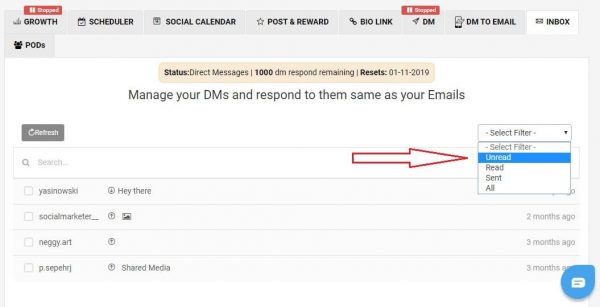 Now, you can read the messages and even send a reply while you appear offline on Instagram. In this case, the messages will never be marked as seen until you open them in the official Instagram app. 
Above all, using AiGrow, you can delete messages from both sides. 
4- Follow People without Being Online 
Have you ever thought about how to appear offline on Instagram and grow your followers? AiGrow is a wonderful app that helps you follow people while you are invisible on Instagram. Indeed, AiGrow is a trusted Instagram growth service that lets you grow followers offline. AiGrow has a group of dedicated account managers that will communicate with your followers according to Instagram's daily limits. No Instagram bots! To make most of your growth tool, go to your AiGrow dashboard and choose ¨Growth.¨
Then you´ll see you are gaining organic followers gradually. Remember that all these processes can be done when you appear offline on Instagram.
5- Sharing Posts While Appear Offline on Instagram
Last but not least, it is fascinating to know that you can share posts while you are invisible on the platform! 
AiGrow is the best scheduler that allows you to perform all these tasks without turning off the active status on Instagram. 
You can add up to 80 accounts to your dashboard and schedule and manage them all simultaneously.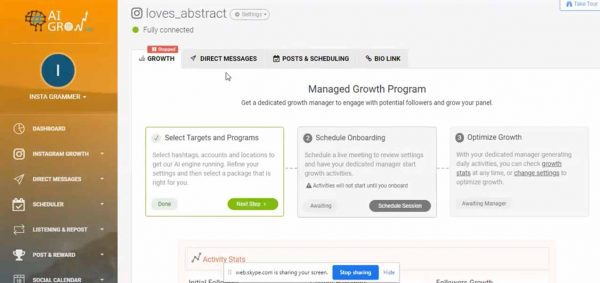 To share posts while you appear offline on Instagram using AiGrow, through the following steps
Select "Manage Account"

Select the "POSTS & SCHEDULING" and "SCHEDULER" tab.

Press the "Schedule" button.

Here, you can select Feed, Story, or IGTV.

After selecting one of the above items, you can upload your photos or videos.

Add captions to your posts.

Search and add your desired hashtags.

Select "Post Now" or pick a time and select "Post in Future."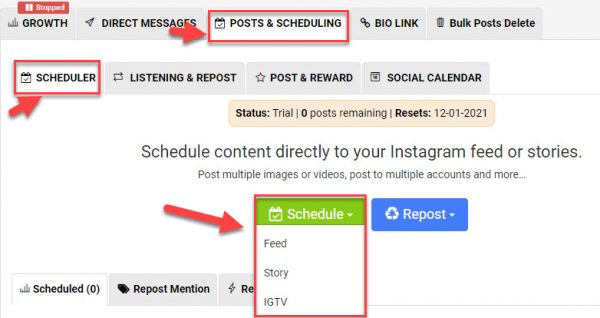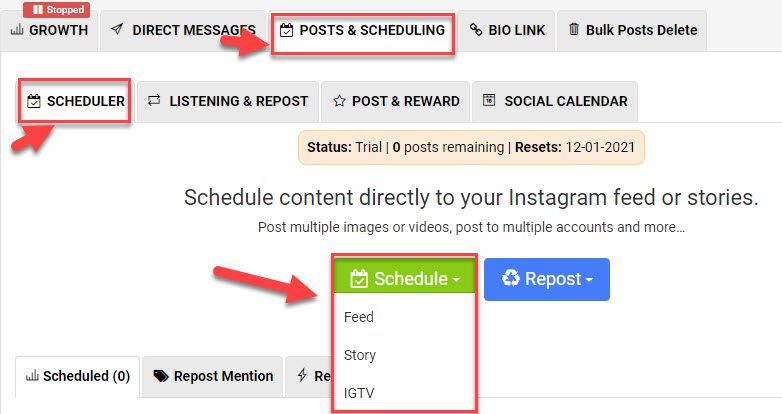 That's all!
This app allows you to feed two birds with one scone! Indeed, on your single dashboard of AiGrow, you can grow followers, schedule your posts, view other posts and DMs while you appear offline on Instagram.
Final Words
Many Instagrammers wonder how to appear offline on Instagram and perform their tasks effectively. Using an IG-friendly multitasking app like AiGrow, you can run your Instagram and be invisible.