Are you considering how to clear Instagram activity? Or need to stop Instagram from tracking your steps on the platform?
Indeed, the Instagram algorithm records every single step you take on the platform. Also, it identifies that if you spend an hour checking on your crush or competitor daily. Then it'll use your data for ads or to distinguish your suspicious attempts. That's why many users look for how to clear Instagram activity.
This article will share some valuable hacks with you to clear your Instagram activity and avoid getting traced. 
How to Clear Instagram Activity? 9 Pro Hacks
Instagram collects up to 25 various categories of your information, from a single edit in your bio to hashtags you follow. A witness of this process is that if you go to 'Access Data' in your settings, you'll notice all your password changes, email addresses, and phone numbers joined to the account, plus more about how you use the app. Actually, you can not prevent Instagram from tracking you, but there are some hacks to bypass it. 
1- Clear Instagram Search History
Instagram saves searches in Search & Explore to make it easier for you to find your favorite accounts and hashtags again quickly. According to Instagram helps to clear your search history on Android and iPhone:
Tap your profile picture in the bottom right of your screen.

Press three horizontal lines in the top right, then tap Settings.

Choose Security, then tap Search History (Android) or Clear Search History (iPhone).

Select Clear All, then tap Clear All to confirm.
2- Clear Instagram Search Suggestions
If you consider how to clear suggested searches on Instagram, you can clear your search history. Indeed you must follow the steps below:
Select

'

Settings' on your Instagram's profile.

Press

'

Security

'

Choose 'Clear Search History' (for iPhone) or 'Search History' (for Android)

Tap

'

Clear All'.
That's it!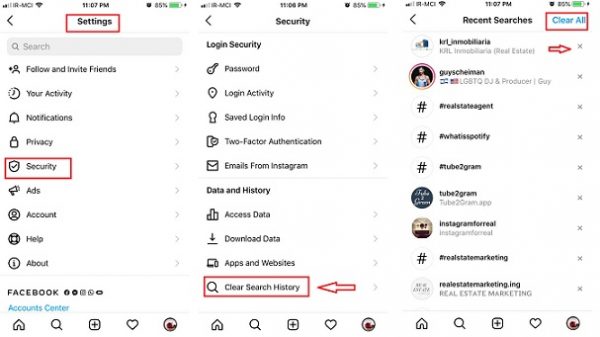 3- Clear Instagram Search History from a Browser on PC or Mobile
Whether you consider how to clear Instagram cache from a browser, follow the instruction below:
Tap

'

Settings' on your Instagram's profile

Press

'

Security'

Select

'

Clear Search History'(iPhone) or 'Search History'(Android)

Tap 'Clear All'.

That's it!
4- Reset Your Instagram Password without a Phone Number
If you have issues accessing your Instagram account, email, or phone number you signed up with, you can reset your account. In this case, follow the instruction below:
Open the Instagram app and enter your latest known email address or phone number.

Press "Forgot password?."

Select "Need more help?."

Track the on-screen instructions to submit a support request.
5- Clear All Your Posts on Instagram
Are you going to renovate your Instagram? or maybe you have changed your products or service, and your previous posts don't match your business. In this case, deleting your posts one by one is a pain in the neck. You may say it's impossible to delete them all in a single action! But I'm here to reveal a hack for you to mass clear Instagram activity according to the Instagram limits. Therefore, you don't have to be worried about getting banned, or action blocked.
AiSchedul is a safe and secure Instagram management service that helps you delete all Instagram posts at once.
This app is an excellent tool that lets you run your multiple accounts on a single dashboard. 
Indeed, AiSchedul provides you features to schedule, publish and delete Instagram posts automatically after publishing on PC and mobile phone. 
Therefore, you can mass delete Instagram pictures by following few steps:
1- Sign up for free on Aischedul
2- Login to your account 
3- Click or tap "Manage Accounts"
4- On your dashboard, click on the "Bulk Posts Delete" tab.
5- Now, pick all the posts you need to delete. 
6- Then, tap "Delete Selected Posts."
Here, you have cleared all your posts instantly.
What if you delete a post by mistake? 
The great news is that AiSchedul awards you an exceptional feature to view deleted Instagram posts and recover them for Free.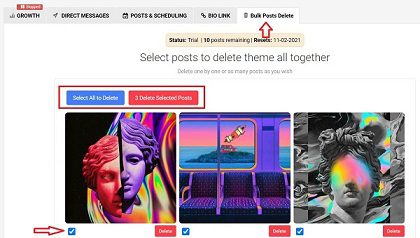 6- Clear Contacts on Instagram 
It is possible to remove the contacts you have connected to Instagram from your phone. It involves names and phone numbers. Joining your contacts lets Instagram provide friend suggestions. However, it collects data on your social media activity. Remember that deleting old contacts won't stop new ones join your phone.
7- Mass Unfollow People
If you want to make a rational ratio between your followers and followings, it's a good idea to mass unfollow people. Also, you may know that many of your followings are ghost or inactive accounts and won't follow you back. Therefore, to clear Instagram followings, you can utilize the best unfollow apps for Instagram in 2021.
8- Mass Deleting DMs to Clear Instagram Activity
Instagram's official app only lets users remove DMs one by one. Therefore, if you want to delete one or a few messages, you can do it on the platform by going through these steps:
Hit and hold the conversation.

Press "Delete

.

"

Then, approve the deletion.
That is the whole process you need to take. However, whether you need to delete your DMs all at once, you need a robust app to assist you in performing this task. Also, if you use Instagram on a PC, you cannot delete your messages one by one.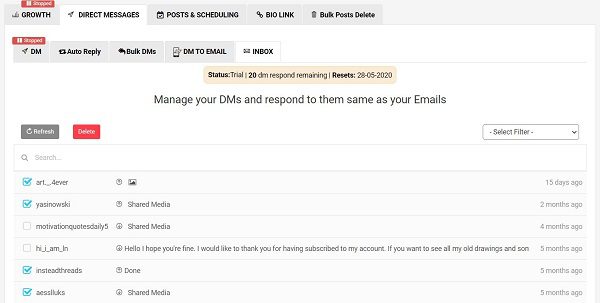 AiSchedul provides you many wonderful features, including mass deleting DMs. 
So to mass delete Instagram messages on mobile and PC, select as many DMs you desire and then press "Delete."
On the other hand, if you deleted DMs by mistake, it lets you instantly recover deleted Instagram messages.
Above all, I'll unveil another exceptional feature that will surprise you! Have you ever made a goof sending a DM to someone and feel devastated about how to repeal it?
Aischedul has a secret method to help you delete messages from both sides. 
9- Use Monitoring Tools to Avoid Accidental Likes and Follows
If you wonder how to clear Instagram activity, I will show you the best way to avoid any sudden and accidental likes and views.
AiSchedul is the best Instagram monitoring tool that lets you choose numerous accounts and be notified of their activities. In addition, it provides the most precise analytical data on your account.
Indeed, many Instagram marketers at least once had an embarrassing situation of accidentally like a photo on Instagram and repealing it. Especially when sneaking a competitor, you may make many goofs.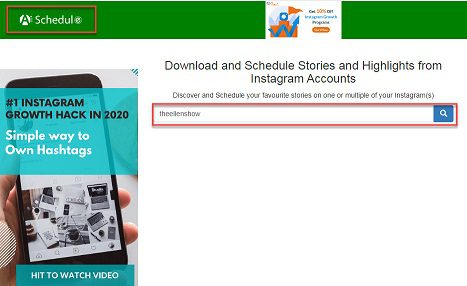 Another great hack for you is to see someone's story on Instagram without notifying them. The AiSchedul monitoring tool is a unique way to track and view someone's posts and stories without accidentally following or liking them. 
AiSchedul story downloader lets you view an Instagram story without opening it.
Only insert the username you want to spy on its stories in the box and then tap the search button. Now, you can monitor, save and even repost the story. 
10- Turn off Your Location 
Your location is off on the Instagram app by default. But if you have turned it on previously, undoubtedly, it has collected your locations when using the app. Therefore, take a quick look at your phone's settings and check if your location is on for Instagram. In this case, turn it off to avoid getting discovered. 
Final Thoughts
Clearing your Instagram search history will help you start from scratch. Also, if you don't like Instagram tracking your steps, it would be good to know how to clear your Instagram activity. Some monitoring tools like AiSchedul will facilitate your performance effectively and help you save time and money.