"How to read an unsent message on Instagram?" We all have been there at least once. Actually, Instagram lets users unsend their messages whenever they want, even the one that was sent more than a year ago! However, those messages may have contained some important pieces of information, and hence, we might want to read an unsend message on Instagram and access them. So, what can we do to recover an unsent Instagram message?
Definitely, one way that we all know is to take screenshots of every single conversation on Instagram and keep them somewhere to read them later. But, what if you send mass DM on Instagram? Of course, this takes a lot of space and also, we might think that it is not necessary to take a screenshot at the moment. Moreover, sometimes the sender may unsend the message right before we read it! So, what do in this case? 
In the following, we answer all these questions and show you how to see an unsent message on Instagram with ease. 
So, stay tuned and learn the hack. 
How to Read Unsent Messages on Instagram?
As mentioned above, Instagram doesn't let you access deleted messages and read them. Actually, in the past few years, there was a bug that would let you do so and that was related to the notifications. Whenever someone sends you a message on Instagram, you receive a notification and at that time, the notifications wouldn't be deleted after unsending the message. But now, this bug is fixed and the notification disappears right after a message is being unsent.
However, this doesn't mean that there is no chance to access the unsend messages. Luckily, there is a free and safe way to access these messages. So, let's see how to read an unsend message on Instagram without wasting time!
Fortunately, there is a third-party app named AiGrow that lets you read and recover deleted Instagram messages.
In fact, AiGrow is a complete package of professional Instagram management tools such as Instagram growth, engagement, and DM management tools that let you become an intellectual Instagrammer and manage multiple Instagram account(s) simultaneously. Using this amazing package of tools, you can:
Schedule posts and stories on Instagram 

Run and automate Instagram giveaway contests 
And much more than this. But now, we want to focus on the DM tools that let you recover deleted Instagram messages easily. 
Actually, AiGrow has a "DM to Email" feature that connects your DM inbox to your Email inbox and lets you unread Instagram messages, read Instagram messages without being seen, and also read unsend Instagram messages with ease. How? Just follow these steps:
#1 Sign Up a Free Account on AiGrow to Read Unsend Message on Instagram
First of all, create a free account from here with your name and email address
#2 Add Your Instagram Account(s)
After signing up for free, on the dashboard, click on the "Add Instagram Account" and log in to your Instagram using your username and password.  Note that you can add as many accounts as you want. So, feel free to do so and manage all your accounts in a single place easily. 
#3 Connect to Your Email Inbox to
See Unsent Messages on Instagram
After adding your Instagram accounts, click on the "Manage Account" button. Then, under the "Direct Messages" tab, open "DM to Email". And finally, add your Email address and change the status to "Active".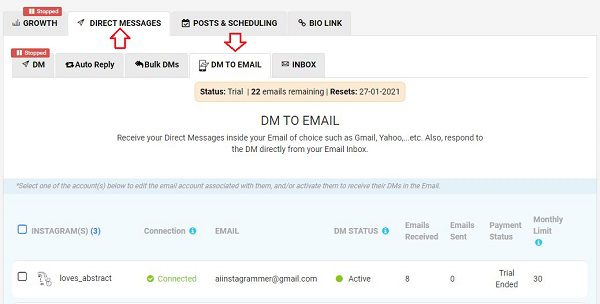 Note that you can change your Email address whenever you want. 
#4 Verify Your Email Address
After saving the changes, AiGrow sends you a confirmation email. So, open your email inbox and verify your account. 
#5 Manage Your DMs From Your Email 
That's it! Now your Instagram DM inbox is connected to your email inbox and whenever you receive a message on Instagram, you will get it by email, and also you will be notified. 
#6 Read Unsend Message on Instagram
By tapping or clicking on each email, you can access all the messages that have been sent to you after connecting DM to email. Also, you can reply to your messages right from here. 
Actually, the email messages will not be updated after unsending some messages, unless you receive some new DMs from the same sender which results in receiving a new email. In the newest emails, you can see that the conversation has been updated and some messages have been deleted. But since the earliest emails are still in your inbox, you can go there, view and read the messages, and even save the photos that have been sent to you after being deleted. 
That's it! So, go ahead, sign up for free right now, and read and recover deleted Instagram messages. 
Is There a Way to See Unsent Messages on Instagram on the iPhone?
YES! Luckily, AiGrow works on every device and operating system. So, regardless of the fact that you are an iPhone, Android, Mac, or Windows user, you have the chance to log in to your AiGrow account and read your Instagram unsent messages. 
Also Read: How to Sort and Filter Instagram Messages: The Complete Guide
How to Know Who Unsent a Message on Instagram?
To be honest there are no direct ways to see who has unsent Instagram direct messages; meaning that you won't get any notifications and unlike Whatsapp, you won't see any messages in the conversation indicating that something has been removed. So, the only possible way would be to check the conversation frequently and see whether something has been deleted or not. 
Read More: How To Recover Deleted Instagram Messages? 5 Easy Ways
Final Thoughts on How to Read Unsend Message on Instagram? 
To wrap it up, Instagram doesn't let users access and recover the messages that have been deleted by the sender. However, in this article, we taught you how to read an unsend message on Instagram by connecting your Instagram DM inbox to your email. So, read the article, try this hack, and leave us a comment. 🙂