Today's post will focus on the Influencer marketing manager job description.
If you are an Influencer or Influencer marketing manager, it would be beneficial to have a guide when trying to find the right person for your business and establish a fruitful collaboration.
These days, influencer marketing has become trendy. So, first of all, brands should find someone to promote their brands on social media with high influence. After that, you should find out the top influencer marketing platforms and marketplaces.
All in all, the best way is to hire an influencer marketing manager or use an influencer management agency.
But the question is how to find a reliable social media influencer manager. Now we are going to provide you with all the information you need about the influencer marketing job description.
Note: Use the Ainfluencer marketplace if you want to reach your target audiences on social media.
What Does An Influencer Marketing Manager Do
Now, let's read about the manager of influencer marketing job description to understand completely the importance of this profession.
An influencer marketing manager is responsible for identifying, recruiting, and managing relationships with social media influencers.
Also, this manager must be able to identify potential social media influencers, reach out to them, and build relationships to boost your business engagement. They must also be able to manage these relationships and negotiate deals.
Influencer managers' job is important because they are responsible for building the bridge between brands and social media influencers.
Without an influencer marketing manager, brands would have a difficult time finding and working with social media influencers.
Also, you should know influencer marketing manager skills with its details if you want to do your job in the best way. So, let's go for it.
Instagram Marketing Campaign Management
An Instagram influencer marketing manager prefers influencers who best fit your Instagram marketing campaign and works out a partnership with them.
They can also search for your brand's desired influencers using the Ainfluencer marketplace's AI search engine, which enables them to find the right Instagram influencers using filters such as gender, location, category, number of followers, etc.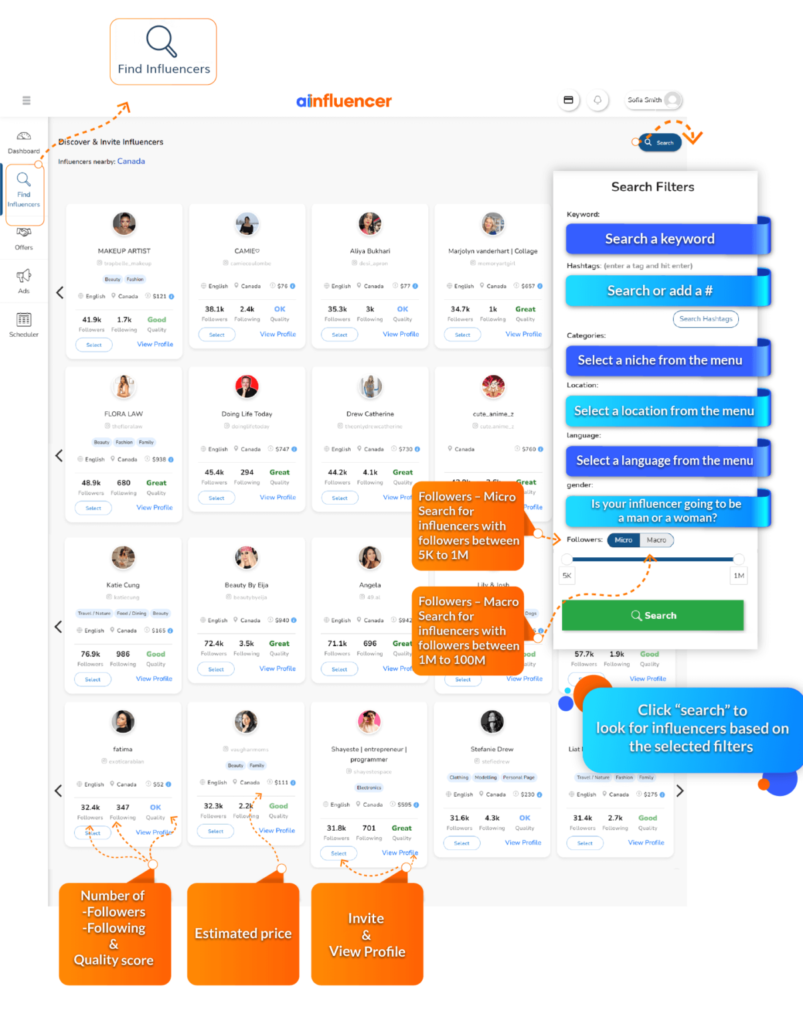 So, it's quite fast and easy to grow as an influencer or find the right influencer for your brand when you use the Ainfluencer marketplace.
Customer Service And Relationship Building
Influencer management is an additional task that's essential for those who have an influencer manager job title. Having effective relationships with influencers is crucial for the success of your marketing campaigns.
You should invest time in establishing connections with an Influencer manager in order to foster the development of your campaigns, so make sure to hire one!
Marketing Communications (Marcom)
Marcom, also known as marketing communications, is the compelling messages and communication methods employed by an influencer marketing manager to communicate with prospective consumers.
Examples of Marcom include speaking engagements and sponsorship of events.
Comparative Market Analysis
As an influencer marketing administrator, it is necessary to have the skill to work as a market research analyst and report on developments related to social media and influencer networks.
This is how a comparative market analysis can be done by an influencer supervisor:
Their influencer strategies combine market research with their Instagram marketing campaigns.
They track engagement rates and other key performance indicators (KPIs) to evaluate the efficacy of their influencer marketing strategies.
They will analyze and review the data they've collected and provide suggestions for improving and optimizing the processes.
How To Become An Influencer Manager
An influencer manager is someone who is responsible for working with social media influencers to promote a brand or product.
If you're interested in becoming a social media influencer manager, here are a few things you should know.
First, it's important to have a strong understanding of social media and how it can be used to promote a brand or product. You should also be familiar with the different types of influencers and what they can do for a brand.
Follow these tips to understand better the influencer marketing job description:
1. Creativity And Innovation
Influencer marketing managers typically need creativity and reliability to resolve any issues that may arise.
2. Leadership
Building confidence, inspiring, and motivating others are several of the most important qualities that need to be mentioned in an influencer marketing manager job description.
3. Campaign Management Awareness
Being a manager isn't always tied to influencer management. It also encompasses realizing the needs of the stakeholders. Moreover, they should have a full understanding of the company's vision, mission, and culture. 
Also, they should be able to monitor the market, and trends, and track the fluctuations in the company's environment.
4. Marketing Communications
Establishing mutually beneficial relationships with clients, active interaction with others, and working with Marcom (formal and informal advertising and marketing communications) are also important skills for an influencer marketing manager.
5. Personal Management
The last necessary skill that an influencer manager needs to have is the ability to coach individuals.
Hopefully, an influencer marketing manager includes a talent for leading individuals and groups, great multitasking abilities, and exceptional resource management skills.
Finally, you need to be able to identify and work with the right influencers for your brand. This means finding influencers who have a large following and are respected by their peers.
If you can do all of these things, then you'll be well on your way to becoming an influencer manager.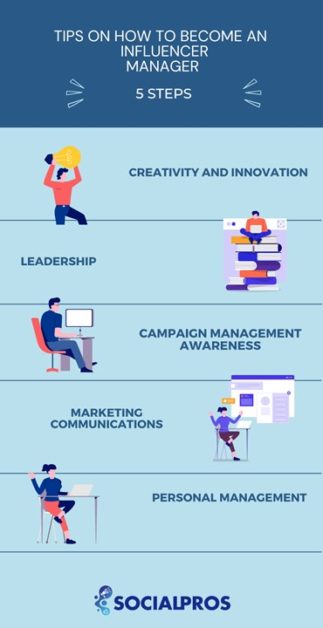 Ainfluencer Can Be Your Personal Influencer Marketing Manager
Now, you know everything about the influencer marketing job description. But we have a good alternative for you to use the Ainfluencer marketplace instead of an influencer marketing manager.
Ainfluencer can work like your personal assistant and run the best influencer campaign for your brand. You can save your money and use the free features of Ainfluencer.
Also, you can save time because the Ainfluencer marketplace has a powerful AI and professional human resources to run your strategic influencer marketing campaign on Instagram.
Moreover, you can find the best Instagram influencers on the Ainfluencer dashboard.
Influencer Features
Ainfluencer has a completely free plan for users.
It is reliable because it tracks the campaign, makes sure an influencer's audience is real, holds funds until you confirm the necessary material, etc. 
This platform is not a simple robot-based app. It has a very powerful AI plus very professional experts to help users discover the right influencers. 
Ainfluencer helps track performance from start to finish. You are able to get real-time analytics and the exact count of likes, comments, and bio-link clicks for each post.
You can find the best brands looking for ambassadors there and top influencers that want to become your brand ambassadors.
Also, brands can create marketplace ads.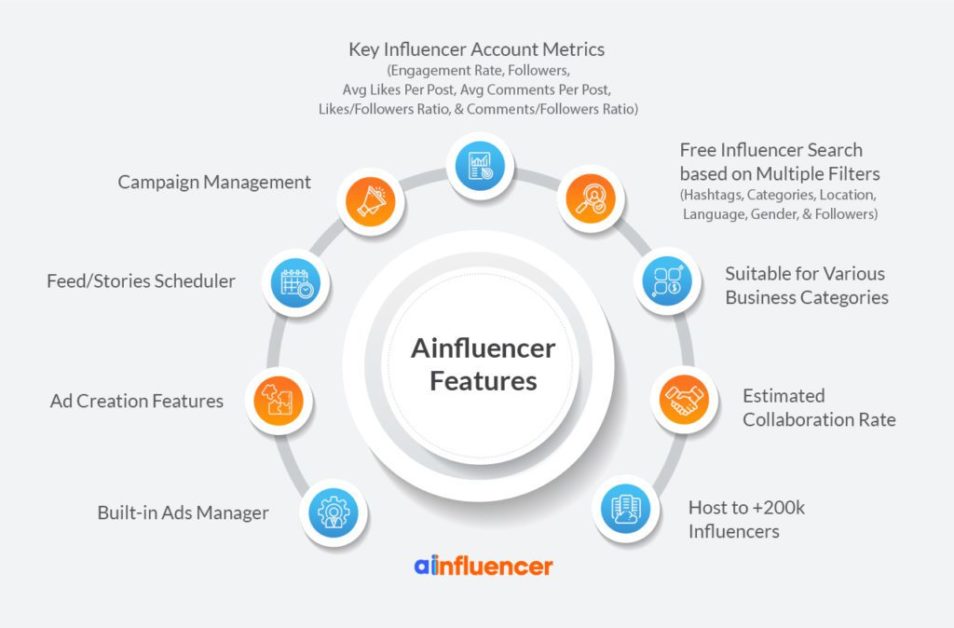 How Does Ainfluencer Work
As we mentioned earlier, Ainfluencer is an online influencer marketplace. It connects brands with the most relevant influencers in the best niches.
So, those influencers help brands to attract their target audiences.
Here is how it works:
Sign up on the Ainfluencer dashboard.
Then, create a campaign on the Ainfluencer dashboard.
Next, select the criteria they're looking for in an influencer.
Following this, Ainfluencer will match you with a list of potential influencers.
So, you can choose between those candidates.
If you want to know more about the Ainfluencer marketplace watch this complete and useful video.
FAQs on Influencer Marketing Manager Job Description
Now is FAQ's turn! Let's read the questions people also ask about the topic.
#1. How Would You Describe Influencer In Marketing?
This is a kind of social media marketing. Influencers are very influential people on social media.
So, they advertise products and services to encourage their followers to be a customer of the brands that they promote.
#2. How Much Do Influencer Managers Make?
Based on the research about influencer manager jobs, it is said that they make between $88,000 to $102,000 per year.
Conclusion
All in all, we provided you with a complete guide to influencer marketing job description and every aspect of their job.
Also, we talked about the best influencer marketplace instead of hiring influencer marketing specialists because this platform does everything that you need to run your influencer campaign to reach real audiences.