Once you start building your brand on Instagram, your followers are your business's most precious property. That's why many marketers do everything to grow their followers to rescue their business. What matters on Instagram is real followers! Sometimes you succeed in increasing your IG followers organically. But after a while, you realize you are losing your Instagram followers for no reason. On the other hand, you may have many followers, but your engagement rate is too low. That is, your followers do not comment, like, or take action on your posts. Instagram followers generator is a word you may hear a lot in the world of social media marketing.
Countless rumors have spread out about fake Instagram followers generators. Many of them promise to increase your followers, but not all of them guarantee real followers. That's why I decided to have meticulous research about the Instagram followers generator and gather all information in this article. So, let's dive in.
What Does An Instagram Followers Generator Do?
Instagram follower generators are the tools that assure you to gain a specific amount of followers within a particular time. In other words, they are Instagram followers apps that promise to deliver a desirable outcome. For instance, '300 Followers per Month! Unstoppable Ways to Grow on Social Media.'
Of course, it is, to an extent, tempting to get a free Instagram followers generator and gain lots of followers. There are plenty of apps that may cost less than a KFC basket, and they guarantee to boost your followers and increase your engagement rate.
Is an Instagram Followers Generator App Legal and Safe?
Many Instagram followers generators will ask you for detailed information about your account, making them insecure and unsafe. 
In fact, according to the Instagram term of use, an Instagram followers generator is not illegal. However, many of them will waste your time and money because the followers they gain for you are not real.
Actually, a massive number of your followers are fake or Instagram bots. That's why after hiring a service, your engagement rate is still low. Inactive Instagram followers never take any action on the platform or engage with your feed. If you hope someday they will buy from you, you are just dreaming!
Even if you use their free, real IG followers trial, those followers are unlikely to stay loyal customers because they may not be interested in your feed. 
One of the main issues of gaining loyal followers is attracting the audience in your niche. On the other hand, the Instagram algorithm will identify if you are using an Instagram followers generator and delete the comments, likes, and follows of any 3rd party apps. 
Therefore, you will take a high risk if you even hire an Instagram followers generator with no survey! Then how could you generate followers without a free Instagram followers generator?
No worries. I have the best solution for you! An all-in-one Instagram management service will help you grow your real followers organically.
Don't Use an Instagram Followers Generator! Use This Organic Growth Service Instead
AiGrow is the most potent and safe Instagram Growth Service available in the market. If you know how to exploit this excellent platform, there's no need to waste 5$ buying fake Instagram followers.
This platform provides an expert Instagram account manager who tracks your social growth and directly interacts with your followers according to Instagram's daily limits. 
Therefore, you don't need to use an Instagram followers generator app or buy followers. Indeed, the AiGrow account manager will grow real followers for you, resulting in high credibility and brand reach. No bots or fake followers!
The great news is that you can manage your dashboard from your mobile and desktop, a unique feature!
It is actually the best app to gain 8000 followers on Instagram and get more engaged audiences.
So to start your organic growth on Instagram, go through the steps below:
Select 'Manage Account.'

Click on 'Growth'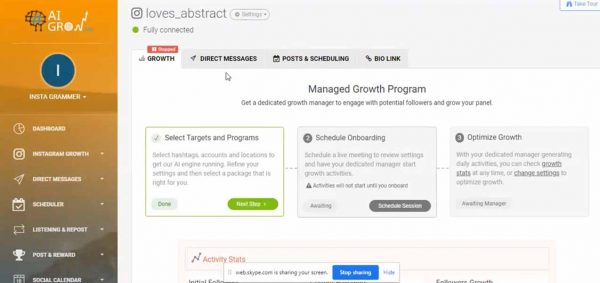 Then, select your targets and programs.

Schedule your desired plan

Optimize your Instagram Growth
It is excellent to target followers based on their hashtags, location, or the accounts they follow. Then, a team of experts will evaluate your account and use new ways to get followers on Instagram. All the process is manual and safe, and after a while, your followers will turn to your loyal customers.

If you face any bug or issue on the platform, which may happen sometimes, your account manager will resolve the issue ASAP.
AiGrow holds numerous other features, including:
Increasing your credibility and brand awareness.
So, don't waste your time with any Instagram followers generator apps.
Get started with AiGrow now!
FAQs about Instagram Follower
Now, you have vast information about whether an Instagram Followers Generator works or not. So, let's discuss some common questions:
1. How can I get 1000 followers on Instagram?
Luckily, we have given a complete answer to this question before. But if I want to answer this in a few sentences, I should say yes! You can get 1000 followers on Instagram organically using growth services like AiGrow. So, sign up for free and give it a try to see a quick rise in your Instagram engagement rate.
2. Can I get fake followers on Instagram?
You can get fake followers. But as mentioned above, they bring no value to you. On the other hand, hiring AiGrow will get you natural followers and boost your engagement.
Final thoughts
An Instagram Followers Generator may seem helpful to drive followers to your account. However, Instagram marketers must avoid the likely risks that threaten their credibility and brand trust. So think on a grand scale and hire a reliable Instagram growth service like AiGrow.