If you're a realtor or work in the Real Estate industry, this article is dedicated to YOU. "Instagram for Real Estate" is an excellent strategy to help you to master digital marketing for real estate, specifically for your enterprise. I have communicated with numerous realtors and understand your industry, your marketing challenges, and the unique sales approaches that work for professionals like you. After extensive research, I have developed new ideas to help you build your brand and get more sales on Instagram.
In the following, I'll share some exceptional tips for Instagram for Real Estate marketing. Then I'll introduce fantastic real estate social media management tools that you can make the most of. 
Premier Tips for Instagram for Real Estate
It's no big secret, but make sure to go through all the below tips to help you make an Instagram, particularly for your Real Estate.
1- Cooperate with a Good Agent
Look for a few excellent Real Estate agents for your newly launched Instagram marketing business. Now Instagram can help you grow your business while earning a passive income for your agent as well. A win-win deal, right!
Consequently, search for Real Estate Agents who are passionate about Real Estate, use social media daily, and love to collaborate with others.⠀⠀⠀⠀⠀⠀⠀⠀
If you currently have such coworkers that can help you in your new path, invest in their digital marketing education to build a solid marketing group. 
2- Build up Engaging content on
Instagram for Real Estate
A key success factor for your real estate Instagram marketing strategy is your content. Enrich your content with trending news, home accessories, and materials information. Today's buyers know exactly what they are looking for. So mention all the details and write an engaging caption. Also, forget about cliches and cash in on your creativity to absorb content and increase engagement rate. The more information you provide on Instagram for Real Estate, the more they see you as the expert and professional in your market.
Tell A Story
Don't say, "the house has a big yard." Instead, share the details with attractive words like, "The house has a large yard, perfect for a lovely gathering and memorable summer barbeque with friends and family." Plus, ask the previous owner or renter about what they liked most and add them to your ads.
Make a List
Describing your case, make an organized list of the house or the flat's characteristics. 
Use brand names when describing appliances.

Avoid these overused listing words: Stunning, Contemporary, Immaculate.

Phrases like "motivated seller" have slow sales by about 10%. These words move real estate 15% faster: Landscaping, Beautiful, Gorgeous, Exquisite.

Consider your local area and include details about your town, for instance, nearby Bondi beach, proximity to attractions, etc.

Make sure to check spelling and grammar when writing your captions. If you are also studying while running your business, you can use

the essay writing service in Australia

to get ahead. Good writing reflects how seriously you take your business and your willingness to address potential clients coherently. 
3- Post Frequently on Instagram for Real Estate
Instagram Marketing is a race, not a sprint. The more you work to optimize your presence, the more you'll improve your instant results. It's a circle, and you need to feed it to keep it moving. Therefore, it is essential to plan your content with the best Instagram content calendar for free. In this case, you don't have to worry about missing a day or forgetting to post at the best time of the day. Instagram can function as a brilliant extension of your portfolio and offer potential homeowners an experience of what their next home could feel like. It is vital to post constantly to keep in touch with your audience but avoid repetitive posts. Indeed, you can share your visits, sales, and customer satisfaction. 
4- Host Giveaway and Contests
Another way to draw followers is to host giveaways on your Instagram account. You can ask your audience some questions about your business and hose holdings and prize the winner who gives the best answers. Also, you can ask them to follow your account or like and comment on a specific post. Moreover, it is a good idea to consider bonus entries for tagging a local friend! Above all, Instagram photography contests are excellent suggestions for real estate. Ask your audience and clients to take pictures of their apartment or house, then pick and prize the best photographer.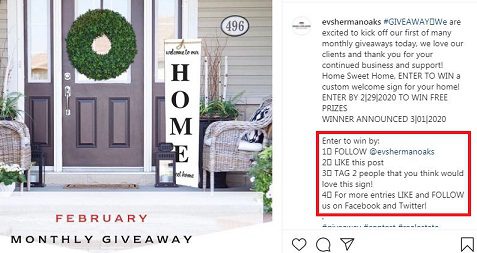 5- Make most of Stories and Highlights
Many Instagrammers only check stories and don't bother to scroll down their page to view other posts. So do not underestimate the impact of stories on Instagram for Real Estate followers. It would be best to make stories of your visits and some exciting negotiation with your buyers. Also, you can repost the Instagram story of your successful competitors. 
Try to spice up your content by making custom Instagram stickers for stories. 
Highlights
Highlights are such a fantastic way to improve your Instagram account with content that promotes your business. It also helps new businesses and potential followers get to know you right from the moment they click on your profile. Highlights are an Instagram version of your website. At a glance, followers can see what you're all about without even having to leave the app.
6- Establish Your Video Goals
Videos are now the most powerful content type on Instagram marketing for Real Estate. Therefore, take advantage of IGTV video, a newborn feature that allows Post Long Videos on Instagram. One helpful trick is to look at your overall marketing roadmap to focus on your upcoming launches. Then create campaigns and map platform-specific video inputs back to them. 
7- Upload High-Quality Photos
We all know that Instagram is a picture-based social media! On the other hand, Instagram for Real Estate will multiply the essence of posting high-quality photos on your page. Primarily, buyers watch the images of a house or flat then decide to check the details in the caption. According to James Durr of UK-based professional auction house Property Solvers: "we've found that posting pictures of properties we've sold for clients on our Instagram pages works really well. If we can include a natural image of the client, then even better!"
Therefore, it is vital to hire a professional photographer for your content and for YOU to brand yourself throughout your Instagram for Real Estate account to market yourself and your business. ⠀⠀⠀⠀

⠀
8- Analyze Your Instagram Activities
Insights on Instagram are a crucial tool to use in helping attract and analyze who your audience is and what posts generate more engagement and which aren't. Instagram insights can even tell you when the best time is for you to post on certain days. Also, don't forget about your competitor's and followers' analysis, as this is the best way you can follow their steps if they are successful. On the other hand, you will identify what your followers exactly demand. Also, get the US to rent control report that includes a comprehensive Rental Background Check that does not require tenant involvement. 
⠀⠀⠀
9- Communicate with Your Followers⠀
Never ignore your followers, as they are the most precious property of your Instagram for Real Estate! It is essential to communicate with your audience and clients to build credibility and brand trust. Therefore, consider the following tips to make a good connection with your followers:⠀⠀⠀⠀⠀⠀
Use CRM software to keep you organized in your business. 

Reply to your comments and Instagram messages of your followers. 

focus on quality, not quantity

Be Consistent⠀⠀⠀⠀⠀⠀⠀⠀⠀⠀⠀⠀⠀⠀⠀⠀⠀

Show your Personality⠀⠀⠀⠀⠀⠀⠀⠀⠀⠀⠀⠀

Send gift cards using

mass DM on Instagram

.

Balance personal and business posts⠀⠀⠀⠀

Give a variety of information to your audience.⠀⠀⠀⠀⠀⠀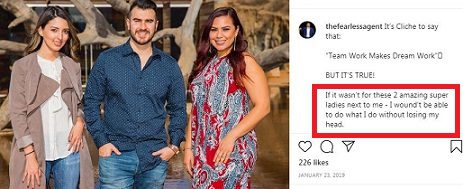 10- Use a Potent Instagram for Real Estate management tool⠀⠀
Last but not least, it is requisite to hire an Instagram for Real Estate management tool that contains multiple features to help you run and monitor your account.
RealtorMate is an Instagram marketing service for Realtors that lets its members access its powerful and easy-to-use tools. Therefore, you can create and post content, repost, run contests, monitor mentions, and link your posts.  
This app starts by renovating your page or building it from scratch by creating a professionally designed page template.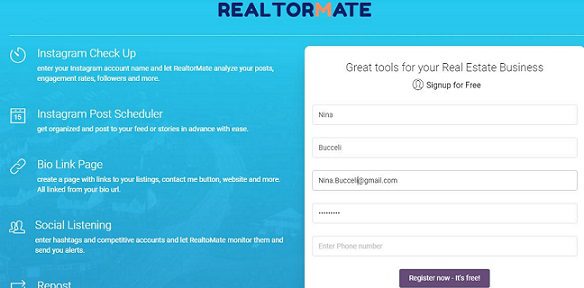 Moreover, its dedicated growth service is the first Instagram solution for busy real estate professionals. Indeed, its AI technology will target your ideal users based on interests, location, or even competitor accounts.  
Just sign up for free and let the RealtorMate managers perform manual growth activities (likes, comments, follows) every day to grow your followers organically.
Final Thoughts
Instagram for Real Estate is the best strategy to stand out from other Realtors in your area. Moreover, using a powerful Instagram for Real Estate tool, you can do a strong business on social media.⠀⠀