Once upon a time, you build your brand on Instagram, hoping to be popular and make big bucks. However, your brand is not as visible as you desire to make huge money for you. So, you keep observing competitors whispering with envy,' I wish I could know their secret!' I can reveal for you; Instagram Hashtag Cheat Sheet is one of their secrets to success. 
Instagram rose to fame as a photo-based social media platform since the first launch in 2010. Therefore, many industries start rushing to it to grow their business on the platform. Hashtags have an essential role in increasing the reach and visibility of your brand and product among users. 
That's why I want to help you provide an Instagram hashtag cheat sheet to make you fly off the chart.
Why Is Instagram Hashtag Cheat Sheet Important?
As mentioned above, hashtags make you more visible on Instagram. If you use hashtags correctly, everyone who has hashtag research Instagram will notice you. This is precisely what an Instagram marketer craves. Since it will lead you to get more followers, likes, and comments and eventually boost your engagement rate. As Instagram prioritizes the feeds considering the engagement rate, hashtags will show off their values here.
Therefore why not create an Instagram hashtag cheat sheet to make instant views and results? Sometimes it's worth cheating!
How to Make an Instagram Hashtag Cheat Sheet?
It is not difficult to make an Instagram Hashtag cheat sheet, but it needs a plan and perseverance. Here, I have gathered the step-by-step strategy to give you insights into Instagram hashtag research. So that you will show up on Instagram explore page.
1. Pick the Best Instagram Hashtags in Your Niche
Collect all the hashtags you think you can use to expand your business in any field. In the following, you will read some hashtag ideas you can consider in your posts:
Viral hashtags:Use hashtags that have over 300k posts.
Popular hashtags:

Make most of

the hashtags that are between 10k-100k posts.

Niche-based hashtags:

It is essential to do hashtag research on Instagram related to your niche and industry. For example, if you are working in the fashion industry, select the words like #outfitoftheday #fashionaddict #fashionistas #fashionweek #fashionstyle #

fashionable.

Location-based hashtags:

If you own a local business, do not forget to mention your city and local region. Also, you can note other famous businesses around you. So if people search their names, your post will come up.

People hashtags:

It is best to insert the celebrities' and

Instagram influencers

' names in your posts. People adore influencers, and this may cause your post to be more visible when they perform Instagram hashtag research.

Brand hashtag:

Use your brand and account name as a hashtag. I bet you if you go through all these tips, someday you'll be a popular hashtag too!

Event Hashtags:

It is an excellent idea to apply

hashtags for Instagram events and find the best ones

. For instance, if you have an accessory brand, #Woman'sday is a great occasion to make a hashtag and apply it to your related feed. 

For this, we also recommend you to use

AiGrow

, a complete package of Instagram management and growth services that has a professional AI hashtag research tool. Using this tool, whenever you enter a hashtag, you'll get a list of all related hashtags with 50K+ followers. So, you can make sure that you're using the right ones!
2. Avoid Using Banned Hashtags in Instagram Hashtag Cheat Sheet
This is a crucial part of Instagram marketing, and you must know banned hashtags on Instagram & stay safe. Otherwise, your posts won't be exposed to the audience, and the platform will shadowban you according to Instagram's Community Guidelines. 
To keep yourself updated about Instagram banned hashtags and avoid using them, we suggest you hire an Instagram account manager. Hopefully, AiGrow offers you a dedicated account manager who will take care of every single action on your Instagram accounts and will guide you on getting better results. So, you can make sure that using this service, you'll never use banned hashtags.
3. Subscribe to the Google Trends Newsletter
You can also subscribe to the Google trends newsletter to get knowledge about hashtag research for Instagram. Google Trends provides its users keyword-related data, including search amount index and geographical information about search engine users. Also, it sends you brief information once a week to keep you updated.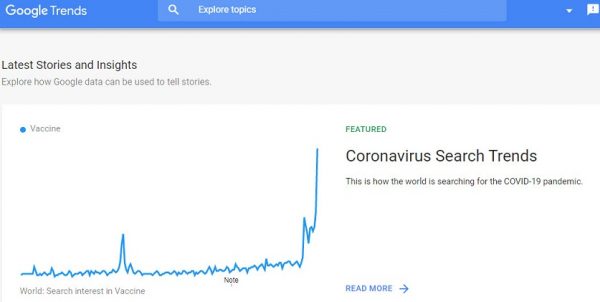 4. Use Detailed Hashtags in Instagram Hashtag Cheat Sheet
You may think tiny hashtags are effective! However, Instagram doesn't count small hashtags. As much detailed as your hashtags are, your post will be more reachable on the platform. Many users do hashtag research specifically about what they need, for instance, #InternationalArtistMagazine or #Sundayfullbodyworkout. So you will win Instagram hashtag research if you use very detailed hashtags.
5. Hide Hashtags
You can learn how to hide hashtags on Instagram if you don't like how they look in your posts and stories. You are right if you think it will be a mess applying many hashtags in your feed. Therefore, you can cover them behind emojis and texts so that they won't be obvious.
6. Check Your Competitors
To make an Instagram cheat sheet, you will rock if you monitor your successful competitors. Because they have just reviewed what you are going to examine. Indeed, they paved the road for you to jump to the conclusion. Therefore, have a competitor analysis, look up to them, and make most of their experiences. Cash in on their hashtags, and this is how you can make a shortcut to your success.
7. Use Hashtag in Caption And First Comment
Some may ask if it differs you put your hashtags in your post or your first comment, but it doesn't matter. By applying hashtags in the caption or first comment, you can 'show' your post to more people than your followers. 
It is vital to pick the proper hashtags! Then, if the hashtag is relevant to your post, you will rise to that hashtag's top posts. In this case, you will garner several views, comments, and followers. You can even add hashtags to your post days after posting and rise to rank on that hashtag.
8. Apply Hashtags in Your Stories
Many Instagrammers only check stories to get a quick update on your feed. Then, please do not underestimate the impact of stories and adding hashtags to them. Additionally, if you do not like the look of hashtags in your stories, you can hide them behind the emojis. That is, you can make them more fun. 
9. Use the Best Instagram Hashtag App for more Followers and Likes
If you crave for making a real shock on your Instagram engagement, I highly suggest you look into the Best Instagram Hashtag app for more Followers and Likes. 
Unfortunately, the official Instagram app doesn't have a feature to let you make your Instagram cheat sheet. So, you will need a safe app to assist you with this.
AiGrow is the most potent Instagram management service to grow your brand on Instagram. However, in this section, I am going to elaborate on its hashtag features. So make sure to study the AiGrow review to learn about its other features and services.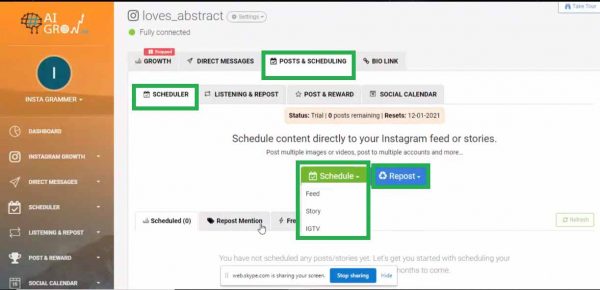 Using AiGrow, you can do Instagram multiple hashtags research, make hashtags groups, and save them. It is terrific that this app lets you save hashtags on Instagram to save time.
Of course, it will be your most handy Instagram hashtag cheat sheet ever. Then, it applies hashtags in the caption or first comment as you wish. Moreover, you can easily hide hashtags in your posts and stories.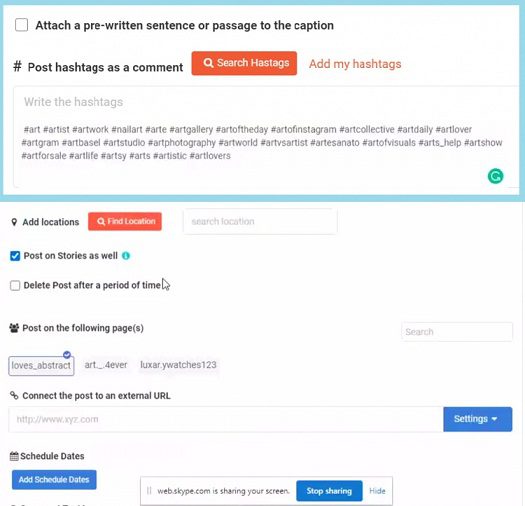 Furthermore, your expert account manager will check if you are applying banned hashtags in your post before publishing them. 
Most importantly, if you are shadowbanned now, it will help you fix it instantly. 
Above all, AiGrow awards you a lifelong solution if your Instagram hashtags are not working.
So sign up for free and draw on its hashtags feature. 
Then, below the growth section, choose the hashtags that best describe your niche and save them. So you will make your own Instagram hashtag cheat sheet. 
Final Thoughts 
Instagram hashtag cheat sheet will ease your tasks like a superhero. Remember to tag people in your posts to extend their exposure on Instagram. Moreover, a potent Instagram hashtag app will generate more views for you.