Looking to generate more real estate leads? Are you wondering how to do real estate marketing on Instagram? If yes, this guide is the only thing you need.
Real Estate marketing is a favorite topic for many realtors globally as they can make a killing there. However, it is a tough cookie, as it's highly competitive, making it difficult to gain people's trust. We have had extensive research on real estate, knowing that the integration of real estate and digital marketing will multiply your outreach and revenue. On the other hand, Instagram is a fast-moving social media that many marketers cash in to grow their business efficiently. Therefore, if you are a realtor Instagram for real estate would be a magnificent strategy to consider in your business plan. Instagram is an agile platform to showcase the pictures and videos of all property types vividly. People can take out their mobile phones and check your feed, and if a case catches their eyes, they'll call you right away.
Therefore, if you crave to build your brand and get more sales on Instagram, stay with us to grant you a complete real estate marketing guide.
How to Do Real Estate Marketing on Instagram
In a survey, US marketers indicated that 14.9 percent of their marketing budget was devoted to social media marketing. This actually shows the essence of real estate marketing on social media platforms like Instagram. On the flip side, 83% of all home buyers demand photos of properties online, but only 14% of realtors are on Instagram. As a result, customers lack more realtors on social media, and if you perform your tasks accurately, you will make huge bucks and bring the bacon home.
Now, if you are willing to start Instagram marketing for your real estate, then let's dive into the best practices to skyrocket your business.
#1 Set Your Objectives of Real Estate Marketing
What makes you advertise your business on Instagram? Are you looking for renters or sellers? Do you want to sell lands or spacious villas on a beach? Are you providing small home offices and flats for students and employees? Wanna know how to sell a house on Instagram? Or maybe you want to attract people's attention to an intact location to spend their retirement there.
Setting up all your chicks in a row and defining your goals in advance will help you identify how to advertise your brand effectively. So you will stay on the right path carrying on your marketing strategy.
#2 Configure Your Local Area
As a realtor trying to find your place on Instagram, it would be best to clarify your local area to be accessible and boost your reach. Therefore, you can pin your location and add your zip code to your business profile. Also, you can add the location that your audience is mainly located. In this case, they'll find their target flats or villas in desired locations easily.
#3 Search for Relevant Hashtags
You may not believe it, but Instagram posts with at least one hashtag get 12.6% more engagement than those without! As a result, adding hashtags to your feed will increase your outreach and drive attention to your content. Also, they help you categorize your feed. Usually, you can apply up to 30 hashtags in each post, but the optimal number is 11. It would be helpful if you consider top Instagram hashtags to boost engagement. Besides, you can create your branded hashtag campaign that includes a giveaway to get people chatting.
But if you are not a risky person and want to stay safe, keep an eye to avoid banned hashtags.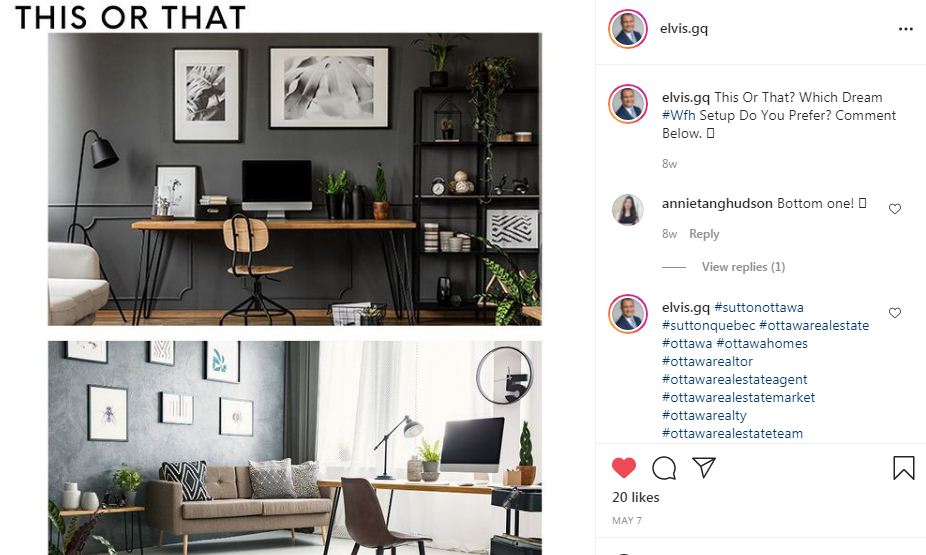 #4 Make Carousels
For a real estate marketing agency or furnished short-term rental listing for example a pet-friendly short-term condo in downtown Toronto, Instagram carousels are fantastic to show your folks what you grant them vividly. Carousels let you showcase your properties in a slide show format like a catalog. You can easily resize your images without cropping and upload them in one post to let your audience scroll and see multiple aspects of a house or apartment.
#5 Make your Ads Alive by Videos
According to a survey, videos receive more than 400% more inquiries than other Instagram posts. Therefore, if you have a dreamy palace to show your audience, take your camera and create a high-quality video. Also, using some tools, you can create and share Instagram videos collage like a piece of cake. By creating videos, you help people see how their future home would look and make up their minds to pick the best option. Another advantage of video posts is that you can showcase a lifestyle to your audience and entice them to imagine themselves there. This is an efficient method to turn your audience into a buyer!
Real Estate Marketing Ideas on Instagram
Now, it's the time to draw on the best real estate marketing ideas to bring fun, enthusiasm, and creativity to your feed. The best real estate marketing agencies on Instagram are the ones that take their time to mix all the exciting ideas to build a brand awareness campaign and the best account they could. So let's see some of them.
1- Share Your Successes and Customers Satisfaction
If you are a realtor looking for real estate marketing ideas, put yourself in customers' shoes and think about what makes you trust a real estate marketing agency?
Nothing will positively affect your potential customers like watching a buyer's satisfaction in their new home. These testimonials will increase credibility and brand trust among your followers and customers. Indeed, they are going to make a critical decision for their future, relying on you. Therefore, make sure to ask your happy clients to talk about their recent experience of buying or renting a property through your real estate agent. This is also a unique method to stand out in the competitive battlefield of Instagram marketing.
Look how happy is the client of @Fearlessagent!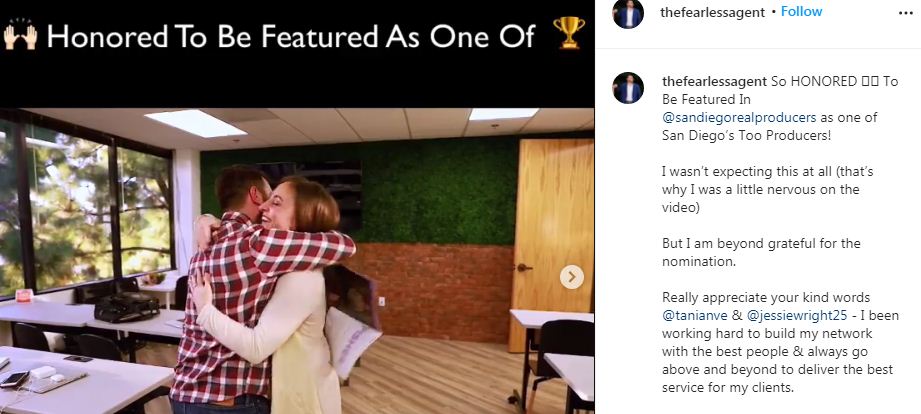 2- Local Restaurants and Funny places
To spice up your Instagram feed and stories, make an Instagram Live report on local restaurants and places that people of various age types could gather together and have fun. Therefore, share live photos and videos of the atmosphere and gastronomy of the local area. Also, it would be interesting to tag the restaurant or cafe you are enjoying their food and talk about the prices and menu. See what Tiffany shares with her folks: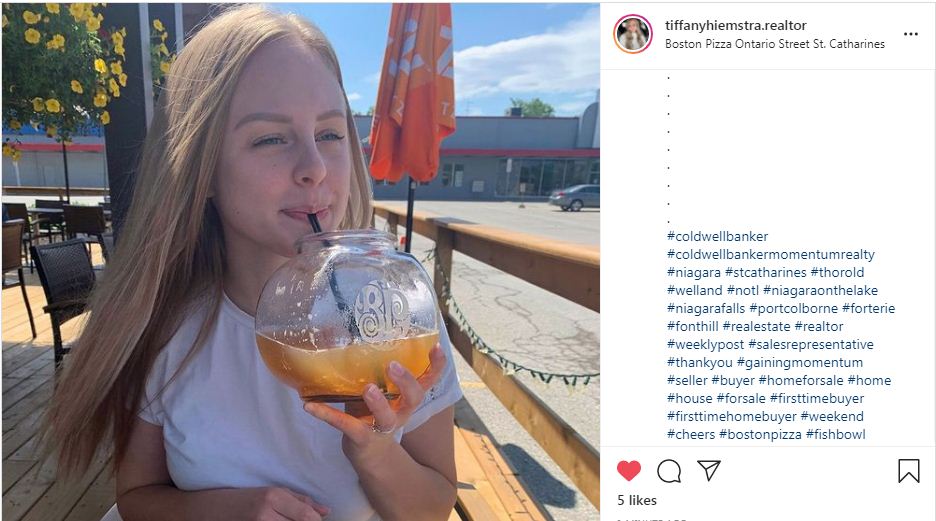 3- Introduce Your Team of Real Estate Marketing
Many Instagrammers are interested to know what's going on behind the scenes. So make most of this opportunity and share your meetings with your audience. Introduce your team, highlight details about yourself and your team, and tag them in the post. Also, show them how much you adore your teamwork and the strong bond among you. As much as they know you and your coworkers, they get more interested in asking for your services and trusting you. But try to keep things on the positive side and don't complain about how difficult it is to be a real estate agent.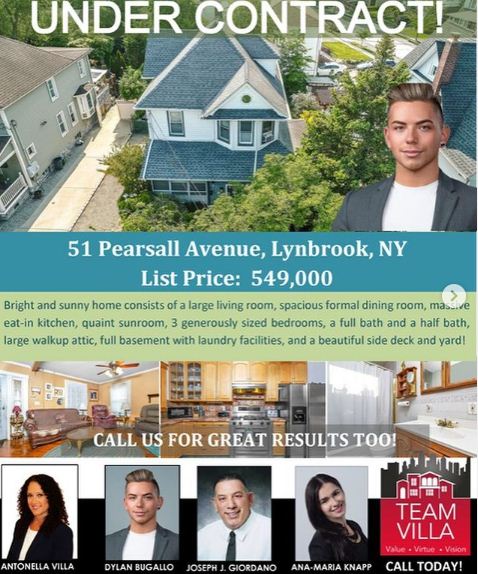 4- Show Your Pets
People love watching cute pets on social media. So if you or your colleagues take care of animals or pets, share it with your audience to get to know more about your personality. Also, upload some funny pictures and videos of your moments with them and ask them to share their same experience. In the following image, you see Elvis posted a cute Terrier on his professional page.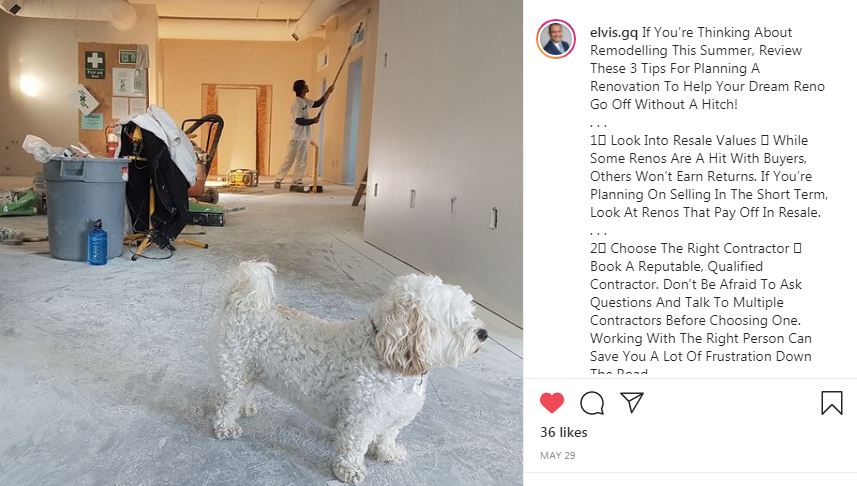 5- Share Your Personal Life
If you just said yes to the love of your life or got married, share it with your audience. Don't be afraid of getting personal and let them know you as a friend, not only a real estate agent. The more they know about you, your character, and your personality, they will be more willing to rely on you and work with you. Also, you can add music to your Instagram post to pep it up.
Have you got kids in your life? If yes, share their picture and talk about how you feel about your parenthood. Sharing funny anecdotes and images will engage people who love to see cute kids. However, keep in mind not to bore your audience with constant personal posts.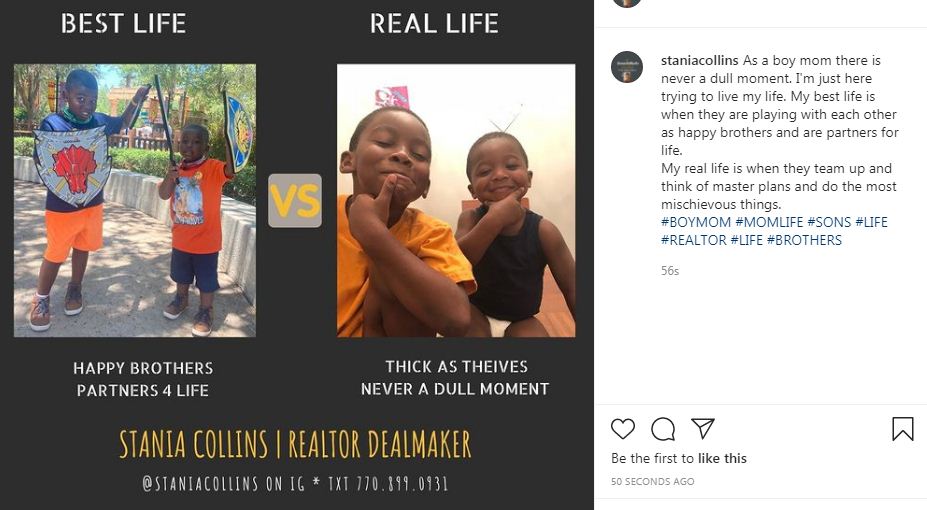 Real Estate Marketing Plan for Instagram
A real estate marketing plan is a complete document that represents your marketing strategy, budget, target audience, and predictions for the coming year. Indeed, a real estate marketing plan aims to build a detailed plan of action for your business's marketing purposes.
What's the secret behind a successful real estate marketing plan? It's all about having efficient and precise techniques.
Step 1: Layout Your Marketing Goals
Be a marketer who learns from the lesson of their past to build their future. Therefore, start by looking at your past stats, such as the numbers of your deals and marketing expenses. Also, evaluate the demands of the local people to check out what they wanted more. This method helps you set up performance goals and objectives for the following year. You can plan for success by setting your marketing goals to reach buyers and sellers in your local area in a tactical way.
Step 2: Determine Your Target Audience
After clarifying your goals, let's Identify who you want to attract, buyer or seller?
As a real estate marketer, it is essential to take your time describing your ideal target client in detail. So design one or two extensive groups as your target audience to increase your ROI and revenue. Identifying your target audience clearly will help you in your marketing approach.
Therefore, try to find out some specific information like:
Location

Gender

Age

Income

Lifestyle

Buying Experience

Family Size

Interests & Hobbies
You can build a solid real estate marketing plan and strategy recognizing the above items. Also, you can leverage behavioral marketing to grow your business.
Step 3: Define Your Core Competency
As you know, real estate is a dog-eat-dog marketplace, and you see at least one in every local area. Therefore, to stick out in the crowd, you need to focus on your exceptional strengths and qualities. Try to evaluate other investors marketing efforts and recognize what you can "bring to the table" that others can't? So you can get local followers on Instagram.
Step 4: Know Your Location
Local marketing using Instagram needs a guide. It might be challenging to know all the people who live in a local area and the value of each home. In this case, you will target marketing efforts, discover average income and mortgage qualifiers.
So you can search your neighborhood at City-data.com by typing the city name and see all the detailed information from residents to crime rates. Besides, you can find home values on Zillow and find out everything from home value prices to trending rent prices.
Step 5: Create A Timeline
An excellent real estate marketing plan will set a timeline and has the best Instagram content calendar. Investors create a timeline to clarify how long the existing marketing plan should work. It also will enable them to tailor their entire strategy. Besides, you can track and assess whether things are progressing as expected. Indeed, a timeline will build the foundation of a whole real estate marketing plan and set the model for how things will move forward.
Step 6: Set up Your Budget for Real Estate Marketing
Money is honey, and it has the most significant influence on your real estate marketing plan. Budgeting is an excellent way to give you a complete, reliable overview of your marketing dollars for the next step. Therefore, you need to:
This will also help you identify where you can cut costs and ask suppliers for bulk discounts for certain things.
Real Estate Marketing Tools for Instagram
For a realtor who wants to build their business on Instagram, posting high-quality content consistently can be a struggle. Therefore, it is necessary to hire a powerful Real Estate marketing tool for Instagram that comprises multiple features to help you manage your account.
1- Realtormate
RealtorMate is a Real Estate marketing tool for Instagram that lets its clients reach its powerful and foolproof tools. Accordingly, Realtors can create and post content, hold contests, monitor mentions, repost, and link posts. Applying professionally designed page templates, RealtorMate lets you renovate your account or build it from scratch.
Are you too busy to take time growing your followers? Don't worry! RealtorMate growth service is the best Instagram solution for you. The AI technology will target your ideal audience based on interests, location, or even competitor accounts.
Now, sign up for free and let the RealtorMate admins perform manual organic growth activities (likes, comments, follows) 24/7.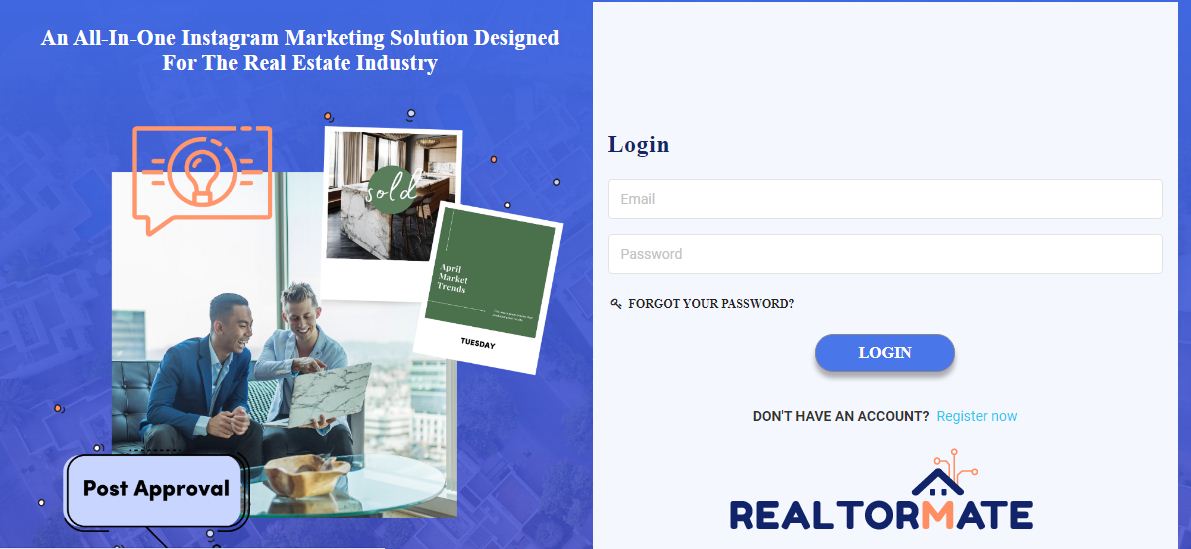 2- Flick
Flick is an Instagram Hashtag Tool that lets you grow your account, business, or influence by reaching new audiences. Its mobile app is available with a 7-Day Free Trial and a help center.
Flick Features:
Analyze your hashtags.
Find quality hashtags in minutes.
Drive more views & follows from untapped audiences.
Affordable Pricing.
Data-Driven Analytics.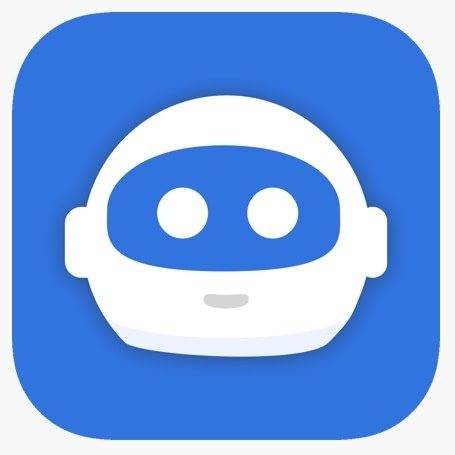 3- Meet Edgar
Meet Edgar is an Instagram Scheduling Tool That Manages Itself. It is a female-founded, bootstrapped business powered by a total obsession with empowering entrepreneurs.
Clients like Meet Edgar as a social media scheduling tool that uses a content library that you create over time. The app pulls content from this library and publishes it consistently at the desired times. It will then re-use old content if no new content is available, which keeps your posting consistent regardless of whether you created new content this week.

Real Estate Marketing Services for Instagram
RealtorMate is a real estate marketing service and a platform. We call it a platform because the technology is more than just a service. Indeed, it's everything built into 1.
Their two primary services are:
GrowthMate: Manual Follower Growth that refines the list of people you want to engage with them. The cost of this package is $129
PostMate: Concierge Content and Design. It is a content posting program with professional designers and a content developer working on your posts as a promoter. This package costs $299
In their VIP services, which costs $399, they grant you both options.
Plus:
Educational Content: They send you weekly

DIY Marketing: Sending and receiving DMs and emails

Content distribution and creation services
RealtorMate is the best real estate social media marketing service for Instagram. It's a great opportunity that provides all you require to generate real estate leads on Instagram.
The vital step of winning leads on Instagram is having social media experts on your team. RealtorMate's all-in-one real estate Instagram marketing service will help you promote a pro presence on Instagram.
RealtorMate grants the most effective suite of services, including:
Weekly Content Creation and Posting
Posting regularly keeps you top of mind. It'll make it happen. It starts by renovating your page or building it from scratch by creating a professionally designed page template. Their team then gets to work producing 3 to 4 stunning posts and Stories each week. So you can log a new content request with your RealtorMate to have a post created and scheduled to your page.
Generate Hundreds of New, Targeted Followers Each Month
More followers mean more leads and more sales. Indeed, their dedicated growth service is the #1 Instagram solution for busy real estate professionals. AI technology that will target your ideal users based on interests, location, or even competitor accounts. The RealtorMate team then performs manual growth activities (likes, comments, follows) every day to grow your following. Just watch the leads roll in!
Do-It-Yourself Instagram Marketing Tools
All RealtorMate members gain access to powerful and easy-to-use Instagram tools. Create and post content, monitor mentions, repost, run Instagram photography contests, link your posts, and more.
How Can Realtormate Help Real Estate Marketers
All of its real estate marketing services are designed to boost your presence on social media and help you generate more real estate leads. And with plans to suit every business, there's a solution for your needs. Now, let's see how it works.
Step 1 – Meet Your Growth Manager
Your personal growth assistant
Your Growth Manager will be your main point of contact and coordinate the growth team on your behalf. As Instagram growth experts, they'll direct and hone your targeting to get you the right kind of followers.
Step 2 – Set Your Growth Parameters
Realtormate's Ai system targets relevant users.
Meet the right leads for your area or niche. Select relevant hashtags, target locations, and competitor accounts. We'll analyze this data using our AI systems and generate a list of relevant Instagram users to draw to your page.
Step 3 – Daily Manual Growth Activities
The growth team performs daily growth activities to attract targeted followers.
Once we have a targeted list of users, the growth team will start engaging with those users by liking their content, following them, and commenting to encourage them to follow your page. This is what's called manual organic growth.
Step 4 – Daily And Weekly Growth Reports
Watch it GROW with daily and weekly reports.
Keep tabs on your Instagram growth with daily and weekly growth reports. Your RealtorMate will email you with these updates, and you can access basic stats any time in the RealtorMate app.
Why Choose Realtormate for Real Estate Marketing?
Before going through the reasons for using this real estate marketing service, let's see what Julia Durova, one of their clients, says: "Right from the beginning, this company has really impressed me. They care about my vision while always staying up to date on the nature of my business, making it very easy for me. Extremely responsive and supportive. They know their stuff, and I'm very pleased with their work!"
In the following, you'll read about why you must pick RealtorMate.
Built by Realtors, For Realtors
We know how to market real estate on Instagram. Benefit from our massive realtor content library and a specialized content team that can engage your followers each week.
A Proven Way to Grow Your Business
Our mix of content planning, design, content creation, and follower growth is proven to get you noticed and generate leads on Instagram.
Complete Instagram Solution
Design, content planning, content creation & scheduling, follower growth, DM automation, contests, and social listening.
It's Fast
Our onboarding team will meet you to learn your unique style and start growing and posting content within days.
It's Easy
All the hefty lifting is done for you to focus on the things that matter, like showing listings and closing deals!
It's Affordable
RealtorMate provides a whole suite of services starting at $129 / month – a fraction of the cost of an agency or in-house assistant.
Now, You can watch this video to know more about RealtorMate.
Recap
Real Estate Marketing on Instagram paves the road for realtors to grow their outreach and build community globally. Furthermore, it provides you an excellent opportunity to boost credibility and engage with many potential clients. Eventually, the key to success in a competitive market is to equip with a potent tool like RealtorMate.