Instagram has so many features to build your brand, and one of them is Instagram Stories. Some Instagram Stories are wow, aren't they? They're ideally laid out, with great text induction and stunning imagery. Most probably, they've used an Instagram Story Template.
Many companies are wondering how to use Instagram Stories effectively. However, there are several creative ways to use Instagram Stories for business.
This article will study how the Instagram Story template can help you create branded content in a wink of eyes. Let's dive in.
Related Article: Best Instagram Story Ideas: 5 Tips for More Growth
What is Instagram Story Template App?
Instagram Story template apps are like guac and tacos. As a matter of fact, they make things better. Actually, Instagram Story templates are premade layouts featuring colors, graphics, and sometimes animations.
Brands often utilize the Instagram Story template to design an ideal aesthetic on their Stories. As a result, the brand experience will be extended to the Story reel. 
Why Should Brands Use Instagram Story Templates?
It's essential to keep your Instagram aesthetic and frequent posts on your brand. On the other hand, it's important to unite your brand when designing Instagram Stories.
As a result, keep reading 3 major reasons that will convince you to utilize Instagram Story Template:
Instagram Story Templates
Save your time
Time is money! Instagram marketers can not perform their desired Instagram marketing strategies because of time pressure.
The good news is that story templates are here to save your time and effort.
Therefore, by using templates, you do not need to make a fresh start every time you want to publish content to your Stories; you've got a strong foundation to work from.
Moreover, by a streamlined template for your Instagram Stories, you'll solely need to edit a few fields in advance.
Make Your Branding Consistent with
Instagram Story Templates
First impression, best impression! Therefore, consistent branding helps your Instagram Stories make the best impression on customers and grants them insight into your brand and what to expect from you.
Increase Engagement and Brand awareness
Using a template allows you to carry brand colors, fonts, and even logos throughout your Instagram Stories. That is like you want your website, social media, and email list to be recognizable. You want your Instagram Stories to have a cohesive look.
Meanwhile, carrying those branding elements over into your Instagram Stories tells customers they are in the right place. Also, it sends signals to new followers about who your brand is and what you stand for. Besides, aesthetically pleasing detailed formations of branded fonts, colors, and logos help build brand awareness and trust. 
Related Article: 29 Foolproof Ways to Get More Instagram Engagement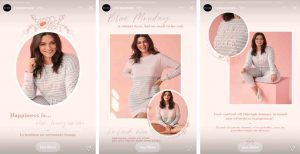 How to Change the Background Color on an Instagram Story
Related to the type of background you want to add to your Story, there are three methods to change your background.
Change the background color to a new solid one.

Change to a downloaded background

Changing the background color and add a photo to it
Change the Background Color to a New Solid One
When sharing a post, Instagram picks the default color for you automatically. However, you are not ough to hold to this color. 
Additionally, you can change your Story by picking a different color option, making your content pop-up even more.
Follow the instructions below :
Go to Stories

Take a photo or video.

Tap on the brush icon for making highlight

Select a color in the list of available options

Hold on to your screen for some seconds.

You'll notice the new background implemented to your Story.
After this change, the previous story photo no more exists there. Consequently, you must post the Story with the new background as a blank cover to add text.
Also, you can add multiple photos to one Instagram story.
Change to a Downloaded Background 
If you want to use a downloaded photo and be more creative, here are the instructions: 
Go to Stories

Swipe up to see the Camera Roll

Select your desired background 

Add it to the Story
It would be best to create your individual backgrounds to reflect your branding and make people recognize your stories immediately as a sign of your brand. 
Changing the Background Color and Add a Photo to It
This is the same as making an Instagram collage. To do so, follow the instruction below:
Go to Stories

Capture a photo

Tap on the highlighting brush  

Choose a color

Hold on to your screen for a few seconds.

The new color is applied to your background.

Open your Photos

Copy the photo you want to use

Go back to Stories. Then, on the bottom left of your screen showing you the copied photo, you will see a pop-up.
Also, you can go to the text function and select paste. The image will still show up.
Even a simple color change can make your Stories more interesting to the audience. Accordingly, the engagement will increase more than when you start designing custom backgrounds.
Moreover, it is a good idea to add animated backgrounds to your Instagram Stories.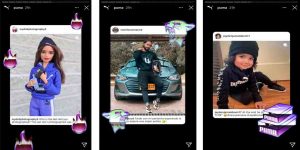 3 Apps to Create the Best Instagram Story Templates and Backgrounds
In the following, you'll find some of the best editors and apps that help you find and use eye-catching Instagram story templates.
Canva
Canva will be the perfect Instagram Story template maker for you. Best of breed images and texts using premade layouts. Also, you can switch Story templates into GIFs. Likewise, free accounts have many functionalities, like free stock images, fonts to choose from, and many super creative layouts. Further, Canva even has a free app as an Instagram Story maker.
Cost: $12.95/month for Canva pro
Adobe Spark
The Adobe Spark app is foolproof. In other words, it makes creating Instagram Story templates a gentle wind. Above all, it's a free hand in and offers several free photos, fonts, and filters to create beautiful branded Story graphics.
Cost: Free, $14.29/month for extra features
AiGrow
By AiGrow, you can repost a video on Instagram Story, reshare an Instagram Story to your own Story, and get more views on Instagram Story.
What are Instagram highlight covers?
Instagram Highlights are basically the Stories that you want to showcase on your profile permanently. Also, Instagram Highlights covers are the pictures that you view in the shape of circles at the top of your Instagram profile.
Related Article: Perfect Instagram Profile: 10 Tips to Grow Your Business
Obviously, highlight covers will glorify your account's aesthetic. Besides, they're an excellent way to display your brand to new audiences instantly.
Also, if you want to show your support of any movement or classify your products and pin helpful sources to your feed for your followers to read, creating highlight covers is an excellent way to do this.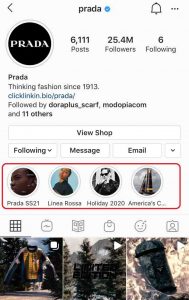 How do you make a highlight cover on Instagram?
To make a highlight go through the instruction below:
Go to your profile. 

 Hold on to the

highlight

you want to change.

Tap "edit

highlight

," and then "edit

cover

." 

Select your

cover

, and it is all done.
How Do You Edit Highlight Cover on Instagram?
To edit your highlight cover follow this instruction:
Tap on your

highlight

container 

 At the bottom-right corner, click the three dots icon. 

 Tap on

Edit Highlight

 Now you can see these options:

a)

Edit the cover b) Change the name of your highlight c) Delete highlighted stories.
Final Thoughts 
Now, you are completely having inside knowledge about making great Instagram story templates and how you keep all of your Stories on brand. However, it might seem like an immense time investment to get started, a potent Instagram management tool will help you, and you'll wonder why you didn't use it before!