If you are looking for juicy details about the Kanye West Instagram drama, you are in the right place! The infamous trouble rapper has made headlines by deactivating his Instagram account.
After years of controversy and outrageous behavior on social media, Ye finally decided to stop. Now, if you try to look at his IG page, you get a message saying, "Sorry, this page isn't available."
This news has been a huge relief for many. However, if you want to know the complete story behind Kanye's departure and the reactions it received, continue reading!
Kanye West Instagram Story Ended
Kanye West made a big announcement on his Instagram account on April 18th, 2023. He posted a screenshot of the Instagram deactivation page, indicating that he was temporarily removing his account. Shortly after his announcement, his account was deactivated.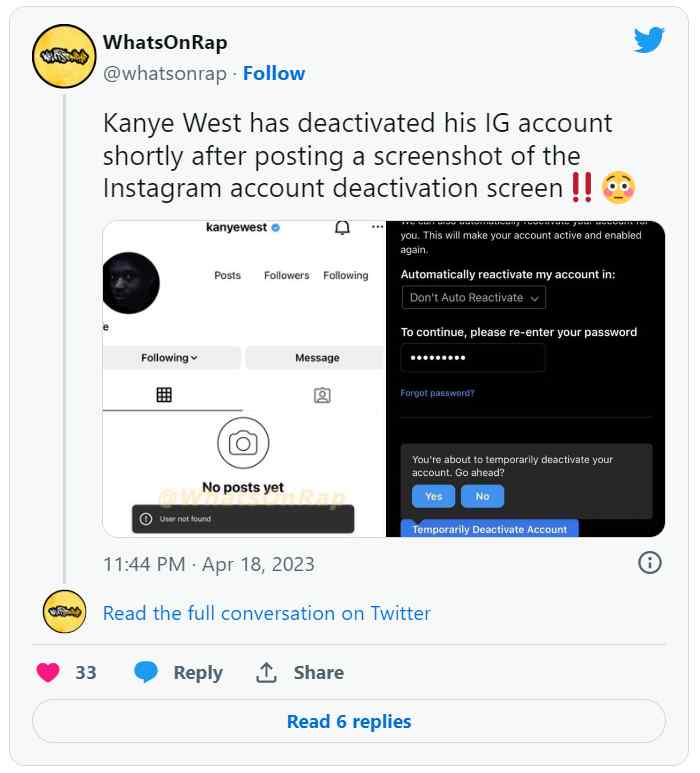 Ye has had a complicated relationship with Instagram over the years. In March 2022, he was suspended from the platform for violating its policies on hate speech, bullying, and harassment. Specifically, he posted repeated racial slurs directed at Daily Show host Trevor Noah. He also targeted Pete Davidson, who was dating Kanye's ex-wife Kim Kardashian at the time. Kanye accused Davidson of drug addiction and frequent rehab visits.
Kanye's decision to temporarily deactivate his Instagram account is a smart move, given his tumultuous history on the platform.
Kanye's fans will surely miss him on Instagram. However, his decision to step back shows that he's taking control of his social media presence. By deactivating his Instagram account, Kanye sends a message that his artistic work and personal life are more significant than social media distractions.
?Note: Donda Academy, founded by Kanye West, faced a lawsuit for underpaying staff and perpetuating a bullying culture.
Inside the Kanye West & Pete Davidson Feud: All the Details
The ongoing feud between Kanye West, Kim Kardashian's ex-husband, and Pete Davidson, Kim's ex-boyfriend, has been making headlines for a while. Starting in January 2022, Ye targeted and threatened Davidson on Instagram. This included crossing out his name in an old photo featuring Ye, Kid Cudi, and Timothée Chalamet.
Ye's aggressive behavior continued for several months, with posts urging fans to remind Kim of her "mistake" and even posting a photoshopped newspaper headline announcing Davidson's death. The situation escalated to the point where Kim reached out to Ye in a text, pleading with him to stop creating a "dangerous and scary environment."
Ye's responses to Kim's concerns were not reassuring. He promised to handle the situation himself and posted the text conversation on Instagram. Many have criticized the rapper's behavior, with some pointing out the potential danger his actions could have caused.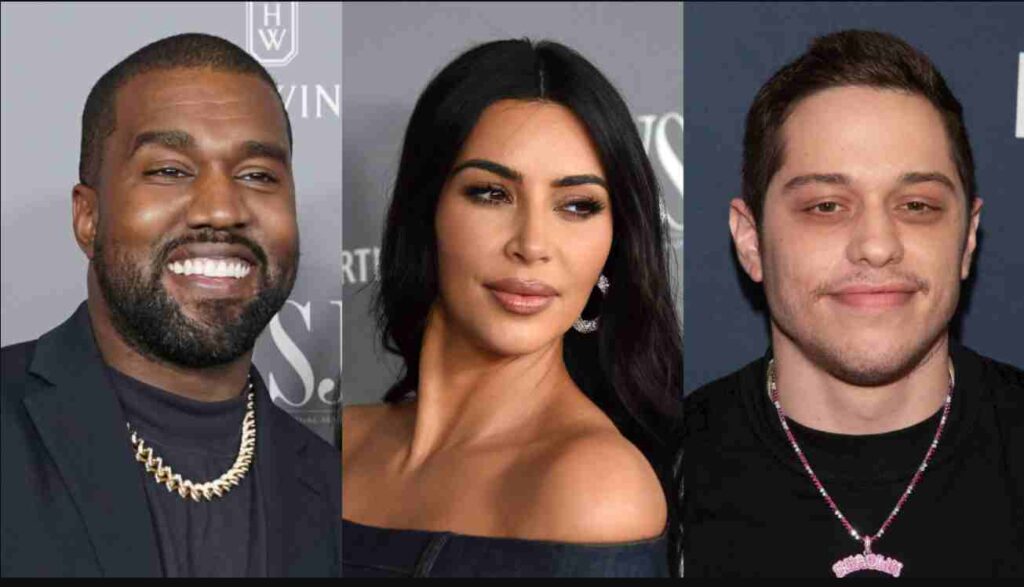 Ye's actions have not only hurt Davidson but also caused distress for those involved in the situation. As social media becomes an increasingly significant part of our lives, it's critical to remember that our words and actions have consequences. Let's hope Ye takes note of what happened and strive to use his platform constructively in the future.
Kanye Instagram Deactivation: What Caused It
The past few months have been challenging for Kanye, with several controversies impacting his personal and professional life. Recently, former employees of Donda Academy, the school founded by Kanye, filed a lawsuit against the institution, claiming discrimination and wrongful termination.
Moreover, Kanye's continued use of social media, including Instagram, has been a point of contention among his fans and collaborators. In December, his long-time collaborator Pusha T revealed that he stopped speaking to Kanye. This was after the rapper's repeated use of alt-right imagery and antisemitic remarks across various platforms.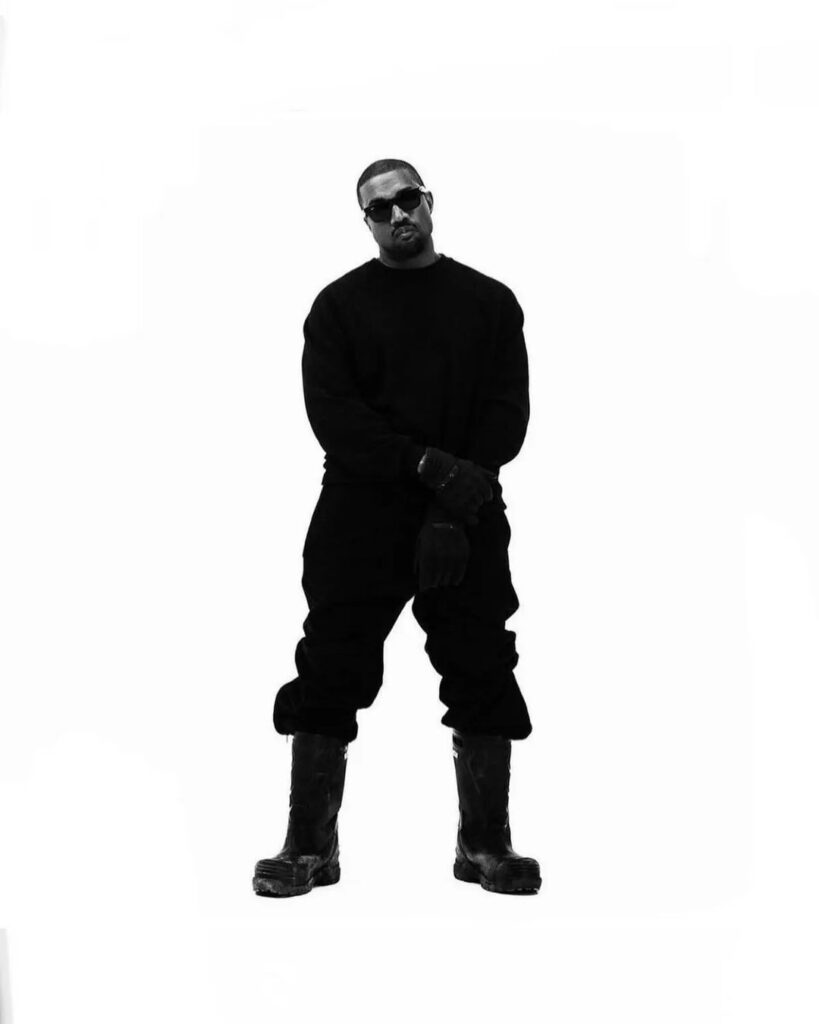 His use of social media is particularly concerning. He has shared swastika imagery on Twitter, been interviewed by Proud Boys founder Gavin McInnes, and debuted a song on Alex Jones's InfoWars.
As Kanye continues to navigate challenges in his personal and professional life, it's crucial he takes a step back from social media. He should focus on rebuilding his online reputation. While Instagram has been a useful tool for connecting with fans and promoting his work, he must take responsibility for the impact his actions have on others.
By being mindful of his social media presence, he can move past recent controversies. He can also focus on what matters most in his life and career.
Read More: How to Delete Instagram Account? [Awesome New Tips]
Kanye West Twitter Ban
Kanye has had a rocky relationship with social media, including Twitter, in recent years. In 2022, he was banned from the platform after making anti-Semitic comments deemed offensive and harmful. However, the ban was lifted by Elon Musk, who took over Twitter in November of that year.
Despite the ban being lifted, Kanye's reputation was tarnished, and the incident sparked widespread controversy and criticism. Furthermore, in the same month, reports surfaced that Kanye was in talks to purchase the conservative social media platform, Parler. This platform is owned by George Farmer, the husband of right-wing pundit Candace Owens. However, the deal ultimately failed.
FAQs on Kanye West Instagram Deactivation
Looking for answers to all your burning questions about Kanye West Instagram deactivation? Look no further! Keep reading to get all the details on Kanye West Instagram departure.
Q1. When Did the Kanye West IG Page Become Deactivated?
Kanye West has deactivated his Instagram account. This leaves many fans and followers in the dark as to why he made this decision. On April 18, 2023, Ye posted a photo to his Instagram account, filling out the form to deactivate his account. Moments later, he followed through with his decision.
As of press time, the link to Kanye's IG is broken, leaving many wondering if and when he will return to the platform.
Q2. How Many Times Has Kanye West Instagram Page Been Deactivated?
Kanye's Insta page has been deactivated multiple times in the past. He deactivated his account in October 2018 and again in September 2020 in response to criticism he received for support of Donald Trump and his controversial SNL performance.
In addition, he was suspended from Instagram in October 2022 after making anti-Semitic comments and from Twitter in December 2022 for sharing an image containing a Swastika.
Currently, Kanye appears to be focusing on his personal life, particularly his new wife, Bianca Censori, and his school, The Donda Academy.
Despite previously planning a presidential run for 2024, Kanye has reportedly decided against continuing his campaign due to infighting among his campaign staffers. He stated, "Right now, I am living my life…I just want to be left alone."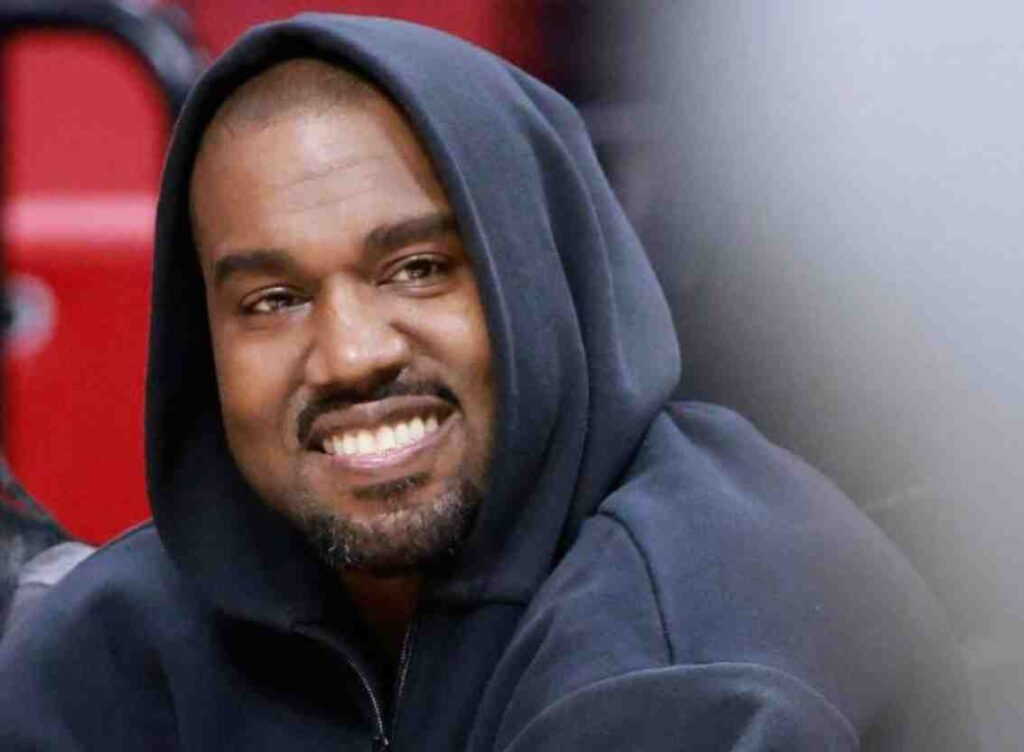 Q3. How Many Followers Does Kanye West Have on Instagram?
Kanye West had a massive following on his Instagram account with over 18 million followers before he decided to deactivate it.
However, the reasons behind the rapper's decision to delete his Instagram account remain unclear. Nonetheless, it's not the first time he's stepped away from social media as he previously deactivated his IG account in 2018 and 2020. It seems that the 'Heartless' rapper wants to keep a low profile and concentrate on other aspects of his life such as his family and his school, The Donda Academy.
Related Resource: 1000 Free Instagram Followers Trial [No Survey, Real Followers]
Q4. What Happened to Kanye West's Status on Forbes' Billionaires List?
Ye is no longer on Forbes' Billionaires list, leaving Jay-Z as the sole billionaire rapper on the list.
Q5. What Is Kanye West's Net Worth?
Kanye West, once known for his music and fashion empire, has taken a hard hit to his net worth due to his controversial statements and actions. As of April 2023, his net worth stands at $400 million according to Forbes. However, his recent comments, including offensive and antisemitic remarks, have cost him dearly.
Adidas, JPMorgan Chase, and other companies have cut ties with the rapper. Even his talent agency, Balenciaga, has decided to distance itself from him. With all these troubles, it is not surprising that Ye's once billionaire status has disappeared into thin air.
Q6. What Is Kanye West Real Name?
Kanye West is an American rapper, producer, singer, author, and fashion designer born on June 8, 1977, in Atlanta, Georgia. His real name is Kanye Omari West. He began his music career in the early 90s in Chicago, Illinois, where he formed a rap group.
He gained nationwide popularity through his work in New York, producing tracks for artists such as Jay-Z, Twista, Mase, Talib Kweli, and Alicia Keys. He released his debut solo album, "The College Dropout," in 2004 on Roc-A-Fella Records. The album received critical acclaim and defined West's style.
Kanye West is known for his controversial statements, such as "George Bush doesn't care about black people," which he made during a Hurricane Katrina broadcast in 2005. He is also known for interrupting Taylor Swift's acceptance speech at the 2009 MTV Video Music Awards.
He has won 22 Grammy Awards and is considered one of the greatest musicians of all time.
Final Note …
Kanye West's decision to deactivate his Instagram account has left many wondering if this will be a permanent departure or a temporary break. History suggests that Ye retreats from social media only to return with a bang.
It's unclear what motivated his decision to deactivate his account. However, it's safe to say that his unpredictable behavior on the platform has caused controversy. This move may be an attempt to take a break from the spotlight, refocus on his priorities, or avoid further scrutiny from the media.
However, if we consider his past actions and the way he behaves, this is likely only a temporary departure. Kanye West loves attention and speaking his mind to his millions of fans. It's extremely difficult to imagine him staying away from social media for long.
Therefore, it's safe to say that Kanye West will return to Instagram. When he returns, he'll probably be stronger and more outrageous than ever. So, although we may miss seeing Kanye's antics on our Instagram feeds for now, we can look forward to seeing the trouble Rapper's Instagram posts back soon. Be sure to stay tuned for Kanye West's Instagram return.
Read More From SocialPros: