According to a study, one-third of the most viewed Instagram stories are from business accounts. With this in mind, stories would be a great place to promote your products and services on Instagram and lead your customers to a purchase page by dropping a link. However, you may notice that there's no link button on Instagram story editors! 
Well, Instagram has a few conditions to allow you to access the link button on Instagram stories. But sometimes, even when meeting those conditions you will not be able to add links to your stories. In the following, I help you figure out why you cannot use the link button on Instagram stories. Then, I suggest 4 solutions that will help you get rid of this error forever. So, stick around. 
You May Also Like:
Why Can't I Add a Link to my Instagram Story?
As mentioned above, Instagram asks you to meet two requirements to access the link button on Instagram stories: 
Having 10K followers, 

And having a verified account. 
In this regard, if you have a personal account without this many followers, you shouldn't even expect to access the link button. However, sometimes users who have a verified account with 10K followers also have problems accessing the link button. Actually, this may have a couple of reasons:
Poor internet connection, 

Internal and technical Instagram issues, 

A full Instagram or mobile cache that may also prevent you from

logging into your Instagram account

, 

And using an outdated version of Instagram. 
Obviously, in some cases, you can resolve the problem by restarting your phone, updating your Instagram app, and checking your connection. But sometimes, especially if you don't meet Instagram's requirements, you need to check for more serious solutions. In this case, you'd better check the following to find life-long solutions.
Fix "No Link Button on Instagram Story" 
There's no link button on an Instagram story? Here are four simple ways to troubleshoot the problem and even add links to stories without the official feature.
#1 Get 10K Followers to Access Link Button on Instagram Stories
One of the essential factors of getting access to the link button on Instagram stories is to have 10K+ followers. This seems to be an easy task. But, no! Getting 10K followers on Instagram has always been a huge milestone for marketers and it needs a lot of time, patience, and hard work to be done. But there's no need to panic! 
Using a growth service like AiGrow, you can achieve this goal in a year. Being a complete set of Instagram management services, AiGrow allows you to get 10K real and active followers on Instagram who will engage with your posts and help you appear in the list of most famous accounts. Additionally, you'll be provided with a professional scheduler, repost app, DM tool, and monitoring apps. So, sign up for free and click here and get 5 days of unlimited growth.
#2 Make Sure You Have a Verified Account
Having a verified account is a must-meet condition to be able to link to Instagram stories. So, if you see no link button on Instagram story, but you have 10K+ followers, you are probably missing this one important factor. 
Actually, getting a blue check on Instagram is not too hard, but it may be a little tricky. For this, you have to go to your Instagram settings and request verification by completing an application form. After a few days, Instagram gets back to you and lets you know if your account is verified or not. If you are lucky and you get verified, you see a blue check right next to your Instagram handle. By the way, make sure to read this article and increase your odds to get verified before completing the form. 🙂
#3 Get Link Button on Instagram Stories
As mentioned previously, to have a verified account you need to turn your account into a public professional one. Of course in this case you will access tens of extra features that are not available on a private account. But privacy may be a very important issue for you and this should not prevent you from getting the link button on your stories. So, why don't you try to add links to stories without being verified?
Yes! This is possible using an all-in-one bio link tool like AiGrow. Using this complete package of bio link tools, you are able to: 
Add links to multiple social media channels using widgets, 

Create and share

customized CTA buttons

, 

Add links to posts, stories, and highlights, 
And more. All you have to do is to sign up for free and create your Instagram landing. Then, each time you share a story, you see an icon allowing you to add links. So, by adding links to stories, your bio link page looks as follows: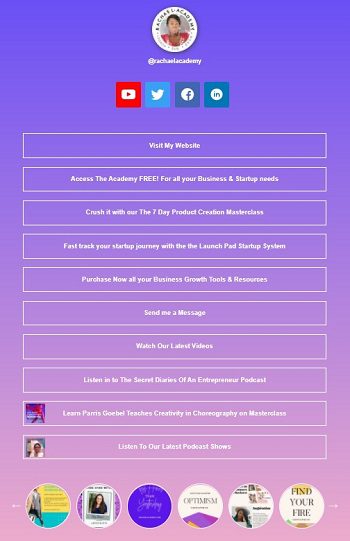 And the good point here is that even if your stories expire, the link still remains on your profile and people can click on it. So, check it out and try this amazing tool for free right now.
#4 Hire an Instagram Account Manager
Finally, if none of the solutions above helped you and you want to use the official Instagram swipe up feature, I suggest you hire a professional account manager and let them take care of your account's verification, followers growth, and all the potential errors you may face while using Instagram. Luckily, AiGrow offers this service as well. So, just by purchasing a growth plan from AiGrow, not only you get lots of followers, likes, and comments, but also you'll have a dedicated Instagram account manager who makes sure that your account is safe. Additionally, whenever you face a problem, you can contact your account manager and in a few minutes, they help you figure out a long-term solution. So, make sure to sign up for free and take a look at their plans. 
Bottom Line
No link button on an Instagram story? No worries! You are in the right place! In this article, I talked about the reasons why you can't add a link to your Instagram stories. Also, I tried to find four fast and easy ways to solve it. So, read the article and leave us a comment if you have any questions!