Instagram is constantly evolving, and everyone wants to explore this platform. Even those who do not have an Instagram account utilize Instagram viewer apps such as Picuki.
But what is Picuki? Is it just an IG viewer, or does it have more features?
According to their website, it is an Instagram editor and viewer tool. So, using this platform, you can view Instagram anonymously. Also, using Picuki, you can edit and download photos on Instagram.
This article will examine the Picuki Instagram viewer app, its features, benefits, and whatever you need to know about using Pickui. You will also get to know the best Pikuki alternatives.
So, without further ado, let's dive in.
✨Key Takeaways
On Picuki, you can view, download, or edit the content.
Picuki is sometimes mistakenly called Pickui or Pickuki. However, the website's true name is basically Picuki.
Pickuki is a free online Instagram viewer tool that lets you see public Instagram profiles, stories, and posts without an account.
Note: For Instagram marketing, Pickui is not the only tool available. If you're looking for a powerful Instagram marketing service, consider using Ainfluencer. This platform enables brands and influencers to form effective partnerships, leading to increased online visibility and higher revenue. Brands can use this platform to find the right influencers to collaborate with. In addition to that, influencers can leverage Ainfluencer to monetize their social media account and earn more income. Moreover, Ainfluencer is completely free. Don't miss out—sign up now and rise above the competition!
What is Picuki
Picuki is an Instagram tool that allows users to view and download images, videos, and stories from public Instagram accounts. So, if you want to save someone's story on Instagram and the page is public, you can use Pickuki.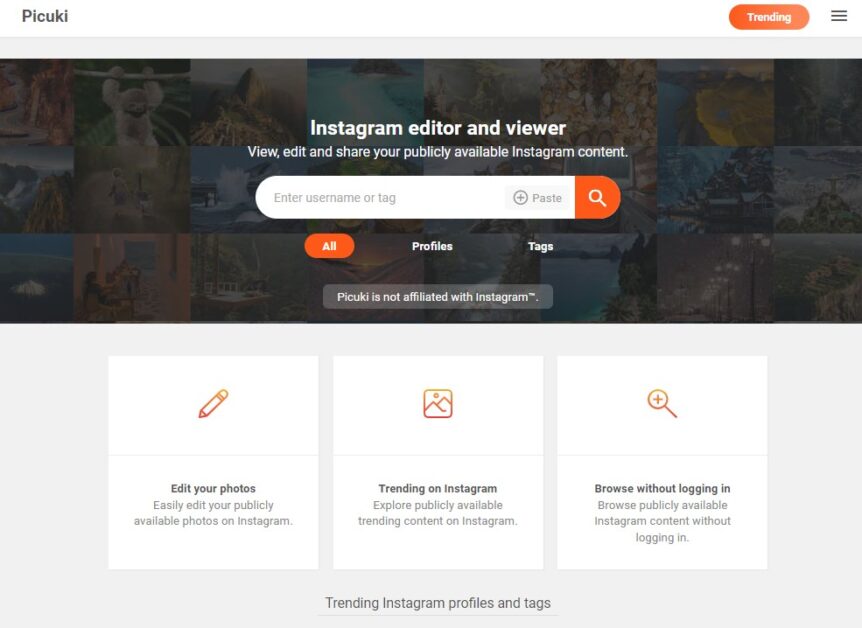 In addition, using this IG tool, you can access Instagram profiles and get insights about them without having an account. It is a useful tool for people who want to keep track of any Instagram profiles.
You may ask, Is Picuki anonymous? Pickuki is a free web tool that allows you to access Instagram content anonymously. So Pikuki is anonymous because you can easily see public Instagram accounts' stories and posts without logging in.
It does not require installation; simply explore the numerous resources available with a few mouse clicks. Pickuki also helps you edit publicly available images if you want to reshare others' images with new designs and use new effects.
There are a lot of websites like Picuki, and we also have reviewed some of them, like:
Sometimes these tools may fall short of your expectations, or you might want to share your posts using such a secure platform or want something more like a scheduler. This is where tools like AiSchedul become valuable. This AiSchedul review can tell you more about it.
Note that Pickuki is not affiliated with Instagram and is an independent platform. If you wonder how to use Pickiu, read the next section.
How Does Picuki Work
Picuki is a web-based tool that is accessible from any device with an internet connection. To use Pickuki, simply go to the website and enter the Instagram username you want to view. You can also download the Picuki app from the Google Play Store
Pickuki will then display the profile page of the account, along with its posts, stories, and other information. You can also use Pikuki to download stories, images, and videos from Instagram accounts.
Remember that you can only access public pages and will not see any information about private accounts, including their profile images.
A lot of people want to view Instagram stories without being known! To view a story on Instagram anonymously using Picuki, you only need to follow the steps below!
Go to the www.picuki.com website,
Enter the username you want to save the stories. You can also search the content on this website using hashtags.
Click the Search button.
Then, click the Stories.
Click on the story then you can download it.
To learn about trending posts and hashtags to be inspired, click on the Trending tab on the right above the homepage and browse all the topics and categories that interest you.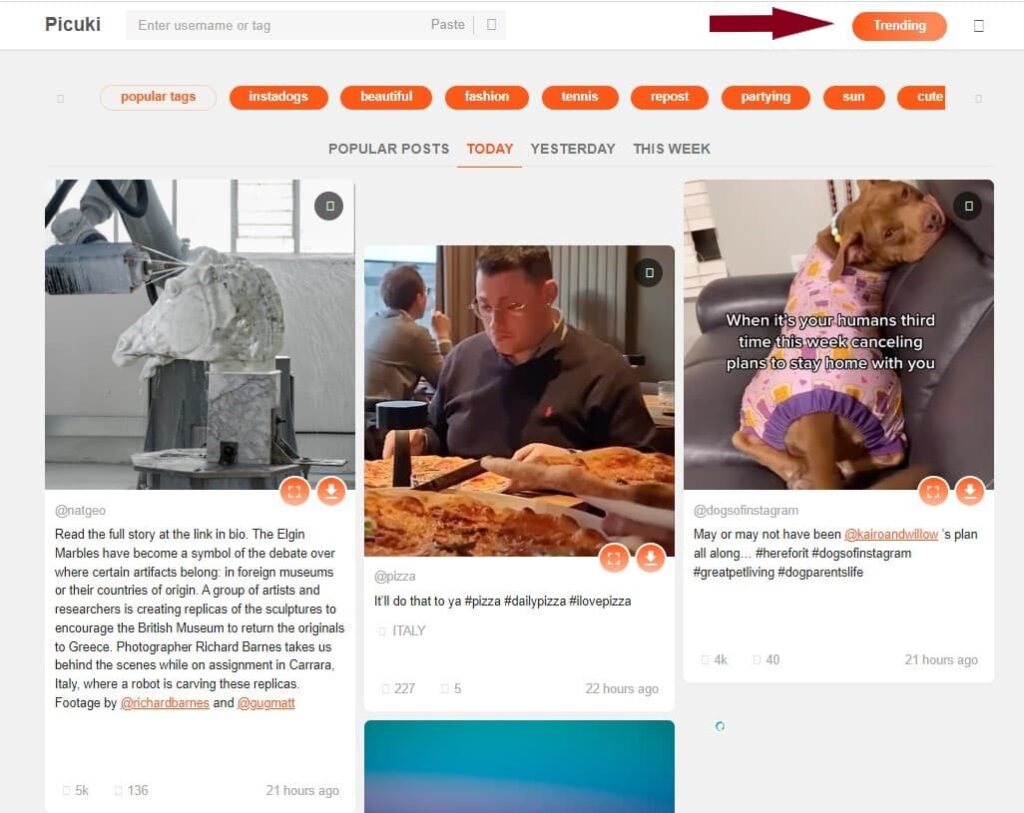 Pickuki also has additional features, which are detailed in the next section.
Picuki Features
Picuki offers users the following features:
1- Profile And Story Viewer
The best part is that you don't have to log in to Pickui to browse Instagram. Picuki allows users to view public Instagram profiles and their posts. You can easily search for a profile by entering the username on the Pikuki website. You can also view stories without being known.
2- Download Images, Videos, Stories, And Profile Photos
Have you ever wanted to save a photo on Instagram without taking a screenshot? Picuki downloader can solve this problem for you.
Picuki allows users to download images and videos from Instagram accounts. This feature is especially useful for businesses and individuals who want to keep track of their competitors and analyze their content.
If you're wondering about someone's Instagram profile photo, you may view and download it. Keep in mind that if a profile on Instagram is private, you will only see the message 'this profile is private' and will not be able to access any data.
Read More: Instagram profile Picture Downloader: 6 Free Instagram pfp Downloaders
3- Analytics
Picuki offers insights into Instagram accounts, including the number of followers, following, and posts. It also shows the tagged persons under the posts or stories. However, it doesn't show the engagement rate of each post and the overall engagement rate of the account.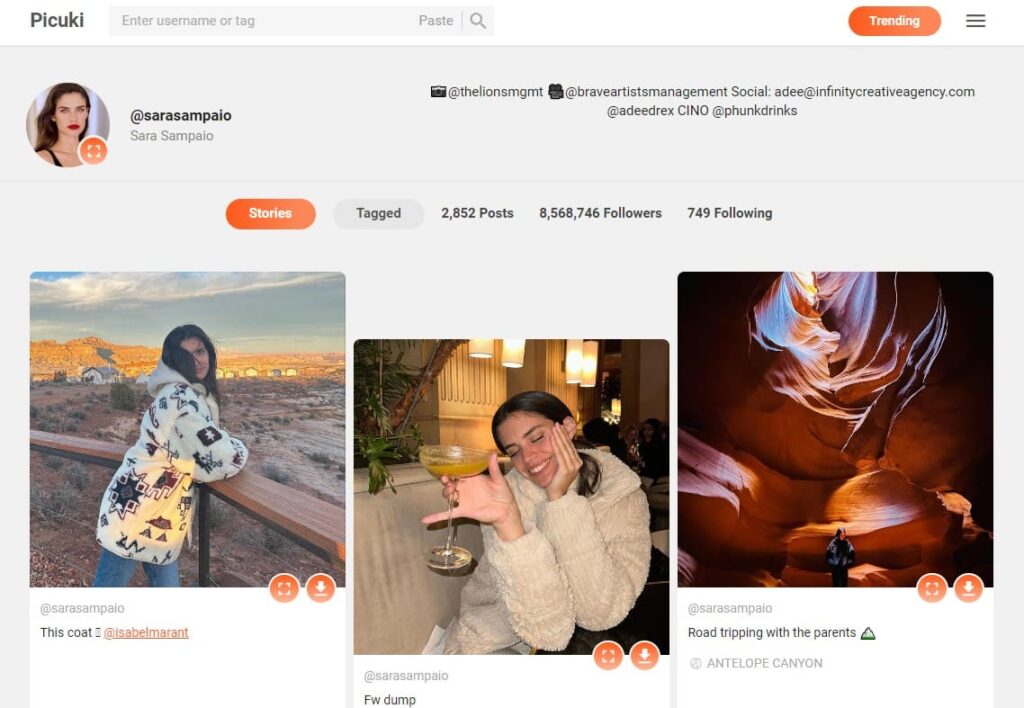 Read more: 6 Methods to Increase Instagram Engagement Rate
4- Hashtag Research
With Picuki, users can search for hashtags and see the top posts associated with the hashtag. This feature is helpful for businesses and influencers who want to increase their visibility on Instagram using top hashtags on Instagram.
5- Online Photo Editor
On Picuki, there is an internal photo editor, according to their website. You can save pictures, customize them, and then share them again on social media sites or with friends.
If you click on the Download button, the photo will be downloaded to your computer. Then, you can edit it with other editing tools such as Photoshop or Canva. If you click on the Edit button, you will be able to edit the content on the Pickuki website and then download it on your device.
Pikuki is a powerful editing tool. You will have lots of preferences to edit the photo on this website, from preset filters to cropping or changing the colors.
These are the only characteristics of the Pickui. Let's find out what advantages there are to using this platform!
6- Discover the Hottest Trends on Instagram
With IG Picuki, you can stay up-to-date with Instagram trends. By clicking the "Trending" button at the top corner of the website, you can see popular posts and trending hashtags. This feature empowers you to participate in trending conversations and enhance your Instagram visibility.
Pikuki respects your privacy as well. Every action you take on our platform is private and only visible to you. This means that your visits to other users' posts and stories are completely private and anonymous.
Benefits of Using Picuki
Given the Pickuki website's restricted functionality, you may wonder what the point of utilizing Pikuki is. We've compiled a list of all the advantages of using websites like Picuki.
Time-Saving: Pickuki saves time by allowing users to access and view Instagram profiles and posts quickly.
Competitor Analysis: Pikuki allows businesses to analyze the content of their competitors and improve their own Instagram strategy accordingly.
Increased Visibility: Picuki's hashtag research feature helps businesses and influencers to find the most relevant and popular hashtags for their content, thus increasing their visibility on Instagram.
Insights: Pickuki offers insights into Instagram profiles, allowing users to assess their competitors' engagement rates and other metrics. This information can be used to improve their Instagram strategy and grow their online presence.
But even with all of these, you might want to think about using another tool to have access to extra features, like a post planner for Instagram management. We'll present you with the greatest Picuki alternative in the next part!
Picuki Alternatives
If you encounter issues with Picuki, there are alternative Instagram viewer tools available to explore. These Picuki alternatives provide reliable options for accessing Instagram content effectively. Let's check them out together.
1. AiSchedul
AiSchedul is a social media management tool that allows you to schedule posts on Instagram and publish content, as well as track your performance. It also offers features such as Instagram posts and story design, and hashtag generation.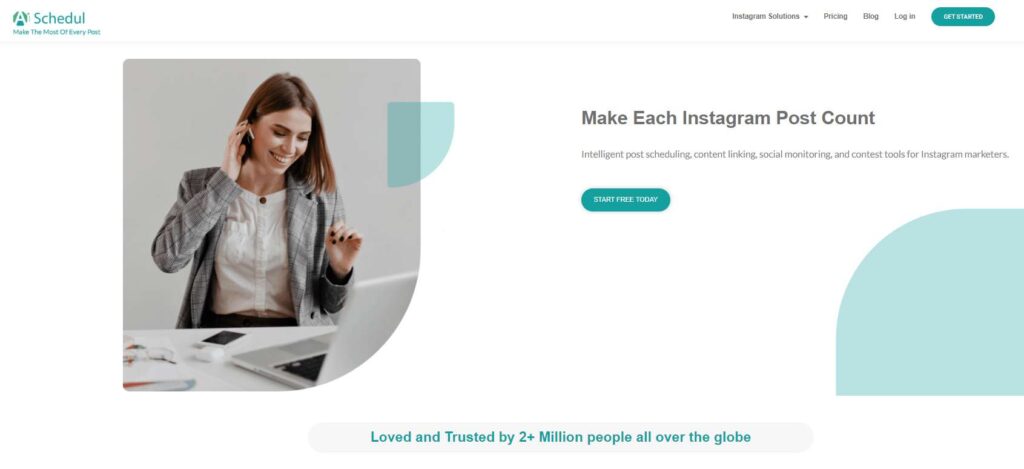 So, if you're looking for an alternative to Pickuki for managing your Instagram account, AiSchedul can be a good option.
How to Use AiSchedul's Instagram Viewer
AiSchedul IG viewer, like Pikuki, does not require registration or personal information. Furthermore, there is no program to download or anything challenging to accomplish.
To use the AiSchedul Instagram viewer tool, you need to follow the steps below:
First, go to aischedul.com/instagram-story-downloader/
Then, enter the username of the IG user whose stories you want to check.
AiSchedul Instagram Story Viewer & Downloader is entirely free. AiSchedul also allows you to download anything from Instagram.
AiSchedul Features
AiSchedul offers a variety of features to help users manage their social media accounts effectively. Some of the key features of AiSchedul include:
Post scheduling: Users can schedule posts on various social media platforms, including Instagram, Facebook, Twitter, and LinkedIn.
Hashtag generator: AiSchedul offers a hashtag generator tool that can suggest relevant hashtags for users to include in their posts.
Social media calendar: Users can view a social media calendar that shows their scheduled posts and helps them plan their content strategy.
Instagram bio link tool: AiSchedul provides a tool that allows users to create a custom landing page for their Instagram bio link, which can include multiple links and CTAs.
Instagram comment manager: Users can manage their Instagram comments in one place and respond to comments directly from the AiSchedul platform.
Instagram story scheduler: Users can schedule Instagram stories and track their performance metrics.
Contest and giveaway manager: AiSchedul offers tools for creating and managing social media contests and giveaways.
Analytics and reporting: Users can track their social media performance metrics and generate reports to analyze their results.
Overall, AiSchedul offers a comprehensive suite of social media management features that can help users save time and optimize their social media presence.
2. Gramhir
Gramhir, previously known as Gramho, is a widely-used online tool for Instagram profile and post searches, ranking the second alternative to Picuki Instagram story viewer on this list.
Operating under the domain gramhir.com, it offers a user-friendly interface for effortless Instagram content exploration. Users can search for public Instagram profiles by entering usernames. However, it functions solely as an online viewing platform and doesn't permit actions like commenting, following, or liking.
One notable feature of Gramhir is its ability to analyze the profiles you view, making it valuable for market research. You can assess your Instagram account's performance by using this tool. These insights are particularly beneficial for individuals and businesses utilizing Instagram as a marketing tool, enabling them to enhance their social media strategies and stay competitive in their respective markets.
For more detailed information, please refer to this comprehensive Gramhir review.
3. Picnob
Picnob, our third choice on the list of the leading Picuki alternatives, enables anonymous Instagram viewing and downloading.
This web-based tool enables users to download Instagram reels and videos effortlessly. To utilize Picnob, visit the website and enter a username or hashtag in the search box. This will enable you to access a comprehensive collection of relevant images and videos.
Picnob is known for its commitment to privacy since it doesn't require an Instagram account login. One unique feature is the ability to view public Instagram stories secretly, without revealing your identity to the content creator. To find out more details, read the full Picnob review.
4. InstaDP
Instadp, another Picuki alternative, lets you view Instagram photos, videos, and profiles anonymously. This web-based online viewer tool requires no downloads or installations. Users can explore public Instagram profiles by entering their username in the search bar. The website only displays publicly accessible data, excluding private profiles and non-public content.
Conclusion
In conclusion, Picuki is a limited Instagram tool that offers some features for exploring Instagram anonymously. It allows users to view and download images and videos from public Instagram accounts, get insights into Instagram profiles, and search for relevant hashtags.
Pickuki may be accessed from any device with an internet connection and is secure to use. Regardless of your status as a company, brand, or individual, Pickki can be a helpful tool in your arsenal. However, based on Picuki reviews posted on Google Play, users were dissatisfied with the software and thought it was useless.
If you want to grow your online presence on Instagram and manage your account, consider an Alternative to Pikuki like AiSchedul.
FAQs
Q1: Is Picuki safe to use?
Pickuki is safe to use. It is a web-based application that does not require users to download any software or submit their Instagram login credentials. However, the website may not always function properly.
Q2: Can I use Picuki on my mobile device?
Yes, Pickuki is a web-based platform accessible from any device with an internet connection, including mobile devices.
Q3: Is Picuki free to use?
Yes, Picuki is free to use. You do not need to pay any subscription fees or provide any payment to use the tool.
Q4: Does Picuki work for private Instagram accounts?
No, Picuki only works for public Instagram accounts. If an Instagram account is set to private, Pikuki cannot access its profile or posts.
Q5: Can I download Instagram stories with Picuki?
Certainly, you can use Pickuki to download Instagram stories. Just enter the username of the Instagram account, and navigate to the "Stories" section to view and download the stories.
Q6: Can Picuki be used to post on Instagram?
No, Pickuki cannot be used to post on Instagram. It is a tool that allows users to view and download images and videos from Instagram accounts, as well as get insights into Instagram profiles. To post on Instagram, you can use tools like AiSchedul.
Q7: Is Picuki down?
As per isitdownrightnow.com, Picuki.com is currently up and reachable.
Q8: Can I see someone's Instagram without an account?
Accessing Instagram profiles, posts, and stories without an account is possible for public profiles. Simply input the Instagram URL (e.g., www.instagram.com/username) into your browser to access the intended public IG account. Alternatively, online web viewers like Picuki, Picnob, AiSchedul, and Smihub offer anonymous exploration, allowing you to enjoy seamless Instagram browsing without the need for an account.