An anonymous Instagram viewer tool like Smihub can help you achieve many goals in your Instagram marketing strategy.
For example, you can monitor and evaluate your competitors' pages under the radar to see what type of content they are putting out to attract target audiences to their pages. Then, you can employ their successful Instagram marketing strategies and add your creativity to win the Instagram game ahead of your rivals.
You can also try out an anonymous Instagram viewer tool for personal usage to keep tabs on your ex, crush, or child without following them on the platform. While you can set up a fake account for this purpose, it will take some time, or they may even get wind of your fake account and block you.
So, in short, using an anonymous Instagram viewer tool can help you find out anonymously what a particular company or a person is doing on their IG page.
That is why we decided to provide you with a thorough Smihub review and show you how to use its tools and services efficiently.
If you find its features and services limited to your marketing needs, AiSchedul is the perfect alternative to Smihub. We'll explain why we say that in more detail later. So, without further ado, let's dive right into the matter.
What Is Smihub
Instagram does not have an in-app feature to allow its users to view any content on the platform anonymously and privately. However, this function is increasingly in demand.
Smihub is an Instagram viewer platform that allows you to view and download Instagram stories, highlights, profiles, posts, and even comments anonymously and in high quality at no cost—using Smihub.io, you will have access to the following features:
Zoom or download the Instagram profile picture in Full HD quality.
Download any Instagram Reels, photos, and videos easily and quickly.
View and download Instagram stories and highlights without revealing your identity.
It can also help you analyze IG profiles like followers, the following list, comments, etc.
This platform has been around since October 2018, and its search and download engine lets you search, analyze and download anyone's IG account information or content anonymously and for free.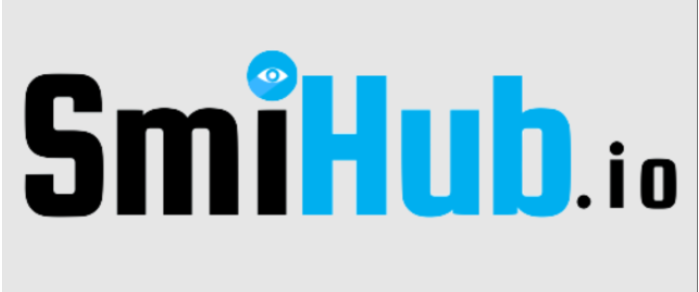 💥It is essential to note that with the Smi Instagram viewer tool, you do not have to follow them to see their Instagram stories, highlights, Reels, etc. All you need is a public Instagram account. In other words, you can not view private Instagram accounts using Smi Hub.
How Does Smihub Work
This Instagram viewer, SmiHub, has a very user-friendly interface; To see it for yourself, proceed as follows:
You must first go to Smihub.io to use the service.
Then, you should select the tool you want to use. As shown in the image below, the following tools are available: Instagram profile viewer; Smihub photos viewer; Instagram videos viewer; Smihub Reels viewer, Stories viewer, and highlights viewer.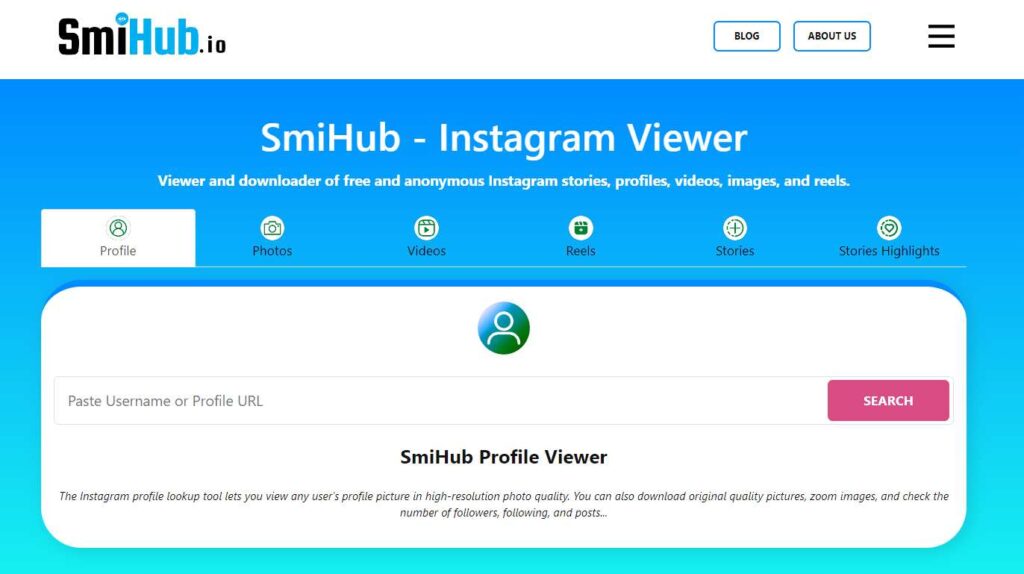 3. After choosing the right tool, paste the Instagram URL in the search bar of the website.
4. Press the Search button to view or download your search results.
Smihub Features
Now, let's take a closer look at the features and services that Smihub offers. Shall we?

Smihub Reels Viewer Tool
Smi Hub Videos Viewer and Downloader Tool
Smi Hub Photo Viewer and Downloader Tool
Profile Viewer Tool; Using the Smi Hub, you can view and analyze any Instagram profile, followers, comments, tagged posts, and more.
Instagram Stories and Highlights Viewer Tool;
It does not need any registration or creating an Instagram account to use the service.
Smihub IG Viewer: What Do People Say About It?
The best way to determine whether the Smihun Instagram viewer is functioning is to read user reviews on reliable sites like Trustpilot or Reddit. Unfortunately, we were unable to come across any first-hand Smihub reviews on any review websites!
Smihub Pros & Cons
Here, we'll break down its pros and cons separately to give you a better understanding of this Smihub Instagram Story viewer.
Pros
This Instagram story viewer tool does not require any downloads or Installations. In other words, Simihub is a free web tool.
You do not need to sign up for anything.
It is free and anonymous.
Smi hub is compatible with various browsers and platforms like Windows, IOS, Android, and Linux. Therefore, Smihun tools and services are accessible from any desktop or mobile browser.
Cons
The website does not support other languages.
Currently, it does not have an active blog.
There are a lot of annoying ads on the website.
In comparison with other Instagram viewer tools, Simihub offers a limited range of features and services.
With Smihub, you can not view private Instagram accounts.
The website sometimes fails to work properly. Moreover, it does not have a live chat. So you can only contact their support team by email or phone in the event that you require assistance.
We could not find any information concerning the company or its team on Similarweb.com.
AiSchedul: Best Smihub Alternative
AiSchedul is a highly reliable and powerful Instagram story viewer and mass downloader of anything on Instagram.
But wait! AiSchedul is more than just an anonymous Instagram viewer and downloader tool. It allows you to edit and schedule Instagram posts to achieve the highest level of engagement on the platform. It is an all-in-one Instagram management service you can rely on for all your Instagram problems.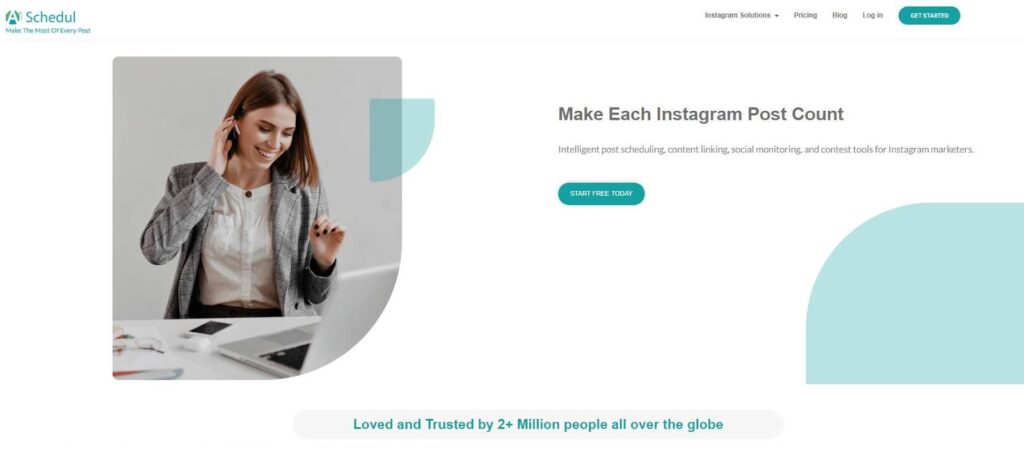 With AiSchedul, you can grow your Instagram account and enhance your online presence rapidly. According to AiSchedul user ratings, many people have already used it and liked it.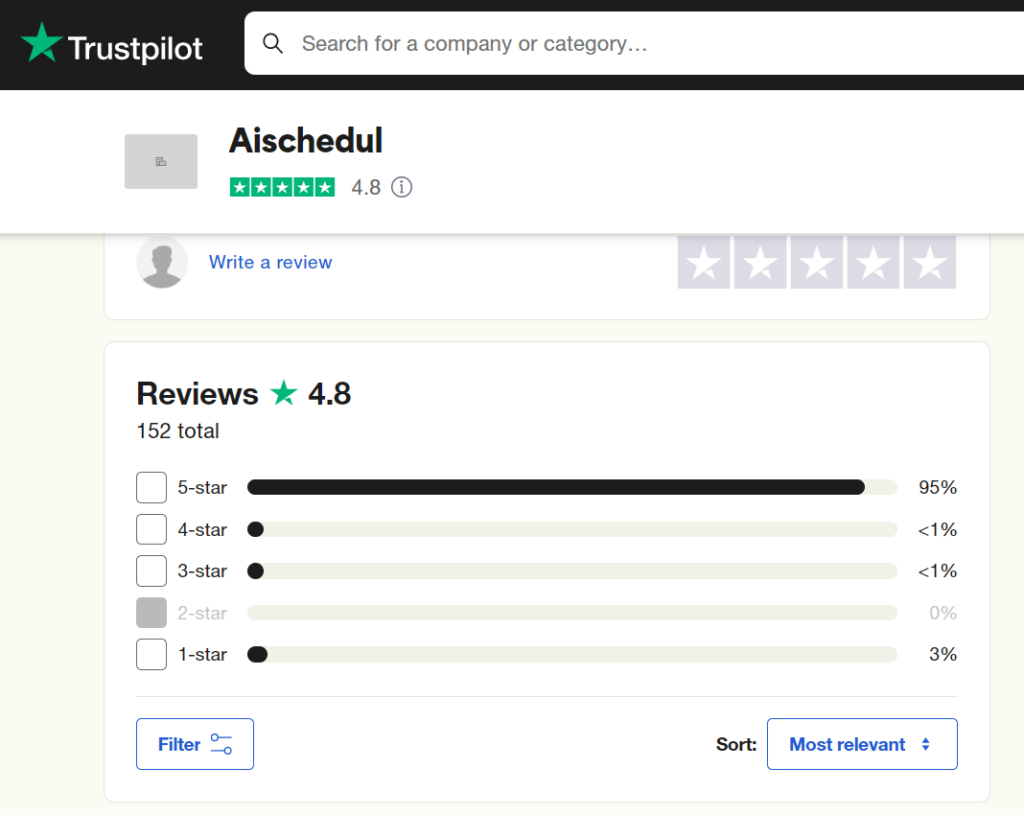 🎯Note: If you are interested in learning more about this powerful Instagram viewer tool, you can check out this AiSchedul Review for more information.
AiSchedul Features
AiSchedul comes with many useful Instagram features and tools, including
Powerful scheduling tool for Instagram stories and posts to publish them automatically at the best time.
Editing Instagram Stories and posts to increase your engagement rate.
AiSchedul is an excellent downloader tool that allows you to download any content on Instagram for free.
It is a Safe and reliable IG viewer tool
Aischedul provides you with an excellent Instagram repost tool. In this way, you can repost your Instagram stories and posts without being tagged.
With AiSchedul, you can convert your YouTube or IGTV videos to Instagram posts easily and quickly.
Moreover, you can mass delete unwanted or old Instagram posts with a single click.
AiSchedul enables you to run the most strategic and successful contests and giveaways on Instagram.
It allows you to monitor and analyze your competitors and find trendy hashtags for your posts.
AiSchedul allows you to add multiple links to your Instagram bio, posts, and stories.
It provides you with 24X7 customer support.
And many more. So, what are you waiting for? Try AiSchedul for Free now to see its effectiveness for your Instagram marketing strategies.
How to Use The AiSchedul Instagram Viewer Tool
Like the Smihub Instagram story viewer tool, the AiSchedul IG viewer does not require any registration or personal information. Moreover, there is no software to download or anything complicated to do.
To use the AiSchedul Instagram web viewer tool, follow the steps below:
1. To get started, visit https://aischedul.com/instagram-story-downloader/
2. Now, enter the username of the IG user whose stories you want to check in the search bar (as shown in the image below) and then press search.

That's all. Now you can view Instagram stories and posts anonymously for FREE. You can also download anything you want on Instagram with AiSchedul.
Note that AiSchedul also makes it possible for you to check all the Instagram story highlights on a particular account anonymously and Freely.
FAQs on Smihub
In this section, we will try to address some of your frequently asked questions on the topic. Continue reading this Smihun review to get answers to the questions you may have.
1. How Can I Use a Smi Hub Reels Viewer?
To do so, follow the steps below:
1. First, go to the IG account of the person from whom you want to download one of their Instagram Reels.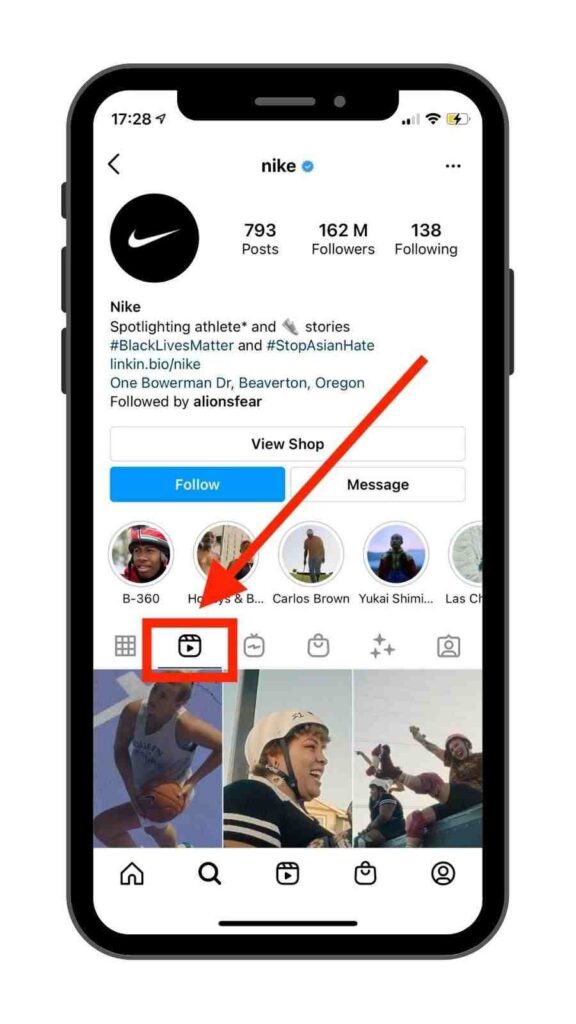 2. Next, select the Reels video you want to download and tap on three horizontal dots below the video.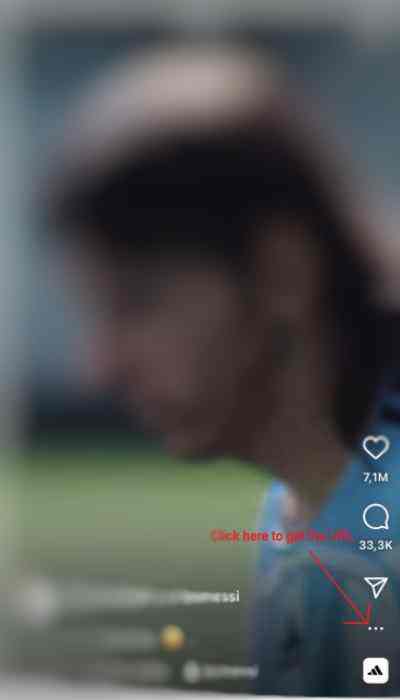 3. Then click on Copy link.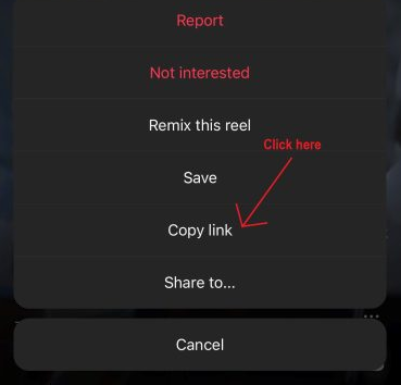 4. Now, go to Smihub.io and choose the Reels icon.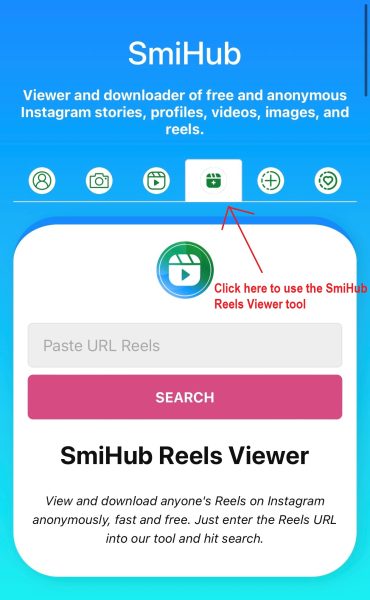 5. Paste the link you just copied and delete all the text from the "?".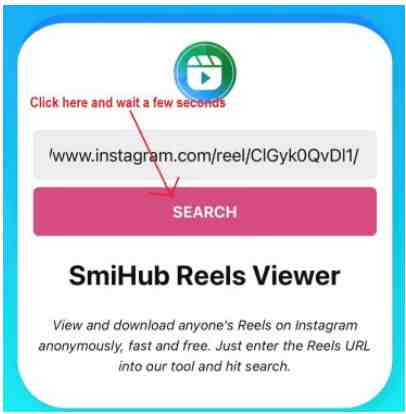 6. Finally, press the Search button and wait a few seconds. Then, click on the download button. Done!✌
2. How to Use Smihun Video Viewer Tool?
To use the Smihun video viewer tool to save or download any videos from Instagram, enter the URL of the video you want in the search bar and click on the Search button.
Note that downloaded videos are in MP4 format, which means you can view them on almost any website.
If it is not clear enough how to use the Smihun video viewer tool, follow the steps below:
Step 1: Go to your Instagram app and select the video you want to download.
Step 2: Tap on the three horizontal dots above the video post.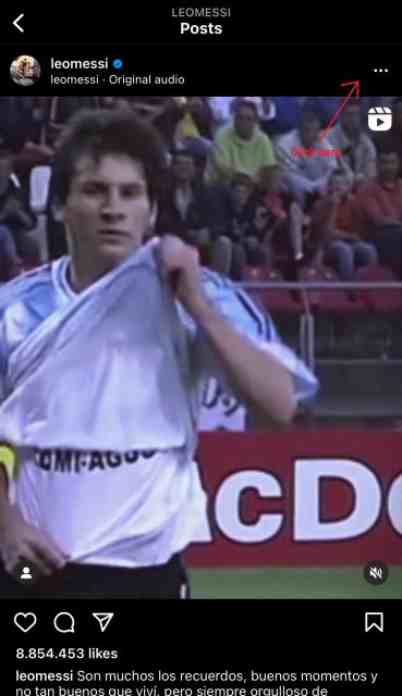 Step 3: Click on Copy link to copy the URL of the video you want to download.
Step 4: Now go to Smihub.io, and choose the 'Smihub Videos Viewer' tool.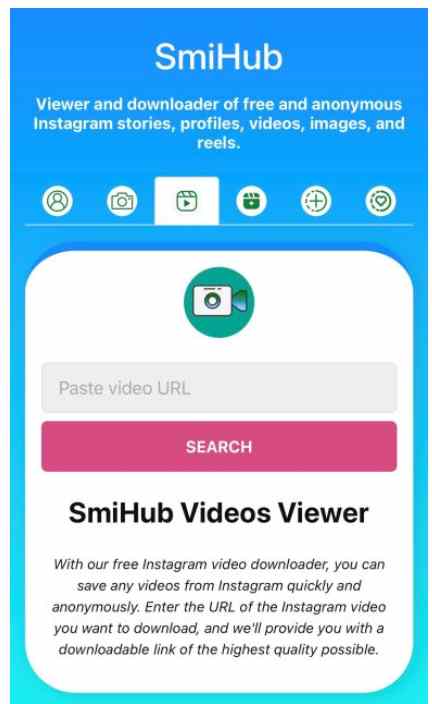 Step 5: Paste the URL in the bar and delete all the text after "?"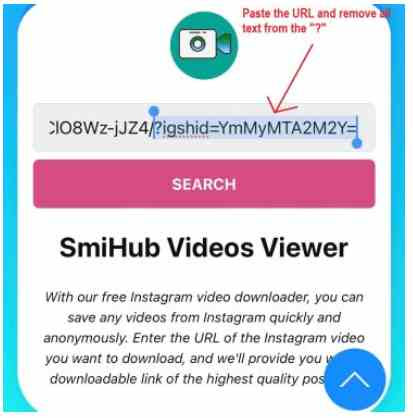 Step 6: Click the SEARCH button and wait a few seconds for the Download button to appear.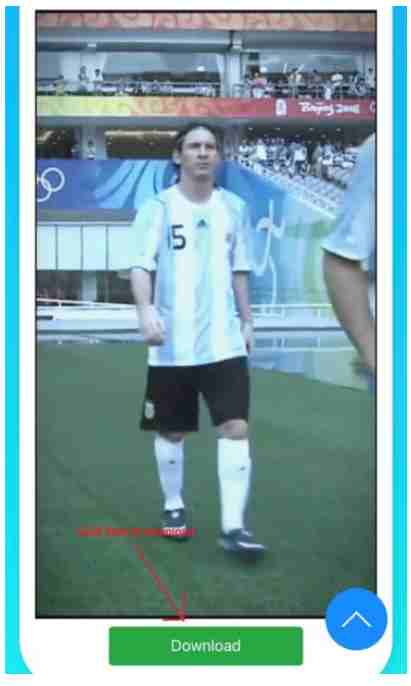 3. Is Smihub Safe Instagram Viewer Tool?
Yes, it is entirely secure. They do not require any personal information like your Instagram password and also you do not need to create or have an IG account to access their features and services.
Smi Instagram viewer will keep all information you provide strictly confidential. Moreover, they state on their website that they are not going to track your IP address or take advantage of your other social media activities.
Last but not least, since they don't charge you for their services, your financial information will not be compromised.
4. What Is the Difference Between Smihub.io and Smihub.com?
Both of them are Instagram viewer tools that allow you to view IG profiles, Reels, Stories, followers, tagged posts, and more anonymously and freely.
However, Smihub.com has now rebranded as Dumpor. For more information, check out our Dumpor review to know more about this Instagram story viewer tool.
5. What Are the Benefits of Using an Anonymous Instagram Viewer Tool?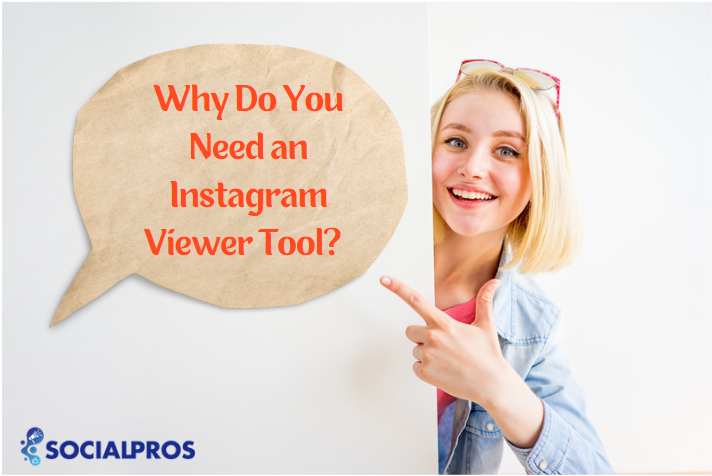 To outperform your rivals, you can monitor and analyze their Instagram statistics and content anonymously.
You can save and download any content on Instagram, like Instagram Reels, Stories, photos, and videos.
They can help you as an effective Instagram monitoring tool to keep track of your competitors.
These tools can help you conduct anonymous research before partnering with an Instagram influencer or brand.
Using an anonymous Instagram viewer tool, you can view IG profiles without signing up.
An anonymous Instagram viewer can help parents monitor their kids' activities on social media platforms secretly and anonymously.
Sometimes, you are curious to know what someone (say, your ex or crush) posted on their Instagram stories, but at the same time, you do not want them to know that you are checking on them. In this case, an anonymous Instagram story viewer tool like AiSchedul can help you view IG stories anonymously.
What's your reason for seeking an anonymous Instagram viewer?
Conclusion on Instagram Story Viewer Smihub
In this post, we reviewed the Smihub Instagram viewer tool in more detail. As mentioned, this Instagram viewer tool allows you to view and download Instagram content or accounts for free.
In short, in our opinion, Simihub is a good Instagram viewer tool to use but we believe that AiSchedul is a solid alternative to it because it provides you with more helpful features and services.
Aside from providing you with a powerful free, anonymous Instagram story viewer and downloader tool, AiSchedul is an all-in-one Instagram tool that can improve your engagement rates and help you achieve your target audience.
Therefore, by signing up on AiSchedul, you can access even more amazing Instagram tools and services. So give it a try, and we bet you will not regret it.